The Top 5 Cam Sites to Find Dominatrices
Last updated
November 14, 2019
There's nothing sexier than a strong, assertive woman, and professional dominatrices have those traits in spades. The best dominatrix cam sites are the ones offering a good selection of them, make them easy to find and offer high quality camming for affordable prices. The 5 chat sites below are just that.
---
FetishGalaxy.com
FetishGalaxy is a hardcore fetish site that excels at providing its members with exactly the type of cam model that they're looking for. All performers on the site are professional kinksters and will know how to get you rock hard and begging for release.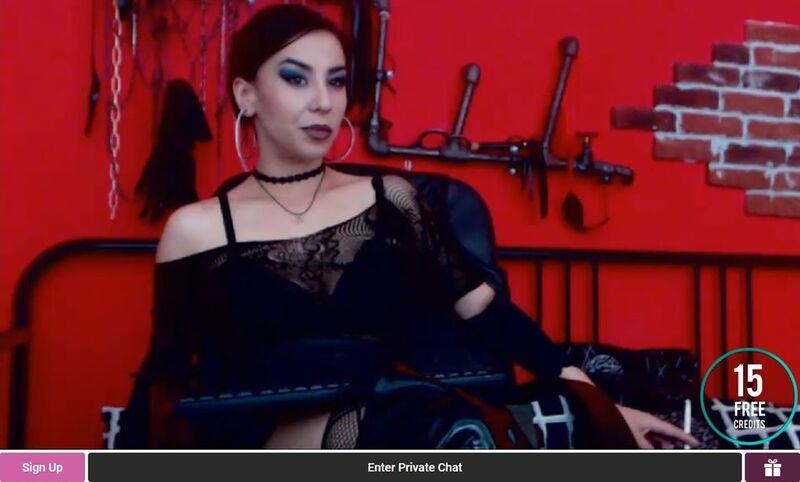 The best thing about FetishGalaxy in regards to finding a dominatrix is that the site actually categorizes its models into four categories: Dominatrixes, Submissives, Educators, and Experts. That's right: You will know exactly who are the dommes here, and you'll need to waste no time in looking for them for some obedience lessons. Even better, if you're new to the kink and want to start off with a model who can give you guidance and take things slow, FetishGalaxy's educators will have that covered.
Since FetishGalaxy is so fetish-oriented, you'll also have no trouble finding a domme who will force you to torture your dick and balls or humiliate you over your shortcoming. In fact, there are really no fetishes that FetishGalaxy's dommes are not experienced with. Calling them Professional Dominatrixes is very accurate.
FetishGalaxy has around 120 fetish cams live at any given moment, with around a third of them being live dominatrix cams. You can easily filter for them by selecting the Domination tag at the top of the site. Once you do, you'll be treated to a wide array of sultry doms eager to make you their slave.
The video quality on FetishGalaxy isn't the best in the business, but it's far from bad. Many dominatrices here stream in HD, and almost all who don't, stream in HQ instead. Every now and again you'll experience some slow buffering, but that doesn't happen enough to be a problem.
The reason why I find it hard to criticize FetishGalaxy's less-than-stellar streaming quality is its prices. A private show on FetishGalaxy tends to cost around $2.00 a minute, which is very cheap considering the competition. On top of that, for that price, you also get free cam2cam and two-way audio in every private chat. If you want your domme to see just how obedient you are, FetishGalaxy will allow you to do so without breaking the bank.
---
LiveJasmin.com
I've already spoken at length about how LiveJasmin is one of the best fetish cam2cam sites in the industry due to its fantastic streaming quality. It allows you to broadcast yourself to your dominatrix at HD quality, and be seen by her while she, for instance, instructs you to jack off, and watches you do it exactly to her liking.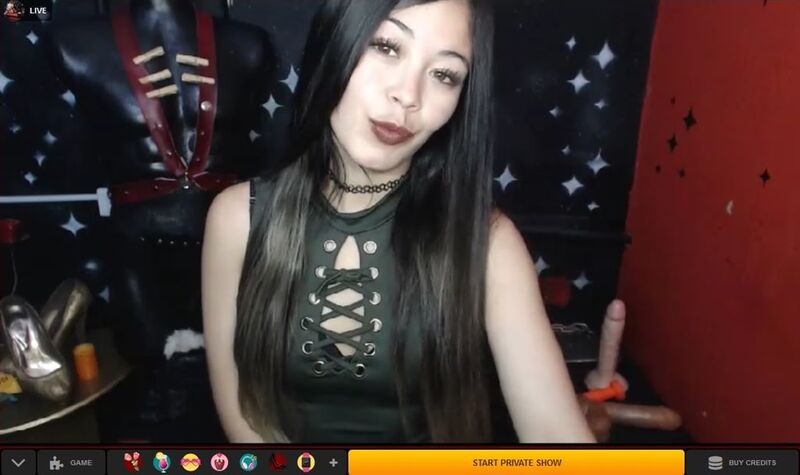 This is without even mentioning how amazing LiveJasmin's cam shows look. The models all look like their shows are filmed by a professional production crew, and they're always pleasing to the eye. Additionally, almost all of LiveJasmin's performers stream in either 720p HD or 1080p HD. All things considered, LiveJasmin's dominant cam girls are some of the most appealing webcam performers in the industry.
There is also a good number of them. LiveJasmin has around 40 dominatrices online at any given moment, and they're all great at making you squirm. It's also easy to find them: Just click the Dominant subcategory under the Willingness category, and you're done.
The simplicity and high quality of LiveJasmin does come at a price, though. A private show on LiveJasmin will cost you around $2.70 a minute on average, which is more than fair considering what you get for it, but this cost doesn't include cam2cam or 2way audio. Adding these features will cost you, on average, another dollar a minute each, which will significantly hike up that per minute rate. The site does offer quite a number of promotions and deal over time. Just stay tuned in, and you'll catch a deal perfect for you.
Still, if you want the best quality, it's hard to go wrong with LiveJasmin. Even their customer support is top notch, with an extensive FAQ page and a 24/7 live chat support, alongside email and phone assistance.
---
Flirt4Free.com
Flirt4Free is a renowned premium sex chat site that doesn't skimp on the quality but also doesn't make you pay an arm and a leg for it. It is mostly popular in the US for its large number of US cam girls, so if you're a US resident and want an English-speaking domme who will bend you to her will, then this is the spot.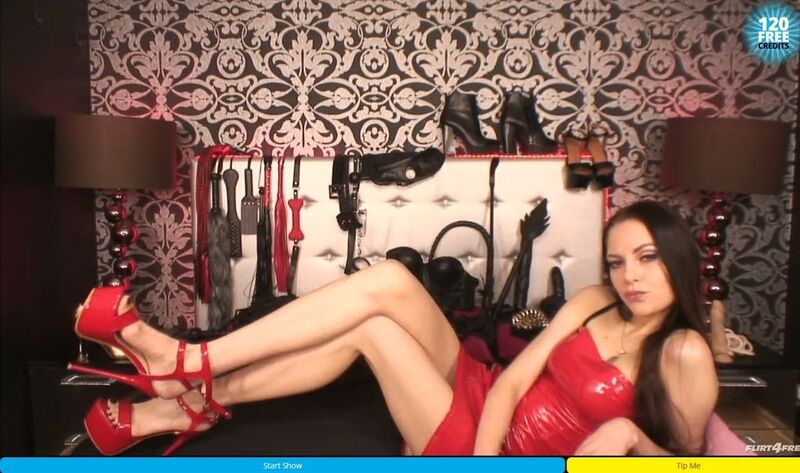 Flirt4Free has a dedicated Domination category with around 25 models online at any given moment, and around double that if you're looking in the Fetish category. the models there are usually drop-dead gorgeous, as are most models on the site, and tend to be in tip-controlled shows. This will usually mean that, once in a while, they will ask you to be a good boy and please your mistress, and you'll be able to do so by tipping them. Given how alluring they can be, you'll probably be begging them for it long before they even tell you to do so.
Most dominatrices on Flirt4Free stream in HD or full HD. In fact, it's quite rare to see a cam show on this site that isn't as pleasing to the eyes as the stunning dominatrix who's hosting it. The prices on Flirt4Free are a bit all over the place, as they are mainly determined by the models, but the average domme will charge you around $3.00 - $4.00 a minute for the pleasure of obeying her every whim. It may seem high, but you also get cam2cam and two-way audio included in every private chat for free, so you won't have to spend another dime letting your mistress see what a good cuckold you are. You can even see the price of the private show by hovering over it before entering it, letting you sort by rates that are more in line with your budget.
The site also has an active fetish community, which you can access by hovering over the Live Cams drop-down menu at the top and selecting Fetish. You'll have access to blogs, forums and educational guides written by the site's own models, along with a list of Flirt4Free's top fetish models of the month, which you can use if you're looking for the best dominatrix to serve.
Finally, like LiveJasmin, Flirt4Free has a first-rate customer support department, with 24/7 live chat assistance and a very comprehensive FAQ page which will likely solve all problems for most.
---
ImLive.com
ImLive is well-known for being one of the cheapest webcam sites in the business. A private show on ImLive costs only around $1.98 a minute. It also has a plethora of ways in which you can drive the price down even further, such as the site's generous rewards program, discounted long shows and fan clubs, and the fact that c2c and 2way audio are freely included in private shows. All things considered, ImLive is really the site to visit if you want to take your time with your domme and enjoy her company for longer without having to worry about your spendings.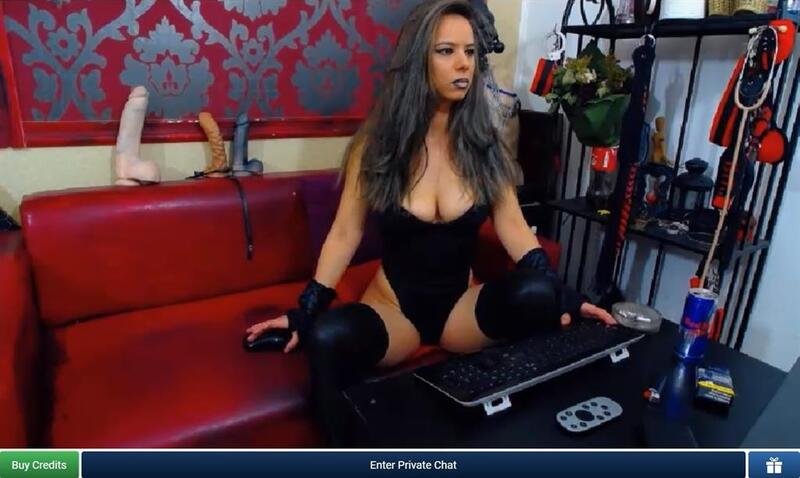 ImLive's streaming quality is quite good, but nothing to write home about. What the site does excel at, though, is quantity. ImLive has around 80 live fetish cam girls hosted on the site at any given minute, and you can easily find them under the Fetish & BDSM category. There's also a Domination subcategory, but I would advise against it. Most dommes on ImLive don't bother to tag themselves under this category, and since almost all performers in the fetish category can play the role of the dominatrix quite well, I suggest you just flirt with a few that catch your eye and decide on one that way.
What ImLive has that others don't though, is its exclusive Fulfill your Fantasy feature, which, if you have a very specific fetish planned for you domme, like her ruining your orgasm, will make your searches much easier. The way it works is simple: You write down your fantasy, submit it, and it goes onto an internal board, where only ImLive's models can read it. They can then make you offers to fulfill your fantasy. You can discuss price, willingness, limitations and safe words and, once you've reached a deal, have her make your wildest dreams come true. This feature is an absolute godsend to kinksters.
In short, ImLive does an amazing job at letting you find exactly what you're looking for, and allow you to enjoy it for free. In the long run, this site will give you amazing bang for your buck.
---
xLoveCam.com
xLoveCam attempts to give its members the best of all worlds, and, to a degree, succeeds. It's a premium chat site that allows nudity in the open chat (hell, it even features a Topless Monday, which means exactly what you think it does). It has good streaming quality and decent prices, along with free cam2cam and two-way audio in every private chat.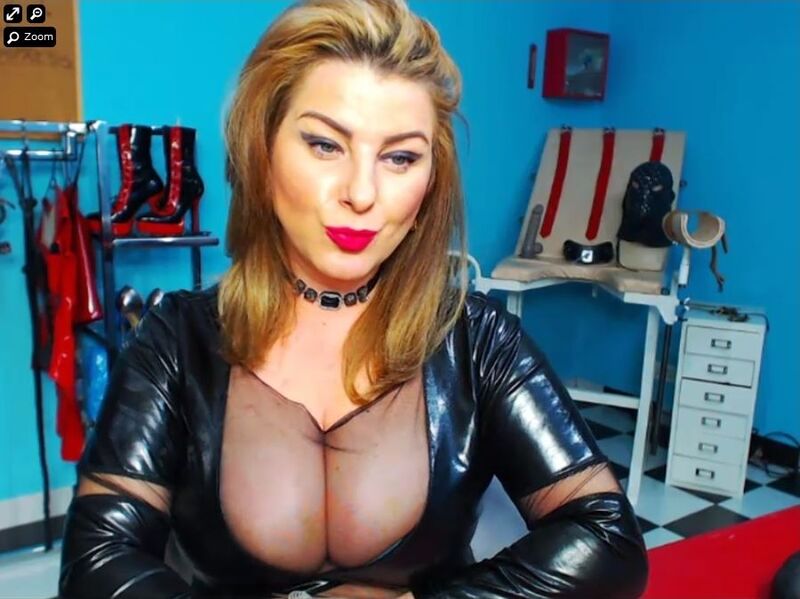 xLoveCam also prides itself on its international appeal. It has dommes from all over the globe, so, no matter where you're from or what language you prefer you mistress to command you in, you'll probably find it here. All you have to do is look for the Fetish Female category on the left side of the site, and enjoy the selection. xLoveCam has about 30 or so fetish cam girls live at a time, so the selection isn't the largest, but it will most likely suit your needs.
An average, private cam shows on xLoveCam will run you about $2.20 per minute, which, compared to most cam sites in the industry, is fairly cheap. Considering that most cam models on xLoveCam stream in HD or HQ at the very least, this price is more than fair.
From my experience, most fetish models on xLoveCam have experience playing the part of a strict and seductive dominatrix. If your tastes are more particular than that, then you may have to search for a suitable model for a bit, but it shouldn't take you to long to come across the mistress of your dreams.
All in all, xLoveCam has few faults, but it also doesn't have any special features that help it stand out from the crowd. Its great for anyone searching for the best dominatrix cams, as it has those in spades, and thus caters to most, but it will probably not blow your mind. Your load, though... That's a different story altogether.
---
In Conclusion
The five fetish webcam sites listed above are the best places to find live dominatrix cams. You will most likely enjoy them and come back for more and more. And that's a good thing: The best part about finding a great BDSM cam site is finding a few dommes that you can develop rapport with and then frequent at your leisure, and these sites do a fine job at facilitating just that.
Each site on this list has something special about it. If something here caught your eye, don't hesitate to try out the site and develop your own impression. But, if they all seem great and you're finding it hard to make a decision, then visit FetishGalaxy. It's a haven for kinksters and submissives that will welcome you in open arms and leave you with great memories.