Stripchat.com - Best Freemium Tranny Site for Private Chat
Last updated
February 17, 2021
Stripchat, a top-rated freemium with strong premium features, is also among the best shemale cam sites that I've ever come across. It has a laid back approach that will give you space to decide when and on what you'll spend your money, if at all, with some very strong incentives for you to do so.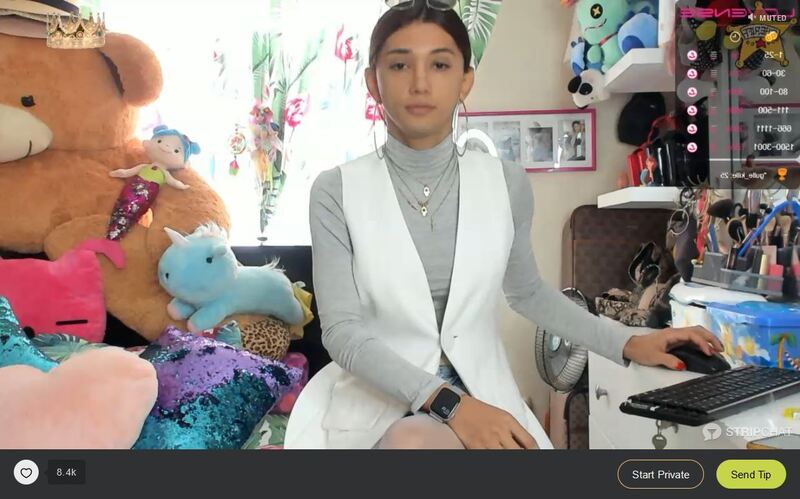 If you want a freemium tranny sex chat site with strong private features, there's really no better option out there than Stripchat.
Pros Vs Cons
Pros
Fairly cheap
Fantastic categorization
Huge selection of tranny cams
Freemium, so there's nudity and sex in the free chat
Cons
Most shemale cams are in HQ
Cam2cam sometimes costs extra
Cam rooms have no video preview
Contacting customer support can only be done via email
The Models
Stripchat prides itself on having an amazing variety of cam models, with numbers that far surpass most other sex cam sites out there, especially when it comes to ts cams. On average, Stripchat hosts around 150 live tranny cams at any given time.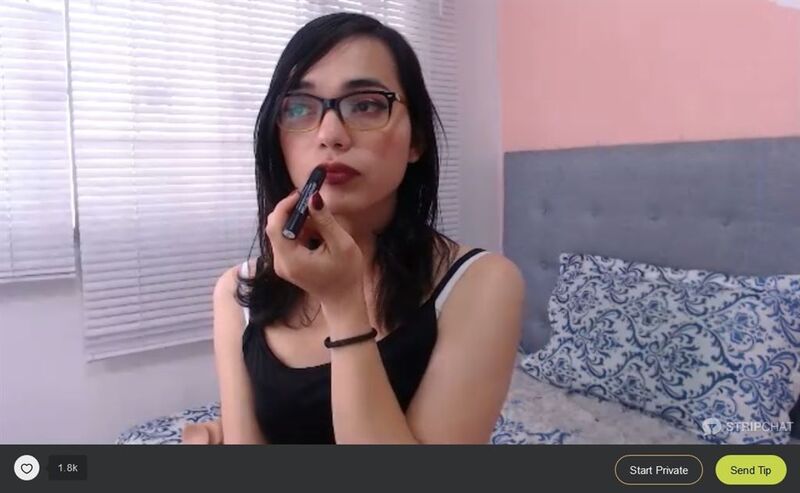 The site's categorization also does a fantastic job of helping you find exactly the tgirl that suits your tastes and fit your budget. You can also view the model's nationality on her cam preview picture. Stripchat doesn't feature video preview for the rooms, so you'll have to enter to really know what's going on inside. Fortunately, though, a picture is taken from inside the cam room to serve as its preview picture, so you can get a good idea of what you should expect.
In terms of the models themselves, the quantity alone assures that you'll find all kinds here. Ladyboys, muscular ebony shemales, feminine European tgirls, Latina trannies... You name it, Stripchat has it, and in spades.
Video Quality
I wish I could say that Stripchat mostly features HD tranny cams that run smoothly and without a hitch. Sadly, though, this is Stripchat's main downside. There are a few HD trans cams on the site, but out of around 150 cam rooms usually online, you'll find that only about 20% stream in 720p HD or full 1080p HD. That's not a lot by any stretch of the imagination.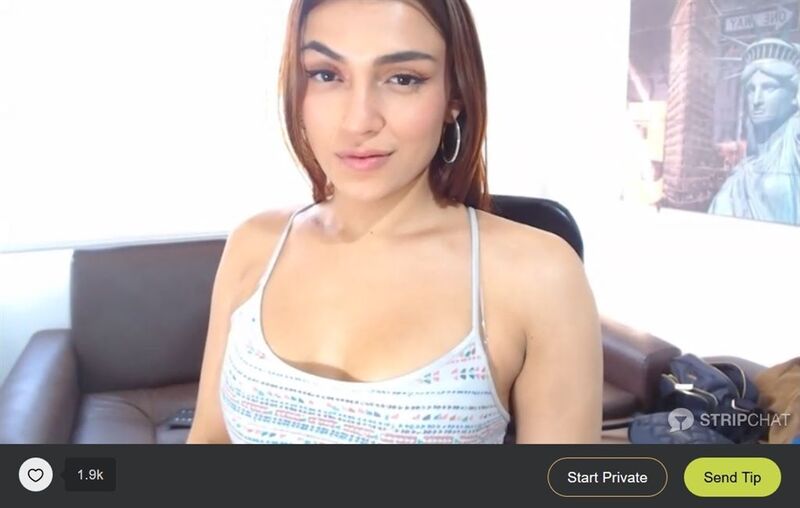 HD shemale cams are marked as HD on their preview picture, and you can specifically filter for them by choosing Trans on the header categories (or T if you're on mobile), then clicking the ALL CATEGORIES button beneath the main categories and choosing HD (the categories are sorted alphabetically, so scroll down to H to find it).
Also, while most of the girls stream in HQ and have a stable connection, not all do. From time to time, you''ll encounter a tgirl that streams with an internet connection that's clearly not suited to streaming, causing her cam show to stutter and suffer from latency and slow buffering. Still, even if you ignore all the cams with such issues, you'll still have a collection of more than 100 cams to sift through and enjoy, so that's not as much of an issue as the lack of HD ts cams is.
Prices
This is definitely one of Stripchat's strong points. Firstly, since Stripchat is a freemium cam site, you will always have the option of just staying in the free chat, enjoying the show and tipping as you see fit. Secondly, once you do want to take a model private, it will usually only cost you around $2.10 a minute, which is low even when compared to the cheapest trans cam sites in the industry.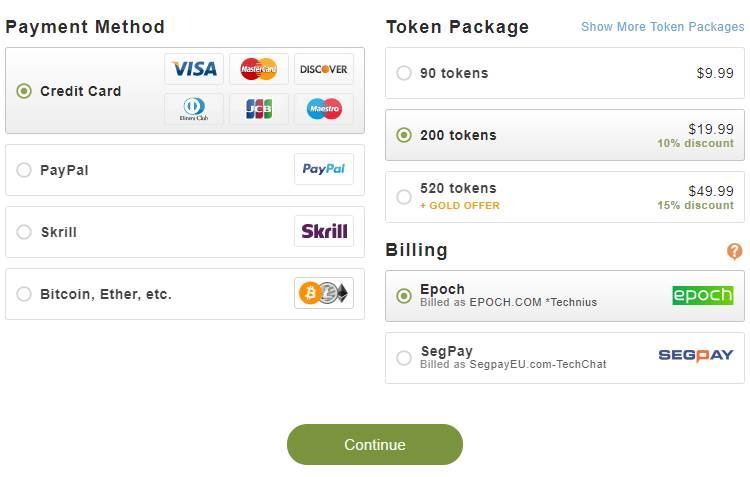 As you could probably tell from the above picture, Stripchat uses a simple 1:10 ratio for their tokens (at least for the better packages), meaning that you can easily track your expenditures. Note that you can click the Show More Token Packages link (seen at the top of the picture) to see more options. If you can, I suggest you choose the bigger packages, as they give you more tokens per dollar spent.
Chat Types
Stripchat sticks to the basics, and doesn't have much more than the usual open and private chat types.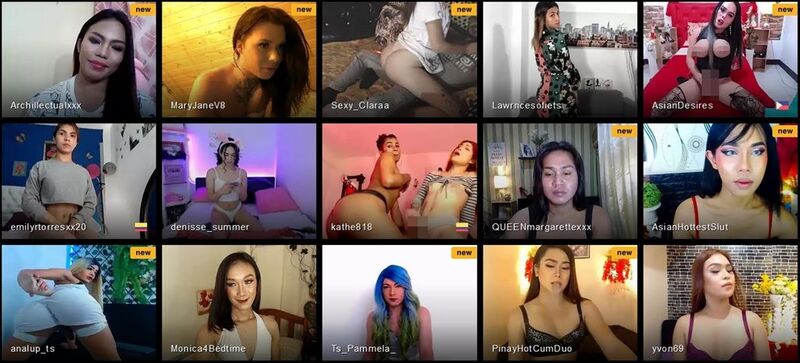 The presentation of cams on the page is very streamlined, and can be changed at the top right, above the webcams grid.
Open Chat
As I've already mentioned, Stripchat is a freemium cam site, so this is where the majority of its members spend most of their time. You can flirt with the model, ask her for specific acts and tip as you wish.
Expect to see a lot of nudity here. In fact, I've had some trouble actually finding tgirls that were clothed enough to put on here. Expect to see that much nudity, if not more, and just as much action.
Private Chat
Once you've found a tgirl you want more privacy with, you can press the Start Private button below the stream. You'll then see the option to either start a private show or a cam2cam show. Whatever your choice may be, no one will be able to see you or your chat, but other members may still spy on your show. Not all model's allow spying, and you're notified when they do.
Some Stripchat models set a minimum duration for their show, usually a 10-minute minimum. That means that, should you start a private show with a minimum duration, you'll be charged for the minimum duration even if you end the show beforehand. This obviously doesn't apply to when the model is the one who ends the show early.
Cam2Cam Chat
Want the model to see and/or hear you? That's very understandable. Not only is it more intimate and convenient, but it's also exciting to know that the model can see you get off on her show.
Well, unlike many other freemium cam sites, Stripchat has cam2cam and two-way audio features that are very well-implemented. The moment you start a cam2cam show, everything just works. It takes literally zero effort on your part.
Do note, though, that while the vast majority of shemale models on Stripchat offer cam2cam shows, some don't offer it for free. They can charge up to $3.00 a minute for the pleasure, though, from my experience, most models who charge for cam2cam only charge a dollar a minute extra.
VR Chat
Stripchat is the only adult webcam site that features virtual reality sex chat, but since I've never seen a trans model here that offer such an experience, there's really no point to elaborate on it any further. It's a shame, really, since it's a wonderful option to have if you own a VR headset.
Unique Features and Extra Content
Aside from the VR chat, Stripchat doesn't really have much in the way of extra content or unique features. The one thing that does need mentioning is Stripchat's fan clubs. These are paid subscriptions that grant you certain benefits. There are three different subscription tiers available, and there's usually no differences between them other than the title and badge that you're given and how much the model will appreciate you. Here are the tiers and their price:
Soldier Sponsorship - $9.99/month
Lord Sponsorship - $19.99/month
Prince Sponsorship - $49.99/month
And these are the benefits you get from being subscibed to a model's fan club:
A special badge in the model's chat
The ability to send the model private messages
Access to photos and videos exclusive to fan club members
Free spying on the model's private shows (as long as she enables it) - This can be limited by the model to only specific sponsorships, such as only for Lord and above, or only for Princes
It also, of course, financially supports a model you like, which is a benefit all by itself. Do note that not all models have fan clubs, and even fewer trans cam girls have them. Model's that have fan clubs have a Join Fan Club button above their stream in their cam room.
Additionally, for the sake of convenience, a model's cam room also serves as her profile page, and you can see all her personal details, like her age and what languages she speaks, by scrolling down or clicking the Profile button above her stream.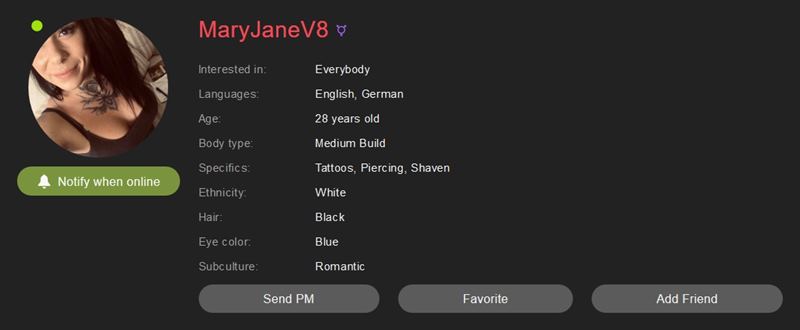 There, you can add the model to your list of favorite Stripchat models, send her a friend request (restricted to green and gold members) or a personal message (restricted to gold members). Just like on most other sites, this is also where you can view and purchase pictures and videos that the model took of herself.
Aside from keeping track and further interacting with the model, or enjoying her homemade porn, there's really not much more to explore here. Many models on Stripchat use tip-controlled sex toys to enhance the experience both for themselves and for their viewers, but it's unfortunately rare to see a trans model on Stripchat that uses this feature. On average, you'll see only a couple of them live. You can spot them by the Interactive Toy icon on the top-left of their cam preview picture.
Mobile Site
Stripchat actually has an amazing mobile cam site. It runs well on most phones and tablets, doesn't suffer from any noticeable issues and is overall fun to enjoy on the go.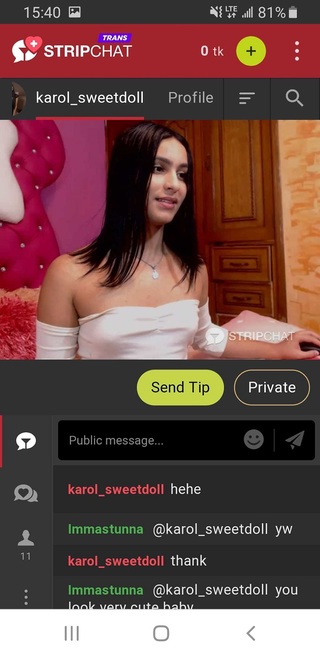 The only real negative I have, is that texting in the chat box, once you're in a cam room, obscures part of the show. But if that's a big issue for you, then you can always download the Stripchat app. It's lightweight, doesn't install any extra unwanted software and runs even better than the mobile version.
Premium Membership and Rewards Program
Sadly, Stripchat doesn't have any kind of rewards program. I mean, it's cheap enough to not need it, but I would still like it if they implemented some kind of way to show their appreciation to their dedicated members.
But, I digress. Stripchat does hves a few membership options, and you should be aware of their benefits. here's a quick breakdown:
Guests - Unregistered users. Guests have very limited use of the site. They can still enjoy the open chat to get a taste of the site, but they couldn't, for instance, write in the chat. Since registration is free and takes about a minute, once you spend a minute and figure out that Stripchat is a site you'd probably frequent, then there's really no reason to stay a Guest.
Grey - Registered users. Once you've created a free account, you'll be able to type in chat (though some models restrict this to green and Gold members only), use the full screen option, and receive and answer private messages from models and other Stripchat members.
Green - Registered users with tokens in their account. Green members (obviously) get better treatment from the models than Grey members do, and are able to type in the chat of all models. They also have the ability to send a friend request to a model of their choosing, like you would on Facebook.
Gold - Stripchat's premium membership. Gold members can send private messages, activate Invisible Mode (which allows users to conceal their user name and appear as anonymous in the chat), use emojis in chat and even become a model's Knight, receiving the power to reprimand abusive viewers in a model's chat room.
You can become a Gold member by clicking your username on the top-right corner on the site, navigating to My Profile section, clicking the yellow Upgrade button just under your name and then clicking the Make Me Gold button under the Gold membership column. Gold subscription can be purchased as a monthly charged service or as one time (one month) purchase.
Registration
As I've previously mentioned, registration on Stripchat is as simple as it gets. To create a new Stripchat account, just click the Create Free Account button at the top right of the homepage, enter a username and a valid email address. You'll then get your password by email from Stripchat. Use it and your chosen username and you're in.

You can change your password after you log in. If you're too lazy to even do all that, you can simply sign in via your Google or Twitter account.
Accepted Payment Methods
The accepted credit and debit card types are as follows:
Visa
MasterCard
MasterCard Maestro
Diner's Club
Discover
JCB
And these are the available alternate payment methods:
Security and Quality Assurance
The most important thing for any adult cam site to have is good security and discretion, and Stripchat aces both. It uses all the necessary precautions to protect your information and hide your identity. For example, Stripchat uses HTTPS to keep your connection private and SSL encryption and Comodo Cybersecurity protocols to keep your information encoded. And to protect your transactions, Stripchat only uses the most renowned billing processors available.
As for quality assurance, Stripchat's customer representatives tend to do a fine job of ensuring that you get your money's worth and leave satisfied. If you have something to complain about, simply write it down and send it to help@stripchat.com. They will reply in a work day or two and will usually do whatever it takes to resolve your issue.
Customer Support
Stripchat's customer support is good, but it's also slow and not up to par when taking the top sex cam sites into account. Stripchat's staff is professional and helpful, but there's no way to contact them other than by email, which you can find by clicking the Contact & Support link at the bottom-right of the site.
At the bottom of the page. There's separate support pages for technical problems and for billing issues. Your only way to contact a technical support representative is by submitting a request, which is a rather slow process when compared to live chat, which many adult chat sites use nowadays. If your issue is with billing, then you'll have much better options, namely, phone support.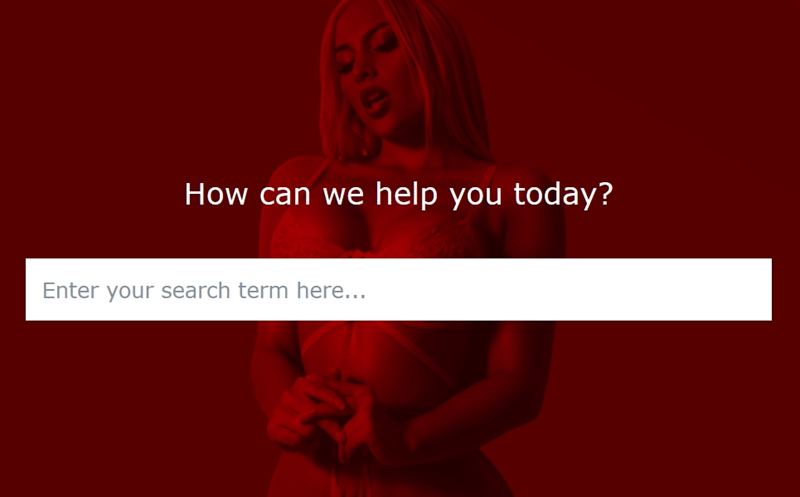 There's phone support for billing issues, and the site's FAQ page is incredibly robust, but it doesn't really make up for the lack of online chat, which has become the norm among the top sex cam sites.
In Conclusion
Stripchat is, hands down, the best freemium tranny cam site for private chat. It has an amazing variety of live tranny cams, low prices and a well-implemented cam2cam feature that's enabled in almost all chat rooms. It may be streamlined, but who needs bells and whistles when you can have so much while paying so little.
If you prefer the transparency of tip-based shemale cam sites but like to get intimate once in a while, you really have no better option out there than Stripchat.