CamSoda.com - Full Review of the #1 Free Adult Cam Site
Last updated
January 06, 2021
Nowadays, there are a handful of good freemium cam sites. Not one of them, though, is as great as CamSoda is. Apart from being the best free adult cam site in the world, CamSoda surprises with fantastic features, a fast and slick interface, and unobtrusive ads.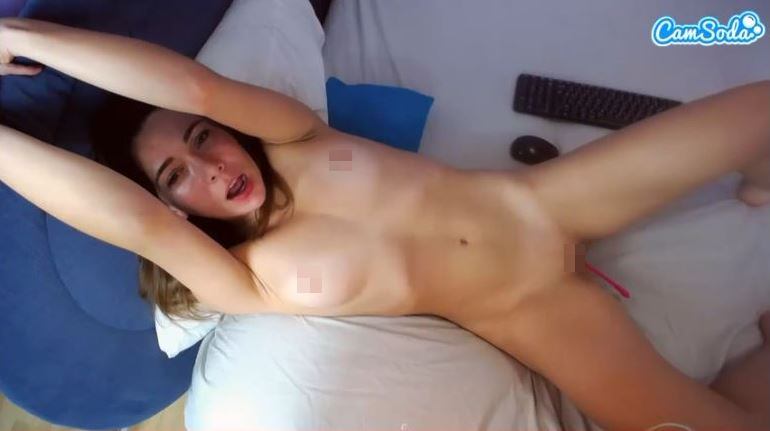 I have spent a ton of my time on CamSoda, both for research and my own personal... reasons, and have found it to be both secure and convenient. So let me just abbreviate this for you: If you have any sex drive whatsoever, you're going to be thrilled about finding this adult chat site. Whether this is the cam site that best fits you, though, is another matter. You can find that out ahead.
Pros Vs Cons
Pros
You can enjoy the site for free
Paid services are fairly cheap
Great interactivity options
Lots of extra features
Mobile cam2cam
Mass preview
Cons
Not as many online models as on other cam sites
Inaccurate categorization system
Unhelpful search engine
The Models
CamSoda should take great pride in its collection of cam girls. While it isn't as large as what premium cam sites may offer, it is surprisingly varied. There are a lot of different talents using CamSoda's platform, and many of them are as beautiful and lively as you would hope.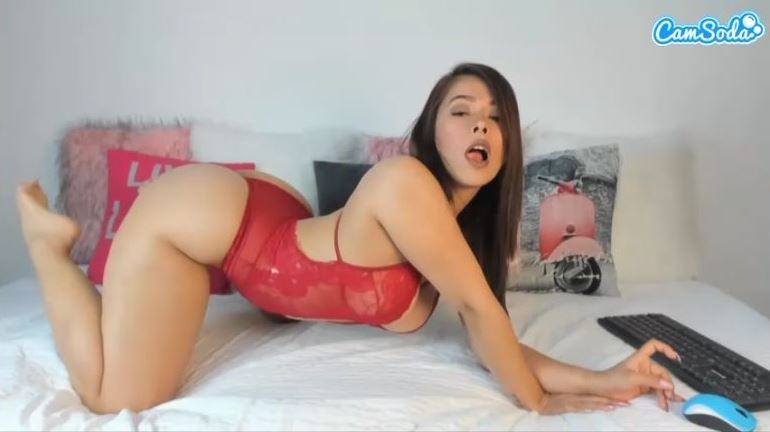 The first thing you'll notice, though, is that most of them will be naked and mid-show. CamSoda gets down to business right from the get-go, flashing with a mass preview of a couple dozen rooms of hot, lewd activities. It's more than likely that CamSoda has some of the horniest cam girls out of any cam site, seeing as how they're engaged in some sort of sexual performance for hours on end.
There is a downside here, though. While there will probably be dozens of models here that you'll be more than happy to shell out for an intimate time with, finding them is going to take you time. CamSoda's search and categorization features are anything but helpful, and my advice is that you ignore them altogether. Why? Well, the site uses a tag system so its members can find a model based on what she is tagged at (for example, milf). The problem is that there's no oversight on this system, and models just end up tagging themselves as whatever they feel like.
Still, CamSoda's handy mass preview feature, which shows you video clips of the respective cam shows, helps alleviate that problem somewhat. There's also a Popular cam girls section at the bottom of the site, take a gander if you want cam girls who are proven to be amazing at their job.
Lastly, if you looking for male or tranny cam models, you'll find a decent number broadcasting here.
Video Quality
The quality of CamSoda's shows is generally very good. While some shows have a bit of a frame rate issue and tend to stutter, most don't, and tend to load faster than you can blink.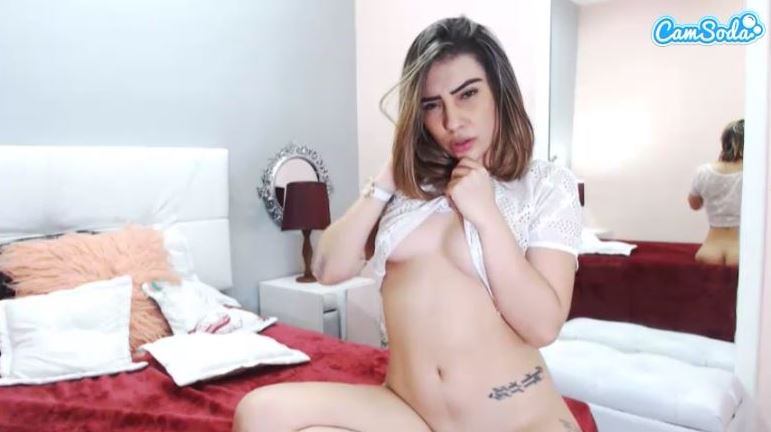 CamSoda has no regulation concerning video resolution, but many cam models on the site opt to stream in HD nevertheless. It makes a big difference, especially on the first pages of the site, where you'll see a ton of gorgeous, naked babes in wonderful 720p.
As could be expected on most adult chat sites, some shows have a bit of stream delay, but it never hampered my experience much.
Prices
CamSoda is actually one of the cheapest adult cam sites around. They have a wide range of token packages that give you more tokens for less money the bigger the package is. Not all the packages are visible to anyone who is unregistered, but that is why I'm here. Below is the breakdown of the different packages: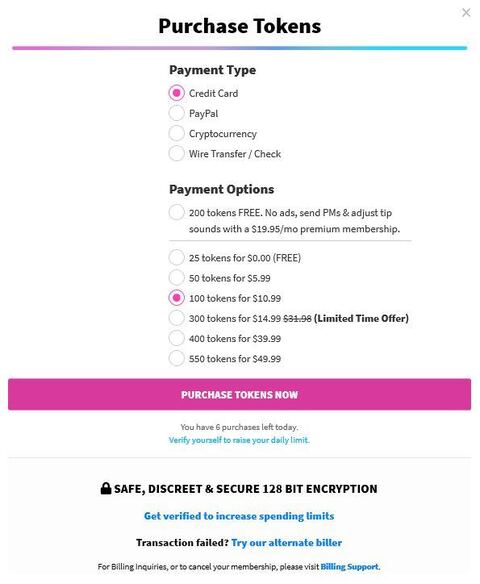 Visit CamSoda now to take advantage of the site's limited time offer of 300 tokens for only $14.99. That's half the regular price.
Additionally, CamSoda lets you claim 25 tokens for free. And no, there are no strings attached. All you have to do is register a credit card. Click the Add Tokens button underneath your username and you'll see the offer. You will need to enter a valid payment method, but that does not come with any charges or hidden costs, and is just in place to verify that you have one.
I suggest you use these free tokens to get a better feel for the site. After all, there's nothing better to help you figure out if you like a product than using it.
Chat Types
While CamSoda probably isn't leading anyone's charts in terms of variety of show types, it does have a couple that aren't offered by most chat sites. It's more than I expected, to be honest, as most only come here for the open chat. which is a shame.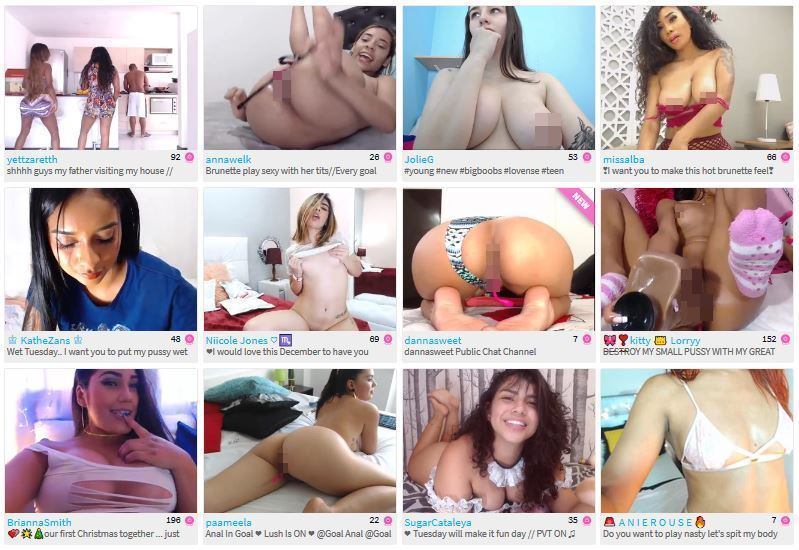 Open Chat
This is where you will most likely be spending most of your time, and I can't really fault you for that. CamSoda's open chat is mesmerizing. When you'll first visit it, you'll probably feel like a kid in a candy shop, and won't know where to start. Since even free members get access to every chat room and can watch all the adult action happening live, you won't be lacking options.
The first thing you'll notice is the prevalence of Lovense cam shows, where the viewers can remotely control the cam model's vibrator through tipping. It is, in fact, so common here that the sex toy's pink color makes the entire site look pink. It is also one of the reasons why the site feels so active; What better way is there to keep a performer engaged than to give her viewers control over her orgasm? Trick question - there isn't one.
If you like the communal feeling of a model begging her viewers to make her cum, than you'll be loving this so much that firefighters will have to unglue you from your seat by the time you're done.
Private Chat
While the site is certainly tip-based in its core, private chats are still a big hit among its members thanks largely to how great and cheap they are. For an average of $2.40 a minute, and for as low as $0.60 a minute, you can take a gorgeous professional to a private room where she'll do her best to make your wildest dreams come true. That, my friends, is great bang for your buck, to say the least.
Additionally, almost every cam babe on the site allows private show recordings, which means that you get a record of your session with them. The video of your private show will automatically show up in your "my media" page about 15 minutes after the end of your session.
Group Chat
Called Ticket Shows on CamSoda, these cheap group shows are a fantastic alternative to those of you who want some heavy action for cheap and don't mind other people spamming tips. I have to say that I didn't, since the point of it was less to get the model's attention, and more to see how far back her eyes can roll back into her head. Whoever invented remote-controlled sex toys has my best regards.
In any case, this works simply: You pay a small price for a ticket (around $6.00 for a 15 minute show) and, if enough people purchase tickets, the show will start and you'll have a seat. Just sit back, unbutton your pants and enjoy. If not enough tickets are sold, you're refunded what you paid, and that's it. Simple, straightforward and fun.
Spy Chat
Pretty straightforward: You can spy on other members' private chats. Not all models on CamSoda allow this, though, so rest assured that whether you like to be watched or not, you'll have your options open.
These shows tend to cost much less than normal private shows, as you might assume. They're really a great option if you're looking for an intense 1-on-1 session and don't really care for the added intimacy of a private chat.
Voyeur Chat
CamSoda has a few rooms that are active 24/7 where you can spy on a house full of hot cam models living out their normal lives. Yes, I'm aware that their lives are far from normal, but they still eat, sleep and lounge just like anyone else.
Unique Features and Extra Content
While CamSoda is all about getting you hyped, horny and tip-happy, it does have some nice extra content. For starters, like on most sites, the cam models on CamSoda offer hot photos and video of themselves in action that you can purchase. Great for those who find a few favorite cam babes and want some exclusive extra content of them, preferably while their nude and moaning. These don't tend to cost too much, and are a nice addition.
Additionally, CamSoda makes its own porn. Yes, actual, professionally made porn. I know that this is becoming more and more of a niche nowadays, when homemade porn has become the norm, but I'm still a sucker for high quality production adult videos, especially when it's free. If you too like to dabble, you can find these at the exclusive videos section at the top of the site. You'll find mostly parodies there, along with the occasional gangbang.
Finally, almost every cam girl on the site allows private show recordings, which means you'll be slowly starting to create your own private collection of cam porn videos, where you are the director and actor. I don't know what about you, but I love rewatching old shows I've been in and relive those moments. On CamSoda, it's not only viable, it's also easy and free. You don't have to do anything but wait a few minutes after your show, to get your recording; it's like the fast-food version of amateur cam porn.
Mobile Site
CamSoda is the best mobile adult cam site there is. It not only works fantastically well on the phone and looks great on its smaller screen, it's also among the only two cam sites that offer mobile cam2cam. If you want some adult entertainment on the go, you couldn't do better.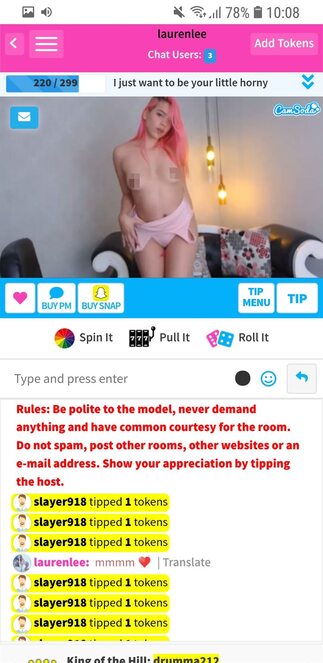 There's no need to download any app, CamSoda just works. You open your browser on you phone, go to CamSoda.com, and viola - instant cam porn fun. On top of this, CamSoda is possibly the only cam site I know that managed to implement the chat box properly. You click to right, and lo and behold, the keyboard does not obscure the screen.
Premium Membership and Rewards Program
CamSoda gives you the option of becoming a premium member for $19.95 a month. This is what they say you'll be getting from that: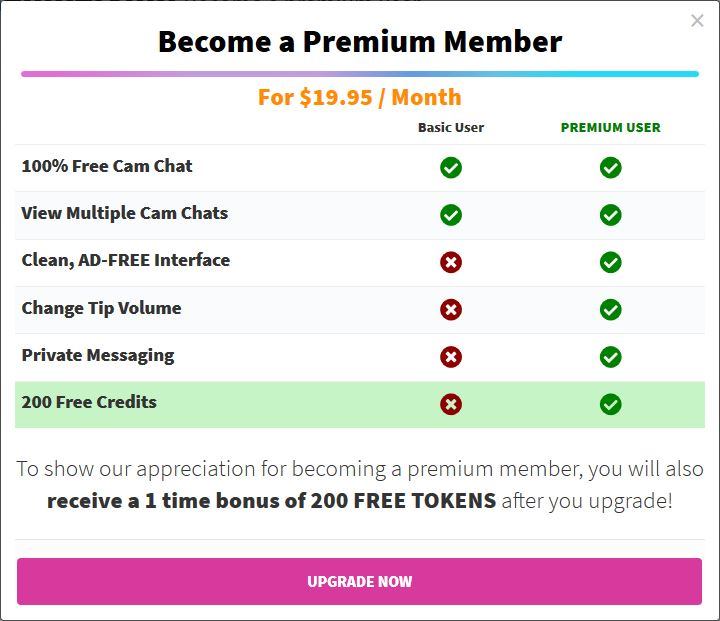 Now, let me break down the benefits to you: While an ad-free interface sounds great, it's not much different from that of a regular member. CamSoda just doen't have that many ads. Being able to change the tip volume, though, is great, as I just tend to mute it altogether, and since I still want to hear the show, it's pretty essential for me.
Private messaging is also a great feature to have, since who doesn't want to be able to message a model or fellow member. Finally, the free credits, which amount to about $20.00, makes the whole thing practically pay for itself.
Overall, if you intend to visit the site even once or twice a month, it's still beneficial for you to purchase the premium membership. It's just going to save you money and maybe a headache.
As for a loyalty program, there is none, but the site is honestly cheap enough that you probably won't care.
Registration
There's not much to say here, honestly. Registering for CamSoda takes seconds. It's honestly easier than walking from your couch to the fridge.
You just enter a valid username, email and password and you're done. No email confirmation or payment method validation required.
Accepted Payment Methods
The accepted credit card types are as follows:
Visa
Visa Electron
Visa Bleue
MasterCard
MasterCard Maestro
Diner's Club
Discover
JCB
Switch
And these are the available alternate payment methods:
Security and Quality Assurance
CamSoda covers all the bases, and then some. It uses HTTPS protocol and SSL encryption to protect your information and ensure that your connection is private, and Epoch and SegPay to process your payment in a secure fashion.
Should you have technical problems mid-show, you can contact CamSoda support to receive a refund in tokens. Just make sure you do so immediately.
CamSoda is also a big proponent of child protection and works with three different non-profits, RTA, SafeLabeling and the ASACP, to make sure that no registered member or model on the site is a minor.
Customer Support
CamSoda offers a handy FAQ and support page, with specific details on what to do should you have a billing problem. There's also live chat dedicated to resolving billing issues, but for anything else, email is unfortunately your only option.

In Conclusion
There's really no good reason not to visit CamSoda. Its developers made sure to make one of the most accessible, cheap and secure cam sites on the market. They also made sure it's eye-popping camming platform, with hot naked cam girls abound.
CamSoda may not give you the best ways to find anything specific that you might want to, but it it has more than enough in it to be worth your time and money.
Since it's essentially free, there is really no reason for you not to give it a try.