CamSoda.com - Play with MILFs for Cheap
Last updated
January 02, 2021
CamSoda is an amazing platform to watch mature cams on. Despite being so cheap that it's borderline free, the site has managed to create a secure environment in which to hunt down your very own cougar to webcam with. You can take your time flirting with the talents and enjoying their show. As the mature women on the site are usually experienced professionals, enjoying their performance at your leisure is highly recommended.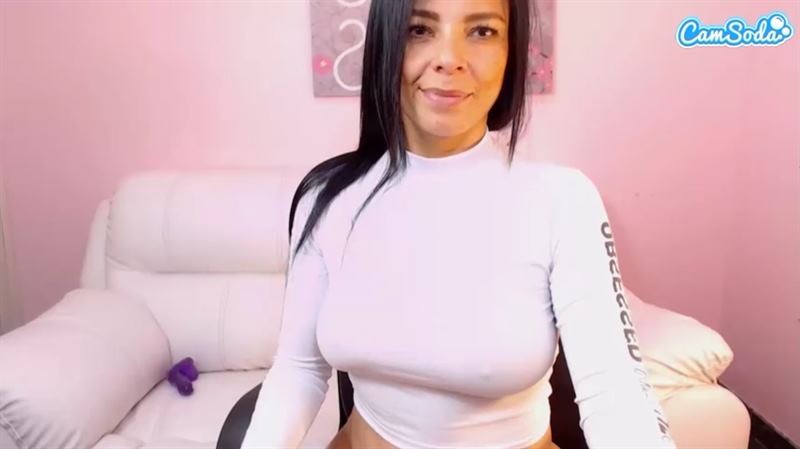 The site does has a few idiosyncrasies worth noting, so I made this full CamSoda review to save you some time. Unlike my generic CamSoda review, this one focuses only on the mature models available on the site. I will detail all that is great, and all that is less that, and will offer tips about the site, and how to save money.
Pros Vs Cons
Pros
Freemium with no obtrusive ads
Free cam2cam and two-way audio
Cam2cam also available on mobile devices
Some rooms include free show recordings
Mass preview allows you to preview all cams at once
Fantastic interactivity via remote-controlled sex toys
Lowest average priced private cams
Cons
Not the largest collection of mature cams
Inaccurate search and categorization systems
The Models
There are milfs from all over the world streaming on CamSoda. European, Latina, Asian, American... You name it, CamSoda has it. The mature webcam models also vary in ages and body types, but, more often than not, they tend to be in their late 30s or early 40s and have curves to die for. Finding a flat-chested milf on CamSoda is close to impossible.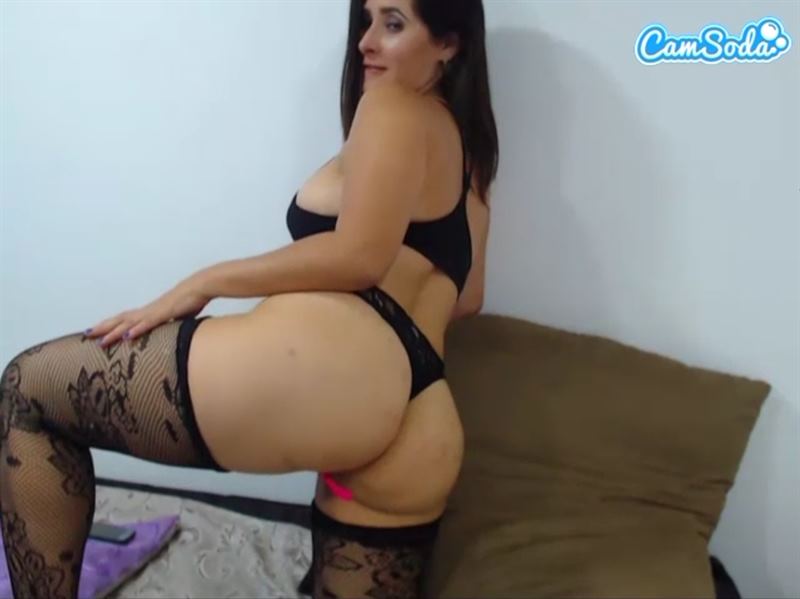 That being said, the amount of mature sex chat rooms offered by CamSoda is decent, but not spectacular. There are hundreds of mature models registered on CamSoda's platform, but only around 30 of which are online at any given moment. You won't be lacking variety, but you won't have the largest amount of options either.
At the very least, CamSoda's adult cam babes are often sexy, voluptuous and experienced in all matter of kinks and fetishes. Want a milf to treat you like a little boy? Want her to instruct you on how and when to jerk off? Or do you just want to take control and force the milf to cum on command? Well, thanks to CamSoda's excellent models, all of the options above are available to you, and many more.
As for controlling a cam girl's climax, few adult chat site's are as suitable for that as CamSoda is. It is the best OhMiBod and Lovense cam site thanks to how popular remote-controlled sex toys are among its models and members. You'd be hard pressed to find a day in which those pink vibrators are not prominently featured in any page you visit on the site.
Whatever page you do find yourself on (something tells me that it's going to be the milf section), you'll see all that's going on in the rooms thanks to CamSoda's mass preview feature. This feature lets you preview everything that's going on inside the site's many cam rooms, all at once. The site's search system is very buggy, but thanks to the limited amount of matures on cam and the mass preview feature, you're not going to have to search far.
As a side note, you can find most of CamSoda's milf cam rooms by clicking the #milf tag above the cams grid on the front page. It won't show you all of them because some milfs don't tag themselves as such, but it's a good way to save time if you're in a hurry to bust one out.
Video Quality
CamSoda's video quality is fairly middle-of-the-road. You're going to see equal amounts of HQ and HD cams streaming on the site, and almost no shows being streamed in video resolution worse or better than those.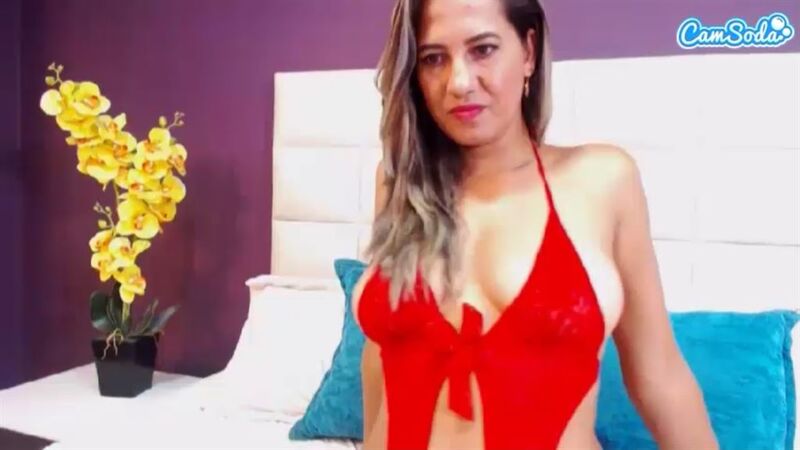 There's unfortunately no way to differentiate between the HQ and HD cam shows without entering them, or to filter for the video quality that you prefer. The selection of milf cams on CamSoda is small enough for this not to be an issue, but I would still have appreciated an HD tag on relevant cam rooms.
Just make sure to check the video resolution when you enter a room. At times, CamSoda sets the show in lower quality despite it being HD and your internet connection being fast and stable. It's rare, but it happens, so be aware.
As for the actual quality of the site's streaming, CamSoda is not particularly consistent when it comes to stream stability. Still, most of the cam shows tend to run smoothly and without much stutter. Every so often you'll find an adult webcam show chat that buffers every few seconds or so or has more than a couple of seconds of stream delay, but you can just ignore those and enter other shows without such problems. You'll have enough of a selection to easily do so.
Prices
I actually consider CamSoda to be the cheapest webcam site in the business. The site has a wide range of token packages, with each bigger package giving you more bang for your buck. Do note that not all the packages are visible, with some only being revealed to members who've made at least one purchase on the site.
Below is the breakdown of the different packages: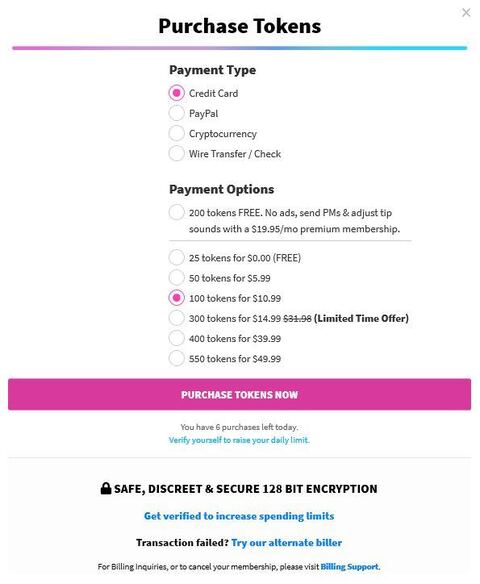 Visit CamSoda now to take advantage of the site's limited time offer of 300 tokens for only $14.99. That's half the regular price.
Additionally, CamSoda lets you claim 25 tokens for free. And no, there are no strings attached. All you have to do is register a credit card.
Chat Types
There aren't many chat types offered by CamSoda, although the one's that are offered by it will satisfy most members.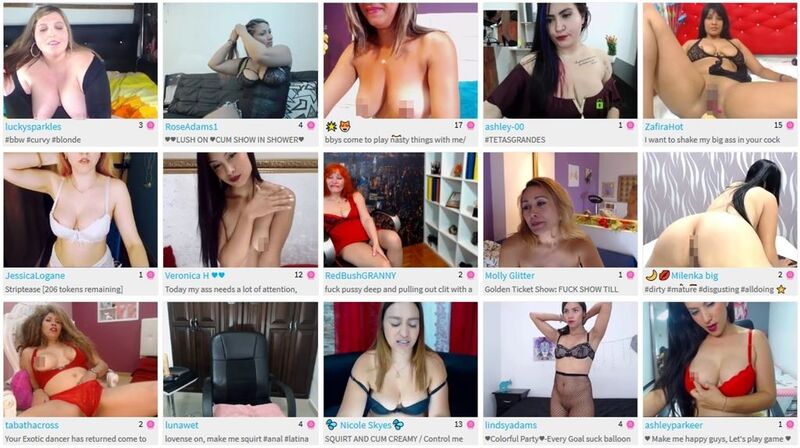 You can see a description of the cam room and how many people are in it at the bottom of its preview window, as well as if the model hosting it is new to the site. If you prefer not to contend with others for the attention of the performer, then I suggest that you look for rooms with fewer viewers.
Open Chat
This is CamSoda's biggest attraction, Since the site is freemium, you're going to see a good amount of nudity and sexual activities here. You won't have to spend a dime to just watch, but if you want the model to do something specific then you'll probably have to tip her or take her private.
Private Chat
Looking for a model to role-play as your step-mom? Some other power figure with control over your pleasure? Or are you just looking to get intimate online with a woman who'll know just how to take care of you? If so, find a milf to your liking and start a private show with her.
If you'd like the model to watch you while you watch her, or you prefer to be hands-free while doing so, you'll be happy to learn that CamSoda offers free two-way video and audio. Whether or not the model enables cam2cam is up to her and what you discussed with her, so talk to the model about it prior to the show if this is important to you. Also, pay attention to what the notification window says prior to starting the show, as it mentions whether the show includes cam2cam or not.
Private shows on CamSoda go for an average of $2.40 a minute and a minimum of $0.60 a minute, making the site fairly cheap when compared to most adult chat sites out there. Not all of the girls include free show recordings, but when they are included, you don't have to do anything, the recording is automatically added to your collection after the show.
Group Chat
If you don't care much for intimacy or a 1-on-1 show, then you should try out CamSoda's Ticket Shows. They are pretty straightforward: You pay for a ticket (around $6.00 for a full 15 minute show) and, if enough people purchase said tickets, the show will start and you'll get a seat. You can enter the show at any time you want, as long as it is ongoing. You can also tip at any point to further incentivize the model. If she has a remote-controlled sex toy, tipping her will also activate it.
Do note that if not enough tickets are sold, you'll be refunded the tokens that you spent for the ticket, and you can use the refunded tokens to enjoy another show. Models usually start the show even if it wasn't sold out, so it's more likely that your show will just be less crowded.
Spy Chat
Some models on CamSoda allow other paying member to spy on their private shows. This tends to cost around $0.60 a minute (the minimum amount a model can charge for). If you do not wish to be spied on, you can check with the model if she allows this, and, if she does, request that she turns it off for your show. She may charge you a bit more for the privilege, but CamSoda's milfs are usually very accommodating.
You can find these shows by pressing the spy shows tag above the grid of cam shows on the front page of the site.
Voyeur Chat
CamSoda has a few voyeur chat rooms that are active 24/7. These rooms allow you to spy on a house full of hot cam models, but no model featured in any of these rooms can be considered a milf by any stretch of the imagination. These rooms are rarely active anyway, so you're not missing out on much.
Unique Features and Extra Content
Aside from the prevalence of tip-activated sex toys and free recording of private shows, CamSoda has only one feature that is fairly unique to the site: It's aforementioned live mass preview feature. If you consider it convenient to be able to hover over a cam room and see exactly what's going on inside of it, visit CamSoda and get a taste of this feature. No need to hover over the room, it just works, and gives you full view of all the rooms on the page. It's fantastic, and no other site does this as well as CamSoda does.
As for or extra content, Some of CamSoda's mature cam models offer the usual slew of risque videos and pictures to prospective buyers. These don't usually cost much, and if you want more of your favorite milf, than you'd be happy to have this option. Note that all pictures and videos that you purchase are automatically added to your my media page, along with your recorded shows.
As a side note, CamSoda also makes its own professional porn. Unfortunately, while these videos have great production value and are free to all members, they do not feature cam girls over 30 and are usually comedic in nature. If you're still curious, you can find them at the exclusive videos section at the top of the site.
Mobile Site
CamSoda's mobile optimization is exemplary. I've ranked it at the top of my best mobile cam sites list due to how well it performs on tablets and phones, as well as how convenient it is, never mind the fact that it's 100% bug free and features free mobile cam2cam.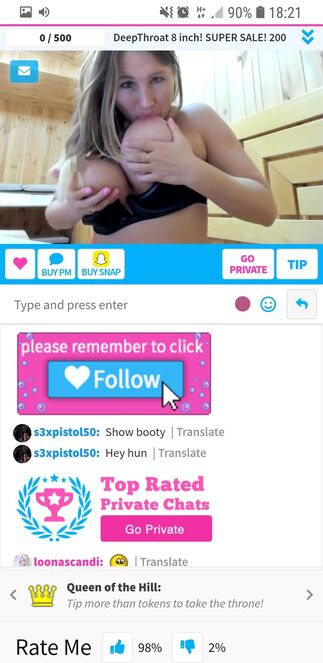 CamSoda has no mobile app that you'll need to download in order to enjoy the site on the go. You just visit it on your phone and enjoy. CamSoda works perfectly on all mobile browsers and modern smartphones, and as long as you have a decent internet connection, the show should run without a hitch.
Premium Membership and Rewards Program
CamSoda's premium membership comes at the low cost of $19.95 a month, and offers a slew of benefits. Here is a breakdown of the main things you'll get from being a premium member: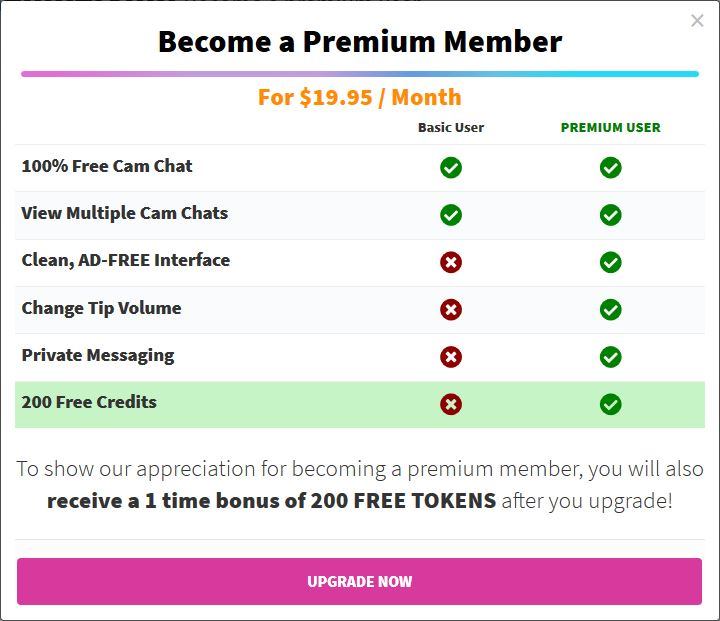 Let me go over the benefits in the order they are presented:
Clean, ad-free interface - This may sound appealing, but CamSoda uses no intrusive ads to begin with, so chances are that you won't even notice any changes.
Change tip volume - This may not sound like much (pun not intended) but it's actually quite convenient. If you like to hear the model clearly, you're going to want this when you're, for example, in a group chat and the tips are flowing.
Private messaging - private messaging is disabled for regular users. Upgrading to premium gives you the ability to PM any webcam model on the site, regardless of whether she is online or not.
200 free tokens- This means that CamSoda's premium membership pretty much pays for itself, since 200 tokens are worth around $19.95 (which is the cost of the membership). If you intend to purchase tokens so you can tip some milf or take her private, there is absolutely no reason for you not to purchase a premium membership instead. In that way, you get the tokens you need and some great benefits on top of them.
As for a loyalty program, CamSoda doesn't have one. My guess is that the developers behind the site figure they didn't need to offer one since the site is already cheap enough as it is.
Registration
Registering for a basic CamSoda membership is as simple, fast and easy as it can get.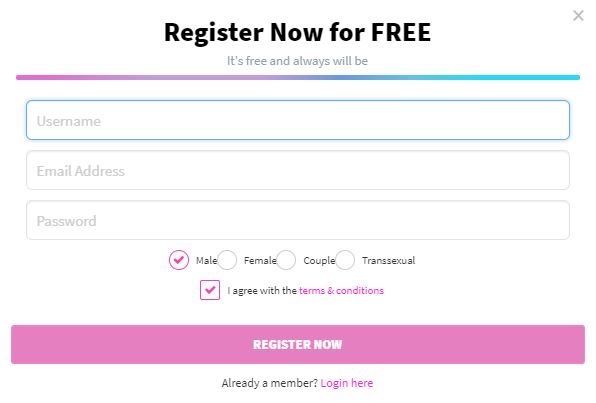 All you have to do is choose a valid username, email address and password and you're done. No email confirmation or payment method validation is required.
Accepted Payment Methods
The accepted credit card types are as follows:
Visa
Visa Electron
Visa Bleue
MasterCard
MasterCard Maestro
Diner's Club
Discover
JCB
Switch
And these are the available alternate payment methods:
Security and Quality Assurance
When it comes to protecting your private information and transactions, CamSoda has you covered. The site uses HTTPS protocol and SSL encryption to protect your privacy and ensure that your connection is secure. It also uses Epoch and SegPay to process your payments in a safe and efficient manner.
In addition, CamSoda works with three non-profit organizations (RTA, SafeLabeling and the ASACP) to make sure that no cam model working on the site is underage. This serves, among other things, to prevent you from being added to any "list".
CamSoda also makes sure that you get what you paid for. For example, if you experience any technical problems while in a paid show, you can contact CamSoda's customer support to receive a refund in tokens, as long as you contact them immediately after you encounter the problem. CamSoda's customer support will then help you resolve the issue so it won't happen again.
Customer Support
CamSoda has an extensive FAQ and customer support section, with specific instructions in case you have a technical or billing issue.
CamSoda offers live chat to those who are experiencing billing issues. If you have technical issues, email is unfortunately the only option you have for contacting customer support. It's slow and you'll have to be patient, but CamSoda's customer support usually replies within a day or two and tends to resolve any issue fairly quickly.
In Conclusion
CamSoda is a great place to be taken care of. You have a myriad of mature webcam shows to choose from, hosted by experienced and hot cam milfs that know how to get their viewers excited. Add to that CamSoda's cheap prices and high-quality cams, and you've got a site that you'll enjoy coming back to for years to come.
Whether you prefer to watch milf cams on your computer or on your phone, whether you prefer the communal experience of a group chat or the intimate touch of a private show, CamSoda will satisfy your needs. Now got visit the site, try it out for free and see for yourself.