The Only 2 Cam Sites That Have Mobile Cam2Cam
Last updated
March 21, 2019
Let's face it: While enjoying a good cam2cam show on a large screen at the comfort of your home is always preferable, it not always possible. I assume that you, just like me, are all busy people, with limited amount of time to spend on hobbies. This is why I've went and found for you the only 2 cam sites that allow you to cam2cam on the go. Feeling frisky, and in need of some intimacy with a hot, attentive professional? Take a look at the chat sites below and enjoy.
---
CamSoda.com
CamSoda is the trailblazer of mobile cam2cam. What tickles me about this is that CamSoda's developers didn't even treat it as a big deal; They just wanted to give their members the best mobile experience that they could. And they did: CamSoda's mobile site serves as an example of how to do a mobile cam site right.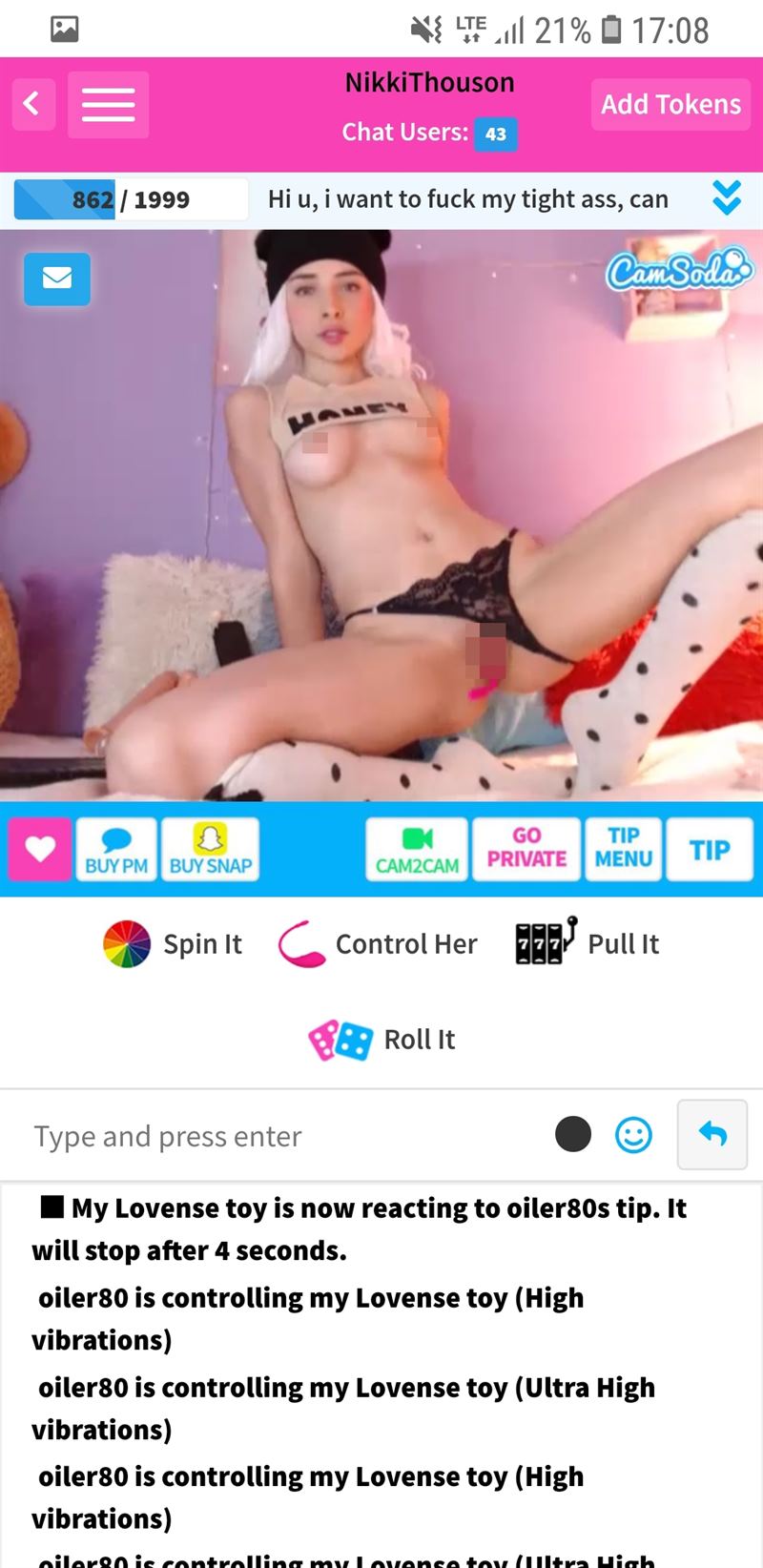 CamSoda hasn't been around as long as LiveJasmin has, but it already boasts around 600 active cam models at any given minute, and many of them will easily get you to lose track of how much time you're spending on the site. The variety featured on CamSoda is fantastic, with models from all over the world using its platform. On top of that, a large amount of them are using
remote controlled sex toys
you can activate by tipping. Let me just say that having your cam girl beg you to let her cum while watching you get off on it is an experience you should definitely have.
While CamSoda doesn't enforce video quality, most of the shows featured on CamSoda, and especially on the first few pages of the site, are in either 720p HD or full 1080p HD. They also load and run extremely well, with it being easy to type and talk to the girl you are watching.
CamSoda does have a different problem, though: It's search and categorization systems are just plainly unhelpful. Model's tag themselves as whatever they wish, with no oversight, making finding any particular thing on the site a bit of a chore. This isn't much of a problem on CamSoda's browser site since it has a mass preview feature that let's you easily sift through the rooms, but this feature isn't included in CamSoda's mobile site. This is done in order to keep it lightweight and responsive, but it also means you'll be spending a bit of time trying to find a cam show that suits you.
Thankfully, checking out CamSoda's models isn't much of an issue since it's a freemium cam site. Most cam models you'll see on the site will be either partly naked, performing some sort of sexual act or both. This makes it really easy to "check the goods" before purchasing them, so to speak.
But, since we're talking about cam2cam, you're probably not here to just look for free cam porn, but interested in a truly intimate experience only a private cam2cam session can provide. In that case, you'll be happy to learn that CamSoda is fairly cheap; A private show on the site costs around $2.40 a minute, but can go for as low as $0.60 a minute. On top of this, cam2cam doesn't cost extra, and neither does two-way audio. The downside, is that CamSoda doesn't guarantee that every model will be offering cam2cam, so, once again, you'll have to just look for the ones that do. Just look for the green cam2cam button you can see in the image i put above.
Technically speaking, CamSoda works well on most platforms and devices, and so you're not like to have any problems on the site. If you do, CamSoda offers a handy FAQ and support page, and there's also live chat dedicated to resolving billing issues, but for anything else, email is unfortunately your only option.
---
LiveJasmin.com
LiveJasmin is a giant of the camming industry, setting a bar that the rest are still trying to reach. I've ranked it as my top cam site for both vanilla cams and fetish cams, and if you'll read my LiveJasmin reviews for those particular categories, you'll easily see why.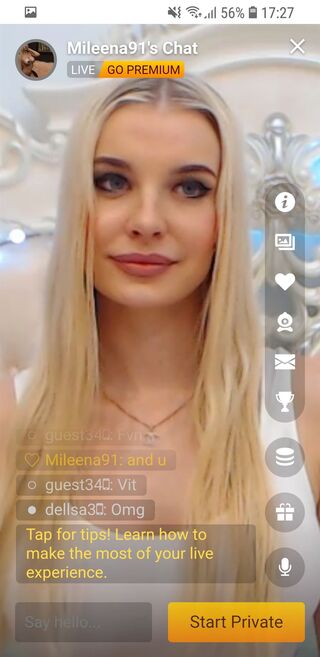 Let me start by saying this: LiveJasmin has an immensely wide variety of cam models working on its platform, with around 1,400 of them being online at any given moment. They are varied and come in all ages, ethnicities, shapes and sizes. It's part of the reason why I ranked it so high in the fetish category; With so many model's and great categorization and search features, it's highly unlikely that you wouldn't find whatever rocks your boat within the site's many pages of cam babes.
You'll also be hard-pressed to find an adult chat site with better stream and video quality than LiveJasmin. I know because I've tried. Nearly all the rooms are in HD, if not full HD, completely lack any stuttering or buffering issues, and are so well-framed and presentable you could swear that each model has employs her own film crew.
But since we're talking about viewing the site on the small screen of a tablet or phone, this is not really the biggest concern. What is, though, is how good LiveJasmin's mobile site is. The answer? It's fantastic. Every chat room opens with a large screen giving you an amazing view of the performance. It loads extremely fast with even a mediocre internet connection and runs as well as the browser site does, meaning close to perfectly. The mobile cam2cam is no exception.
There are two slight issues with LiveJamin's mobile site, though. First: The address bar remains and cannot be removed unless you do so before entering a show (by scrolling down a bit). Second: Typing in chat obscures the screen, which can get annoying if you're not paying extra for two-way audio (more on that later) and want to talk to the performer. These can be easily resolved, though, by downloading the official LiveJasmin app, and even without doing so they're not really big problems by any stretch of the imagination.
Now, as for the cam2cam itself, LiveJasmin unfortunately charges more for the pleasure. If you want both two-way video and audio, you'll have to shell out an extra $2.50 a minute. The upside is that LiveJasmin's two-way video and audio quality are pretty much unmatched, but since LiveJasmin isn't exactly the cheapest adult chat site around, this can get a bit too pricey for some.
A minute in private on LiveJasmin costs around $2.70, which is around 10% more than it costs in any other chat site. This isn't much more, but it can add up, especially if you're more than a casual watcher. LiveJasmin gives up to $13.00 worth of credits on your first purchase and on every 5th purchase after that, but it doesn't have much in the way of loyalty programs or recurring deals or discounts that help lower costs further.
Overall, LiveJasmin has almost no hiccups aside from the ones I've mentioned. If you encounter any problem, LiveJasmin has a giant FAQ section and customer support you can contact 24/7 via email, phone and live chat, so you're fully covered.
---
In Conclusion
Since these two are your only options, you can just choose between them according to your taste. They're both terrific webcam sites and among my favorite to enjoy on the go, so you can't really go wrong with either.
If you want a recommendation, though, then I would suggest you check out CamSoda. Its quality is fantastic, and its cam2cam is completely free in private shows. If you're new to CamSoda, check it out by using the link below, and if you like it, register so you can, ehm... further examine its services.