Chat Sites That Enable Mobile C2C
Last updated
March 21, 2019
Enjoying a cam2cam session on a large screen at the comfort of your home may be ideal, but you live a more 'mobile' lifestyle, and you would like access to beautiful webcam models from wherever you may be, and at any given moment. I only do top 5 lists, but this topic deserves mention that there are 6 video chat sites that enable you to cam2cam from a smartphone or tablet device.
---
CamSoda.com
CamSoda is the trailblazer of mobile cam2cam. What tickles me about this is that CamSoda's developers didn't even treat it as a big deal. They just wanted to give their members the best mobile experience that they could. And they did! It serves as an example of how to do a mobile cam site right, and is, in my opinion, the best mobile sex cam site for phones.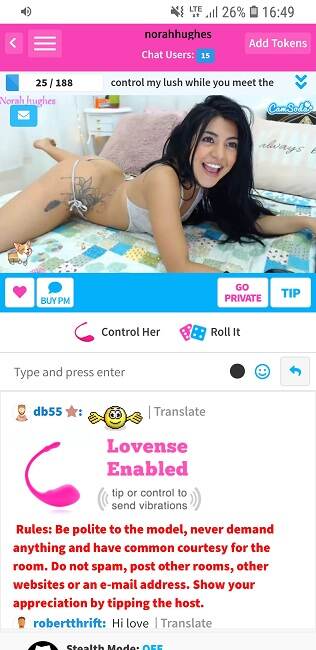 CamSoda hosts around 700 active cam models at any given minute, and many of them will easily get you to lose track of how much time you're spending on the site. The variety featured on CamSoda is fantastic, with models from all over the world using its platform. On top of that, a large amount of them are using remote controlled sex toys that you activate by sending virtual tips.
While CamSoda doesn't enforce video quality, most of the shows featured on CamSoda, and especially on the first few pages of the site, are in either 720p HD or full 1080p HD. The rooms load fast and run extremely well, and the deftly designed interface makes it easy to type and talk to the girl you are engaging.
Where CamSoda falters a bit, is with its search and categorization systems. They're just plainly unhelpful. Model's tag themselves as whatever they wish, with no oversight, making finding any particular act or model type , a bit of a chore. This isn't much of a problem on CamSoda's browser site since it has a mass preview feature that let's you easily sift through the rooms. But, this display feature isn't included in CamSoda's mobile site. This is done in order to keep it lightweight and responsive, but it also means you'll be spending a bit of time trying to find a cam show that suits you.
Thankfully, checking out CamSoda's models isn't much of an issue since it's a freemium cam site. Most girls will be either partly naked, or be giving a full on sex performance. This makes it really easy to "check the goods" before purchasing them, so to speak.
But, since we're talking about cam2cam, you're probably not here to just look for free cam porn, and are interested in a truly intimate experience only a private cam2cam session can provide. In that case, you'll be happy to learn that CamSoda is fairly cheap; A private show on the site costs around $2.40 a minute, but can go for as low as $0.60 a minute. On top of this, cam2cam doesn't cost extra, and neither does two-way audio. The downside, is that CamSoda doesn't guarantee that every model will be offering cam2cam. So, once again, you'll have to look around for the ones that do.
Technically speaking, CamSoda works well on most platforms and devices, and so you're not like to have any problems on the site. If you do, CamSoda offers a handy FAQ and support page, and there's also live chat dedicated to resolving billing issues. But. for anything else, sending an email is your only option.
---
Flirt4Free.com
Flirt4Free is probably the best adult webcam site to visit if you want your model to look like she (or he) was picked out of a Sports Illustrated Swimsuit catalog. Most of them are absolutely drop-dead gorgeous, and, thanks to the site's wonderful mobile platform, can be viewed on a phone or tablet just as well as they would be on the site's desktop version.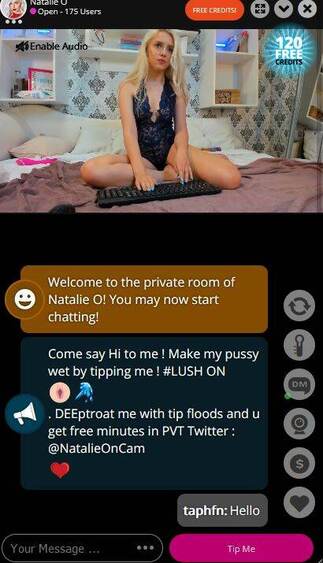 Flirt4Free has around 700 webcam models performing on the site at any given moment, and most of them opt to stream in HD. Together with their looks, this site is a veritable smorgasbord of jaw-dropping eye candy. Flirt4Free also makes sure that each model uses high-quality webcams and high speed internet so viewers don't experience any stream stutter or buffering issues.
The variety of the shows is on par with their quality. You have a great selection of different chat types to explore, along with a good number of tip controlled cam rooms, where the model uses a special remote-controlled pleasure toy that you can activate by tipping them.
As for the variety of models, you do have quite a plethora of different ages, body types and ethnicities to enjoy, but most models on Flirt4Free are young, beautiful Caucasians. If that's what you prefer, then your selection will be far from limited, especially if you prefer them to speak English, as many models here are American models.
While the average price of a show on Flirt4Free may seem slightly higher than the other sites on this list at $3.60 per minute, there are a few things to keep in mind: First, Flirt4Free is very transparent about its prices, and lets you easily filter for shows that fit your budget. Second, cam-to-cam is free and includes two-way audio. Third, Flirt4Free has many different ways in which you can lower prices even further, like fan clubs and special promotions. All things considered, I found Flirt4Free's prices to actually be lower than most other premium cam sites in the long run.
On top of that, Flirt4Free has a VIP program that not only gives a myriad of benefits, but costs very little compared to what you can expect to gain from it. It even allows you to cam2cam in the open chat, even on mobile.
Flirt4Free's mobile site is basically the same as the desktop version of the site, and works just as well, but is perfectly suited to the smaller screen of your phone and/or tablet. It also doesn't suffer from many of the issues that plague most mobile webcam sites nowadays. For instance, typing in chat doesn't obscure the screen.
If you do come across any issues on Flirt4Free's mobile site, then you'd be glad to learn that the site offers 24/7 customer support via live chat. It's not as immediate and responsive as LiveJasmin's customer support is, but it's still available at all hours of the day and is just as helpful.
---
LiveJasmin.com
LiveJasmin is a giant of the camming industry, setting a bar that the rest are still trying to reach. I've ranked it as my top cam site for both vanilla cams and fetish cams, and if you'll read my LiveJasmin reviews for those particular categories, you'll easily see why.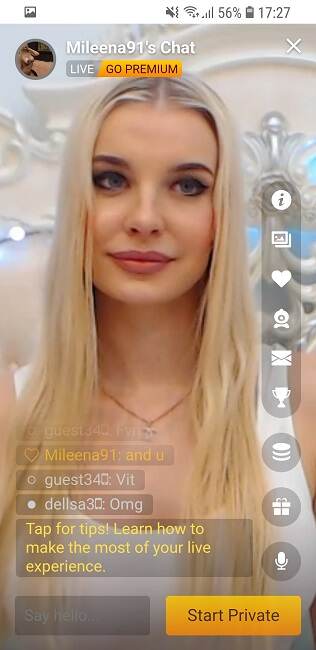 Let me start by saying this: LiveJasmin has an immense variety of cam models working on its platform, with around 1,400 of them being online at any given moment. They are varied and come in all ages, ethnicities, shapes and sizes. And with the sites stellar categorization and search features, it's highly unlikely that you wouldn't find exactly what you're looking for.
You'll also be hard-pressed to find an adult chat site with better stream and video quality than LiveJasmin. I know, because I've tried. Nearly all the rooms are in HD, if not full HD, and completely lack any stuttering or buffering issues. And the models are all so well-framed and presentable that you wouldn't be surprised to learn that each model employs her own stage crew (they don't really).
On mobile, every chat room opens with a large screen to display an amazing view of the performance. It loads extremely fast with even a mediocre internet connection and runs as well as the browser site does, meaning close to perfectly.
There are two slight issues with LiveJamin's mobile site, though. First: The address bar remains and cannot be removed unless you do so before entering a show (by scrolling down a bit). Second: Typing in chat obscures the screen, which can get annoying if you're not paying extra for two-way audio, and want to talk to the performer.
Now, as for the cam2cam itself, LiveJasmin unfortunately charges more for the pleasure. If you want both two-way video and audio, you'll have to shell out an extra $2.50 a minute. The upside is that LiveJasmin's two-way video and audio quality are pretty much unmatched, but since LiveJasmin isn't exactly the cheapest adult chat site around, this can get a bit too pricey for some.
A minute in private on LiveJasmin costs around $2.70, which is around 10% more than it costs on any other chat site. This isn't much more, but it can add up, especially if you're more than a casual watcher.
Overall, LiveJasmin has almost no hiccups aside from the ones I've mentioned. If you encounter any problem, LiveJasmin has a giant FAQ section and customer support you can contact 24/7 via email, phone and live chat, so you're fully covered.
---
ImLive.com
ImLive, one of the cheapest premium cam sites in the world, has recently launched a new and improved mobile site that added a free mobile cam-to-cam feature for all registered members. This, along with a plethora of significant changes and updates has made ImLive's mobile site one of the best in the business.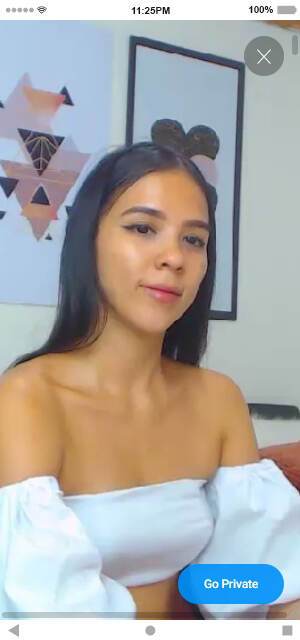 To start, ImLive is now among the few cam sites that are truly 100% optimized for phones and tablets, and it's clearly noticeable. Typing in chat doesn't obscure the screen, and you can easily pan the screen with a swipe while in portrait mode, and everything is accessible right in the cam room itself and yet completely unobtrusive.
This is added to the fact that ImLive, as I've mentioned, is incredibly cheap. Not only will most shows here cost you less than $2.00 a minute, there are several features that help reduce costs even further, such as fan clubs, cheap group cams, discounted block sessions and the sites cost-reducing loyalty program.
Added to this is ImLive's general generosity, which is exemplified by its recent $50 giveaway promotion for new members. With it, you can try out ImLive for free, and form an opinion before even having to spend a dime.
With all that, one would think that ImLive probably sacrifices quality for its prices, but it doesn't. It may have fewer HD cams than the other sites, but since there's no noticeable difference between HQ and HD on the phone, and most of its cam rooms are in HQ, ImLive is perfect for smartphones.
The site also has a large quantity of cam rooms, with around 700 of them being live at any given moment. While most of the models on the site are Latinas and Latinos, ImLive still has a good diversity of performers that will satisfy most.
You can use the site's excellent search and categorization systems to easily find the cams that suite you, but, if your tastes are a bit more particular, I suggest that you use ImLive's exclusive Fulfill your Fantasy feature. This feature lets you write down your dream scenario with your dream performer, and have the site's models (and only them) give it a read. Whoever wants to make your dream come true can then message you with an offer, meaning you will not have to go room by room to search for the one particular model that both suits your tastes and will happily perform as you request.
---
xLoveCam.com
xLoveCam's mobile cam site saw a meteoric increase in performance and popularity in recent years. There's really nothing quite like it, not even the sites above can match its speed and slick performance on mobile platforms. A cam room takes less than a second to load (yes, you read that right), and it runs without a hitch. It's frankly impressive how well this site works on tablets and phones.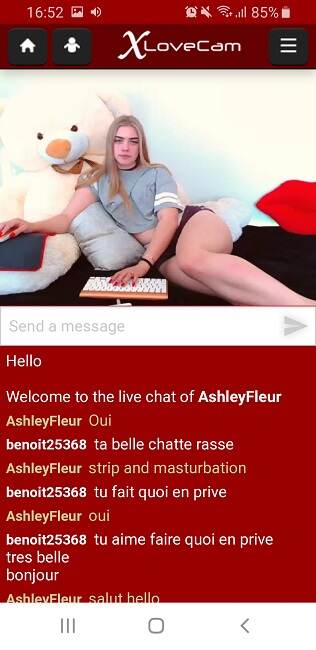 Another thing that makes xLoveCam's mobile site stand out from the herd is the fact that writing in chat doesn't obscure the screen. This is great if you don't intend to use the two-way audio that comes with the cam2cam, which, by the way, is freely included in every private chat. The catch here is that a private chat on xLoveCam is not entirely private. There can be up to 4 people participating in a private show, though only the member who initiated the show can broadcast back to the model. If you wish for more privacy, you'd need to initiate an Xclusive show, which costs more per minute than a private show.
This isn't that much of an issue since xLoveCam is fairly cheap. You can easily get an Xclusive chat with a hot babe for around 2.40 a minute, and finding them is very easy. xLoveCam has a Rates menu which you can find by clicking the search icon (the magnifying glass) at the top left of the site. Select the rate that fits your budget, look for the models you find most attractive, and enjoy. It's really that easy.
Once you're in a show, however, you'll notice a small issue that you won't on most other premium mobile cam sites: The camera doesn't adjust itself when enlarged to full screen. You can't even pan the camera to make up for that, so I suggest that you just don't use the full screen option until they fix this issue. Other than this, the video quality of the rooms is excellent, with most models, including many of the cheaper ones, streaming in HD. Even when you come across one who streams in HQ, it still looks great on the phone. The stability of xLoveCams' shows is what makes the experience so enjoyable, as there's nothing worse than a choppy cam show, something that you'll rarely come across here.
xLoveCams has around 500 models online at any given time, and they are as varied as you could hope. Interested in a specific age range? Ethnicity? Body type? You can search for it with ease using xLoveCams' accurate categorization system, and chances are you'll find it.
Overall, xLoveCam has fantastic mobile adaptability and is, in general, an amazingly cheap and secure cam site. Chances are you won't have any problems on it, but if you do, xLoveCam has top-of-the-line customer support for both billing and technical issues. You can contact them via email and live chat, or just use the site's comprehensive FAQ section to resolve the issue by yourself.
---
BongaCams.com
I like to keep my lists to the top 5 sites on any given topic, but since there are only 6 cam sites enabling the activation of your mobile device's camera for a 2-way video chat, then I didn't want to leave out the 6th option. BongaCams is a solid choice for pretty much anyone. It has around 600 live cams at any given moment, many of which are in HD and hosted by some of the most gorgeous European and Russian women.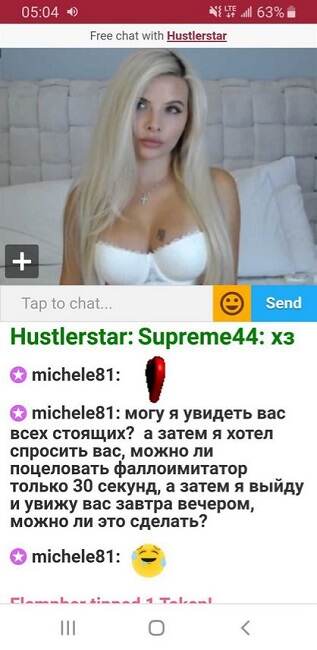 On top of BongaCams having a great selection of cam babes and lots of HD cams, it also features cam 2 cam and two-way audio that not only work on mobile, but are available in every chat room. Yes, that includes free chat, and only the model can see you if you turn on your webcam. All you have to do is be a Gold member, which you become forever once you make any purchase on the site.
The issue with this is that it's not always free. While prices on BongaCams are set, models here can charge you for c2c, and many do - at an average of a dollar a minute.
Also, I wish that the site's search and filtration options were better. Ranking them, I would say that they're about as good as CamSoda's which isn't really that good. Navigation, though, is a different story, as BongaCams has a very slick and intuitive design, especially on phones and tablets. BongaCams' mobile site has the same minor issues that most do, but, in large, it works well.
My main problem with BongaCams, though, has to be with its prices. As I mentioned, BongaCams has fixed prices for its private chats, which is 60 tokens per minute, or roughly $3.33 for every minute in private. Since the prices are fixed, this is as cheap as it gets, which is to say, not cheap at all.
Still, BongaCams is as reliable a cam site as you can hope to get. It even has 24/7 customer support in case you have any issues you can't solve by using the site's robust FAQ section.
Frankly, BongaCams is last on this list because, while it's great, the other sites here have something unique going for them, and compared to them, BongaCams is pretty basic. It's also pretty ad-heavy, and, at times, pesters you to purchase tokens. On top of that, many cam rooms on the site have watermarks, which can get annoying.
Still, if you're in the market for a lightweight and easy-to-use mobile cam site with c2c, then BongaCams is a very decent choice. It may not be the cheapest option out there, but its consistent high quality is undeniable.
---
In Conclusion
Since these chat sites are your only options for mobile c2c, you can just choose between them according to your taste. They're all terrific webcam sites and among my favorite to enjoy on the go, so you can't really go wrong with any of them.
If you want a recommendation, though, then I would suggest you check out CamSoda. Its quality is fantastic, and its cam2cam is completely free in private shows. If you're new to CamSoda, check it out by using the link below, and if you like it, register so you can, ehm... further examine its services.