xLoveTrans.com Review - International TGirls On Cam
Last updated
January 03, 2021
xLoveTrans doesn't have the biggest selection of trans cam models, and in fact has quite a limited number of them streaming at any point in time. However, and this is a big however, that isn't necessarily a bad thing. The tgirls that call xLoveTrans their online live video chat home are all highly skilled models and not one will waste your time (or money). Like the site itself, the models are all about the business at hand - live cam shows, preferably 1on1 live cam shows with viewers that appreciate their unique assets.
xLoveTrans doesn't feature many of the bells and whistles you'll find on many other comparable trans live cam sites. Here, it's all about the girls and the activities that take place behind the paid-for private curtain. Read on to find out if xLoveTrans has what you're looking for when it comes to some online fun and games with a hot international tgirl.
Pros Vs Cons
Pros
Prices include C2C and two-way
Cheap private cam shows
Wide selection of adult trans videos
Free membership
Site available in 27 languages
Cons
Limited selection of trans models
Limited preview in chat for non-members
Streaming quality tends to be low
The Models
The site purports to have thousands of models registered as xLoveTrans performers. That may well be the case, but from the many visits I've made there at varying times and days, I've only ever seen a handful streaming at a time. From my experience, you can expect to find around 20-30 xLoveTrans models online.
The homepage features nothing but the snapshots of the tgirls and a menu bar. While the photos are stylized (and somewhat digitally altered), all you have to do is hover over the image and a live feed comes through showing exactly what the performer is up to in real-time.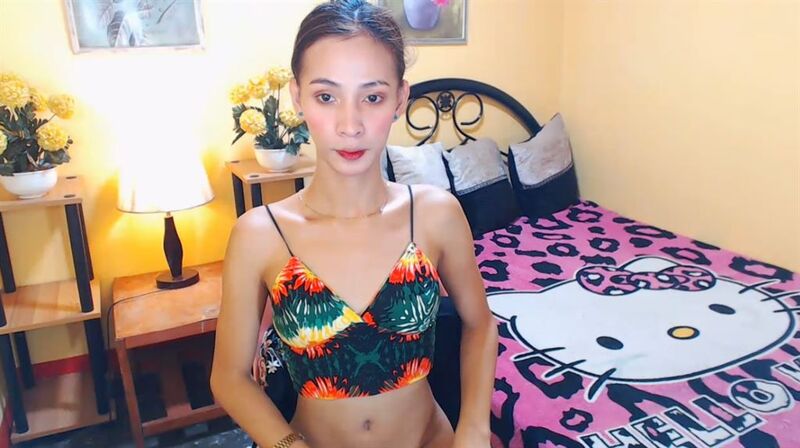 If you're like me and aren't interested in a seeing a "version" of a girl, you can always swap out the stylized images for snapshots taken moments earlier. On the menu bar there's a link to Profile Photo. Simply click this and Webcam Snapshots becomes the default setting. The stylized images are replaced and instead real-time screen grabs appear so now you really see what's going on at a glance.
Like other trans cam sites, the majority of the models here hail from Asia and Latin America, with a sprinkling of European transgenders. Even though the selection is small in number, this doesn't mean it's not all-inclusive. Surprisingly, you'll always find a few rooms featuring two girls and often a mixed gender couple. It's not all about the single trans stars here.
When I review most sites, I talk about how to find a particular type of model that suits your preferences, be it age, appearance type and even specific kinks - but at xLoveTrans, I'm going to take a different approach. With just 20-30 rooms to choose from, you can see in seconds if there's a model that deserves a second look.
The search groupings on the menu feature the usual categories such as Body Type, Hair Color, Bust size and even Weight. What it doesn't list is the size of their cock or even what fetishes they're into. That's somewhat of a miss as far as I'm concerned, but hey, most are happy to pull up their short little skirts or break out of their very flimsy lingerie and show you the size of their magic wands.
Video Quality
When it comes to video quality, it's a hit-and-miss affair. It can take a while for the stream to settle down. So, if you click through to a room and the live video is blurry, wait a few seconds. It may take a few moments for the optimum resolution to come through. If a room has HD capabilities an HD sticker will appear on photo when you hover over it. If one doesn't, then that means the model has yet to upgrade to a higher resolution.
Prices
Although the broadcasts may not be HD, this lower resolution also impacts something else and that's the private cam show per-minute prices. These are low too and they include cam to cam usage if you want to open your webcam.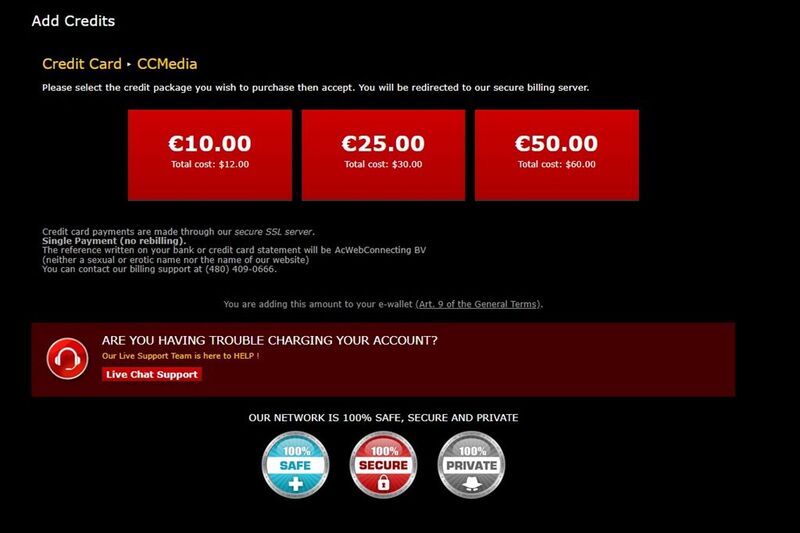 Before starting a private cam show with any of the trans models, you'll need to stock up first on site credits. Basically, one credit is worth one euro (just slightly over one dollar according to the exchange rate at the time of writing).
Chat Types
If you're a registered member you can hang about in the model's open chat room for as long as you like without paying a penny. If you haven't yet signed-up to the site (which I'll explain later how to do), you'll get booted out of the room after a minute.
Open Chat
Once you sign in as a member, you can chat with the model in her open room via a message box which appears next to her live video feed. If you want, you can tip her, which at xLoveTrans is called a "Bonus". While in theory this is meant to show your appreciation for her, many will perform specific acts (though not too outrageous) for a set Bonus value. However, don't give a bonus and expect to automatically get something in return. If you do, make sure you speak to her beforehand and see that's she's prepared to do what you want, and how large a bonus it entails.
Private Chat
Private chat is exactly that - a chat between just you and her, though others can silently peek in at the action. It's in these shows that the models get wet and wild and pretty much anything goes. If you're looking for a specific fetish, again check with the host first that she's into and if necessary, has the required equipment at hand.
On average, expect to pay around $2.00 a minute for a private cam show with one of the select transgirls. The cheapest rooms kick off at just $1.10 a minute and there are always a few rooms streaming at those rock-bottom rates. All the rates are c2c inclusive which really makes this one of the cheapest premium trans-centric live cam sites around.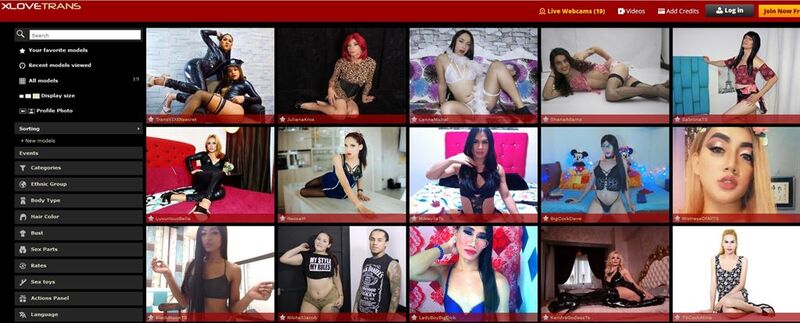 Xclusive Chat
Xclusive is when no-one else can spy on your fun and games. This mode costs more than a private chat with some trans doubling their per minute rate if you want to block out any silent interlopers, while others add on an extra dollar a minute to make it a true one-on-one session.
SneakPeek
If the girl you're interested in is in a private show and you wanna see what she gets up to behind the virtual curtain, you can take a sneak peek into the goings on. A sneak peek only lasts 20 seconds and you can't interact with the performer in any way. These 20 seconds aren't cheap, with the cheapest rooms asking just under $1.00 for them, which is almost the same as the per-minute price of a private show where you get to direct the action.
Still, they're a great way to quickly find out what the girl is like once the clothes are off and the boundaries are removed.
Unique Features and Extra Content
When it comes to extra media, this is where xLoveTrans really comes through. Many of the models have additional content in their chat rooms that you can view without paying a penny.
The site itself has an extensive library of all the naughty videos posted by models. Some are just short clips lasting a minute, while others are 10 minutes upwards. Before purchasing a video you can hover over the image and the length of the movie pop-ups. This is always worth checking, after all, no-one wants to spend their hard-earned cash only to get just a minute of a wild trans model in action. To get to the video library, all you have to do is to hover over the Media button at the top of the homepage and select Videos.
Mobile Site
There's one thing that xLoveTrans probably does better than any other transgender live cam site, and that's mobile trans cams. If you access the site using a smartphone, tablet, or other mobile device, you'll be greeted with an extremely clean and user-friendly layout. The platform intuitively loads based on your screen dimensions and gives you the option to view the live video stream in a full-screen layout.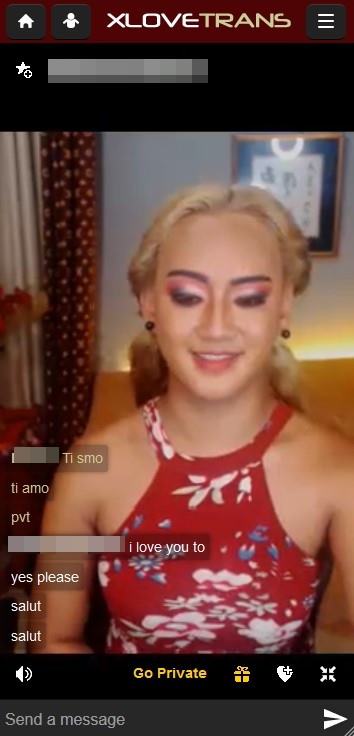 It also has that rare option of keeping a full screen live view when you're messaging the model by featuring a transparent message box overlaid on the stream, making sure you don't miss any of the action.
In addition, and probably most importantly, it's one of just a handful of trans cam sites that has the ability to host a mobile cam2cam chat.
Premium Membership and Rewards Program
There's no paid-for VIP membership program as offered by other similar platforms. You can, though, sign up to an individual performer's VIP package, but not all of xLoveTrans' cam hosts offer this. The ones that do tend to be the most in-demand stars who can justify charging around $17.00 a month. These packages give access to all their paid-for content, such as images and videos. Some even host multi-viewer shows only accessible to their VIP fans.
Registration
To spend more than a minute in an open chat room without getting thrown out, you'll need to be logged into the site as a registered member. Registering to xLoveTrans is free and only takes a minute to do. The only information the site requires a new member to provide is an email address, username and password of their choice.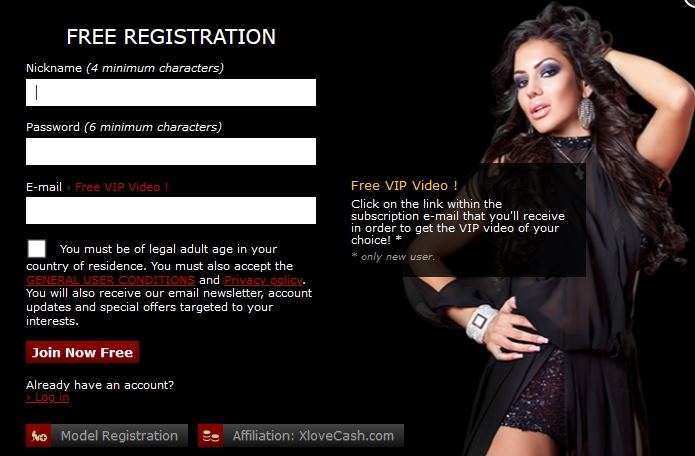 Once you've verified your registration, the site will give you access to one of their VIP videos. You can choose from one of the thousands uploaded, but choose wisely; as I mentioned earlier, some last a minute, others much longer.
Accepted Payment Methods
The site accepts a variety of payment methods including:
Credit Card: Visa, MasterCard, Discover, Diners Club, Maestro, JCB
PayPal
Paysafecard
Bank Wire Transfer
AliPay
Pay by Phone
Not all the options are available globally. Payment methods vary from region to region.
Security and Quality Assurance
xLoveTrans makes every effort to ensure your online cam adventures remain on a strictly need-to-know basis (i.e. between you and your chosen tgirl). Every site I review here uses HTTPS security and SSL/TSL encryption to makes sure your information remains secure under lock and key.
Not that it needs saying, but just as a friendly reminder, never give out any financial information to the cam models. Money issues are dealt with by the site directly.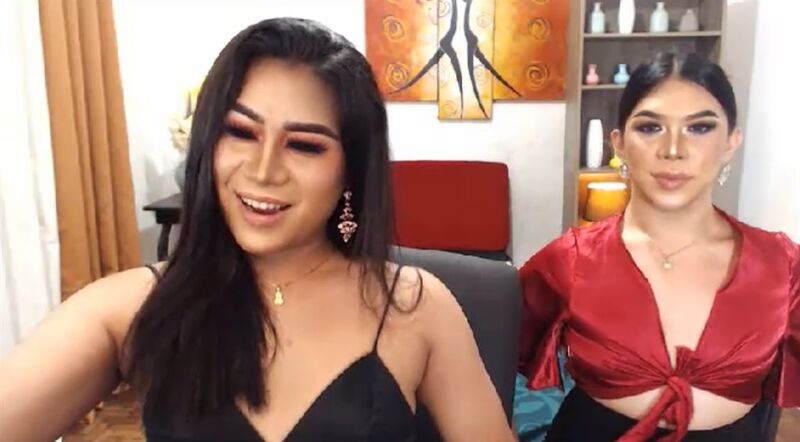 Customer Support
Customer support at xLoveTrans is great. You can contact the site's admin team 24/7 via its live chat support room. At the bottom of the homepage, a Contact Us link can be clicked on, which opens a messaging box. You can then type in your query and a response is generally forthcoming within minutes. Most of the major questions though are covered in the site's comprehensive FAQ page.
In Conclusion
xLoveTrans isn't the site to go to if you're looking for a huge choice of trans cam models. It isn't probably the best choice either if you're into professional studio settings and HD or HD+ streaming quality. However, if you're more into cheap private cam2cam rates, with friendly transgenders who happily push the limits in private shows, xLoveTrans is the place to be.
If you're using a mobile device and want to open your cam and make it a two-way video chat session without paying a premium, then xLoveTrans could very well be the best of all the trans cam sites, at least for you.