CamSoda.com - An Interactive Freemium TS Cam Site
Last updated
January 10, 2021
CamSoda is a freemium, convenient and highly secure shemale cam site where interactivity is commonplace. It looks fantastic on both the computer and mobile devices and has a nice, albeit relatively small, selection of hot tgirls chat rooms.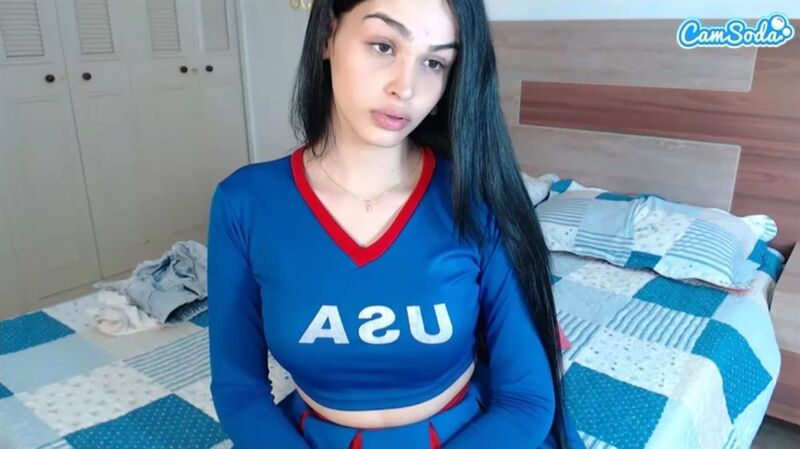 What makes CamSoda truly special is just how inviting it is. Despite the models being allowed to do whatever they want right in the free chat, you may notice a complete lack of obtrusive ads. This is because CamSoda trusts that, given time, you'll feel comfortable enough to tip or take that hot ts cam girl you've been watching to a private cam2cam session. If anything, it shows how much trust CamSoda puts in its services, features and talents. And that trust is not unwarranted.
Pros Vs Cons
Pros
CamSoda is freemium, with no obtrusive ads
Two-way video and audio is free
Paid shows are relatively cheap
Free show recordings
Fantastic interactivity features
Mobile cam2cam
Mass preview
Cons
Fairly small selection of trans models
Unhelpful search and categorization systems
The Models
As I've previously mentioned, CamSoda's collection of tranny cam models is fairly small. It has hundreds of models registered on its platform, but only around 25 of them are online at a time. This means that, on a day to day basis, you'll see plenty of new faces, but on any given day your options will not be quite as plentiful.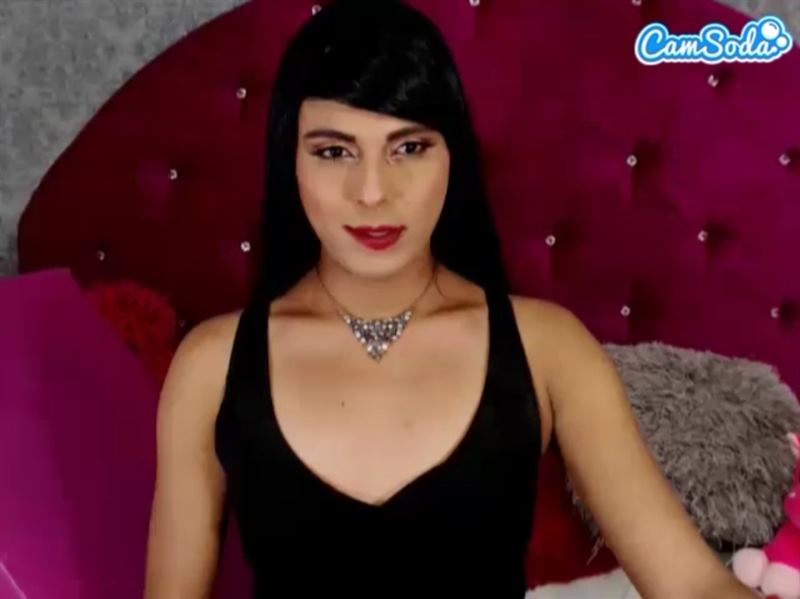 On the other hand, the tgirls you will see online are likely to be hot, sensual, and very engaged in the show. Chances are most of them will be rubbing their big cock right as you enter the site, eager for someone to tip them so the remote sex toy in their ass will be turned on. OhMiBod and Lovense cam shows are extremely prevalent and popular on CamSoda, and and are used by female, male and ts models alike.
CamSoda's mass preview feature will allow you to watch them all at once before deciding on which room to enter. It is also the only feature that CamSoda has that can actually help you find the specific tranny or show that you may be looking for, as the site's search and categorization features are just too inaccurate to be helpful. Thankfully, due to CamSoda's small selection of cams, you won't be needing such systems, and the mass preview is more than enough.
Quick tip: In order to filter for shemale cams, you'll need to either press the cog button above the grid or chat rooms or scroll down and click the Tranny Cams link, in the Popular Pages section.
Video Quality
While not the best, the video quality of shemale cams on CamSoda is quite good. You're going to see a balanced mix of HQ and HD streams, with very few lower quality streams.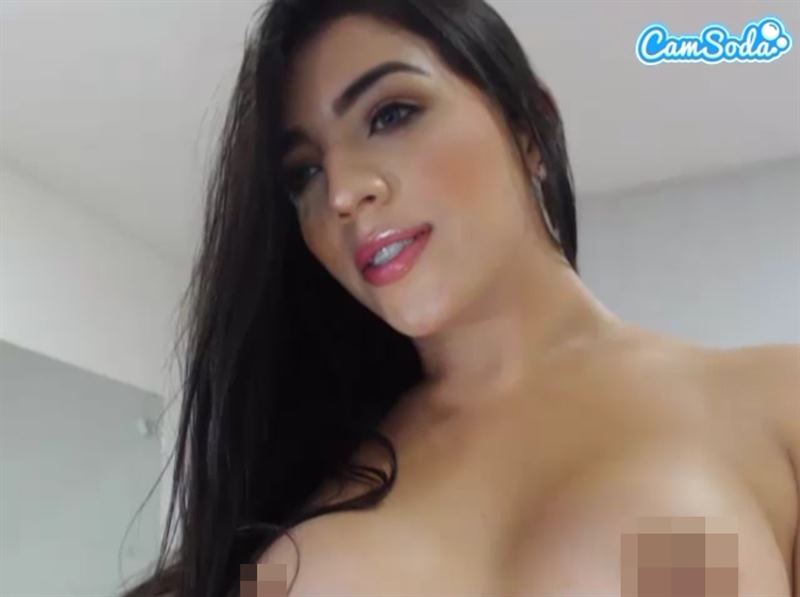 As CamSoda hosts trans models from across the globe, some stream delay should be expected. Most of the ts shows on the site run well with no buffering issues, but not all. At times, you'll come across a show that stutters, but it's fairly uncommon.
As an aside, on HD shows, CamSoda gives you the option to turn the HD on or off. CamSoda usually matches the video resolution of the show to your download speed, but not always. If you feel like your the show stutters, or runs well but looks too pixelated, try adjusting the resolution yourself.
Prices
I actually consider CamSoda to be the cheapest webcam site in the business. The site has a wide range of token packages, with each bigger package giving you more bang for your buck. Do note that not all the packages are visible, with some only being revealed to members who've made at least one purchase on the site.
Below is the breakdown of the different packages: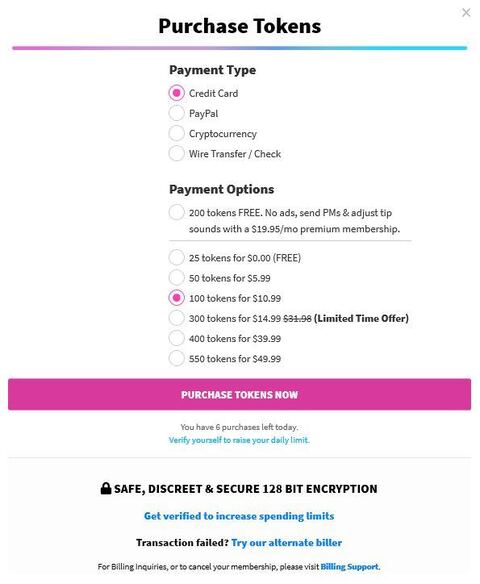 Visit CamSoda now to take advantage of the site's limited time offer of 300 tokens for only $14.99. That's half the regular price.
Additionally, CamSoda lets you claim 25 tokens for free. And no, there are no strings attached. All you have to do is register a credit card.
Chat Types
CamSoda doesn't offer its members a whole lot of options when it comes to chat types, but it covers the all the bases.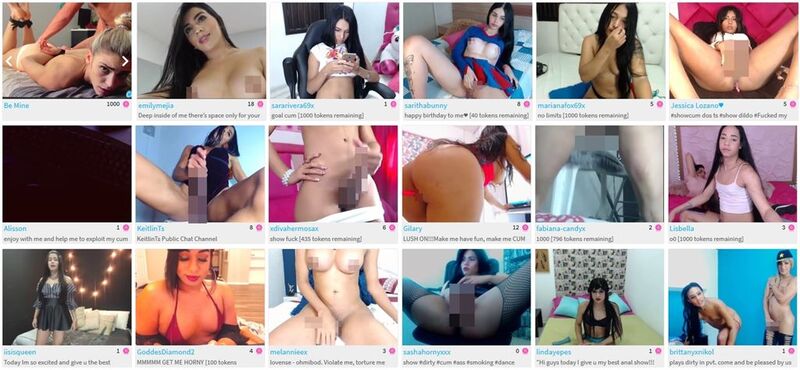 Open Chat
This is where most of CamSoda's members spend their time. Since CamSoda's models tend to get awfully frisky in the free chat, you won't have much reason to explore other chat types unless you want her undivided attention and not thrilled about having to tip her to get it.
This is also a fantastic option for anyone who doesn't care much about having intimacy with the performer, and just wants to enjoy a good transgender cam show. If you want to cam2cam with the model or have her all to yourself, take her to a private chat.
Private Chat
This is where you go to if you want some alone time with the performer. In case you're also hankering for some face-to-face time with her, know that, while cam2cam on CamSoda is free and includes two-way audio, whether it is enabled is up to the model. That means that if you prefer having a private session with cam2cam enabled, you'll have to pay attention to what the notification window says prior to starting the show.
Whether the model allows two-way video or not, she will still most likely charge a very reasonable price. CamSoda might be a freemium chat site with a strong focus on tip-based cam shows, but private shows are not left to fall by the wayside. For an average of $2.40 a minute, and for as low as $0.60 a minute, you can find a hot tgirl and have your way with her. This is actually cheaper than what's offered on most premium cam sites.
Many of the cam girls on CamSoda include free show recordings for all their paid private shows. These recordings are added your media section, where you can rewatch them at your leisure.
Group Chat
A group show on CamSoda is called a Ticket Show, and are a fantastic alternative for anyone who doesn't care at all about intimacy with the performer and just want to see some heavy action for dirt cheap.
The way this works is simple: You pay for a ticket (only around $6.00 for a full 15 minute show) and, if enough people purchase tickets, the show will start and you'll get a seat. You can then enter it at any time and enjoy the performance. You can also tip at any point to further incentivize the model and turn her on (since most of them use tip-controlled sex toys), which everyone will appreciate.
If not enough tickets are sold, you're refunded what you paid, and you can use the refunded tokens to enjoy another show.
Spy Chat
CamSoda allows its members to spy on private shows that are in progress, although not all models allow this. If you do not wish for anyone to be able to spy on your private cam show, you can request this from the model. Rest assured that, even if someone does, he won't be able to see or hear you.
Spying on a show tends to be very cheap, and usually costs around $0.60 a minute (the minimum amount a model can charge for). It's just a shame that finding trans spy shows on CamSoda is so difficult. Usually, there will be only one or two such shows live, and at times you won't find any.
You can find these shows by pressing the spy shows tag above the grid of cam shows on the front page of the site.
Voyeur Chat
CamSoda has a few voyeur chat rooms that are active 24/7 where you can spy on a house full of hot cam models, but since none of them are trannies and these rooms are pretty much dead anyway, you should not waste your time there.
Unique Features and Extra Content
The most impressive unique feature that CamSoda has, has to be the live preview system. No other site has anything else that comes close to competing. MyFreeCams is the only other site that lets you preview so many rooms at once, but MyFreeCams has absolutely no trannies and their preview system is honestly a laggy clusterfuck.
Like on most adult chat sites, the cam models on CamSoda offer sexy photos and videos of themselves in action that you can purchase. These are fine and all, but not really what most of you will visit the site for. Still, if you have a favorite tgirl that you simply can't get enough of, then you're going to be happy about this addition to the site.
CamSoda also makes its own professional porn, but since none of it is shemale porn, it's probably not relevant for you. These are high quality productions, so if you do want to give some of them a shot, you can find them at the exclusive videos section at the top of the site.
All the pictures and videos which you buy as well as your recorded shows are automatically added to your my media page.
Mobile Site
CamSoda is hands down the best mobile cam site out there. This is also true for tranny lovers, as the overall quality of the shemale cams looks fantastic on the smaller screen.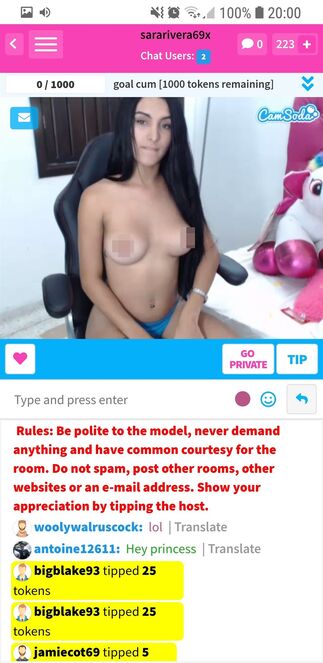 There's no need to download any app, just use your usual browser on your phone. CamSoda works perfectly on all of them, and lacks any technical issues as long as you have a half decent internet connection.
Above all, though, CamSoda is among the very few adult chat sites with mobile cam2cam. Do you find yourself on the road and wish a tranny model could get off seeing you touch yourself? Then CamSoda is the best option you have, especially when they are the only site that doesn't charge extra for it.
Premium Membership and Rewards Program
CamSoda has a nice premium membership you can get for the low amount of $19.95 a month. Here is a breakdown of the benefits you'll receive from being a premium member: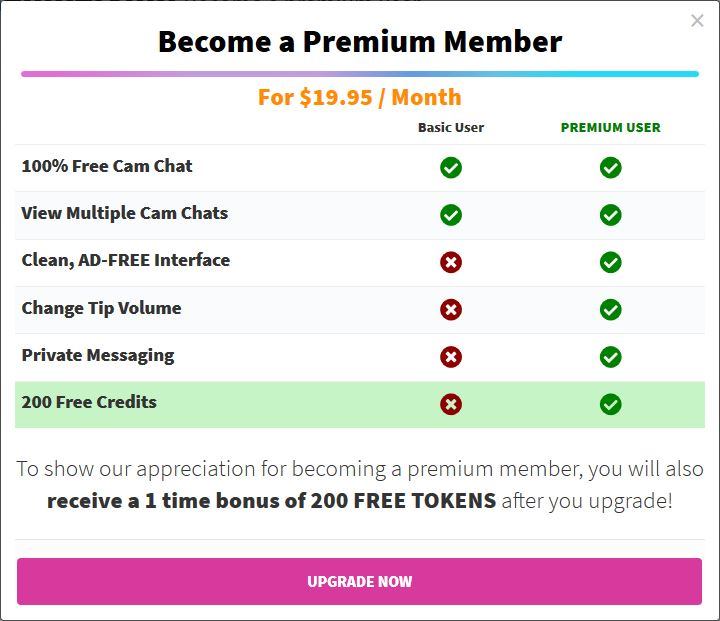 Just a few words about some of the benefits written above, as well as some that were excluded from the list: First, while the promise of an ad-free interface sounds great, keep in mind that CamSoda doesn't use intrusive ads anyway, so you will barely notice any difference. On the other hand, being able to change the tip volume doesn't sound as essential, but trust me when I say that it can improve your enjoyment of the site significantly, especially if you find it a tad annoying like I do.
Second, private messaging, as always, is a very good feature to have. It's one of those things that you start taking for granted once you have them since it is so convenient. Third and final, the free tokens, which amount to about $20.00, make this membership practically pay for itself, so as long as you purchase tokens on CamSoda, you have absolutely no reason not to become a premium member (at least for the first month).
CamSoda has no loyalty program, but it's frankly doesn't need one as it's cheap enough already as it is.
Registration
Registering as a member on CamSoda is free and takes only few moments.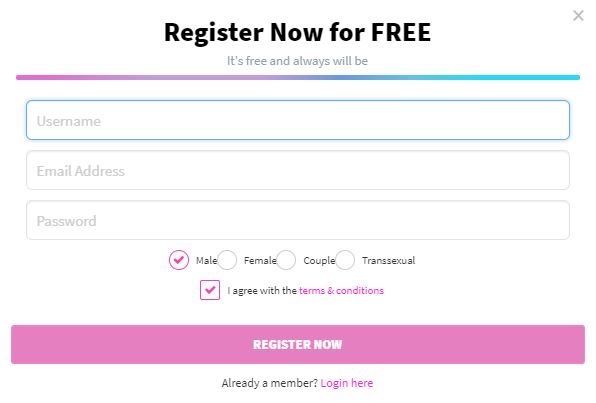 All you have to do is choose a valid username, email and password and you're done. No email confirmation or payment method validation is required.
Accepted Payment Methods
The accepted credit card types are as follows:
Visa
Visa Electron
Visa Bleue
MasterCard
MasterCard Maestro
Diner's Club
Discover
JCB
Switch
And these are the available alternate payment methods:
Security and Quality Assurance
CamSoda is a highly secure shemale cam site. It uses HTTPS protocol and SSL encryption to safeguard your private information and ensure that your connection is secure. It also uses Epoch and SegPay to process your payments safely and quickly. CamSoda also works with three different non-profits: RTA, SafeLabeling and the ASACP, to make sure that no registered cam model on the site is a minor. This is mainly to protect themselves from a law suit, but it also protects you from being added to any lists.
As a side note, should you suffer from technical problems while in a paid show, you can contact CamSoda customer support to receive a refund in credits, as long as you contact support immediately after you encounter the problem.
Customer Support
CamSoda has a comprehensive FAQ and support section, with specific instructions in case you have a technical or billing issue.

There's also live chat dedicated to resolving billing issues, but for anything else, email is unfortunately the only option you have for contacting customer support.
In Conclusion
CamSoda is a ts cam site that you really have no reason not to visit. It's freemium, so you can try it out for free for as long as you'd like, and it has a nice collection of high quality tranny cams. It may not have the biggest collection of ts cam girls or the widest array of show types, but it covers the basics and does it well. Above all, though, it's cheap, and more than worth your time and money.
Go to CamSoda and have your fun, 100% free of charge. Once you realize how good it is, you'll see how great it can be for a few dollars a month. At that point, you'll be hooked, waiting for your next fix of a tits-and-cock combo.