CamSoda Tranny Review - See the TS Live Cam Rooms on Offer
Last updated
March 12, 2019
CamSoda.com are a relatively new site on the scene, which have impressed me quite a bit. Having only made their debut in 2015, they have been quick to distinguish themselves from the competition. This was accomplished through a user friendly, freemium business model, the incorporation of novel concepts, and technologies. These attempts at technological innovation were sometimes met with more success than others.
Since its inception, CamSoda has been steadily building a name for itself. And along with that came a loyal user base, and a respectable roster of registered webcam models. Their stable of performers includes specialty models, catering to fetishes, as well as the TS live chat rooms we all love.
And if shemales are your tastes, CamSoda has a healthy number registered. Their showing of active transsexual live chat rooms at any given time isn't high, but no lower than any other site without a shemale specific lens. Their quality of models is impressive as well.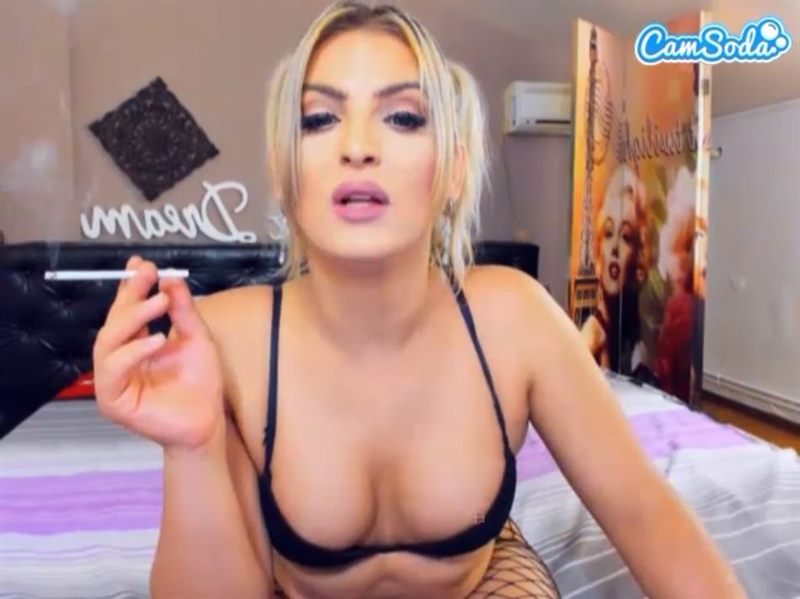 They've pushed the edge of technology for an adult live chat site, and integrated a number of unique features very successfully.
I'm here to give you a breakdown of these site specific features, the more common elements, billing, and costs. Most importantly, I'll lay out exactly what you tranny lovers can expect to see in CamSoda's live chats. Anything a user would need to know will be covered shortly, and it's my pleasure to present my CamSoda transsexual review.
Becoming a Member
Registration with CamSoda.com is a very simple process. Just provide your desired user name, password, email address, and you're off. You are now free to browse all the different hot tranny rooms.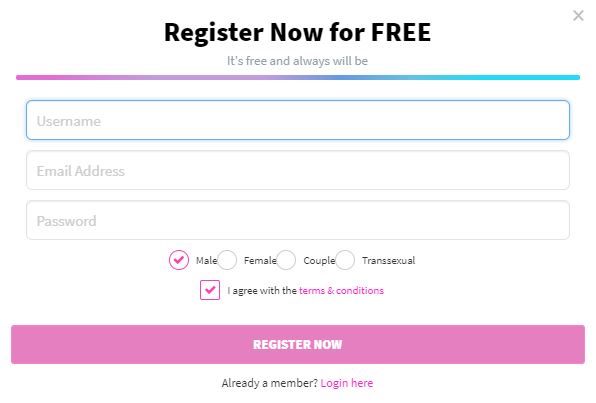 You will want to activate your account through your email address immediately however, to insure its integrity. It's important to check your spam box for the activation email. Without your credit card on file, there will be many site features closed off to you.
Obviously, without a valid credit card, you won't be able to purchase Tokens. Models on CamSoda have the ability to restrict non-Premium, and users with no Tokens from chatting in their rooms. Not to mention, no Tokens means no ability to tip, or enter any paid chat rooms.
Entering as a guest is great, there's a ton of nudity in the free, Open Chat Rooms. But you don't get the best experience if you're not willing to shell out some bucks, period. You always get what you pay for in the end.
There's one more thing that needs to be covered here, and that's account verification. The process involves providing the CamSoda Support staff with a few items, and will be rewarded with 100 Tokens for free. A photograph of your government ID, and a photo with your finger covering all but the last 4 digits of your credit card number, the cardholder name, and validity date are required.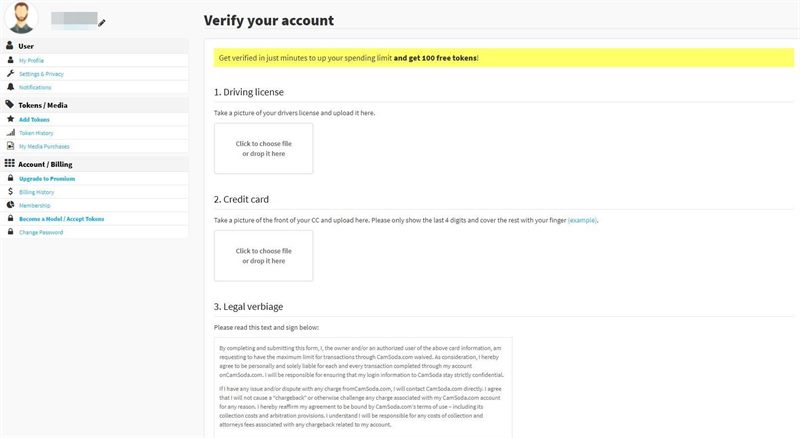 You'll also be required to enter a virtual signature with your mouse. Upon completion of this verification step, and processing, your gift will be delivered. That makes account verification a worthwhile process to go through, despite not being required for regular browsing.
Premium Membership and Rewards Program
Premium Membership on CamSoda.com is based on a reasonably priced monthly subscription. At $19.95 USD, it's certainly not a bank breaking figure, and enables a greater range of features to members willing to pay. First and foremost, Premium Members don't see any ads.
Only Premium Members can freely adjust the tip rates, or privately message their favorite models.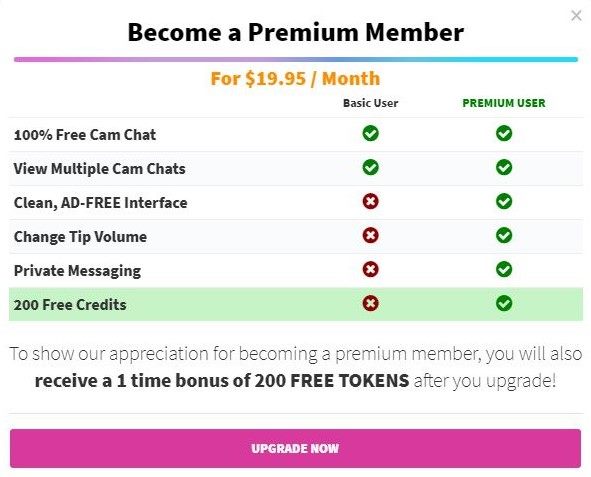 To make it more enticing, you'll get 200 Tokens for free upon upgrading to Premium!
The Models
The model sections of CamSoda were pretty lacking in their early days. Since then, they've expanded from several thousand models, to tens of thousands over a few years. There's around 24,000+ registered models, across all site categories.
As to the dolls with balls you've all come for, CamSoda has a very decent showing. With between 10, to around 20 transsexual live chat rooms available regularly, you won't find yourself bored anytime soon.
I've even seen as many as 30 or more, though that's quite rare. The reason for all this is simple though, not many trannies per capita, equals not many transsexual webcam performers. It just comes down to demographics, and with that in mind, the selection of shemale models is actually very solid.
If you'd like to check out more TS specific sites, check out my other shemale reviews.
Browsing models on CamSoda.com is something of a mixed bag experience. The quality of models is top notch, while the actual UI of the site, despite looking great, feels a little clunky to use. The following photo is an example.

The search tags are spread out. For example, they have separate tags for "transsexual," and "shemale," and not every girl who uses one tag will use the other. You'll have to become a bit of an explorer to find every shemale model you will like.
Model profiles offer scant information, just some very basic background on the performer, like languages spoken, general location, though most are extra vague. There's also some body type details, but search tags/kinks are nowhere to be found in the profiles, which are accessed by scrolling down past the video and chat feed.
This makes maintaining a list of your favorite transsexual live chat models, and a good rapport with them is necessity on CamSoda.com. It makes it easier to get what you want with returning visits.
Unique Features and Additional Media
Site features are one of the biggest, and most powerful draws of CamSoda.com. The first, and most unique element of the site will immediately be noticed by anyone who's visited other webcam live chat sites. Most sites have their model homepages full of static images. If you're lucky, hovering over these thumbnails will provide you with a preview into the Open Chat.
CamSoda approaches this idea a little differently. Upon loading up the model homepage, after a few seconds you'll be greeted with an entire screen of live previews! This makes shopping around, and finding your ideal transsexual live chat room easy as pie. You can see what's going on in every Open Chat thumbnail you're able to view.
Another thing unique about CamSoda is their Cam 2 Cam features. While any reputable sex cam site has Cam2Cam, CamSoda is the only one that features it on your smartphone.
That's right, CamSoda is the only site where you cam2cam with a tranny on mobile.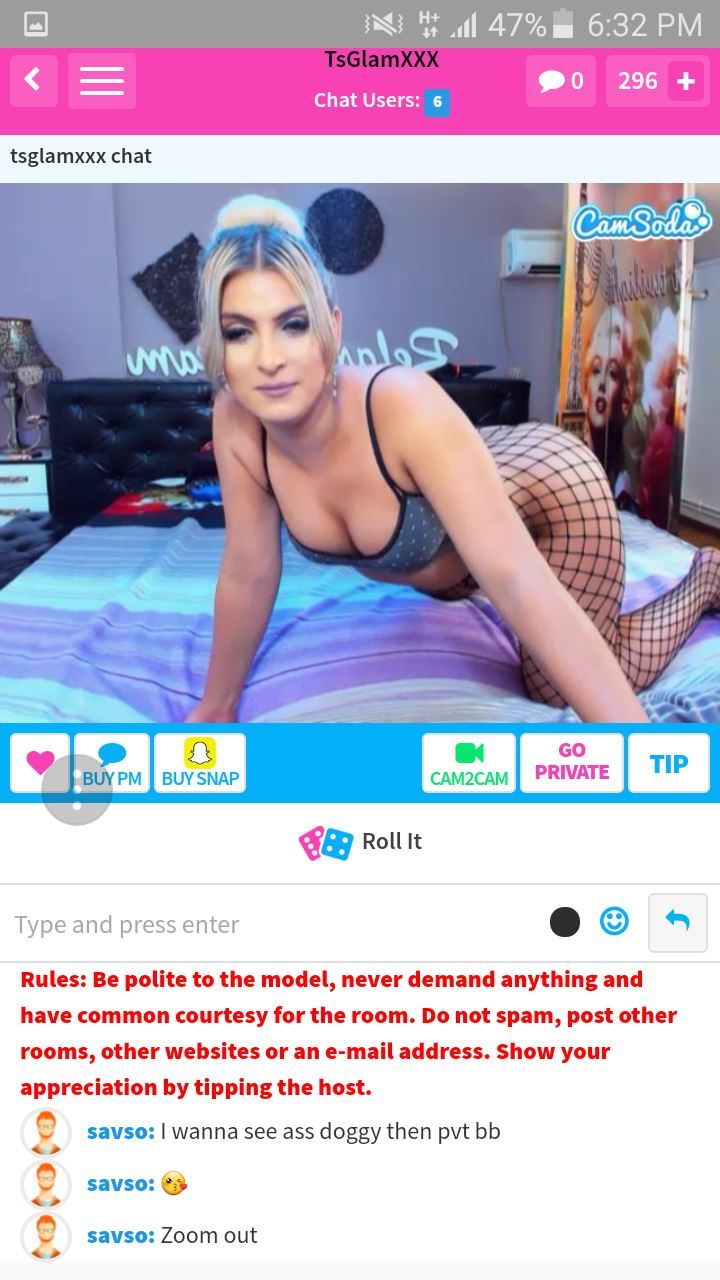 That places them in a league of their own, when it comes to the mobile live cam experience.
There's a great deal of additional media offered by CamSoda.com, but unfortunately, they have a lack of transsexual representation. The "top video and pic" media section features a Tranny section, with no videos, for example.
There's also a Featured Video section, that hosts HD videos with the top CamSoda performers, or professional porn talent. The issue is, these also don't feature anything in the way of trannies.
However, there ARE individual shemale models which have videos that are available to purchse for your personal collection. It's just a matter of finding performers with videos and photos you want to purchase.
Chat Types
There are 3 chat types featured by CamSoda.com, and they are as follows:
Open Chat Rooms
Open Chat Rooms are free to all users, though model's can restrict access to guests, or basic members as they desire.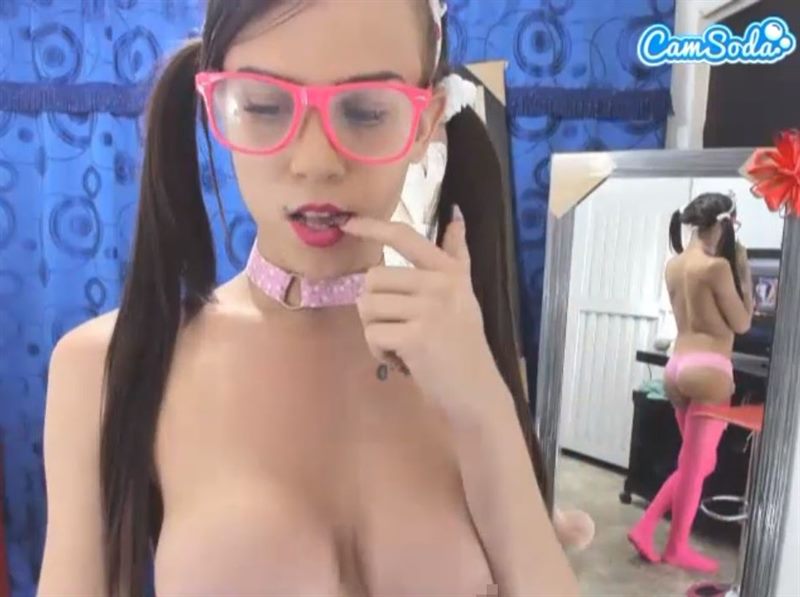 Most models won't restrict basic members, but this does make getting a Premium account the superior choice. Open Chat features tipping, including interactive tip toys, as well as a few options of gambling type games for Tokens. Along with that, models can set a tip counter with a specific goal, which upon completion, leads to a special sex act which the model has set for themselves. These features mean that you'll be seeing a lot more nudity in the free transsexual live chats, than you're used to.
Private Sex Chat
Private Sex Chat is where members get to take much more active role in the live webcam chats. Cam 2 Cam is enabled in this chat mode, on the mobile platform as well, which is strictly site unique at this date! You can make recordings of prior chat sessions that can be enjoyed later too, stored in a personal library.
So, if you've had a particularly awesome TS live cam session, you can return to it again and again! This is a great option, when paying for new live chats all the time is the alternative. The prices of private chat vary from model to model.
Golden Ticket Show
Golden Ticket Shows are the CamSoda version of a group chat. Golden Tickets are bought with Tokens, and will usually revolve around a pretty specific sex act. Prices of Golden Ticket Shows vary from room to room.
Costs
The price of Tokens on CamSoda.com depends on the size of the package you decide to take. At the cheapest, they come in at around $0.11 cents per Token, while for the biggest package on offer, they're priced at around $0.08 cents per Token, US. These prices aren't out of the range of the competing sites by much. The biggest Token Package on offer seems to be the best value for your Dollar.
The average cost of a Private Sex Chat is around $2.40 a minute, with some of the cheapest rooms dropping down to around $1.45 a minute. This places the costs of private shows on CamSoda.com way down compared to a lot of the competition.
Packages are arranged as such:
50 Tokens for $5.99
100 Tokens for $10.99
200 Tokens for $20.99
550 Tokens for $49.99
800 Tokens for $69.99
1205 Tokens for $99.99
3100 Tokens for $249.99
The main accepted payment methods are credit card or Paypal. Checks and wire transfers can also be performed, but they require contacting the CamSoda Support staff directly for instructions, and ends up costing slightly more, to cover the transfer fees. It's not the best way to go.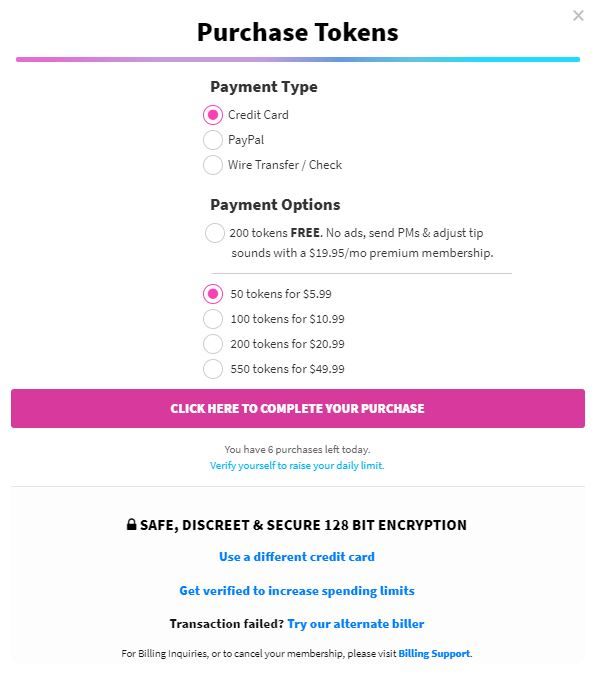 The accepted credit cards appear as follows:
Visa, including Debit, Prepaid, and Visa Bleue varients
Diners Club International
JCB
Discover
MasterCard, including Debit, Prepaid, and MasterCard Maestro varients
Switch
Support Options
CamSoda.com handles customer support in a variety of ways. Email is the most immediate, and swift option available to basic members for customer support.
A FAQ section detailing some common billing, or technical issues users might face is also provided.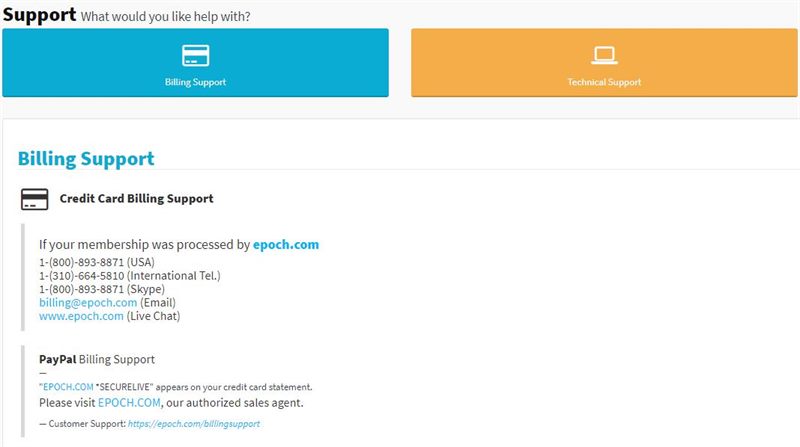 There are support hotlines for matters relating to billing, though there's also billing support by Email as well. Billing support is available to all members, all the time.
Unfortunately, Live Chat Support mode is only made available to Premium Members. I consider this a bit irksome, but there are other options available. If you want immediate support available to you, you'll have to upgrade your membership.
Quality
The quality on CamSoda.com is another draw of the site. They don't have a specific minimum quality requirement of their models. With this in mind, I've never seen a room with a feed worse than 576p standard definition.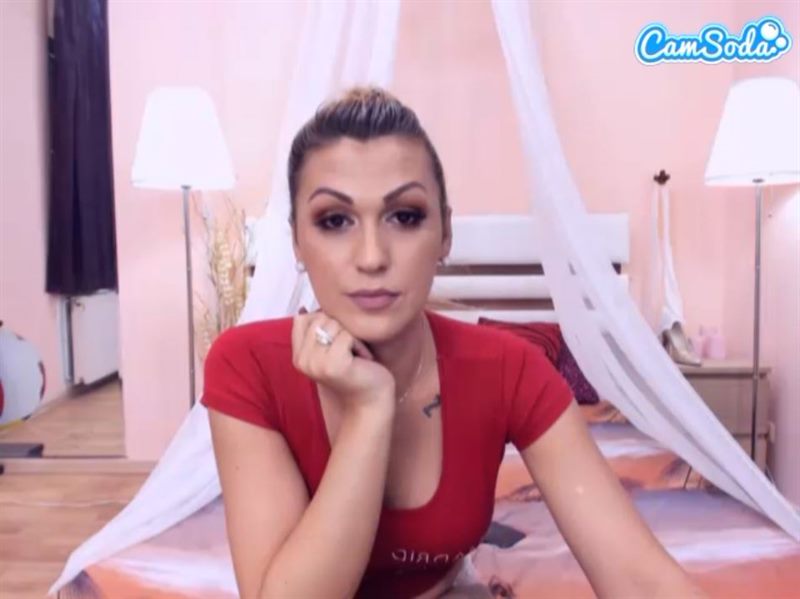 Most are 720p, or even the maximum provided by the site, 1080p, full HD! This makes CamSoda a great destination for crystal clear tranny cum shows, or some of the most eye pleasing transsexual live chats.
Pros Vs Cons
Pros
There is a wide range of free, live webcam chats available always, including TS live cam rooms
The vast majority of CamSoda models are using 720p cameras or better
Cam2Cam is available in Private Sex Chat, even on mobile
Guests get to enjoy a lot of the same free content members are entitled to
Lots of additional content, including recorded live shows, and exclusive HD videos staring known porn talent
Very reasonably priced Premium Membership
Lots of chances for free Tokens
Great value on Private Sex Chats
Cons
Only models, and Premium Members can adjust tip volume
Premium Membership does not grant any Token discounts
The UI of CamSoda leaves a lot to be desired
Model profiles are sparse in details
Some models restrict non-paying members from participating in chat
Wrapping it Up
Overall, CamSoda is a site specializing in bringing maximum quality, and value to its users. The lack of restrictions on nudity is great for users, providing lots of quality, free shows. The TS live cams are no exception, having expanded greatly since I last had a chance to review Camsoda.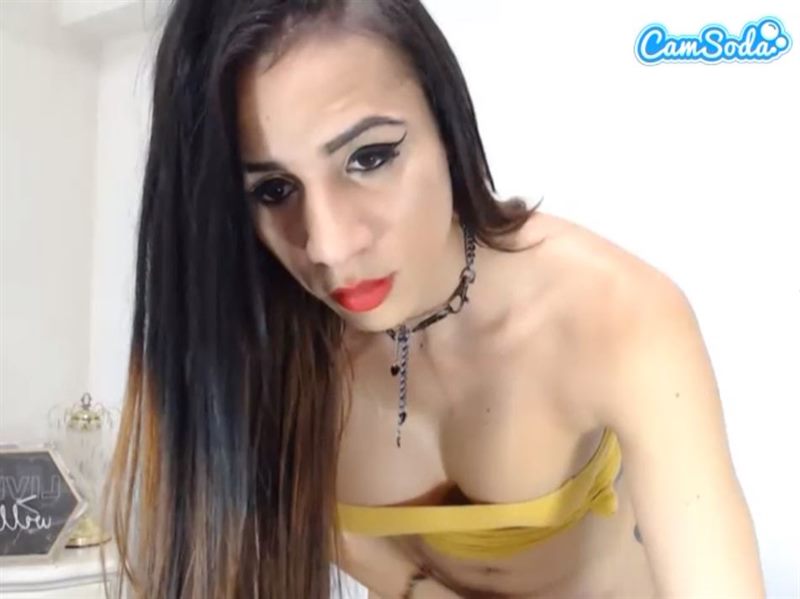 CamSoda.com may not be the biggest, or most successful site out there, but they are a contender to be sure. Their fair treatment of guest users, and the massive amount of free content on offer make them a very attractive choice for your adult webcam service of choice. Prices for private shows are reasonable, and the Premium service is also priced fairly.
The consistent attempts at innovation are also an impressive facet of the CamSoda experience. Reading about pushing the envelope of technology is fun, even if sometimes the results are less than stellar. CamSoda.com is an underdog I consider myself proud to root for, and I look forward to continued innovation from the site.
I hope you all enjoyed my CamSoda transsexual review, and found some good takeaways. I always strive to keep my readers informed, and it's always a pleasure to see an increase in traffic after publishing something new. I look forward to seeing everyone in my next review, thanks much for reading.