CamSoda.com - Interact with Hot Lesbians for Cheap
Last updated
January 03, 2021
There's nothing quite like some girl-on-girl action, and few sex chat sites do it justice better than CamSoda. It might not have the biggest selection of lesbian cams, but it's freemium, all-you-can-eat-buffet approach to camming and exciting interactivity features make every cam show an experience to remember.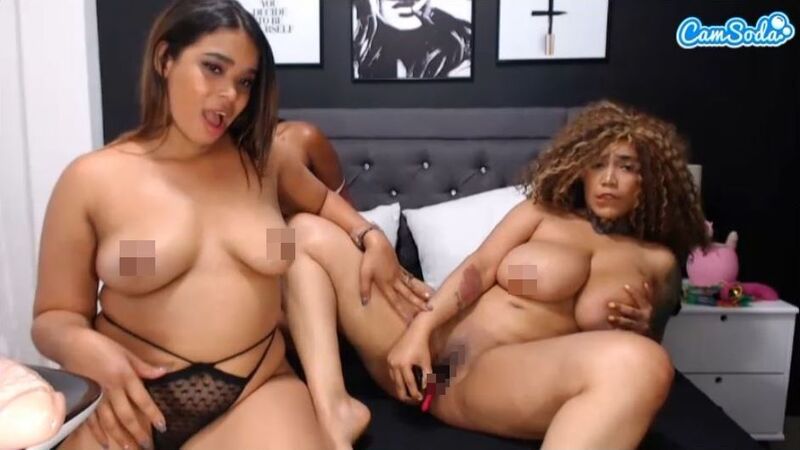 There are quite a few things worth knowing that will make your experience on CamSoda noticeably cheaper and more convenient. In this full CamSoda review, I'll try my best to give you all the information you'll either need or want to know. Read on if you'd like to save some time and money while enjoying some of the best lesbian cam porn out there.
Pros Vs Cons
Pros
Uses no intrusive ads
Sex shows in free chat
Two-way video and audio is free
Has free mobile cam2cam
Has free private show recording
Has a mass preview feature
Many rooms use tip-controlled sex toys
Cheap compared to other leading cam sites
Cons
Low number of lesbian cams
Unhelpful search and categorization systems
Cam2cam and show recording aren't always enabled
The Models
The models on CamSoda tend to be the gorgeous, nubile kind, and the lesbian models are no different. The problem is that there are few lesbian couples streaming on CamSoda, and the site's search and categorization system unfortunately doesn't do a good job helping you find them.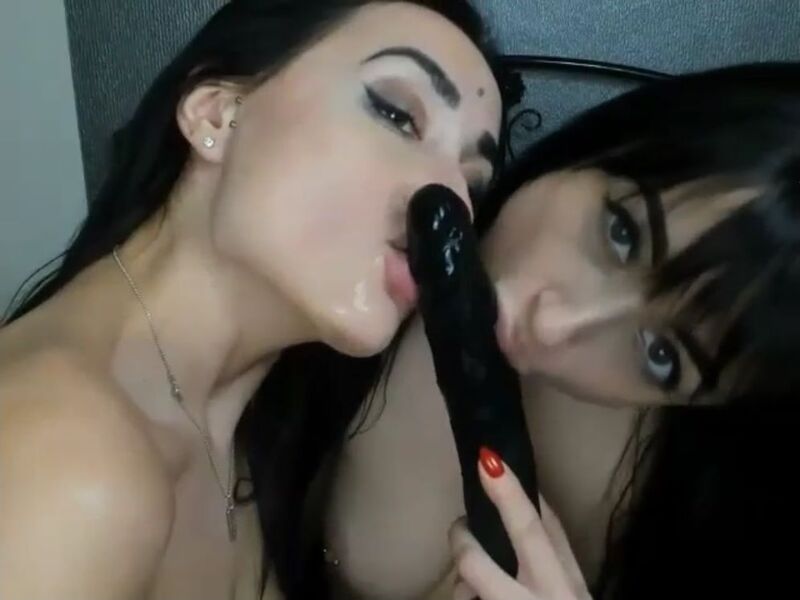 On average, you'll find about a dozen couples camming on CamSoda, but most of the ones you'll find by filtering specifically for couples will be straight couples. Some models that perform lesbian cam shows don't tag themselves as such and you'll therefore have to sift through CamSoda's many pages of sex cams in order to find them.
Luckily for you, CamSoda has only around 8 pages of live cams and a very handy mass preview feature that let's you see inside all the cam rooms on the page at once, so searching in this way is much easier than it sounds. It's also much more fun, and you're more than likely to find a few single cams along the way that, while not being the specific type of show you were searching for, will no doubt be able to thoroughly entertain you. You can still filter for couples cams by clicking the cog icon above the cams grid, just be aware that this is not as accurate as you might hope.
CamSoda heavily features remote-controlled sex toys, such as Lovense and OhMiBod, as its a great way for models to still earn money even while performing in the free chat. If a lesbians cam show features such interactivity, you can expect both models to have that pink device inserted and eager for some pleasurable generosity. If you're looking to control a couples pleasure, then CamSoda will not disappoint. You can find models using these sex toys by clicking the ohmibod tab above the cams in the front page.
Video Quality
The overall video quality on CamSoda is quite good, though nothing exceptional. The resolution that the shows is streamed in is evenly split between HD and HQ. You're not going to see many cam shows is lower quality than 576p, but you're also not going to find many that are stream in resolution higher than 720p.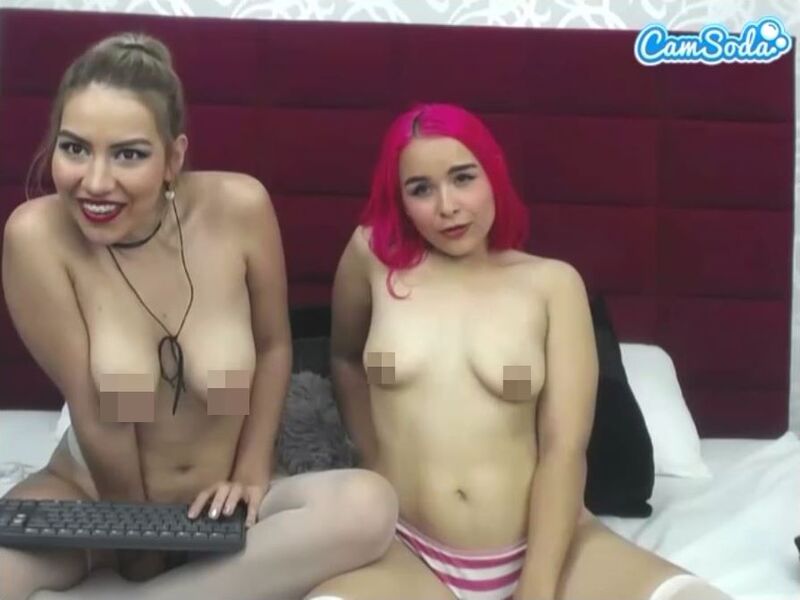 The shows on CamSoda rarely suffer from any stutter or buffering issues, but, every now and again, you're going to come across one that does. Feel free to ignore it and move on, as you'll have other options available to you. CamSoda doesn't offer its members the option to filter cam shows by video quality or resolution, but, as I've already mentioned, you shouldn't rely on the site's categorization or search functions anyway.
The main problem I have with this, though, is that there isn't even an HD tag on a show's grid preview, and watching its video preview doesn't really let you know how good it looks when you enter it. This means that, in order to find out how good a show's video resolution is, you'll have to enter it. You can probably see how this can get cumbersome.
As a side note, when you enter a room, make sure HD is turned on, as CamSoda sometimes lowers the quality if your internet speed is low, even if for a few moments. You can see if the room has HD resolution at the bottom left of the stream.
Prices
Surprisingly enough, CamSoda is the cheapest webcam site in the industry, with average prices for paid shows that beat even those of premium chat sites. This is despite it being freemium and relying on tips. Moreover, whatever your budget is, CamSoda has a token package that'll fit in it. As always, the bigger the package, the more tokens you get per dollar you spend.
Only some of the packages are visible to non-paying members, but once you purchase one, all of them become visible to you, discounts and all. Below is the breakdown of the different token packages: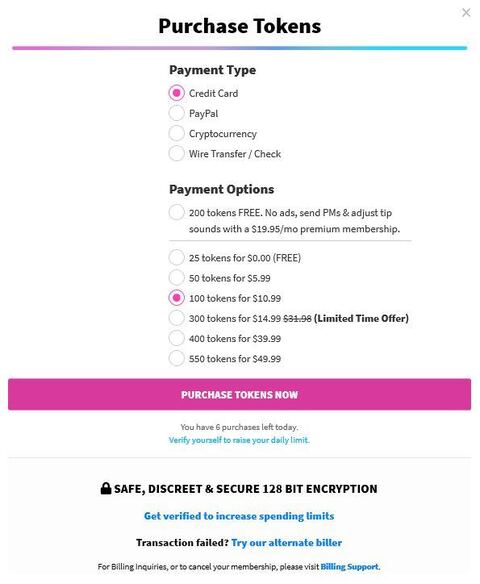 Visit CamSoda now to take advantage of the site's limited time offer of 300 tokens for only $14.99. That's half the regular price.
Additionally, CamSoda lets you claim 25 tokens for free. And no, there are no strings attached. All you have to do is register a credit card.
Chat Types
CamSoda doesn't offer anything beyond the basic show types. Don't take this as a bad thing, though: The vast majority of people will neither need nor want any more chat types than what CamSoda has.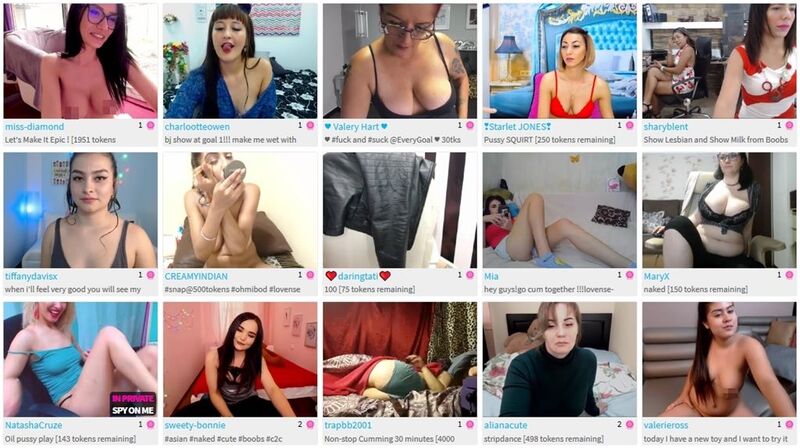 You can see a description of each room below its preview. The description doesn't tell you much, but it can teach you what best describes the room. Also, if prefer not to have to contend with other members for the model's attention, look for the rooms with the fewest viewer count. You can see how many members are inside a chat room next to the pink camera icon at the bottom of its preview window.
Below is an explanation of each chat type, along with details on its pricing:
Open Chat
This is CamSoda's free chat, and where you will probably be spending most of your time. You will see nudity here, along with explicit sexual acts. Many members who visit CamSoda don't even try out the other chat types, preferring to tip their favorite models a few bucks and enjoy the show at their leisure. They miss out on the intimacy of the private chat and the ability to instruct the models on how and what to perform, but some just want to be entertained, and are not looking to direct the models or fulfill some specific fetish.
The open chat doesn't cost a thing, and gives you the option to flirt with the model and ask her questions prior to taking her private.
Private Chat
While CamSoda is a freemium chat site that's heavily focused on the open chat rooms, the site's private chat option is not neglected. Here, you can find more intimacy than you could ever hope to in a free chat room, and can instruct the performer on the exact way in which you like to be entertained.
To further enhance your experience, CamSoda offers free cam2cam and two-way audio. It depends on the model whether to enable cam2cam, but most do, and you can simply click on the pink Go Private button beneath the stream to see whether they do or not. The notification window prior to starting the show mentions this, as you can see in the picture below: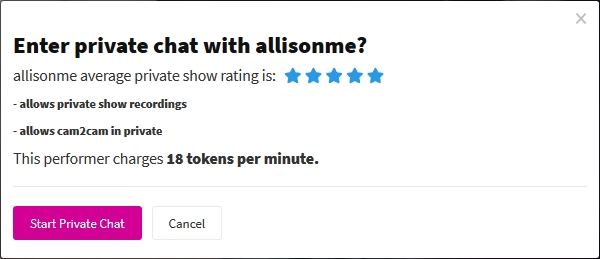 Models on CamSoda charge around $2.40 a minute and a minimum of $0.60 a minute for a private show. This is rather cheap compared to most sex chat sites in the industry, and means that you'll be able to take your time and enjoy the show without having to worry too much about spending too much money.
Group Chat
CamSoda's Ticket Shows are suited for those who like a hardcore, structured show that doesn't pull any punches. If you want to see two gorgeous lesbians voraciously go at it and don't care about them watching you or being intimate, then this chat type is perfect for you.
They way it works is very simple: You pay for a ticket (around $6.00 for a full 15 minute show, though prices may vary). If enough tickets are sold, the show starts and you'll be able to watch it. You can do so whenever you want to and for as long as you want to, as long as it's ongoing. You can also tip at any point to further incentivize the model to perform what you ask of them in chat. If the models have remote-controlled sex toys, tipping will also activate them.
If not enough tickets are sold, you'll sometimes be refunded the tokens that you spent for the ticket, though CamSoda's models usually start the show even if it isn't sold out. You then get to watch a show with less viewers, so there's less competition over what the models should do.
You can see these shows by clicking the ticket shows tag at the top of the page. Unfortunately, group chats are not very popular among CamSoda's performers, especially its couples. Seeing lesbian couples perform a ticket show is actually fairly rare, so don't expect it to be available all the time.
Spy Chat
You can sometimes spy on a couple's private chat. This is usually pretty cheap, costing around $0.60 a minute, but most models don't allow other members to watch their private shows.
If you're a voyeur or an exhibitionist, then you're going to love this option. If not, and you don't like the thought of someone watching your private show (even though the spy can only see and hear the model), you can ask the models to turn it off for your show with them. They may ask for a tip for that, but not much more than that. Either that or search for a couple that doesn't enable spying, which is not going to be much of an issue for you.
You can find these shows by clicking the spy shows tag above the grid of cam shows on the front page of the site.
Voyeur Chat
While this chat type is great for voyeurs on paper, in reality CamSoda's voyeur chat rooms are pretty barren and feature no lesbian couples whatsoever. If you're looking specifically for lesbians on cam, you can give these shows a pass.
Unique Features and Extra Content
CamSoda doesn't have much in the way of unique features, but it does have some features that, while also offered by a number of other adult chat sites, can enhance your experience greatly.
First is the popularity of tip-controlled sex toys among CamSoda's models. Spotting a performer using that pink OhMiBod or Lovense device on CamSoda is far from rare, and, in a lesbian couple's cam show featuring such toys, it's more common than not for both of the babes to be using it.
Second is CamSoda's video recording, which allows you to record your private sessions for free. Want to watch the fun you had with those two horny goth chicks? Well, now you can. While it's up to the models whether or not to allow such recording, the vast majority of performers allow it as it increases the amount of members wanting to take them private.
As for or extra content, many of CamSoda's cam girls offer the usual collection of pornographic videos and pictures to those who might be interested in purchasing them. All pictures and videos that you purchase are automatically added to your my media page (found at the very top of the page), along with your recorded shows.
As an aside, CamSoda also makes its own professional porn which is 100% free to watch, but seeing as these videos are mostly comedic in nature and feature no lesbian couples, you can probably give them a miss. If you're still curious or itching for some sexy comedic relief, you can find these videos at the exclusive videos section at the top-most part of the CamSoda's main page.
Mobile Site
CamSoda can truly serve as an example on how to do mobile sex chat right. I ranked it as the best mobile cam site, and had many reasons for doing so. From how well it performs on tablets and phones to how simple and convenient it is to use on the smaller screen, CamSoda is just perfect for mobile devices. The main reason for my ranking, though, was the fact that it offers free mobile cam2cam. You read it right: While most chat sites don't even include cam2cam on mobile devices, CamSoda does, and doesn't charge you a dime for it.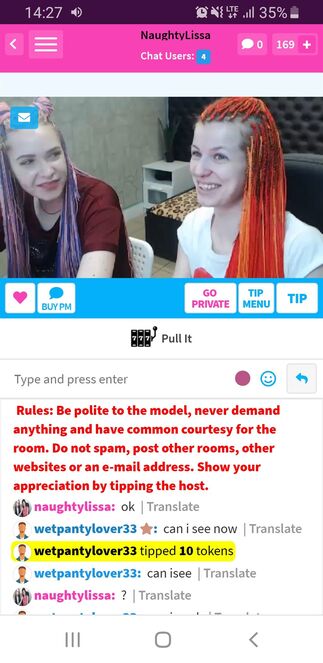 It also helps that CamSoda doesn't suffer from the same problems on mobile devices that many other adult chat sites do. For instance, typing something in chat doesn't open it up in a way that obscures the screen. Another example is the address bar, which can be made to disappear so it doesn't take up the top part of your screen, even while you're in a show. It doesn't even matter which browser or phone yo ware using, as it works on pretty much all of them. No need for an app, no need for a specific browser. Just search for CamSoda, log in and enjoy.
Premium Membership and Rewards Program
CamSoda doesn't have a loyalty program that can help you offset costs. However, the site is already cheap enough as it is, so you're not going to be needing one. CamSoda does have premium membership, though, and it should frankly be heavily considered by anyone who intends to spend any amount of money on the site.
Here are the reasons why: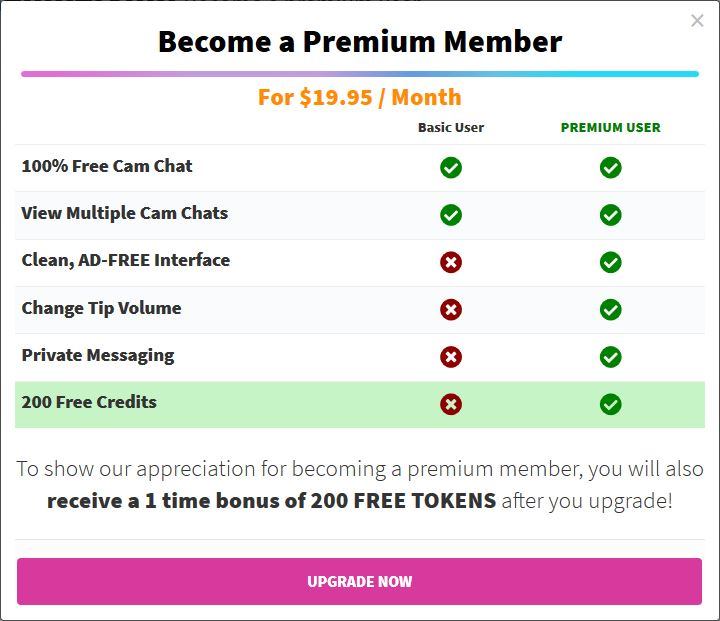 I suggest you look at that table from top to bottom. See that line saying 200 Free Tokens? Those are worth about $20.00. A premium membership costs $19.95 a month. That means that this upgrade pays for itself, so if you're going to purchase credits anyway, just get a premium membership instead. The bonus credits may be a one time offer, but you shouldn't say no to a one month free trial membership.
Here is what you'll get from it:
Private messaging - Basic users can't send private messages to models, but premium members can, regardless of whether the performer is online or not.
Change tip volume - If you're starting to get tired of CamSoda's tip sound but still want to hear those lesbian lover moaning, you will greatly appreciate the ability to lower its volume. This becomes a godsend in free chat and group shows, where a couple can be repeatedly tipped every few seconds for minutes on end.
Clean, ad-free interface - Not that impressive considering the fact that CamSoda doesn't use any intrusive ads, so chances are you won't even notice any changes. It becomes somewhat important if you frequently use your phone to view the site and have a mobile plan without unlimited data, as the lack of ads can save you some bandwidth.
Registration
Registering for a basic CamSoda membership grants you access to all the features mentioned in this review that weren't mentioned in the Premium Membership section above. It's easy and free, which means you'll have unlimited access to everything that the site has to offer in seconds, and without even opening your wallet.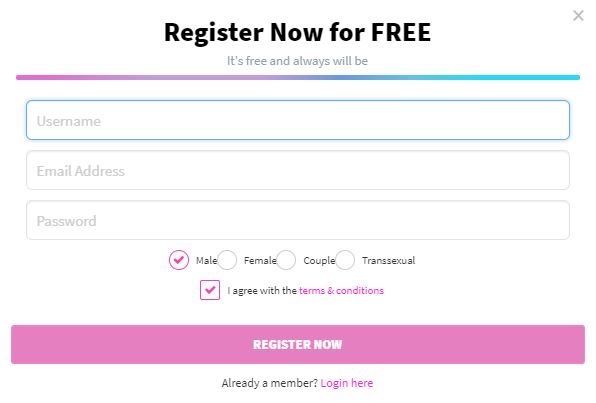 Choose a valid username, email address and password and click the pink REGISTER NOW button. You're now officially done, without even having to confirm your email or validate a payment method.
Accepted Payment Methods
The accepted credit card types are as follows:
Visa
Visa Electron
Visa Bleue
MasterCard
MasterCard Maestro
Diner's Club
Discover
JCB
Switch
And these are the available alternate payment methods:
Security and Quality Assurance
CamSoda does a fantastic job ensuring the privacy and security of their members. It uses HTTPS protocol and SSL encryption to protect your privacy and secure your connection to the site, so it cannot be accessed by just anyone who wants to take a peek into your private show. Second, it uses Epoch and SegPay to safely process your payments, assuring that billing issues are an extremely rare occurrence. Third, CamSoda works with three different nonprofit institution (RTA, SafeLabeling and the ASACP) to make sure that no cam model working on the site is underage. This will prevent you from being mistakenly added to any government "list," among other things.
Lastly, CamSoda makes sure that its members are satisfied with the site's services. This is not as easily explained as the safeguards above and is more of a guideline of the site than anything else. Here's an example that might clarify things: Let's say that you've experienced a technical problem while in a paid show. In such a case, you can contact CamSoda's customer support, explain your problem and ask to receive a refund in tokens. Your claim will be checked by CamSoda's staff. If you contacted them quickly and your claim is true, CamSoda's customer support will make sure that you are refunded. They will then also do their best to make sure that your problem won't reoccur.
Customer Support
CamSoda's customer support page can be reached by clicking the SUPPORT link at the bottom of the page. It has an extensive FAQ section, which is divided into Billing Support and Technical Support.
If you want to move ahead and contact a representative, CamSoda unfortunately doesn't offer much beyond email support for technical issues.
In Conclusion
CamSoda may not have the largest or most impressive selection of lesbian cams, but what it offer for little to no money is downright astonishing. What's more is with the popularity of tip-controlled sex toys on the site and the free availability of cam2cam, your interaction with the models is going to be much more intimate than on most cam sites.
Whether you prefer to watch your hot lesbians on a large computer screen or on the small screen of your phone, the result remains the same: Your time on CamSoda will be cheap, enjoyable and memorable. And if you're the forgetful type, you'll still be able to watch the recorded video of your show at a later time.