ImLive Fetish Review - Visit the Wonderland of Fetish Live Cams
Last updated
December 11, 2018
ImLive's business is the perfect mix of class, filth, and affordability. With private chat rooms of new models priced at just $1.15 per minute, and a massive BDSM and Fetish section, ImLive.com has something to offer everyone.
They provide a range of exciting features, and site elements that make finding your ideal fetish performer fun and simple. Whatever the flavor of fetish you're in the market for, it's almost certain to be found in ImLive's BDSM and Fetish sections.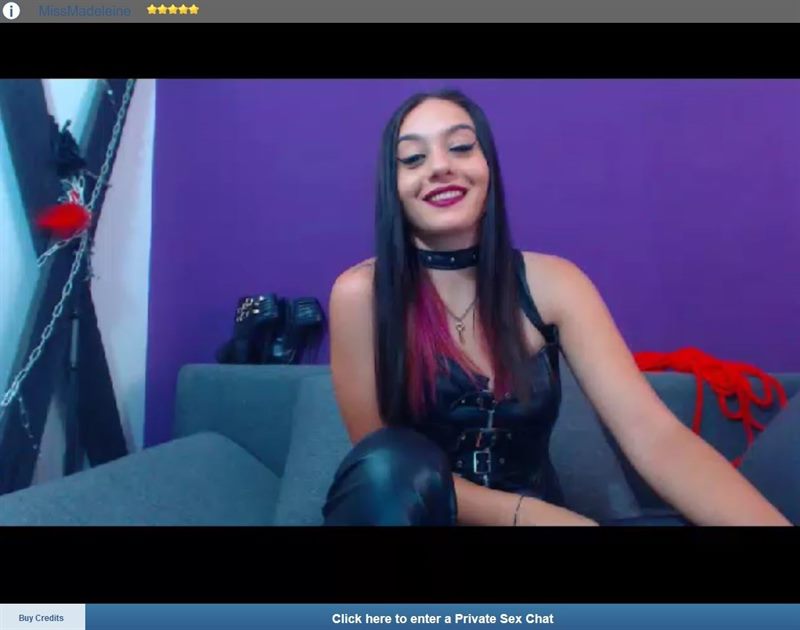 Navigation on the site is handled via a simple, user friendly interface which allows users to search by model category. Categories include things like sex/gender and general expertise, such as BDSM and Fetish. There's also an Advanced Search feature, to allow you to refine your search terms. This allows users to freely apply a selection of different model category options.
Users will find plenty of BDSM gear on display. Lots of kinky boots and high heels, masks of all different kinds, pain inflicting implements like paddles, along with tons more leather and other fetish wear.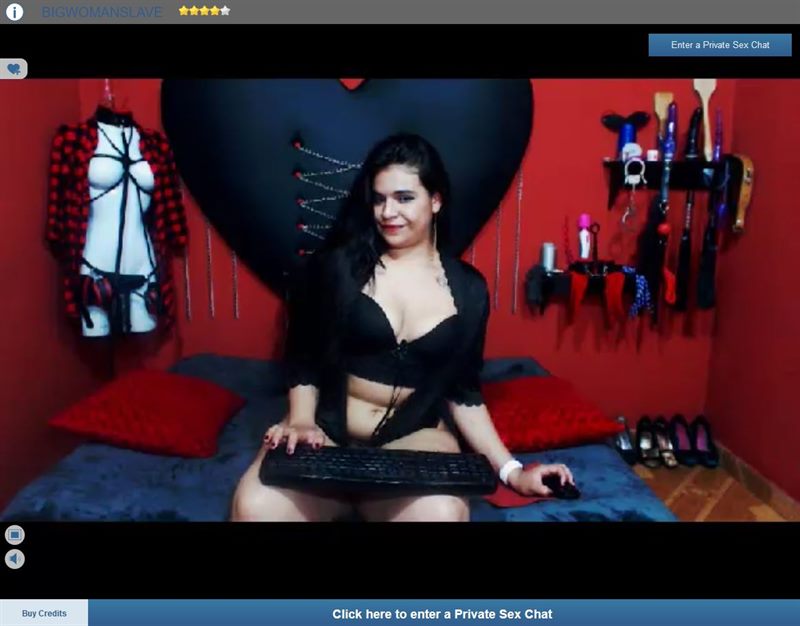 ImLive maintains a classy atmosphere on their site, with a general lack of nudity in free chat. They're a paid service at heart, and it shows in terms of their professionalism and quality. Members can expect excellent content, as well as Customer Support. They've invested heavily in their site elements, including some that are fully unique to ImLive.
Becoming a Member
Registering on ImLive requires new users to provide a valid email, a user name, and password. Email validation is always an important step, so be sure to check your spam box for the link.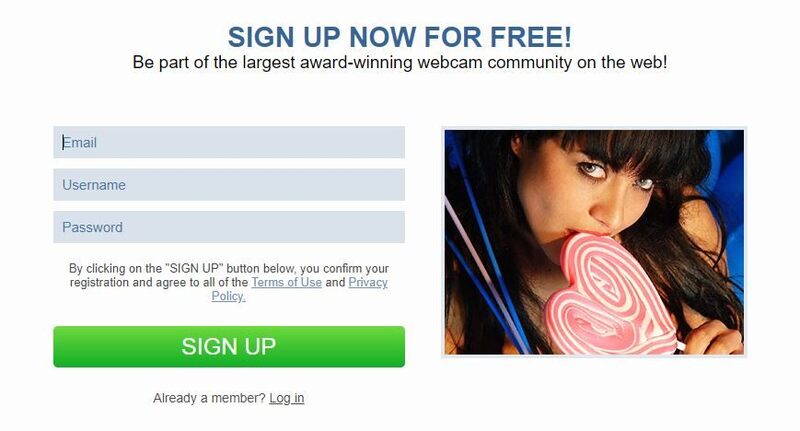 You'll also want to purchase a Credit package once you register, as ImLive is not a freemium oriented service. There's very little nudity on display for free, but tons of BDSM and Fetish action to be viewed very cheaply. Your first credit purchase unlocks access to Bronze tier Rewards Membership.
Loyalty Programs and Bonuses
On ImLive.com, purchasing Credits earns you Rewards Points, which accumulate and push you up the Rewards ranking ladder. Each Rewards Program tier retains the benefits of the previous level, while adding new ones with each level up.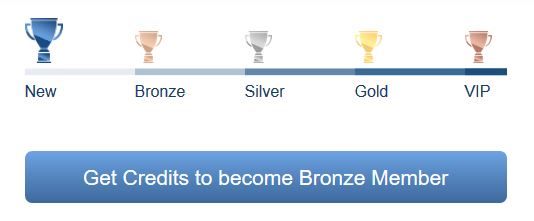 New
Building a model favorites list
Access free performer photo and video galleries
Utilize inbuilt message templates and emojis
Receive email notification of news and special deals
Use of the "Fulfill your Fantasies" feature
Bronze
The first 20 seconds of every Private Chat are free
Free access to additional video content
An additional .60 Credits per minute reduction, off the already low prices offered by Discount Clubs
View past Pornstar Shows for 4 Credits only
20% off Discount Club reduction on Top Past Live Shows
Silver
10 bonus Credits and Treats with each Credit Package
.70 off Private Chats with a Discount Club membership
Past Pornstar Shows priced at only 2 Credits
25% Discount Club reduction off Top Past Live Shows
Gold
20 bonus Credits and Treats with every Credit purchase
An additional .80 Credits off Private Shows, with Discount Club membership
Past Pornstar Shows are completely free
30% Discount Club reduction off Top Past Live Shows
Free Monthly Pornstar Shows
Platinum/VIP Tier
VIP Members earn 25 bonus Credits and Treats with each Credit purchase
Discount club reductions are boosted to .90 Credits per minute
50 Credit Bonus per 10,000 additional ImLive Points, upon reaching VIP
35% Discount Club reduction on Top Past Live Shows
VIP users can enter a room that is considered over capacity to lower tier Members
Platinum, VIP Members have Live Chat Support available
Discount Clubs
In addition to the savings provided by the ImLive Reward Program, there are also the individual Discount Clubs that models have the option to host. These enable a discount on live shows with that model, which offers bigger discounts depending on your Reward Program tier.
Most ImLive models host a Discount Club, which offers Members a great opportunity to get heavily discounted BDSM and Fetish shows from their favorite cam girls.
Treats
Members of the ImLive Rewards Program also earn gifts of a separate currency called ImLive Treats with each credit purchase. These can be used in the same way as ImLive Credits, though some models choose not to accept this freely distributed currency type.
If that's the case for all your favorite performers, ImLive still has you covered. They allow Members to exchange their treats for full ImLive Credits, at the rate of 10 Treats to every 1 Credit.

But of course, it's up to you to decide exactly how you want to utilize your Treats.
Treats are still money, and fetish cam girls new to ImLive's roster shows come significantly cheaper than those of a more established model. Many of them would probably be happy to accept Treats as tips, or for a private BDSM session.
The Models
ImLive features around 90,000+ total webcam performers, and in fact, holds my number two position in the Girls category. But we're here to explore ImLive's BDSM and Fetish sections in more detail today. Let me tell you, they are extensive.
ImLive hosts a massive number of submissive webcam girls, as well experienced dommes, and kinky couples. Trying to find guys who participate in the fetish lifestyle is slightly more complicated, as "BDSM and Fetish", "Guys alone", and "Couples" are treated as separate search terms. However, Advanced Search offers more options, as does the "Filter" option in search, which contains a completely separate listing of particular kinks and fetishes.
There are, of course, some kinks and fetishes not covered through ImLive's search features. This is where exploration of profiles, and building up your favorites list comes into play. Big tippers are sure to be remembered as well.
Profiles
Model profiles are nicely structured, with 6 different sections each will have, listed as follows:
About Me
This profile section details a little basic information about the model in question. Body features, fetishes, specialties, turn ons and offs. These are sections the BDSM lifestylers in the audience will want to scan pretty closely.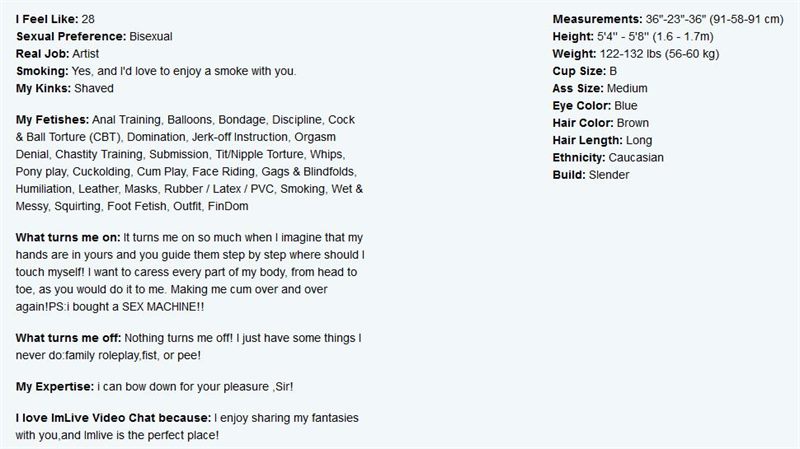 Some models aren't going to be thrilled to be asked for jerk off instructions, or cock and ball torture, if that's not within their sphere of interests. They might even boot or block members who can't take a hint, and ask for kinks they don't cater to more than once.
Reviews
This is the profile section housing user comments and can provide a good baseline for a performer's personality and show types before meeting them.
Awards
If models have won any site awards, this is the section where they'll be displayed.
Photo Gallery
This section is model optional and will feature any of the sexy photos they've chosen to share. They're free to view, however models can restrict viewing to paying Members only, and will in most cases.
This presents all the more reason to make at least one purchase of a Credit package, if you're considering ImLive as a mainstay.
Discount Club
If a model offers Discount Club membership, which most do, the sign up will be offered in this section and provides a range of additional benefit.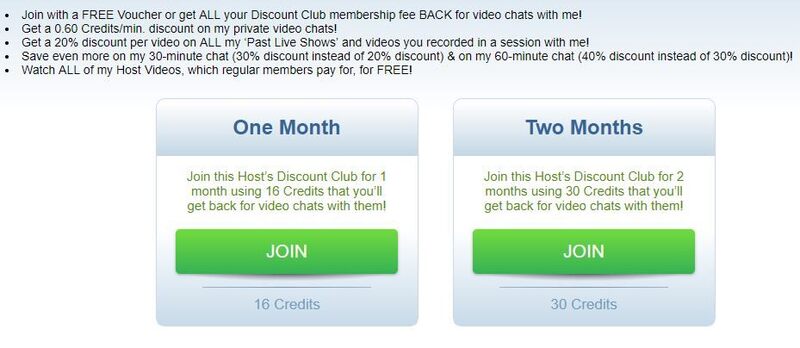 Membership to Discount Clubs are had by spending either 16 ImLive Credits for one month, or 30 Credits for 2 months.
The website is formatted nicely, and grants users several options on how to browse model previews. There are 3 distinct styles that can be selected from.
The default style displays as blocky windows, with a preview thumbnail, and room status. The room status will let you know before hand if it's a free room, or one you must pay in order to join in.
There's one style of homepage you can select, which features the same elements as the default style, plus a little flavor text/tag line and model rankings taken from the individual performer's profile. The last style is one that looks a little more common to what live cam site users would be used to.
It contains a grid-work of model preview thumbnails, featuring a few thumbnails sized larger than the others, usually on alternating sides. The exact distribution of large previews depends on exactly how many thumbnails you're looking at. This is my favorite format incidentally. It shows off all the latex/PVC/leather fetish wear, and toys in the most accessible manner while browsing the fetish live cam sections.
ImLive has fantastic fetish sections, as you've recently discovered. If you'd like to explore more options, check out my other fetish specialty site reviews.
Unique Features and Additional Media
ImLive is packed to the gills with different site elements, both of the standard variety, and the less so.
Fulfill your Fantasy
Im Live features a site element that every reader ought to find very exciting, and that's ImLive's "Fulfill your Fantasy" section. This feature is the shining star of my ImLive fetish review.
It's useful for cutting out the arduous process of sorting through fetish cam girl's rooms individually.
Site Members can send out a show request that all participating models will receive. Then, if any are willing, and equipped to put on the type of show you're requesting, you'll get a response through the proprietary ImLive messaging service.
The best thing about the Fulfill your Fantasy element is that models can connect with one another in order to make your fantasy a reality. You want a show where a domme lords over a submissive tranny? If there are performers who express interest in your fantasy, they can connect in order to make it happen.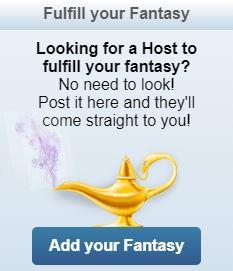 Don't be shy, get into your most filthy fantasies, write them out, send them out, and see if your bait draws some bites. It's well possible you might find a few fetish models who have worked with each other, and can make a special show happen for you. You might even introduce a new webcam couple.
Multi-Viewer
Another unique feature of ImLive is their Multi-Viewer Free Video Chat mode. This allows you to see previews of 6 different free, live chats at once. This carries the option to receive audio on as many, or few of the feeds as you want as well.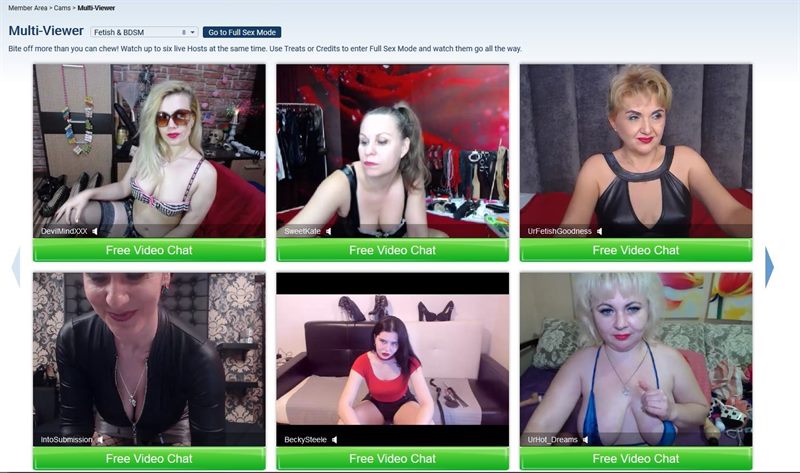 Multi-Viewer Free is only one of the modes offered. The other is Multi-Viewer Paid. This allows you to peek into 6 different live, paid chats at once. This mode lacks audio in order to protect Member privacy for those engaged in Cam2Cam.
Speaking of which, Cam2Cam, the popular live webcam chat feature is obviously a part of ImLive's repertoire and is enabled in the majority of their paid chat types.
With all the different money saving programs, the selection of fetish cam girls, chat types, and different features, members will find themselves spoiled for choice on ImLive.com.
Additional Media
ImLive hosts extensive video sections, both for recorded live chats, model uploaded content, and even a variety of special shows.
Search tags can be applied to these video sections, in order to find the BDSM and Fetish video galleries.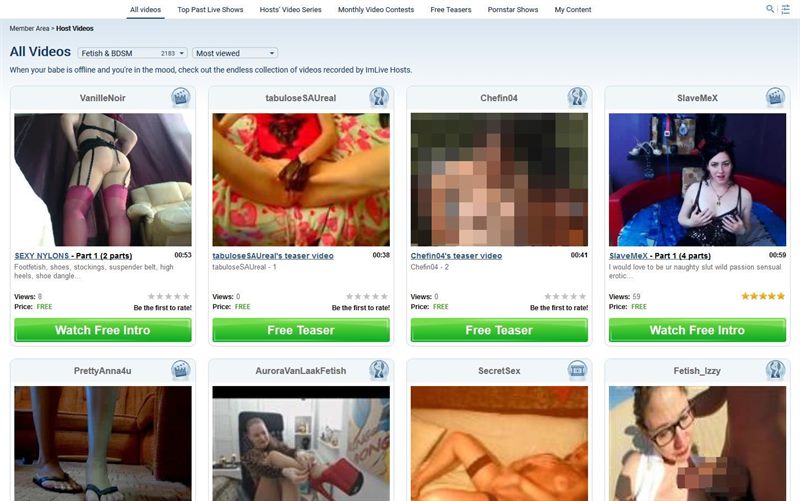 Chat Types
The chat types featured by ImLive are quite varied. ImLive's cam girls get to choose which show types to participate in and which not to.
Free Video Chat
The Free Video Chat on Im Live is treated very much like the early days of live webcam sites. They're mainly nudity-free teaser rooms, designed to entice Members into joining other paid chat variants.
ImLive frowns upon models showing off too much skin in Free Video Chats.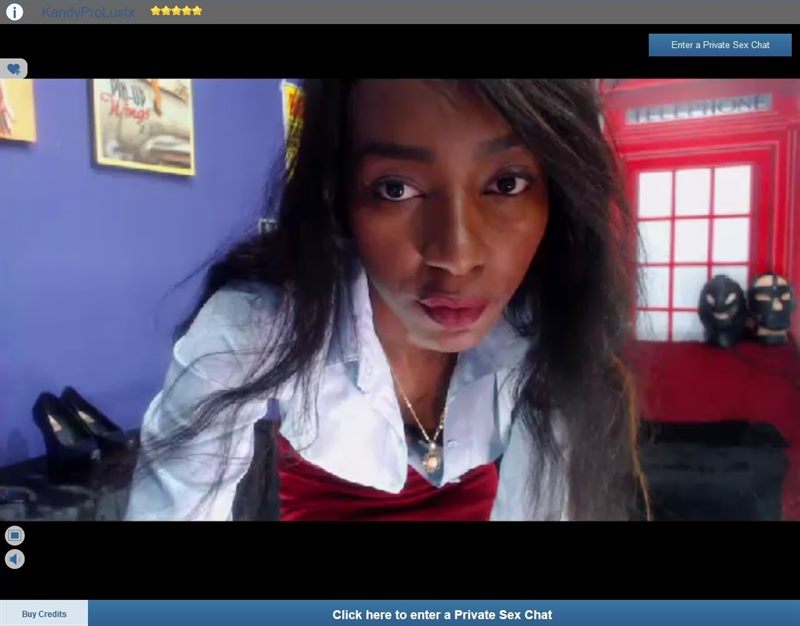 For the lucky Subs and Dominants out there in the audience, the fetish outfits, masks, and toys are proudly displayed. That makes this a great mode for window shopping BDSM cam girls.
Private Chat
In Private Chat, Members are given the director's chair, and can have their requests considered for shows. cam2cam is an optional, and very fun feature offered by all ImLive's models. It's exciting method of interaction, when you and your chosen performer can watch each other enjoying the session. Participating models can also give you complete control of their remote activated toys.
If you're of the sadistic, dominant stripe, this can present some fun and evil ways for you to play with your favorite models. Like buzzing their Lovense toy many more times than they're prepared for, as an example. Cruel, but satisfying!
Candy Show
A Candy Show is the ImLive equivalent of a group show. Models set a countdown timer, and a minimal tip amount, between 1 and 30 Credits, and Members must match that tip or better. Those who do get to follow the model into the closed, group show.
While nudity is technically not allowed for free, the period prior to a Candy Show countdown is the most likely place you will see it. There's a little flexibility to the rule when models are coaxing people into paid chats.
Live Sex Video Chat/Spy Shows
Models who are in a Private Chat room will display under the "Live Sex Video" banner. This indicates that Members can peek in on the action, for a reduced price.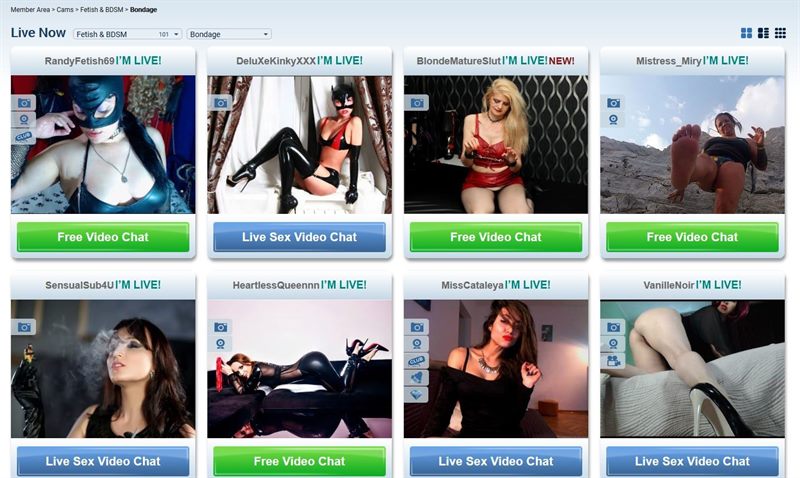 Audio is disabled in Voyeur/Spy Shows, which is a standard across most professional cam sites, to protect Member anonymity for cam 2 cam users.
Free Multi-Viewer
The exciting Multi-Viewer mode lets you preview 6 different live rooms at the same time. Depending on the category/tag you're searching for, different models will be displayed randomly. This provides an interesting, and quick method in window shopping for fetish cam girls.
Paid Multi-Viewer
A regular Multi-Viewer session can be switched over into the paid variety by hitting the button labeled "Go to Full Sex Mode." This mode is much the same as Free Multi-Viewer, except that it gives you a peek into active paid chats. Multi-Viewer, and Spy Shows had a baby, basically.
Group Cams
While in a private chat with one model, you can invite another into the mix. You pay a reduced fee for the second girl, and get a cam threeway. Group cams is only available under certain models. The girls you invite will always already be familiar with one another.
Costs
Pricing on ImLive.com is a well streamlined process, with a 1 to 1 exchange rate, from Euro to ImLive Credits.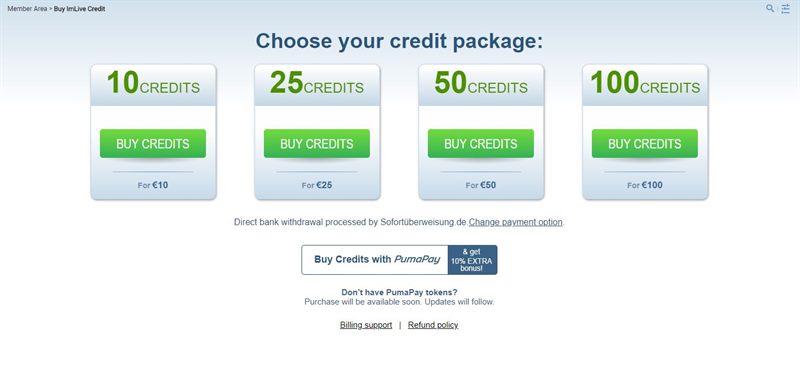 This is helpful, in that it removes any guess work relating to exchange rates. Having a flat rate, with a single currency really simplifies everything. This makes it easy to keep in mind exactly how much money you're spending on ImLive at all times.
As to show prices, they break down as such:
New models, who haven't logged at least 90 minutes of show time are priced at 0.98 Credits/Euros for private shows. More experienced hosts can charge between 1.98, and 5.80 ImLive Credits/Euros. These prices are listed without any of the available show discounts applied.
Support Options
Support from ImLive is offered via an email that will be answered within 8 hours.
There is also 24 hour a day telephone assistance for more urgent matters, like billing issues.
There's also an advertised Live Chat Support option, though it's only made available to Platinum/VIP Members.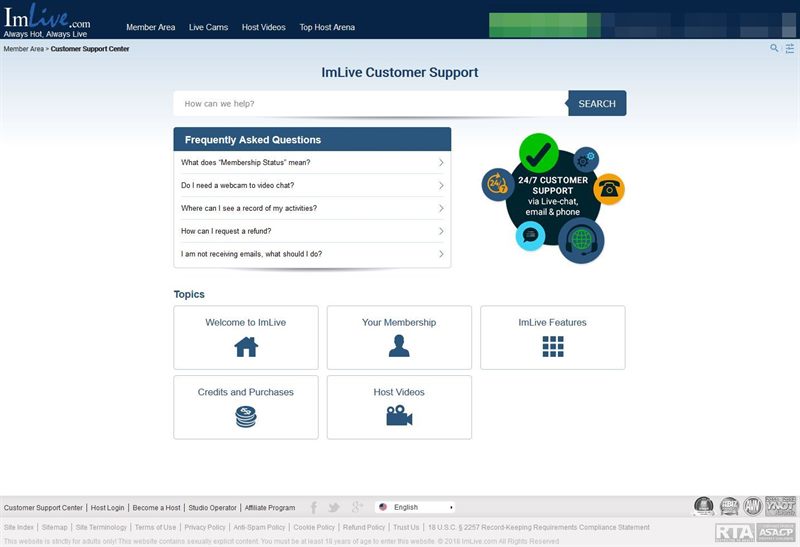 The support offered to Members below Platinum VIP level is perfectly adequate, and available 24/7. I found my questions were answered quite promptly through email Support.
Quality
Quality is another area where ImLive has cut a few corners, for the sake of savings and standardization. Thus far ImLive has not implemented HD support, and the maximum quality available is 576p, Standard Definition.
HD support will probably arrive on their platform eventually, but for now it must be financially advantageous for them not to make said updates.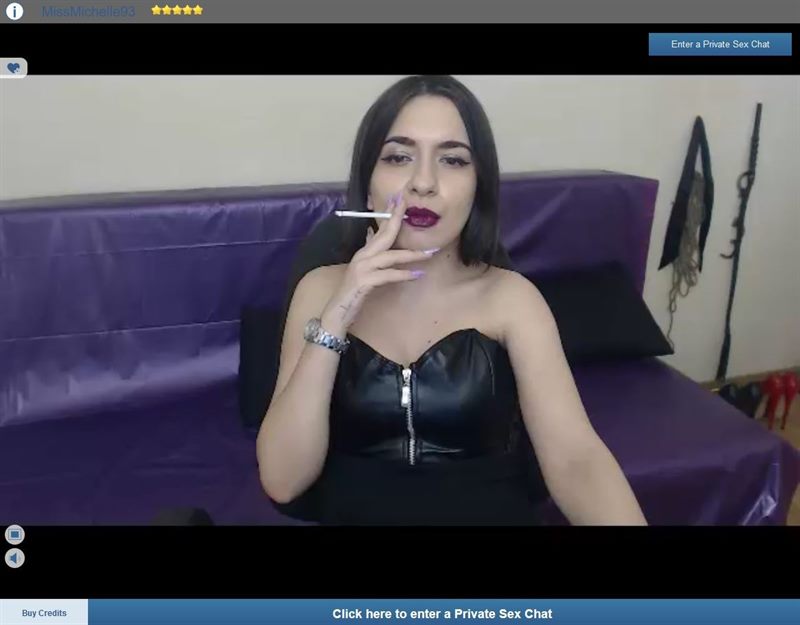 On the plus side, the savings are passed down to ImLive's Members. In addition to that, sometimes HD can be dangerous. Some things are better left blurry, it's natural tone correction.
Pros Vs Cons
Pros
ImLive has fantastic show pricings, starting at just $1.15 USD for new models
Credit purchases are a simple €1.00 to 1 Credit transaction
All ImLive models support cam2cam
Site design and navigation are professional level, unsurprisingly
ImLive has a classy presentation, with the general lack of nudity in free chats
ImLive is a secure, trusted name in the adult live cam world, with many awards
ImLive features an extensive roster of BDSM and Fetish cam girls
Registration, and upgrade to Premium Membership are both incredibly simple
ImLive extends tons of money saving opportunities to their members
Cons
Despite creating further savings, lack of HD support is somewhat irksome
ImLive is not a place you should expect much of anything for free, which is reasonable
Having Live Chat Support restricted to Platinum, VIP Members comes off as less than user friendly
Wrapping it Up
What else is left to say really? ImLive is a fantastic site, and service. It's incredibly professional in its dealings all around, which has bagged the site numerous awards in the adult entertainment circles. The pricing is simple and most importantly, fair to the members.
The few areas in which ImLive lacks even end up being net positives in the end, by providing savings to the end user at every turn. On top of that, there's the various money saving programs, both the paid and free variants. That leaves members with a good feeling in the nether, and wallet regions.
Then there's the selections of fetish models on offer, which will have your hands shaking, as you go to draw your blinds, and lock the door.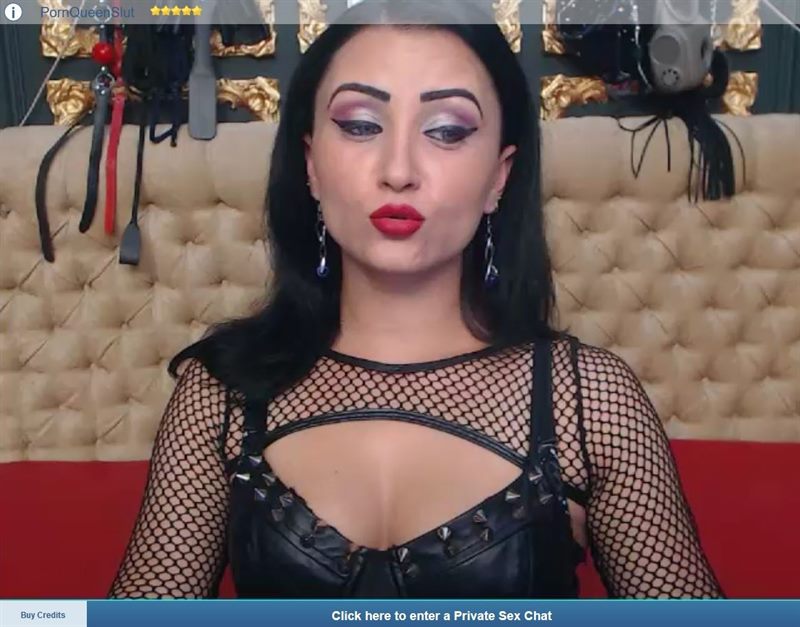 The different offerings of models are a pleasure to browse through for free, and amazing to explore through paid chats. When you find a model you can connect with, whether you like to play bottom or doming, if you're willing to spend, you'll have many happy endings.
While you're not going to find a lot on offer without shelling out a little cash, a ton of additional content, and freedoms are bestowed upon paying members. Even the purchase of a minimally sized credit package immediately rewards members with a massive upgrade in the user experience.