LiveJasmin.com - The King of Kink
Last updated
January 11, 2021
While LiveJasmin is known for its vanilla cams more than anything else, it is actually the best fetish cam site on the market. Yes, that's right, the best, and for a multitude of reasons; from its fantastic selection of fetish cam shows to the emphasis it puts on providing its members with the highest quality possible.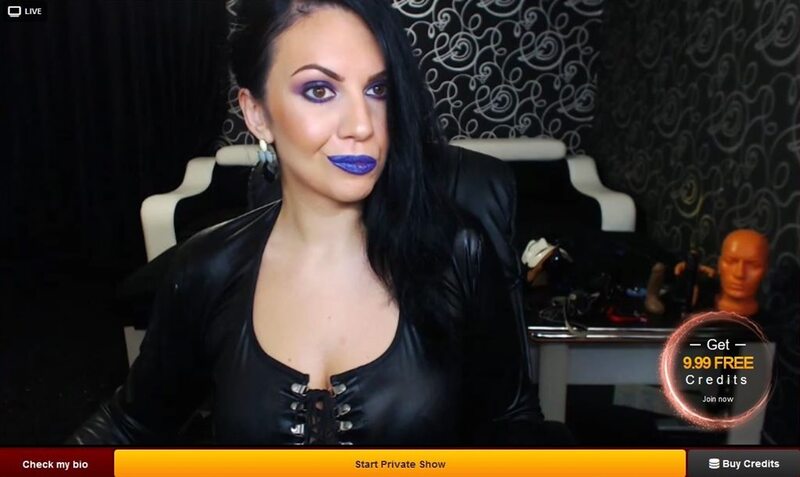 I've thoroughly reviewed LiveJasmin's fetish cams, features, prices and video quality, along with a few other important tidbits. Read on if you want to find out if this is the best site for you to get your kink on, and if so, how to best navigate it and save money on it.
Pros Vs Cons
Pros
The best video quality you can find
Wide selection of fetish cam rooms
High quality two-way video and audio
Convenient navigation
Fantastic customer support
Cons
A bit pricey
Two-way video and audio both come at a fee
The Models
Probably why most stay on this cam site. On LiveJasmin, you will come across one of the most varied selection of fetish cam babes you have ever laid you eyes on. They range from leather-clad doms to kinky subs, and everything in between. LiveJasmin's fetish cam girls are easily found under the Fetish category on the left navigation bar.
On average, LiveJasmin has about 50-100 cam girls online that specialize in a variety of fetish shows, from live jerk off instructions (JOI) and cum eating instructions (CEI), to small penis humiliation (SPH) and smoking. You can pretty much find anything here. And find you shall, since both the search engine and the categorization feature are extremely accurate and helpful, unlike in many other adult chat sites.
As for the models themselves, well... Let's just say that LiveJasmin doesn't just let anybody with a webcam stream on its site. It has very strict standards which it enforces them without compromise. And it clearly shows. The rooms themselves feel like they have been meticulously cleaned and tidied, as if special guests are arriving, and they are also well-framed. It all feels very professional, and makes sure you have the best view of the show possible. On top of this, they come in all shapes, sizes and ages, and most are stunningly beautiful, enough to make you wonder why the didn't choose modeling as a career instead.
If you're interested in finding out what a specific model agrees to do in her show, click on the information icon on the left of her stream (looks like the letter "i"). You can see it under the In Private Chat, I'm willing to perform section of her bio. This, by the way, is contractually obligating, so you can rest assured it is true, because if not, and the model refuses to do it, you can get a refund of the credits you paid for her show. You can, of course, also find other bits of information there about the model, but not many. LiveJasmin likes to keep its models under a veil of mystery so you have more to talk about in the show, which helps initiate a flirtatious conversation beforehand. From my experience, it does succeed on making the experience more social. Whether that is what you're after or not.
Video Quality
This is LiveJasmin's biggest draw. The emphasis this site puts on the quality of its stream is laudable. Every room in the site, whether it is a fetish cam show or not, streams in 720p HD, and often even in full 1080p. The people running the site actually disallow models from streaming in any quality that is not HD, and only allow the new talents on the site to do so for an adjustment period, after which they will need to start using HD equipment or face a ban.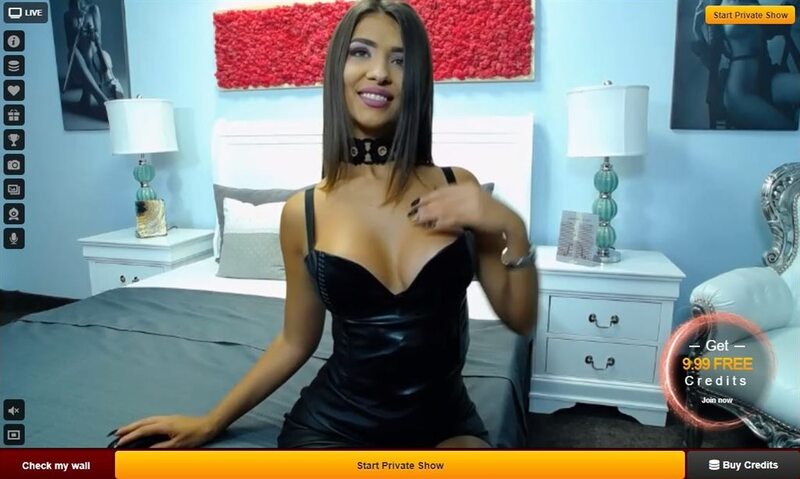 The shows, surprisingly enough, load fairly quickly despite the high resolution they all stream at. The previews of the shows do take a few seconds to load, though, which is still very reasonable. The stream quality itself is also excellent; free of any buffering issues and never stutters. Even the stream delay is quite short, making any exchange between you and the model feel almost instantaneous.
You can control the size of the screen at the bottom-left of the stream's window, but you don't have a way to control its quality. Nor will you need it. LiveJasmin does a great job at adjusting its video quality to fit the speed of your internet connection, so everything is automated. While I've experienced this only once, when I had issues with my ISP, it is very good to know that LiveJasmin does its best to keep your experience smooth and without interruption.
Prices
LiveJasmin is a bit more expensive than most other premium cam sites. By less than 10%. It might not be a lot, but it could add up if you frequent the site, and especially if you like to crank-up the intimacy in your shows by using cam2cam and/or two-way audio. This is because, while cam2cam is offered in every private show, it costs extra. An average $1.00 extra perminute each, to be precise.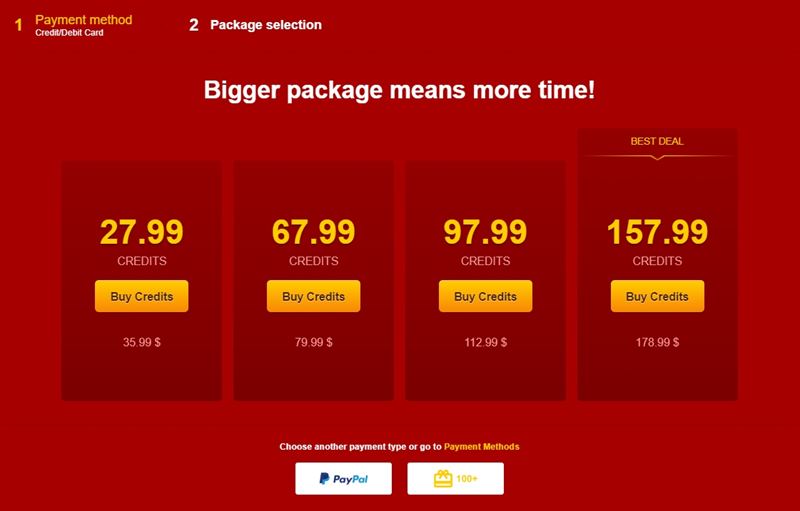 As you can see in the picture above, at 1 to 1.3, the credit-to-dollar ratio is also unintuitive, making it harder to keep track of how much you're spending.
The prices themselves differ from show to show. For more about that, check out the different chat types below.
Chat Types
While LiveJasmin doesn't have a whole lot of show types, it has all the standard ones and does them all well.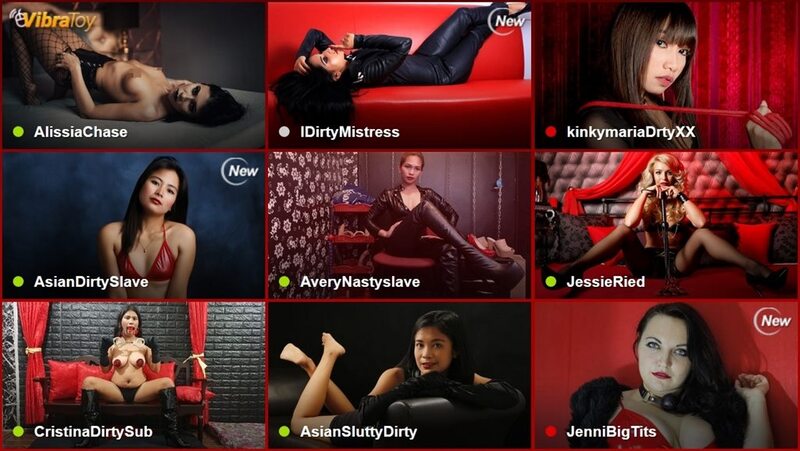 These are the chat types you can find on LiveJasmin.
Open Chat
LiveJasmin's free chat is inviting and does not pressure you to make a decision on whether to go private with a model or not. The models themselves tend to be very engaged and flirtatious, so its a nice stepping stone before making the leap into a paid show, where you put you faith, and sometimes your balls, in the hands of LiveJasmin's performers.
This is not where the action happens, though. Don't expect to even see much skin here. LiveJasmin has strict regulations against any sexual acts taken in the open chat. This is a high-end cam site, and they prefer to keep their talents paid.
If you're looking to make the extra step and have the experience of a lifetime, than good for you. What you can expect is fairly straightforward...
Private Chat
A private show on LiveJasmin is possibly the best online sexual experience you can have. It costs an average of $2.70, and as low as $1.20, and is always hosted by a model who's skills match her good looks.
Know that the models on LiveJasmin take their job seriously, so if you ask one to treat you like her little slave and a cum slut, know that she is probably going to demand you to taste your own cum at some point. Know what you're getting into, because you get what you wish for here.
If you do find the idea appealing, then wonderful; you've probably found your next favorite hobby. Whether your into submitting to a powerful woman or having her do some kinky shit you're into, LiveJasmin's private shows will not disappoint.
There are not a lot of amateur models in LiveJasmin's fetish section. There are some, but since LiveJasmin also picks its models based on their skills, and fetish shows take a lot more skill than usual, most models here are pretty experienced and know how to drive a man mad with lust.
Whether you want the model to hear you or not, I do recommend that you try cam2cam at least once. The thrill of it gets many people hooked, and for good reason.
As a side note, a member can pay $1.30 to peek on an ongoing private cam show for 20 seconds, but, aside from this, there's no real spy or voyeur chat option available on LiveJasmin. They prefer things are kept intimate and private between you and your mistress.
VIP Chat
Basically, this is LiveJasmin's version of group chat. Here, the model can set a specific "ticket" goal, and should she reach it within a set time frame, the show starts. Every person who purchased a "ticket" can then enter. If the goal is not reached, everyone gets their credits back.
If that sounds familiar, that's because it is. Most adult cam sites have this show type, but hey, if it's not broken, don't fix it. LiveJasmin renamed it and made sure it works flawlessly. Can't say I'm not happy with it.
As for the cost, at an average minimum of $3.60 for a 10 minute show, it's much easier on your budget than a private show, and taking LiveJasmin's quality into account, it's undeniably a steal. Do know that you might find yourself fighting for the model's attention with some guy who keeps tipping her to do something his into but you might not be, like showing her feet. If you don't want to compete with others for the model's time, private might be more suited to you.
VibraToy Chat
This is fantastic for those of you who like to take complete control of the model and her pleasure. This show type signifies that a model is using a special remote-controlled sex toy that her viewers can activate at the click of a button. You tip, she cums. Cause and effect.
Obviously, doms on LiveJasmin are less likely to use these devices. They're not going to let some vermin touch any part of their body, let alone control it. They will, however, gladly direct you on how to insert one into your own ass and activate on their command.
Video Call
LiveJasmin allows you to video chat with your favorite fetish cam model during her after hours. On her actual phone.
This, of course, costs a bit more than a regular private show, but it's well worth the price. That is, if you can find a fetish model on LiveJasmin that uses this feature. I, myself, have unfortunately not encountered many that do so.
Unique Features and Extra Content
Other than taking a picture of the show (using the Take a snapshot button on the left), LiveJasmin is pretty barren when it comes to extra content. Its developers just don't put any emphasis on anything other than things that improve your live cam show experience.
Mobile Site
LiveJasmin preforms on mobile devices as well as you might hope and expect it to. It's intuitive, fast and user-friendly. It is also one of the very few adult chat sites that allow you to cam2cam on your mobile. Don't have a computer nearby? Still want your mistress to know you're being a good boy? Than open LiveJasmin on your phone and have at it. It's really as simple as that.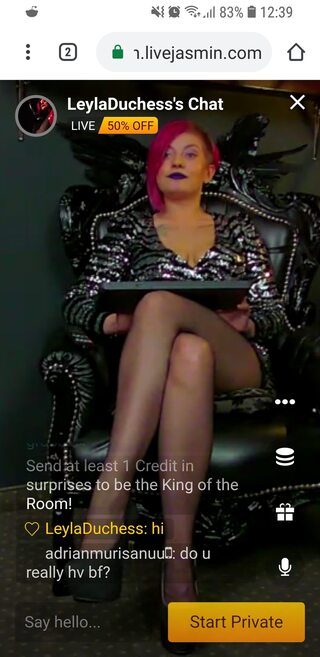 LiveJasmin does suffer from the ever-present and annoying issue of the address bar obscuring the screen, just like most mobile sex chat sites do. It does have something that they don't, though: An official app. If you're having any problems with LiveJasmin on your phone, I wholeheartedly suggest that you simply use the site's app.
Premium Membership and Rewards Program
LiveJasmin doesn't have much loyalty benefits. It doesn't really need a rewards program since members tend to stick around anyway, without any further incentivization. There is a Loyalty Elite Program, through which you can earn points by spending credits, but this mainly serves to increase your visibility to the models and doesn't give you any benefits beyond that.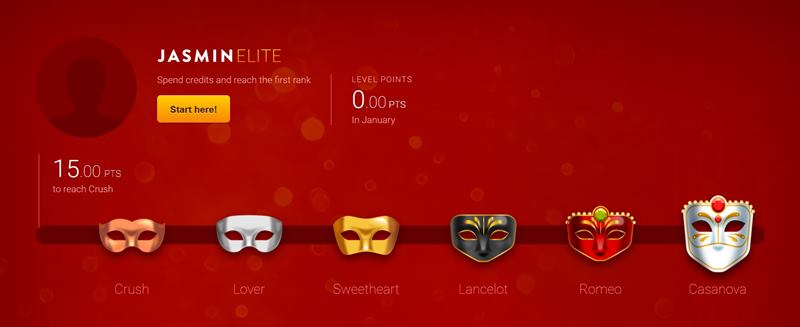 LiveJasmin does, however, find it important to incentivize new members who have not yet become hooked. LiveJasmin offers new members 9.99 free credits they can receive for imputing valid payment details. This is liable to change or even end altogether, so benefit from it while you can.
Registration
This really couldn't be any simpler. You choose a username, password and enter a valid email address, verify it using the verification link sent after your registration to the site and you're done. It's free and should take less than a minute.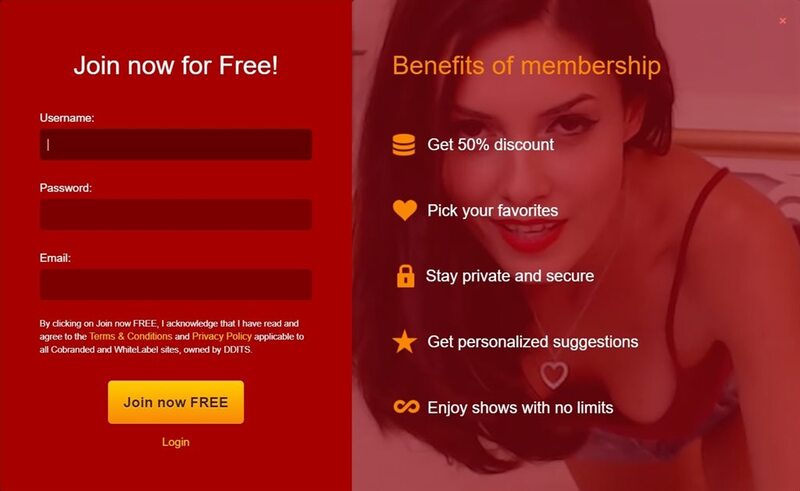 There is, though, another possible step to this process. LiveJasmin offers you 9.99 credits (valued at around $13.00) for entering a valid payment method after registering. If you do so, the site will charge you 1 credit to check if the card is valid, then automatically refund you. It's pretty much free money, so if you do decide to try out LiveJasmin, do this first. It won't cost you a dime and will help you get a better feel for the site and its selection of performers.
Accepted Payment Methods
The accepted credit card types are as follows:
Visa
Visa Electron
Visa Bleue
MasterCard
MasterCard Maestro
Diner's Club
Discover
JCB
And these are the available alternate payment methods:

Security and Quality Assurance
LiveJasmin is not only one of the most private and secure fetish cam sites in the industry, but also one of the safest sites on the web. The attention in gives to the quality of it product doesn't stop with the models and the quality of their show, but on keeping your experience discreet and secure. It uses HTTPS and SSL to keep your connection encrypted so no one other than you and the model can gain access to our private show. It also has measures in place to prevent the model from recording the show herself, to protect you should you choose to cam2cam.
And while we're on the subject of privacy and discretion, LiveJasmin ensures that no information will appear on your bank statement that could somehow divulge the services supplied to you by the site. LiveJasmin also sends the receipt of your transactions and any other sensitive information to your registered email address, and nowhere else.
Finally, as previously mentioned, LiveJasmin is fair with its refund policy, making sure you always get what you paid for, and the highest quality of it. Just don't abuse the system, and they will keep you a happy customer.
Customer Support
LiveJasmin's customer support is both fast and easily accessible. They're available 24/7 and can be contacted via email, phone and live chat. They also tend to answer and resolve any issue in a hurry, as well as be very pleasant to speak to.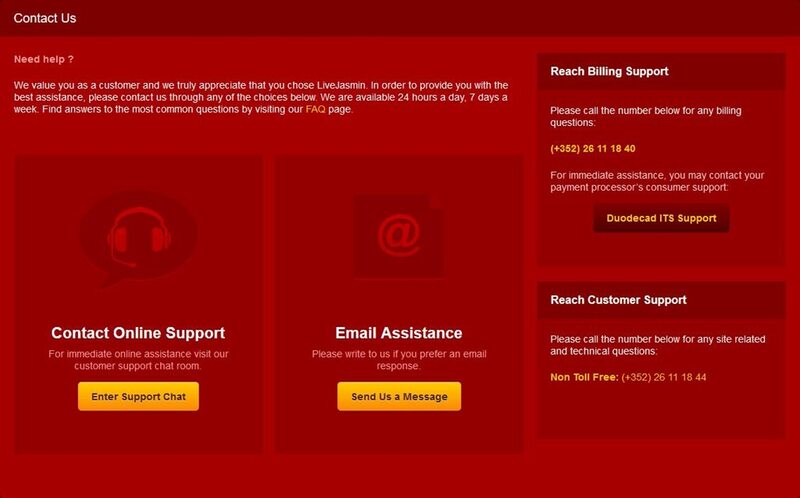 Before you reach out, though, make sure your problem cannot be resolved with a quick read of LiveJasmin's FAQ section. It's pretty comprehensive but also organized, so I suggest that, whatever problem you encounter, take a gander there first.
In Conclusion
LiveJasmin is the king of the hill. It's not only the best webcam site in the business, but its amazing collection of fetish cam shows cements it as the best kink webcam site as well.
I really could go on and on, but the only thing I need to make clear is this: If you like to purchase the best product of only a fraction more than the rest, or you just want the best bang for your buck, then LiveJasmin is the site for you.
Visit it now, follow the instructions I gave to get some free credits and try it out for yourself. It won't be long before you see what I mean.