LiveJasmin.com Review - a High Quality Shemale Cam Site
Last updated
January 08, 2021
While LiveJasmin is renowned for being one of the best — and in my opinion the best — adult chat site for its female cam rooms, its collection of shemale cam babes doesn't fall that far behind. It has a laudable number of them, and their quality rivals that of the best in the field.
I've taken the time to try out many of LiveJasmin's ts cams to see how they stack up against the top shemale cam sites around, and let me just say that it was a thoroughly enjoyable experience. How enjoyable? Read on, and I'm sure you'll get the picture.
Pros Vs Cons
Pros
Best video quality you can find
Great amount of stunning trans cam models
Two-way video and audio work fantastically well
Amazing customer support
Very easy to navigate
Cons
Two-way audio costs extra
A bit pricier than most, which isn't clear until you pay
The Models
LiveJasmin is known to be very picky with their selection of cam models, as well as for setting very high standards for them. This is no different for their shemale cam models. Aside from the vast majority of them being drop-dead gorgeous, the trannies on LiveJasmin all have to keep their cam rooms tidy and presentable and to refrain from showing any skin outside of a paid show.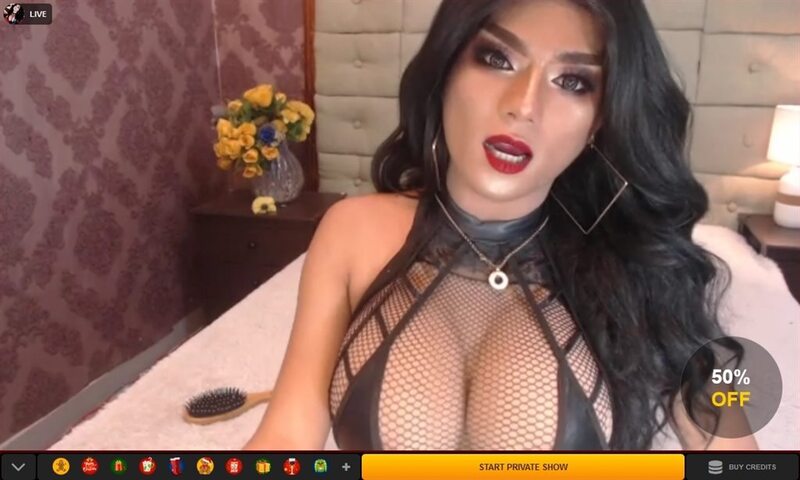 LiveJasmin has an average of 70 tgirls online at any given moment, which is more than most cam sites can boast, even those dedicated to shemales. Each cam room has a video preview you can watch by hovering your cursor over it. If you're looking for something specific, LiveJasmin's search engine and categorization system will make sure you find it with ease.
Do note that while you're a bit limited when it comes to searching for specific sexual acts the models are willing to perform, you can still find out a model's preferences in the information section (has an "i" icon) on the left of her show.
You can find basic bio about the model on the page of her show, which also serves as the her profile page. If you want to know more about the tranny than her dick size and age, though, you'll have to ask, as LiveJasmin likes to keep its models under a veil of mystery to entice its members to engage with them.
You can get to LiveJasmin's shemale selection by selecting either Transgirl under the Girls category or Transboy under the Boys category.
Video Quality
This is where LiveJasmin blows its competition out of the water. Models using its platform are actually instructed to stream using HD equipment and a stable internet connection, or face a ban.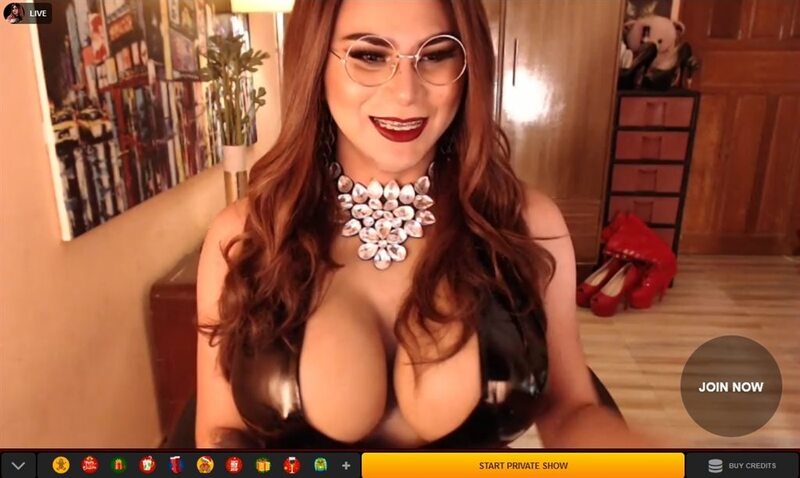 Streaming in HD quality, though, is the easy part. The hard part is keeping it consistent and free of buffering or stuttering issues, which LiveJasmin succeeds in with flying colors. The cam shows work well, load quickly and are consistently enjoyable to watch.
Prices
The main problem that LiveJasmin has is its prices, and not because the shows are prohibitively expensive. A minute in private with a hot tgirl will run you between $2.40-$3.60 on average, which isn't that much higher than most other tranny chat sites. LiveJasmin, though, can get expensive because it doesn't offer many discounts or bonuses, and also because cam2cam isn't free, and neither is two-way audio. It actually costs around $1.00 a minute for each, and sometimes even more. Combine that with how addictive this site can be, and you've got a combination of factors that can put a non-negligible dent in your budget.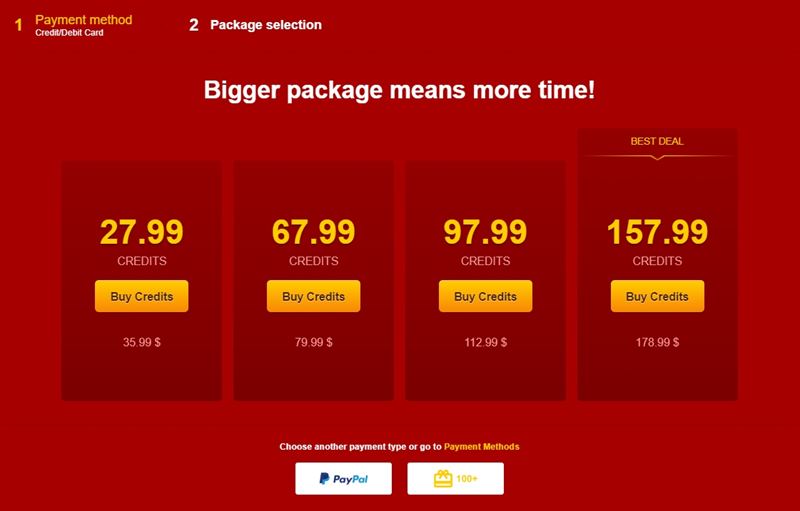 LiveJasmin does offer up to 10 bonus credits (valued at around $12.00) on your first purchase, as well as on every 5th purchase of the same credit package. Do note that you get more bonus credits the bigger the package is, so if you can afford it, get the biggest one available. It will pay off in the long run.
For more about LiveJasmin's prices, check out the different chat types below.
Chat Types
LiveJasmin is not known for its plethora of different chat types. It sticks to the basics and does them well, not caring much for bells and whistles.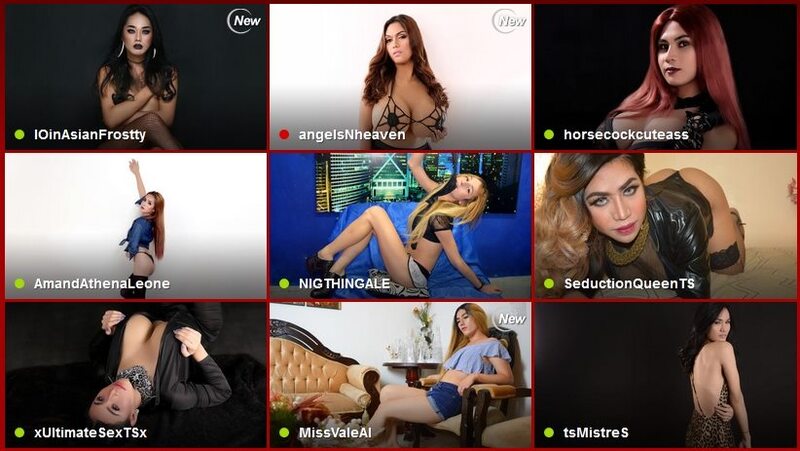 Still, the vast majority of people will be satisfied by the following options, as they cover pretty much everything.
Open Chat
LiveJasmin's open chat is so slick that you'll feel like you're window shopping. The cam rooms' preview tends to load a bit slowly, but the shows themselves do not, and you can easily switch between them.
Feel free to flirt with the ts babes here, but don't expect much more. Nudity and sexual acts in the open chat is forbidden on LiveJasmin, as in most other premium cam sites.
Private Chat
If you're in a private show on LiveJasmin, chances are you're having a fantastic time. LiveJasmin's models are not picked exclusively for their looks, but for their skills as well. They are professional, seductive and treat their jobs seriously. They are all working full time on LiveJasmin, have seen it all and still find enjoyment in their work.
If you're looking for amateurs, there are some, but not a lot. You can find them by looking for a cam show tagged as new.
While the price of a private can get steep, you can find ones for as cheap as $1.10 a minute if you just take a minute or two to look.
If you're in the mood for some added intimacy, know that not all models enable two-way audio, so keep that in mind in your searches. While it also costs extra, I do encourage you to at least try it, as LiveJasmin's two-way audio works incredibly well. In other adult chat sites you might feel like you're talking to a girl at a noisy club, who doesn't fully hear what you're saying. On LiveJasmin, you can broadcast both video and audio back to the model with little to no delay, and at a superb quality.
A member can pay 1 credit to take a peek on a private cam show in progress for 20 seconds, but, aside from this, there's no real voyeur chat option available on LiveJasmin.
VIP Chat
I might sound like a special show type, but this is basically just group chat. The model sets a specific tip goal, and if she reaches it within a certain time frame, the show starts and every person who tipped can enter. If the goal is not reached, you get your money back.
So ya, it's regular group chat, and not much more than that. But, while it is a tad misleading, the quality and affordability of this show type is undeniable. The models do an amazing job pleasing all viewers, especially those that tip, and at an average minimum of $3.60 for a 10 minute show, it's a steal.
VibraToy Chat
Want to control your model's sex toy? Then this is the show type for you. LiveJasmin allows a model to use a Lovenese toy that you can activate at the click of a button. You tip, and you can make her cum. Simple, sexy and satisfying.
A lot of models on LiveJasmin use the VibraToy, but not many shemale cam models do, which is a shame. Still, keep an eye out. If you some some cute trans girl that catches your eye and has the VibraToy tag, I would suggest you not miss out on the experience.
Video Call
This option allows you to call your favorite model during her after hours and start a mobile video chat with her. This costs a bit more than a regular private show, obviously, but is well worth the price. Unfortunately, I have yet to encounter more than a couple of tgirls on LiveJasmin who offer this feature.
Unique Features and Extra Content
Again, LiveJasmin sticks to the basics. That means no extra content, just what you expect to see on an adult cam site, at the highest quality available.
Mobile Site
LiveJasmin's mobile site doesn't leave much to be desired. It performs as well as one would hope, and is actually more user-friendly than you would expect. LiveJasmin is also among the very few webcam sites that allow you to cam2cam on your phone, so if this is something you might want to do, you'll find no better premium chat site for it.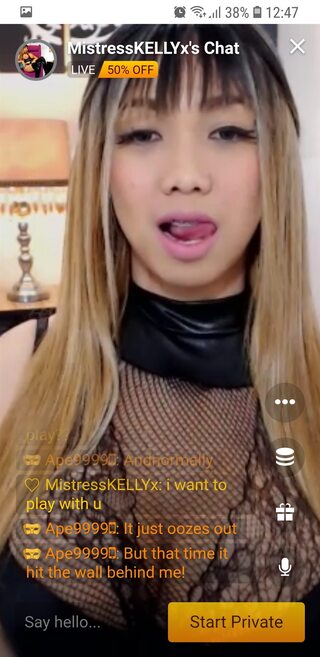 LiveJasmin's mobile site does have a small issue where the address bar can sometimes obscure the top part of the screen. This can be alleviated by scrolling down prior to visiting a chat room, so its pretty negligible. You can also solve this by just using the official LiveJasmin app, which will make things even more convenient. If you find yourself using LiveJasmin on your phone, even infrequently, there's really no reason for you not to do so.
Premium Membership and Rewards Program
While basic members can enjoy chatting with the models in the free chat, LiveJasmin's paid services is where it's at. The moment you purchase credits, you become a premium member for life and are recognized by the models as such, meaning you'll get much more attention. You also gain the ability to exchange offline messages with your favorite cam girls, which is always a bonus.
LiveJasmin doesn't really have much of a rewards program per say. The site doesn't get cheaper and cheaper like Shemale.com does, but that's because LiveJasmin doesn't need to bribe you into staying. Veteran users tend to just stay due to how great the site is.
Registration
To register on LiveJasmin, you just need to enter some basic details (no personal information is necessary) and a valid email address. You then verify that the email address is valid via an email sent by LiveJasmin and you're done. Free, simple and straightforward.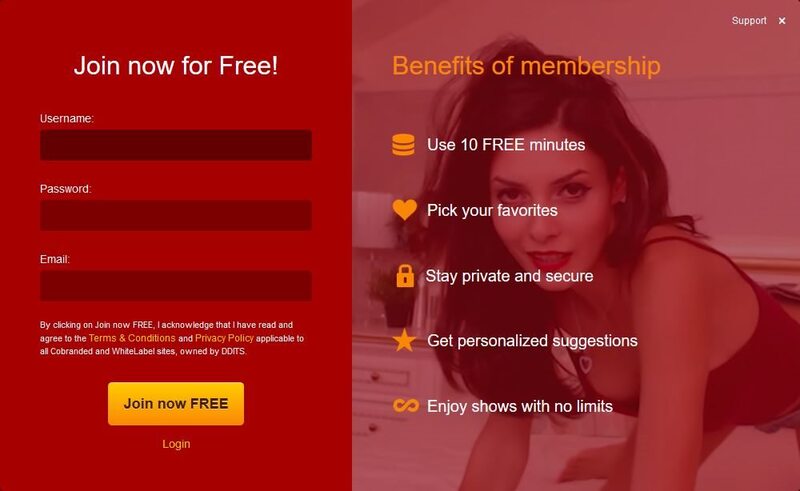 Just remember to claim your free 9.99 credits (valued at around $12.00) after registering. You'll have to enter a valid credit card to do so, but it's basically free money, so do it. The site will charge you 1 credit to check if the card is valid, then automatically refund you. You can then use these credits to try out the site at your leisure.
Accepted Payment Methods
The accepted credit card types are as follows:
Visa
Visa Electron
Visa Bleue
MasterCard
MasterCard Maestro
Diner's Club
Discover
JCB
And these are the available alternate payment methods:

Security and Quality Assurance
LiveJasmin is, in my opinion, the most secure adult chat site in the industry. Like many others, it uses HTTPS to keep your connection private and SSL encryption to keep your information encrypted and safe. It also employs the services of Advantio, a qualified security assessor, and Escalion, a trusted billing processor, to keep its information security standards at the highest level and your transactions secure and discreet.
And while we're on the subject of discretion, LiveJasmin ensures that no information will appear on your bank statement that could refer to the nature of the purchased services. Believe me, you don't want any prying eyes to notice your transactions. This is why LiveJasmin also sends the receipt of your transactions and any other sensitive information to your registered email address, and nowhere else.
In terms of quality assurance, LiveJasmin is very fair with its refund policy. You can't request a refund in cash unless there was some billing error, but if you experienced any problem with a show you paid for, whether technical or otherwise, you can get your credits back.
I'll just give you this as an example: You enter a private show with a model, request a specific sexual act that she noted in the willing to perform section of her bio, and she, for some reason, refuses. Well, since that is considered to be misleading, you can request LiveJasmin for your credits back, which they will dutifully return. It's really that simple. Just don't abuse the system or they will take note of it.
Customer Support
LiveJasmin's customer support is a true delight. It's available 24/7 and is handled by a team of people who are not only cordial, but know their job. You can contact them via email, phone and live chat, so choose whatever you prefer and reach out. They'll be happy to help.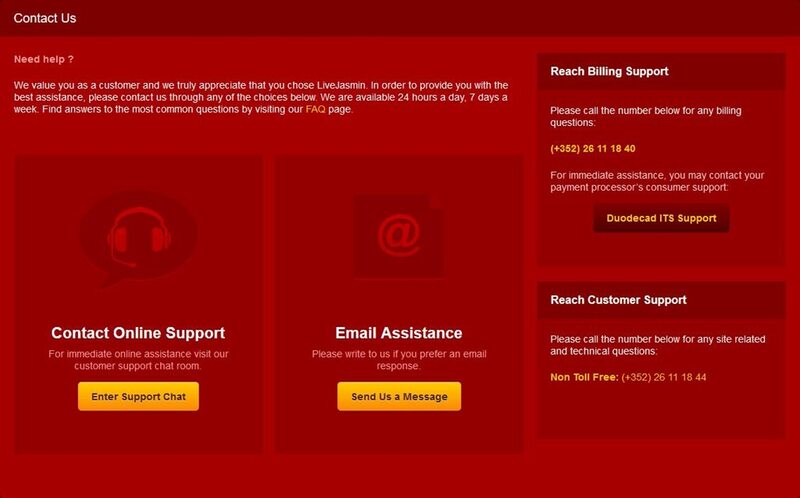 Just don't expect to use the support often, if at all. Not only does the site lack any issues worth mentioning, but its FAQ section will be more than enough in most cases.
In Conclusion
LiveJasmin is not only the best webcam site for female sex chat. It has a lot to offer for tranny lovers, and should really not be ignored by them.
It might be a tad more expensive than most, but its quality and focus on user satisfaction more than makes up for that.
Do you want hot trannies that are fun to play with? Do you want them in high quality video? Do you want to be at ease about your security and privacy? Then LiveJasmin is one of the best options you have.