The Best Cam 2 Cam Couples on Cam
Last updated
February 06, 2020
We all love watching others have sex, but when it's live and right in front of us, and, better yet, when we're part of the experience, the exhilaration goes through the roof. If you want to watch hot, loving couples on cam and take part in their fun, these are the best c2c couples cam sites on the market.
---
CamSoda.com
I'm surprised to be kicking off this list with a tip-based cam site, but here we are. CamSoda is what you get when you take a freemium cam site and give it the high-quality cam 2 cam and private show capabilities of a high-end premium chat site. Hell, it even has mobile c2c, so you can enjoy a face-to-face with your favorite cam couple on the go.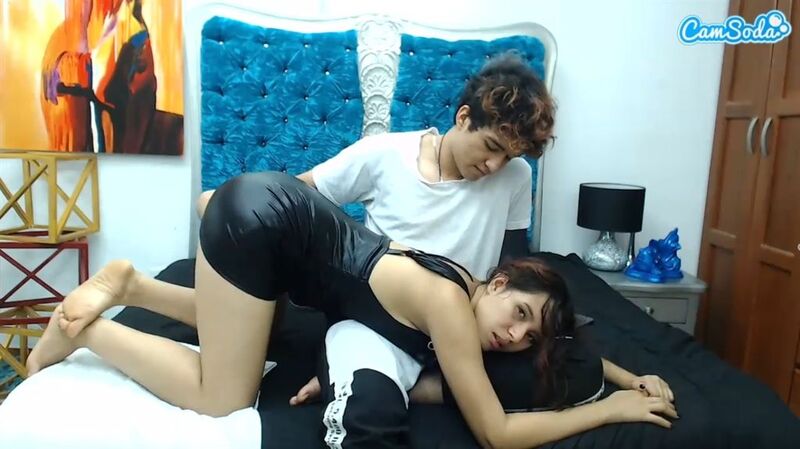 While most other freemium cam sites out there neglect their one-on-one capabilities in favor of a more communal approach, CamSoda attempts to cater to a wider range of customers, and passes with flying colors. It has tons of HD cams, a well-implemented cam 2 cam feature that, while not enabled by every model, costs nothing to utilize, and low private show prices. With an average private show cost of around $2.70 a minute, it's easy to look past a site's faults.
Luckily for us, you won't have to. aside from all the things I've already mentioned, CamSoda is actually a well-rounded and lightweight webcam site that has very few downsides. And, more importantly, it has a terrific selection of couples on cam. I've found that there are usually around 40 c2c couple cams on the site, and most of them are the type that you'd really want to experience firsthand. Gorgeous straight and lesbian couples, along wit a handful of threesomes and foursomes, all of whom are hungry for your attention.
Here's where I'll usually complain about CamSoda's subpar search and categorization functions, but, since the selection of couple cams fits on one page, and CamSoda features a mass preview feature that lets you see inside all the rooms at once, that usual complaint becomes wholly irrelevant.
CamSoda is also full of features to further spice up your experience. Tip-controlled sex toys among couples here are fairly common, so you play an active part in your sexual experience. Many couples also allow private show recording, so you can revisit your fun times.
In short, CamSoda is a perfect chat site for enjoying a c2c show with a couple. Considering that it's the best sex cam site for couple cams in general, this shouldn't come as much of a surprise.
---
Stripchat.com
Stripchat is a top-tier freemium cam site that seamlessly combines tip-based chat and private features, without compromising on either. It may have bare-bones design, but don't let that fool you. Stripchat just focuses on what's important: Watching a high quality cam show that precisely suits your tastes.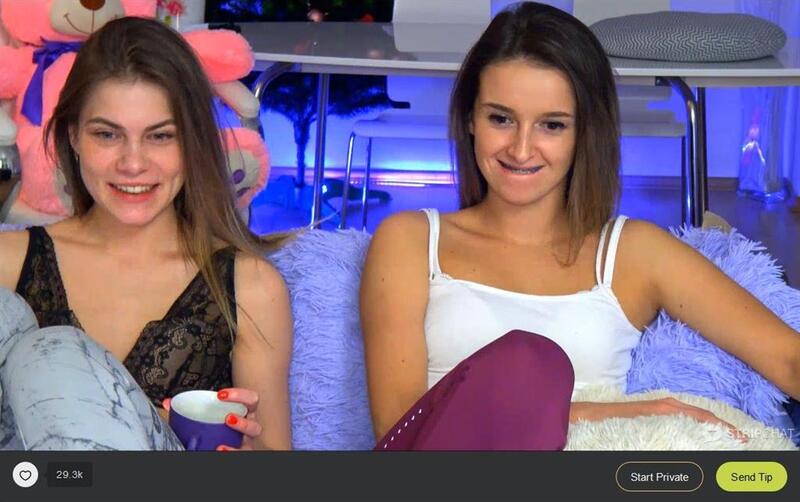 For starters, the streaming quality on Stripchat far outshines its UI. Most performers, including the couples, stream in either 720p HD or full 1080p HD, and they usually have the internet connection to support it, so don't expect any buffering issues to contend with.
With more than 250 couples performing live on average, Stripchat has the selection required to keep you coming back for more. You might not see the Couples category on the front page, but it can be easily accessed by clicking the ALL CATEGORIES button under the main categories. Once selected, you'll see couples in all shapes, sizes and ethnicities, and you'll be free to choose whichever suits you best.
That's because, while Stripchat offers streaming quality that rivals even the best in the field, it's also quite affordable. The average price of a private show on Stripchat is around $2.10 a minute, and while adding c2c and 2way audio sometimes cost extra (up to $3.00), it usually doesn't, as models here actually prefer to incentivize viewers to take them private by offering them these features for free.
Which brings me to what truly makes Stripchat shine: Its exclusive virtual reality chat. That's right, if you ever want to watch a couple in VR while they, in turn, watch you get off on watching them go at it, then Stripchat is pretty much your only choice. VR chat does cost a bit more, but it is so, so worth it, and if the idea itself is making you hard, then you probably won't regret the few extra bucks that you'll have to spend on it. Sadly, finding a couple that performs in a VR cam show is very rare, so you'll probably have to visit the site on a daily basis to have any hope of finding one.
---
ImLive.com
Did you ever spend a few minutes enjoying a cam2cam couple show before sobering up to the realization that your expenditures may be getting a bit too high for your budget? We've all been there. This hobby can get a bit pricey if you're not responsible, but, on ImLive, that's much less of an issue. That's because ImLive is one of the cheapest sex cam sites in the industry, and certainly the lowest cost cam site on this list.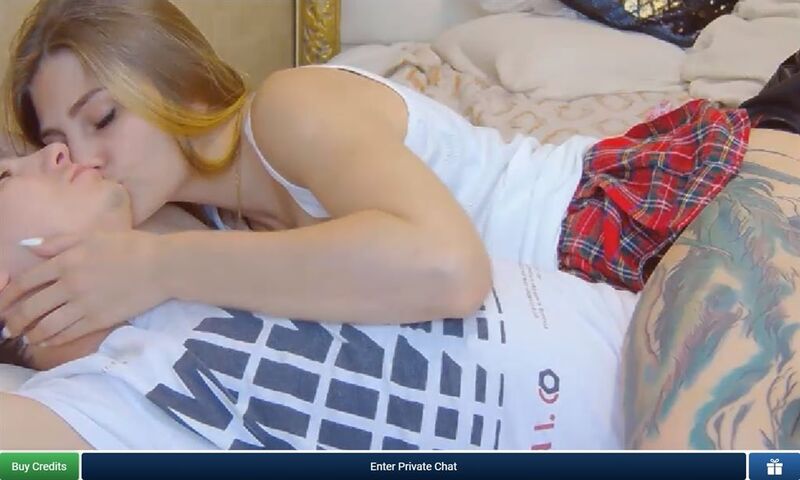 An average private cam2cam couples show on ImLive will usually run you under $2.00 a minute, since the c2c is free. But, ImLive's affordability isn't only due to its inexpensive cams. It has a generous rewards program that makes things cheaper in the long run, along with fan clubs that can save you a lot of money if you've found a couple that you especially enjoy and tend to frequent. Lastly, it has discounted block sessions, which means that you can pay up front for, say, a 20 minute show with a sexy couple and get a discount of around 30% on it.
Aside from being cheap, ImLive also has a very respectable collection of couples on cam, along with specific categorizations that can help you find exactly what you're looking for. It has categories for both guy-on-girl and girl-on-girl (and more, if you sometimes like to watch gay couples), with around 20 live couples on cam in each.
Another thing that might help you find a specific performance is ImLive's exclusive Fulfill your Fantasy feature, which lets you ask for a certain sexual act (or acts) and have the site's couples vie to perform it for you. Want a couple to involve you in their act? Want the girl to talk to you and pretend that she's cuckolding you? Doesn't matter what gets you off, you can find it without looking for it here.
My main gripe with ImLive is that there are a lot of cams here that are non-HD. You'll find many HQ (576p) cams here, and sometimes even SD (480p) cams. At times, you'll even come across a cam show that suffers from screen tearing, slow buffering or anything in between due to the couples low internet speed. It's not a frequent problem, but it's a problem nonetheless.
---
BongaCams.com
As a freemium cam site, BongaCams might not have the most polished private shows, but boy does it cater to lovers of couples sex cams. It actually has a dedicated main Couples category right at the top, which features around 80 live couples at any given minute - And they're some of the sexiest couples you'll ever see on an adult webcam site.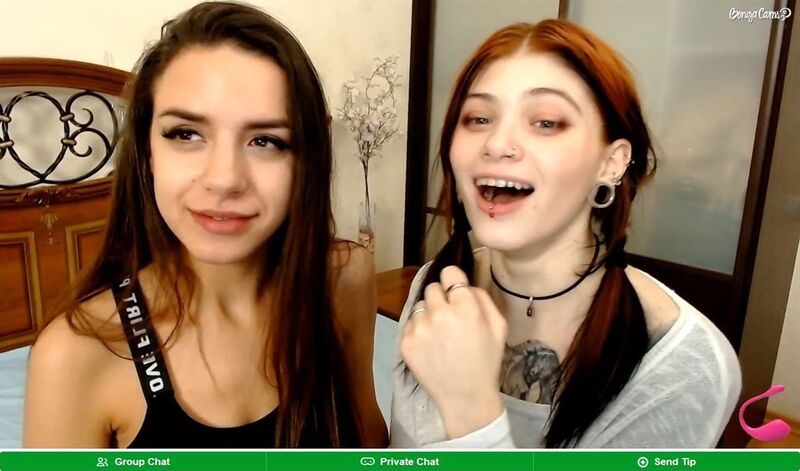 Since BongaCams is freemium, it's fair to expect many of the couples here to already be mid-act when you visit. You're going to be bombarded with so much dick-sucking, pussy-eating and straight up boning before you even enter a couple's cam room that you may lose track of time and just wind up staring at the cam rooms grid.
There's a fair amount of both straight and lesbian couples on BongaCams, and a good balance between the two. Their quality is also usually laudable, as most couples here choose to stream in either 720p HD or full 1080p HD. Also, the site has a well-implemented cam2cam feature that includes 2way audio, is completely free and is offered by almost all the couples hosted here.
But, the site has a few drawbacks that can steer quite a few of you away from it. First, it's the only site on this list that uses pop-ups, and aggressive ones at that. You might use an ad-blocker, so these might not bother you as much, but what an ad-blocker doesn't help with are the frequent watermarks imbued in the streams.
On top of the above issues, BongaCams is also rather expensive. The c2c is free, but the actual average price of a show here is around $3.30 a minute, which isn't low, even when compared to high-end premium webcam sites.
---
Chaturbate.com
Chaturbate is another freemium cam site that, just like BongaCams, has a strong focus on couple sex cams. This is evident from its placed-in-the-header Couple category, which features a whopping 300 live couples on cam, on average, at any given moment.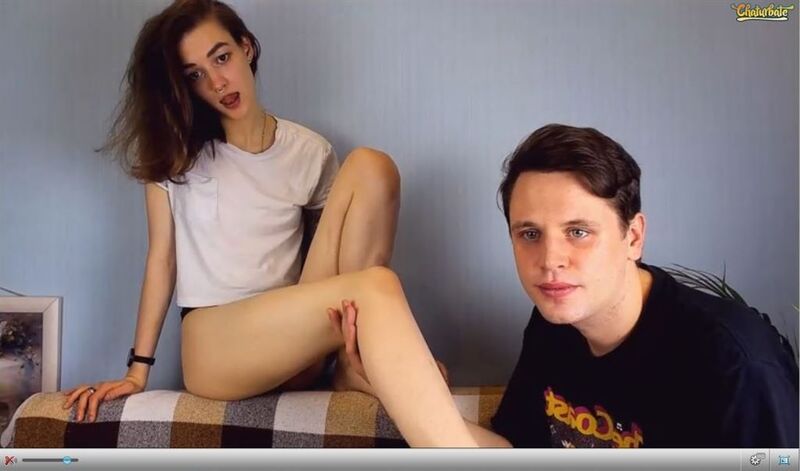 Chaturbate is, without a doubt, the winner here in terms of sheer volume and variety. Aside from the usual straight, gay and lesbian couples hosted on here, there's also a decent amount of threesomes, foursomes and even groups, all eager for you to come and watch them hump each other senseless. The site might not have a video preview to help you figure out what's going on inside a cam room, and it's search and categorization systems aren't the most accurate, but it's a small price to pay for such great selection.
And it's not like all you'll be getting here is quantity, as the quality on Chaturbate is actually rather impressive. Sure, there are some couples here that are just exhibitionists and don't use HD cams often, but that's not even really a downside. I mean, where else will you be able to watch a couple have sex on cam just for fun? They don't (can't) even accept any tips for it, so you know that they're 100% getting off on having an audience.
On top of all of this, Chaturbate is actually very cheap. An average private couples cam show here will only cost you around $1.10 per minute, which would even beat ImLive if it wasn't for ImLive's many forms of cost reduction.
So, with all that said, you might be wandering why Chaturbate is placed last on this list. The answer is simple: Chaturbate has yet to implement cam2cam. It's not like it's impossible to for you to initiate a cam2cam show on Chaturbate, but there's no button for it. It's a process, one that will require you to actually open your very own cam room on the site. It doesn't require any fee or special documentation, but it is a time-consuming process, and isn't as reliable afterwards as an actual c2c show in which you know that the couple can, and will, watch you. If you still want to go ahead and do it then I've written a guide on how to cam2cam on Chaturbate, but, be advised that you're probably better off visiting the other couples cam sites on this list, despite all of Chaturbate's upsides.
---
In Conclusion
The above sites all have a great collection of couples, HD streaming and affordable prices, but each one offers something unique that may peak different people's interest. Looking for cheap couples cams? Visit ImLive. Want to have a VR chat with a beautiful couple? Visit Stripchat. Want variety? Visit Chaturbate.
But, if you're just looking for the best platform to have a great cam 2 cam session with a couple, then try out CamSoda. In terms of quality, it handily beats the competition. In terms of consistency of enjoyment, CamSoda also comes out on top due to its excellent lightweight platform.
In short, there's just no going wrong with CamSoda, and since trying it out is free, I suggest you do so before trying out the other sites on this list.