Your Guide to C2C Chat on Chaturbate
Last updated
March 07, 2019
Chaturbate is one of the most popular cam sites in the world. It has an insane amount of cam models streaming on its platform, great video quality, no obtrusive ads and fair prices. But there's a reason why, despite it all, Chaturbate is not on my list of best cam2cam sites. A very simple reason, in fact: Chaturbate has yet to implement proper a cam2cam feature. This is one of the reasons why I've made an article about the top cam sites like Chaturbate; there are just a lot of people looking for alternatives because of it.
Most adult chat sites simply have a button so can click to start a cam2cam session. Chaturbate does not, and forces you to use a work-around to let the model watch you jack off. If you don't mind investing a few minutes, though, you can still enjoy Chaturbate and an intimate cam2cam experience. Below is a simple guide on how to do so.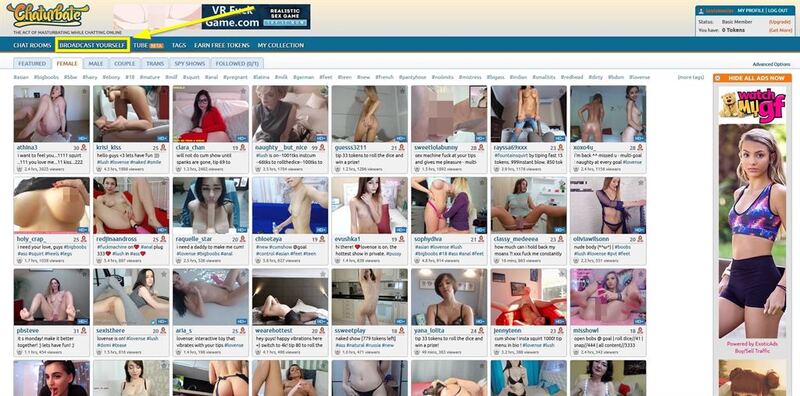 As you can probably figure out from the picture above, the only way to let the model see and hear you on Chaturbate is to broadcast yourself. Don't worry, this does not mean that everyone will be able to see you, since you can control exactly who does. This is partly the reason why Chaturbate is such a haven for exhibitionists.
After you set up your own broadcast, you can invite the webcam model you are watching to join your c2c chat room, and viola; A Chaturbate cam2cam experience.
But let's not get ahead of ourselves. First, press the BROADCAST YOURSELF button. You will need verify that you are 18 or above.

Upon confirmation, you will be redirected to your very own personal broadcast room. Since this isn't intended for you to open an actual chat room and make money from being an adult cam model, you will not need to submit your ID. You will, however, need to give Chaturbate permission to use your camera and microphone.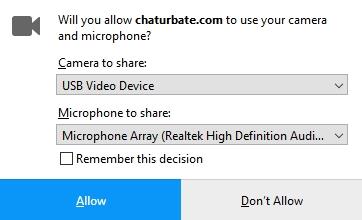 You'll then receive an Adobe Flash Player prompt inside your broadcast window. Enable it, and then click "Allow" when it also asks for permission on behalf of Chaturbate to use your camera and microphone.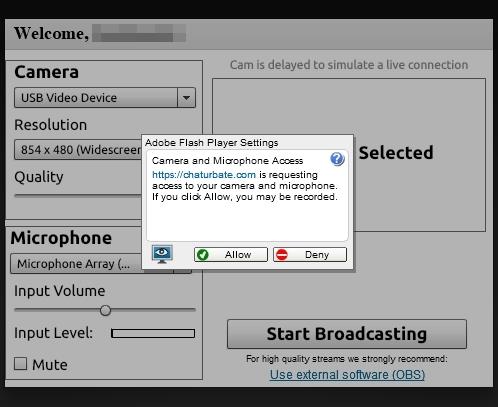 The next step is to set up your privacy settings. Scroll to the bottom of the page and click the Settings & Privacy tab. Once there, you can change your notification settings and, most importantly, your broadcaster settings. You can choose whether you want your cam to be listed on the front page, which genders you are visible to, and which countries/states can see your webcam feed.
The most crucial thing to do here is to set a password. This will lock your room to all users unless they know this password, and automatically hide your cam from the home page. It will prevent you from being watched by anyone but those you specifically choose.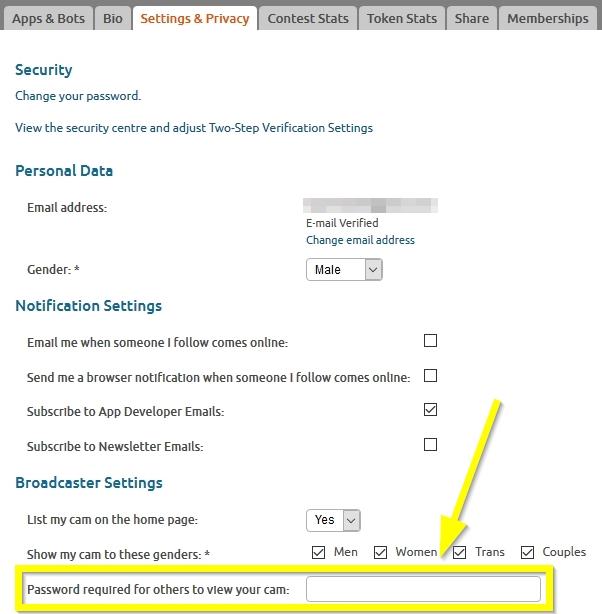 If you don't intend to become a money earning broadcaster, there is no reason for you to fill in the details beyond the Broadcaster Settings. Scroll all the way to the bottom of the page and click the Update Settings button.
You have officially finished setting up your broadcast room. Now, all that's left is to invite the model. You'll have to keep your room open in one tab, while watching the model in another. Otherwise your broadcast will end.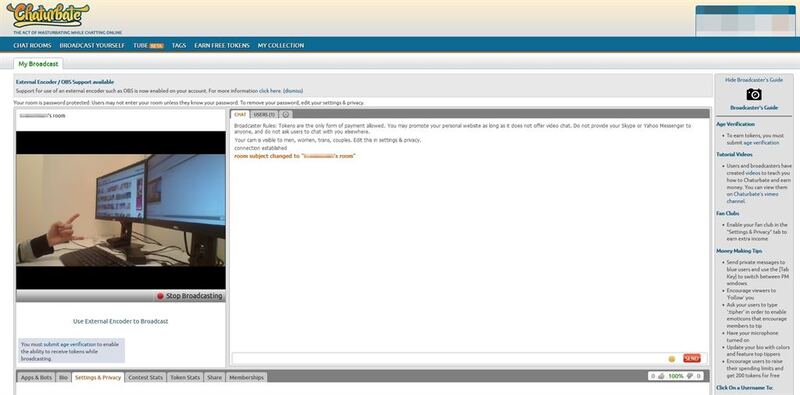 It won't be too difficult to find a cam model that does cam2cam on Chaturbate, but you'll have to actively look for one, since not all webcam models on Chaturbate are open to two-way video chatting. You can more easily find one who is by searching for "c2c" in a model's chat room or by filtering for cam rooms that are tagged with #c2c. You can find that tag in the "more tags" menu at the right-most side of the tags, on the front page.
If a performer catches your eye but doesn't mention c2c on her page, just ask her. If she doesn't do cam2cam, move on. If she does, chat her up and ask her about her c2c preference, specifically whether she prefers to cam2cam in a private chat, if she does it for tips in the open chat, or both.
A private show on Chaturbate costs a minimum of 6 tokens (Around $0.60) a minute, but can go for much more, especially if you want cam2cam. Some will ask for more to join your room than they would to perform for you without doing so, but usually not much more.
After you both agree on the terms, share your room's password with her in a private message and wait for her to join your show. Once she does so, you'll see a message in chat telling you that the model has joined your room. This is not, however, where most cam girls will talk to you. They'll either speak or write in their own chat, since it's more convenient for them to do so.
Presently, you can't cam2cam on Chaturbate while using a mobile device. The only two sex cam site that enable you to do this are CamSoda and LiveJasmin, who are also my first and second picks for best mobile cam sites. Neither of the sites has as huge a selection as Chaturbate does, but they both make it much easier to cam2cam, and they are both fantastic adult chat sites in their own right.
With all that being said, if you enjoy Chaturbate and don't wish to look for an alternative just because of this one flaw, you have a simple option available to you. Once you set up you broadcast room, you're set, so it's largely a one-time hurdle that could be overcome in a matter of minutes. Do it, and you can then lay back and enjoy your intimate time with your favorite Chaturbate babes.