C2CPorn.com - The Google of Cam Sites
Last updated
January 06, 2021
C2CPorn is, in a word, huge. It has one of the most massive collections of cam girls out there, and there's a very simple reason for that: C2CPorn includes all webcam models streaming on LiveJasmin, CamSoda, Chaturbate, Flirt4Free, ImLive, Streamate, BongaCams, and Cams.com. Think of it as the Google of cam sites. If you're looking for a specific performer or performance? Then this is the place.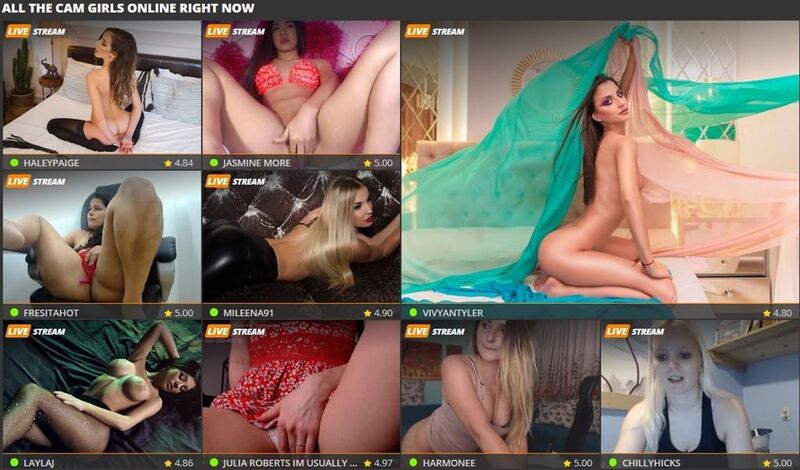 Like with Google, you should think of C2CPorn as more of a search engine than a site. It's an aggregate of webcam sites that lets you find whatever it is that you're looking for with ease, and, once you do, directs you to the appropriate cam site.
Pros Vs Cons
Pros
An absolute massive selection of cams
Accurate search function, filtering and categorization
Simple and convenient to use
Fantastic user interface
No ads, no registration, no payment
Cons
Some rooms lack live video preview
No way to filter for HD cams
Streams don't function properly if you're using an ad blocker
The Models
Around 9,000 online on average. That's how many models you'll have the privilege of choosing from. It'll frankly be overkill for some, but no one ever died from having too many great options, and since these models are featured on some of the best adult chat sites around, they are certainly just that - great.
If you find the number above a bit overwhelming, think about the number of sites that Google can find for you. Yes, I'm returning to that analogy, since it's apt. C2CPorn is all about collecting the best cam shows, presenting them to you according to your liking, and sending you on your merry way to enjoy whatever your heart desires.
But, to do that, it needs a stand-out search engine.
Finding the Model That You Want
C2CPorn manages to import the web streams along with all the pertinent information about the model from the many different webcam sites it works in conjunction with, and present them to you in a clear and simple manner. It also has a sophisticated rating system that takes all of the models' ratings from all the sites and converts them into a uniform 5-star rating system.
Every important detail about the model will be clearly accessible for you, so you can easily make up your mind on whether or not she's worth your time and money. Moreover, C2CPorn's system allows its models to be clearly and accurately categorized, even better than on some of the site's that the models are hosted on.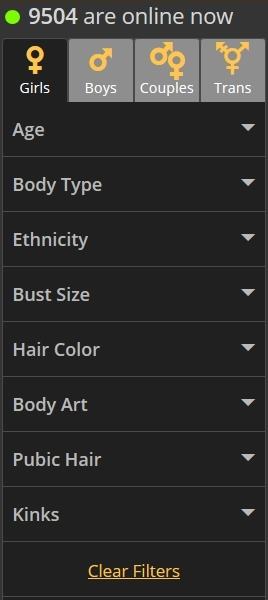 Let's say that you want to search for a mature Latina with huge tits that will role-play as your kinky maid. All you have to do is choose the Mature (35-49), Latina, Huge Tits and Roleplay subcategories under the appropriate categories and you'll filter for models that fit this very particular bill.
Do note that if you choose two or three different subcategories from the same category, they will naturally all be added to the search (since you can't have a model that is both a teen and a granny, for instance). This means that you'll be easily able to broaden your search, if you so choose.
If you want to look for something that's not mentioned in C2CPorn's categories, then use the site's engine. It's accurate and quite handy, letting you seek any sexual thing that might cross your dirty mind. Using the site's search functionality doesn't filter out the models who are offline, since C2CPorn's developers realized that you might be interested in something so niche that your selection will be otherwise limited. Instead, it conveniently places the online models at the top, so you see them first. Then, as you reach the bottom of the results, you'll see the models that are currently offline. And since you're basically searching on 8 different webcam sites at a time, chances are that you'll find plenty of both online and offline performers no matter what obscure fetish you search for.
And, of course, C2CPorn is not limited to female cam models. If you're into male or shemale cam chat, just switch the site's main tab from Girls to Boys, or Trans.
The Limitations
C2CPorn is a cam site aggregator, and, as such, does not host it's own models. It doesn't employ the models it "hosts" in any shape or form, and thus cannot make money from their performances. This means that it won't charge you anything, and instead will simply direct you to the appropriate cam site once you decide to take the next step with a model. The unfortunate part about this is that you have no ability to take a model private, tip her or chat with her until you click the screen and go to her actual room on the site that she's hosted on. It's almost an inconvenience if it wasn't such a straightforward procedure - Like what you see? Click the screen. That's pretty much it.
C2CPorn also doesn't mention what video resolution a cam model is streaming in, nor does it let you filter for HD cams. The site does work with the top sex cam sites in the business, so most of the shows are streamed in high quality resolution, with many in HD, but not all of them do. If you want to see whether a model is streaming in HD, you'll have to enter her room, and if there's no live stream available then you'll have to click her picture to visit her cam show on the actual site that she's hosted on. It can be a bit cumbersome, but it's just two mouse clicks and it's well worth it if it ends with you finding what you're looking for.
Which brings me to the real limitation of C2CPorn: Not every model on the site has a live feed that you can watch before visiting her room. Most online rooms are labeled LIVE STREAM, which means that the room has a live feed that you can watch, either by clicking it and entering or by hovering over it with your mouse pointer. Some rooms, though, don't, and as such aren't labeled in this way. It's a very minor inconvenience, especially considering that all other cam sites aggregators that I've come across don't even have live feed previews at all.
As I've mentioned, though, most models have these live feed previews, but if you want them to work then turn off your ad-blocker. C2CPorn doesn't use any ads whatsoever, but since the preview it has are basically streams hosted on other sites, they are completely blocked by most modern ad-blockers. You can still use an ad-blocker when visiting the site, but not if you want to see the models in action. If you're not using an ad blocker and still can't see the stream (even though it says LIVE STREAM on the room), make sure that your browser allows the site to run Adobe Flash by clicking the Manage Plug-In icon on your browser's address bar.
Prices
As I've mentioned, C2CPorn doesn't actually host any models and therefore can't charge you. Instead, it redirects you to the appropriate site that is hosting the model, where you are charged a price set by the model. This means that the prices range wildly from model to model, and heavily depend on her and the webcam site itself. There is unfortunately no way to filter by rates on C2CPorn, and the only way to see a model's prices is to enter her room.
The prices you will see will usually be in the site's currency. I fully recommend that you check the price of tokens/credits on each site to see how much it will cost you in your currency, and that you do that on your own computer or mobile device. Prices may change according to the region you live in, with US-based users usually getting the cheapest prices. Also, as a general note, the average price per minute of private show in the camming industry is $3.00. Know that anything below this is considered cheap, and should definitely catch your eye. If you're adamant about finding the cheapest cams and having a convenient way to do so, you can take a look at my list of top 5 cheapest adult cam sites.
In Conclusion
If you're looking for a particular model or kink, and especially if you want to learn which adult cam sites tend to host the models that strike your fancy, then C2CPorn is a site you should bookmark, visit and enjoy. It's truly groundbreaking, making things easier for cam lovers everywhere and doesn't even charge you anything for it. You have absolutely nothing to lose from trying it out, and a lot to gain. So do so. You don't even need to register, so there's really no reason for you to keep wasting time doing things the old fashioned way.
If you want to read about the sites that C2CPorn is working with, check out my reviews of them. Four of them are among my top 5 cam sites, and all of them are first-rate adult camming websites that I wholeheartedly recommend.