Flirt4Free.com - Where You're Free to Explore
Last updated
January 08, 2021
If you plan to get your freak on, you'd want an intuitive fetish cam site that has all the options you need right at your fingertips, while having a myriad of high-quality fetish cams at reasonable prices. Flirt4Free is just that, and then some.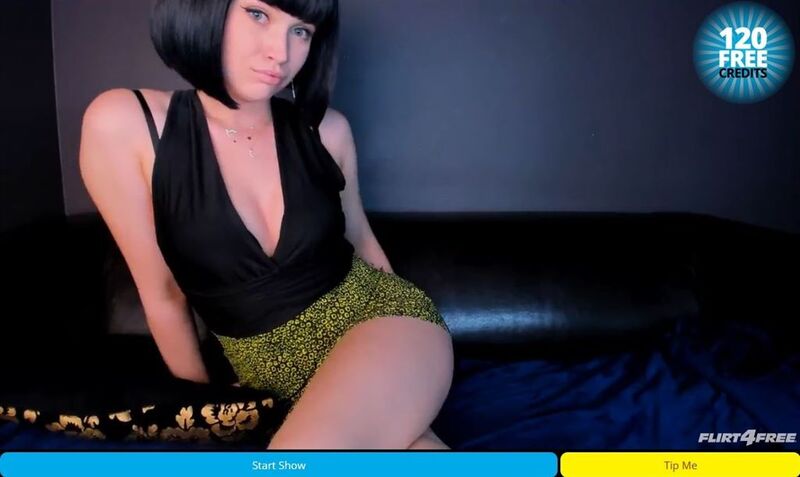 Flirt4Free is a well-rounded premium cam site that aims to give its members the most freedom of choice that it can, while also providing them with the best quality streaming and models in the business. It has a wide selection of fetish webcam models, all specializing in different kinks, and all streaming in different show forms that you can pick and choose as you please.
One of the things that truly sets it apart from other premium chat sites is its lax approach to nudity. Most other sex chat sites enforce a no-nudity policy in the free chat. Flirt4Free, though, lets the models choose whether or not to put their bodies on display. Since it attracts clients, and since some of them don't mind spending a few bucks if they like what they see, many models on Flirt4Free tend to show some skin when tipped or when they just feel frisky.
Flirt4Free, as its name might suggest, encourages you to flirt with the performer and get to know her a bit before deciding on whether or not to spend any money on her. The developers of the site know how discerning camming enthusiasts can be, especially those looking specifically for fetish cams, and so gave their users full control over their experience and incentivizes them to support their webcam site with their patronage only once they know full well what they will get in return.
In this Flirt4Free review, I'll detail all the things that this fetish sex chat site does right, mention where it falters, and give you tips on how you can save money on its paid services.
Pros Vs Cons
Pros
Impressive video quality
Good selection of live fetish webcams
Cam2cam and two-way audio freely included in every private chat
C2C and 2way audio work on mobile
Professional and experienced fetish cam girls
Cheap once you know its ins-and-outs
Amazing fetish community
Convenient categorization
Fantastic VIP program
Cons
Small collection of models compared to other top cam sites
Unhelpful search engine
Some models charge ridiculous prices
The Models
With around 40 fetish porn shows being streamed live at any given moment, Flirt4Free's selection is quite decent. It's incredibly hard to find a time in which you won't find a performer who either specializes or dabbles in your kink, no matter how fringe it is. Want a cam girl who'll take command and instruct you on how to jerk off? Want the babe to also humiliate you over the size of your cock while you stroke it? Want her to also force you to slap and torture your cock and balls for her amusement? Finding such a model isn't going to take you more than a minute.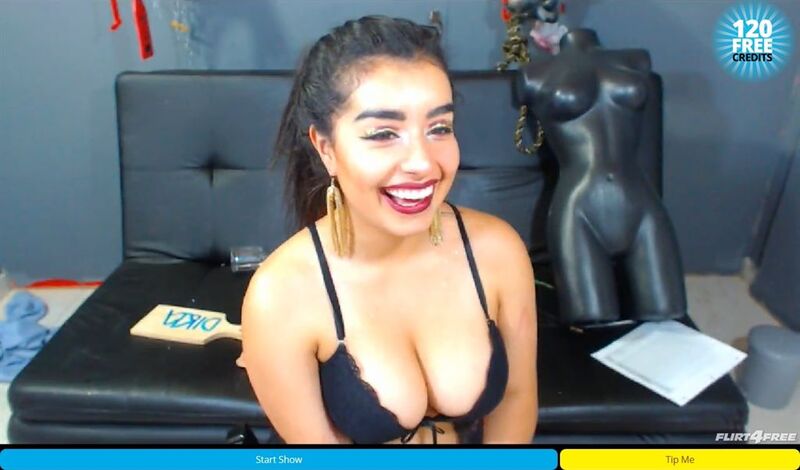 While Flirt4Free doesn't have a dedicated category for JOI, SPH or CBT, it's all-including Fetish category will let you find whatever you're looking for in a hurry. It can be easily found in the Categories section, and will even show you how many fetish models are online at the moment. Just try to avoid the site's search engine; It's accurate, but it finds you all relevant models, even the ones who are offline, without giving you the ability to filter them.
All in all, looking for specific cams on Flirt4Free is a relatively quick and simple process. Flirt4Free is slick and intuitive, and has a video preview feature that even includes audio and basic details about the model's cam show: Her main tags, her rate, her rating and the video quality that she streams in.
Once you're in a model's cam room, you can learn more about her by clicking her icon (next to her name). You'll see her bio, turn-ons, fantasies, location, ethnicity, sexual preference and spoken languages, along with other interesting tidbits. You can also see any award she has won and read reviews written about her show by fellow Flirt4Free members.
This is, by the way, another shining point of this platform. Flirt4Free does an amazing job at empowering and rewarding its models. The models can get monetary rewards for good ratings, view count and viewer votes, among other things. This drives up competition, which lowers prices and increases the quality of the actual performances. It's one of the reasons why the models on Flirt4Free usually feel so attentive and engaged. If your main kink involves roleplay, you really couldn't ask for much more. It also helps you find the models with the largest percentage of satisfied customers, which is always a handy thing to have.
Video Quality
Most models on Flirt4Free use HD streaming equipment and high-speed Internet, so the site's streaming quality is usually excellent. The video feed is rarely pixelated and the shows tend to run well without any latency issues whatsoever. It also seems that Flirt4Free's developers are fully aware of this, making every cam room open to a full screen view of the stream.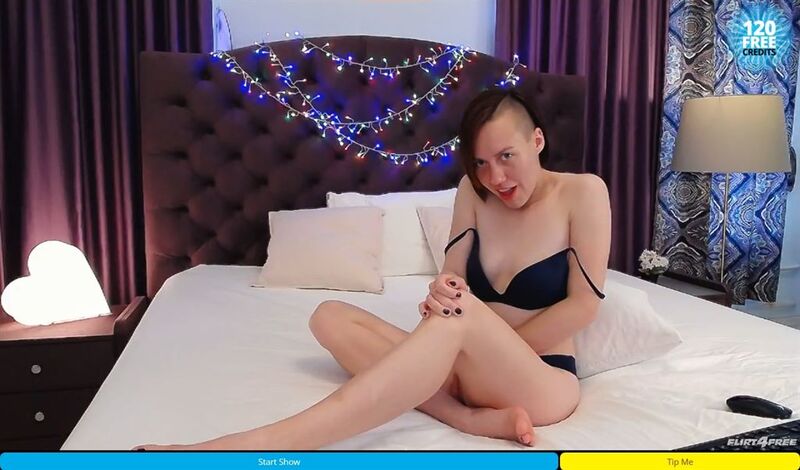 Flirt4Free doesn't let you manually control the quality of the video. The streaming quality automatically adjusts to your connection speed, so if you have even a half-decent internet plan then you're going to be able to enjoy Flirt4Free at full high definition. You can, however, adjust the size of the screen by using the buttons on the bottom left of the screen.
Prices
Flirt4Free gives its models a lot of leeway when it comes to their rates. They can charge between 5 to 120 credits per minute, which is around $0.55-$13.50 a minute, so the difference in price between two shows can be huge.
Below are the credit packages offered by the site, as well as the bonus credits you'll get for purchasing each package:

The amount of bonus credits increases with the size of the package, so purchasing in bulk is a smart move as long as you can easily afford it. These bonus credits are only gifted on a first purchase. You can also redeem the minimum amount of 120 free credits (worth around $13.50) by validating your credit card.
Since $1.00 is worth exactly 9 credits, the exchange rate on Flirt4Free isn't the most straightforward, so tracking your expenditures isn't the most convenient. If you want to do so, I'd suggest you just divide the amount of tokens spent by ten to get a rough estimation.
I would also urge you to sort by Price if money is an issue. Hover over the View By button on the top right of the site, just above the grid of cams. If you're interested in different, cheaper types of chat types, they can also be found there.
Chat Types
Flirt4Free offers a variety of chat options to its members. It may be a bit overwhelming to new members, but, luckily for you, you have this Flirt4Free review to help you with that.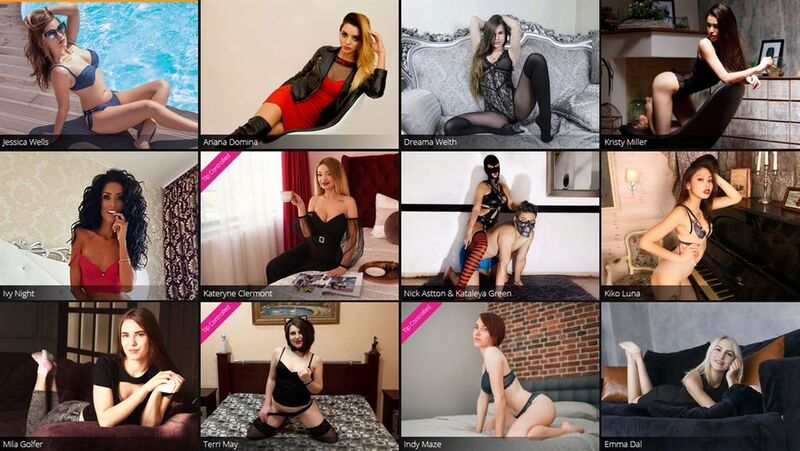 I've listed below all of Flirt4Free's different show types, along with a short summary of them, their price ranges, whether they include cam2cam and whether you can record them to watch later at your leisure:
| Show Type | Description | Price/Min | Cam2Cam | VOD |
| --- | --- | --- | --- | --- |
| Multi-User | Multiple members chatting with a model in private. The first member to initiate the session can turn on their webcam, everyone else has to type. | $0.55-$6.00 | ✓ | ✓ |
| Private | One on one chats. Prices range wildly, with the average show going for around $3.00 a minute. | $0.55-$13.50 | ✓ | ✓ |
| Combo | These rooms offer both Private and Multi-User shows. Users may join or start a Multi-User show as long as the model is not already in a private show. Multi-user is always 2/3 of the cost of Private. There is no voyeur mode availability for Combo rooms. | $0.55-$13.50 | ✓ | ✓ |
| Voyeur Mode | When a model is already engaged in a private show, you can watch her performance by entering voyeur mode. No audio or text chat is permitted. | $0.55-$13.50 | ✗ | ✗ |
| Feature | Shows featuring some of the hottest adult stars in the industry. | $3.00/Free for VIPs | ✗ | ✓ |
| Group Chat | A communal experience. The performer sets the required number of credits for the length of show they will perform. One or more users can pledge any amount of credits to meet the goal. If the goal is met the show will start. You can watch it if you're among those who pledged. | Varies | ✗ | ✓ |
| Party Chat | A free sex chat where anyone can join. The party lasts for as long as users are tipping the model. If the model gets tips, she will often strip. You can't initiate private chat while a party is ongoing. | Tipping | ✗ | ✗ |
Do note that cam2cam on Flirt4Free, when included, is always free and always includes two-way audio. Show recordings, however, may be enabled for free in the chat types listed above, but watching them costs extra. Check the next section for more on that.
Unique Features and Extra Content
Flirt4Free has a bunch of different features, so let me break it down for you:
Fetish Community – Flirt4Free has a whole section of the site dedicated "to provide safe, sane, and consensual fetish information, education, and most importantly, interaction." It's probably going to be one of the pages that you spend the most time on, as it not only has a forum for fetishists to discuss on, and informative articles to read, but it also has actual categorization for different fetishes, such as leather, bondage, cuckolding, findom and smoking.
You can find this section by hovering over the Live Cams button at the top of the site and selecting Fetish. Underneath that, you can also find Flirt4Free's Top 20 Fetish Models, in case you're looking for the best of the best.
Models' photos and VODs – Nearly every model has them, and you can view them in their room. Some models offer a few for free so members can "get a taste," so to speak. More risque photos and videos often have a price tag, but are generally very affordable.
Purchased VODs - You can see your collection of recorded shows and VODs in the Videos section by selecting My Collection on the left. This is where you can see all the videos that you have purchased, been gifted, or redeemed through free VOD offers. Videos that were gifted or redeemed with free offers will expire after a certain amount of time and eventually disappear. You'll be warned beforehand in case you want to watch them a few more times.
Recorded shows - When you pay for any show type that has VOD available (detailed in the above table), you'll see a recording of the show you've watched in your collection. You can then purchase it to permanently add it to your collection. Purchased videos will remain in your collection as long as your account is active.
Free minutes in long private shows - Some models offer deals to members who enjoy their intimate company for a lengthy period of time. For example: A model can decide to gift "10 Minutes Free After 20 Minutes" in private chat with her, meaning that after watching the model's show for 20 minutes, the next 10 will be completely free of charge.
Fan Clubs - Many models on Flirt4Free have their own Fan Clubs. You can join a model's fan club by visiting their Full Bio page. A link to that can be found in a model's bio, under her reviews. There's also a button that can take you there that can be found at the bottom of the icons on the right (you may have to click the arrow icon to see more options).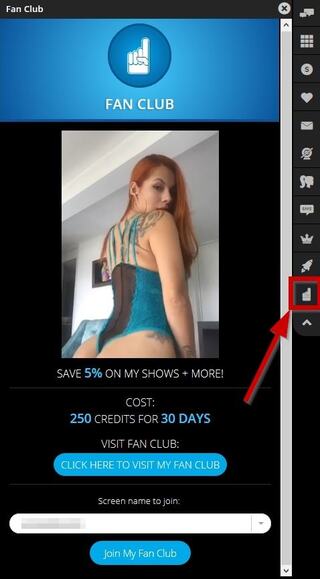 Joining a model's fan club will give you several benefits:
A 5% discount on paid shows that she's performing in
A 5% discount on her VODs
Access to exclusive Fan Club content
A special font color for her chat room
Access to a private message board for her fans
If you intend to spend a lot of time with a specific model, for instance a professional mistress you've grown attached to, or you just seem to enjoy her VODs a great deal, you should consider joining her fan club. On average, it costs around 250 credits (approximately $27.5) a month, but you can easily find fetish webcam models who charge less.
Interactivity options - There are 3 different types of interactivity used by Flirt4Free's cam models. The type of interactivity that a cam show offers is displayed via banners that appear on the preview pictures of the cam rooms themselves. You can look for them specifically by using the aforementioned View By button. A pink Tip Controlled banner means the model's sex toy can be activated by tipping her. A blue Interactive banner means that the model's sex toy can also be activated in other ways. A purple 2-Way Interactive banner means that the model can control your sex toy, if you have a remote controlled one.

Mobile Site
Flirt4Free has one of the best mobile cam sites in the business. It has a slick interface and its high quality streaming is very much present on mobile, even on phones. It also doesn't suffer from the usual "typing in chat completely obscures the screen" problem so many other adult cam sites seem to suffer from.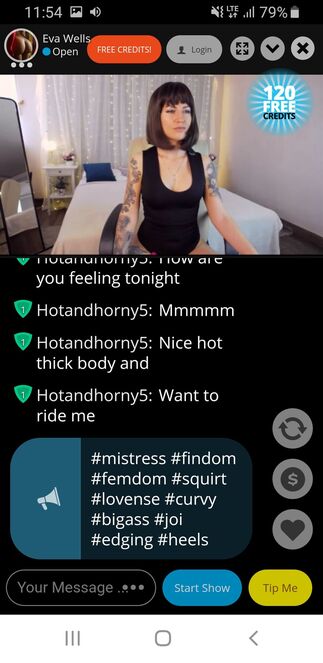 Flirt4Free's is also among the only cam sites that have mobile cam2cam. That's a very short and distinguished list to be on, but it's even more impressive to learn that Flirt4Free's mobile cam2cam, like its desktop cam2cam, is 100% free.
In general, the site works fantastically well on most mobile devices, including almost every smartphone and tablet device that have come out in the last decade. This site is a blast to use on the go, so if you like enjoying your kinks on the road, you have a wonderful option for it right here.
Premium Membership and Rewards Program
Flirt4Free has a fantastic VIP membership program. For $39.95 a month (or less if you purchase a lengthier membership), you get:
Unlimited access to your recorded shows, meaning you no longer have to purchase them to view them
1500 new VODs everyday that become freely available for you to watch for 1 week, as well as free daily photos
3 free videos of your choice each month that you can purchase for free
Free feature shows with professional adult cam stars
A larger video preview screen
Filter messages from unregistered members
Can cam2cam even in the open chat
2x Power Boosts that you can spend to push your favorite models up the page to get more views
This membership can be canceled at any time.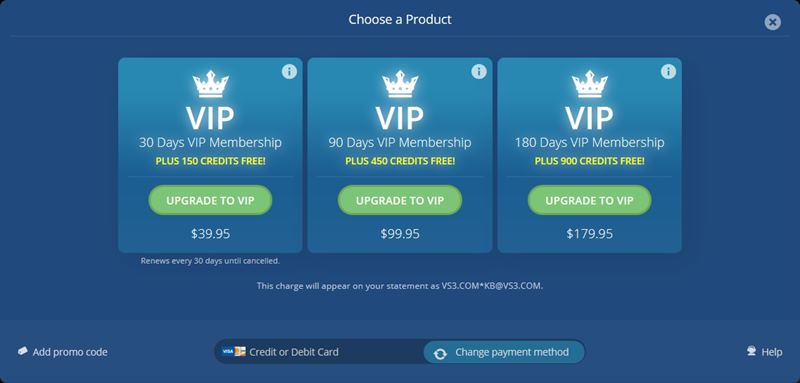 Flirt4Free also has a rewards program called Flirt Rewards. You generate points by spending credits in the site. You can then redeem those points on Flirt4Free's Rewards Marketplace to purchase things like VODs, promo codes that give you a discount on your next purchase and digital gifts that you can send to a model of your choice. Generating also increases your membership rank, which can be seen by models and other members and consequently increases your visibility in chat.
The downside to Flirt Rewards is that it takes a long time to generate points. Your experience may differ if you become a loyal member of the site, but more casual members may see little benefit from this program.
Registration
As easy as it gets. You choose a username, a password, and enter a valid email address. You will then receive an email from the site with a link that you can use to verify that it is indeed your email address. That's it.
If you want to try out the site and have some intimate fun with a fetish cam girl to test out the waters, I suggest that you enter a valid payment method and redeem the free credits they gift to new members.
Accepted Payment Methods
The accepted credit card types are as follows:
Visa
MasterCard
MasterCard Maestro
Diner's Club
Discover
JCB
And these are the available alternate payment methods:
Security and Quality Assurance
Flirt4Free has been around since the 90s. It was very different back then, for sure, but over the years it has established itself as a premiere fetish webcam site that puts the satisfaction of its customers first on the agenda. It is massively popular, especially in the US, and is highly secure and trusted.
To protect your information, Flirt4Free uses the latest encryption methods, including HTTPS and SSL. It also employs only the most renowned payment processors to handle your transactions and ensure that they are 100% discreet. As you can see in the pictures above, any transaction you make will appear on your statement as VS3.COM*KB@VS3.COM, so there will no way to know the nature of the service provided to you by the site. On top of all of this, Flirt4Free fully allows you to change your security and privacy preferences as you please.
Customer Support
Out of all the fetish chat sites out there, Flirt4Free's customer support has to be one of the best. Let me start by mentioning all the ways in which you can contact a Flirt4Free customer support representative:
Email
Phone (both US and international numbers)
Live chat
Postal (snail mail)
Live chat
Billing support (available for each billing method)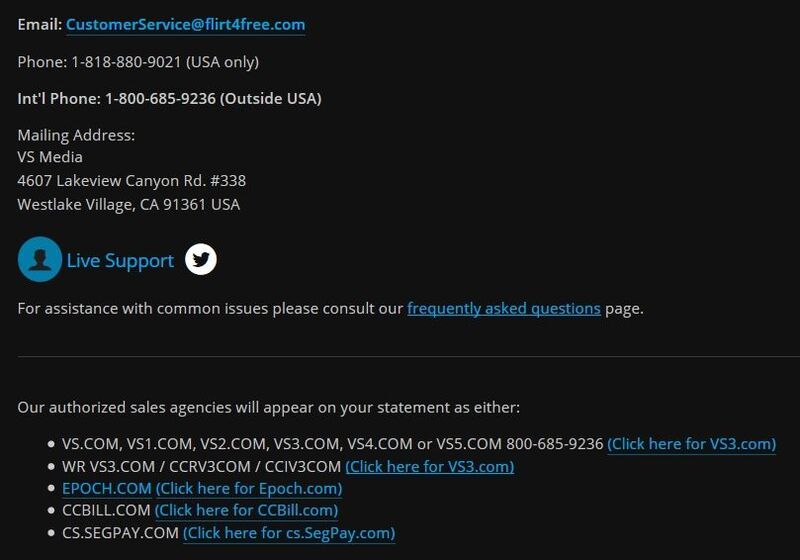 As is probably evident by the list above, Flirt4Free makes sure that you get the assistance you need, as fast as you need. They also operate 24/7, so there's always someone who can help you resolve any issue that you come across. From my experience with Flirt4Free's representatives, they tend to be very informative, cordial and quick to respond, so don't hesitate to contact them in case of an issue.
You can use the site's comprehensive FAQ page in case your problem is minor, and you can also check Flirt4Free's Twitter page for general announcements on site downtime and special offers.
In Conclusion
Flirt4Free is one of those rare sites that you really can't go wrong with. It has so many options that chances are you'll find something to be excited about. Whether you're looking for quality models, high definition streaming, cheap prices, fun interactivity or all of the above, Flirt4Free is there to give you the experience that you want.
When it comes to fetish live porn, there are almost none that can compare to Flirt4Free's accessibility, variety and quality.