Top 5 Sites for CBT Cams
Last updated
August 08, 2019
CBT is a fairly small niche when it comes to adult chat sites, and so good cock and ball torture cams are hard to find. Luckily for you, my masochistic friend, I already did my research into this. Below are the best cock and ball torture cam sites out there.
---
FetishGalaxy.com
FetishGalaxy, as its name suggests, is a fetish-centric cam site that makes an effort to make kinsters such as you and me feel at home. You won't find anything in here that's not fetish-related, and if kinky is your preferred kind of sex, than you'll fit right in.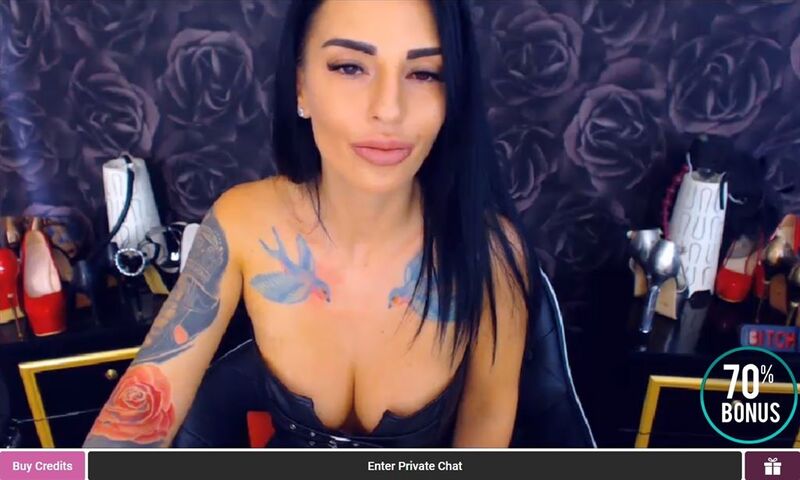 The models on FetishGalaxy are divided mainly into doms, subs, experts and educators. Experts are models with a ton of experience in kinks, niche or otherwise, while educators pride themselves on their ability to guide a newcomer without much experience into the wonderful world of BDSM. If you're new to CBT, then I suggest you start with an educator. Otherwise, you'd probably want to try out one of the site's many doms or experts, of which there are about 80 live on average. Some of them might already be preoccupied in a private session, but it's still a large collection of models to choose from.
There's no dedicated CBT category to be found on the site, but that's not really a problem since every dominatrix and expert on FetishGalaxy knows how to perform an excellent cock and ball torture cam show. You can also ignore the site's search engine since CBT doesn't even yid any search results for some odd reason.
For a good cock and ball torture show, you'd of course need cam2cam, so the model can see if you've indeed relinquished control and are obeying her commands to slap your balls around. On FetishGalaxy, c2c is offered, along with two-way audio, in every private chat, for free. That means that no matter which model you fancy, you'll always have the option of showing your mistress that you're being a good boy.
FetishGalaxy does have its shortfalls, though. Many of the CBT cams on the site stream in HQ resolution, while less than half of them stream in HD. It's not hard to find a sexy domme that streams in HD if you take a bit of time to look for her, but I still wish that more of them used HD streaming equipment. There's also the issue of stream stutter, which, while uncommon, is still prevalent, which reduces your choices by a bit.
A private show on FetishGalaxy tends to cost around $2.00-$2.50 a minute, which is relatively cheap. The site doesn't have any major deals or programs to drive the prices even lower, but considering the fact that it offers free c2c that really doesn't matter as much.
As for customer support, FetishGalaxy's is somewhat lacking. It's FAQ section is a bit bare-bones, and the only way that it offers for contacting its customer support is via email. They tend to reply rather quickly but live chat is always the better option when it's offered.
---
LiveJasmin.com
CBT, at its core, is basically jerk-off instructions with a sadistic twist. So what better cam site is there for cock and ball torture cams than the site with the best JOI cams in the industry? LiveJasmin was only barely edged out by FetishGalaxy for the top spot on this list, and is, in general, one of the best adult chat sites in the business.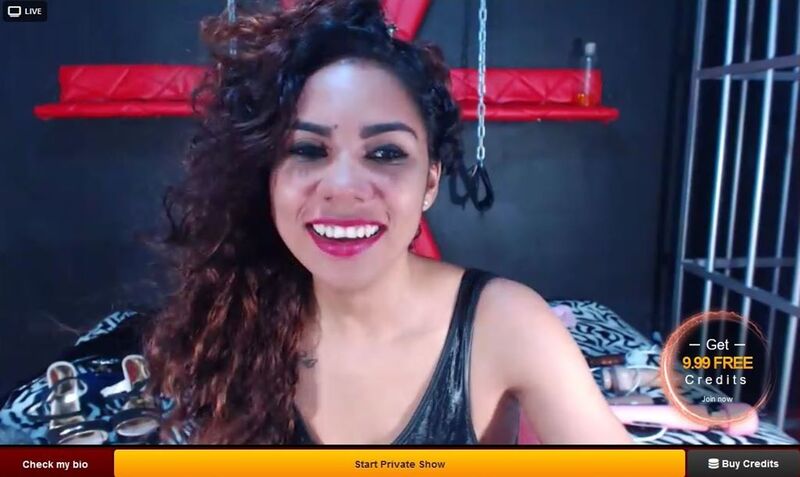 On an average day, LiveJasmin has around 1,400 models online, with close to 100 of them being doms. These models can be found under the Dominant subcategory that's under the Willingness category. Close to a third of these models will already be in a private show, but you'll still have a large selection of dominatrixes to choose from. You can also search for CBT in the site's search bar, but that will basically find you all the dommes streaming on the site.
LiveJasmin's models are some of the most experienced and professional cam girls in the industry. It's rare to see one that's disheveled, or even streaming from a messy cam room. They take their jobs seriously, love it and are always on top of their game. This is doubly true for the site's mistresses, who know exactly how to get you beneath their heel.
The streaming quality on LiveJasmin is another thing that supports its luxurious approach to camming, as nearly all models on the site stream in either 720p HD or full 1080p HD. The shows also run smoothly and rarely suffer from any stream stutter, slow buffering or other latency issues. It's a smooth experience from beginning to end.
The prices, however, can be a bit on the high side. An average private CBT cam show on LiveJasmin will cost you around $2.80 a minute, and, while it includes cam-to-cam, models usually charge $1.00 a minute to enable it. Private cam shows on LiveJasmin do not always include two-way audio, which also costs an average of $1.00 a minute to enable.
LiveJasmin might be a bit on the expensive side, but it's very much worth every penny. The site does its best to make sure that you enjoy your experience as much as you can. It has a comprehensive FAQ page that you can use in case of an issue, along with 24/7 customer support that you can easily contact via email, phone or live chat.
---
C2CPorn.com
Out of all the sites on this list, C2CPorn has by far the most amount of cam girls who perform cock and ball torture cam shows. The reason for that is simple: C2CPorn is an aggregate cam site, meaning that it features models hosted by some of the best chat sites in the industry, acting as a sort of search engine for sex cams.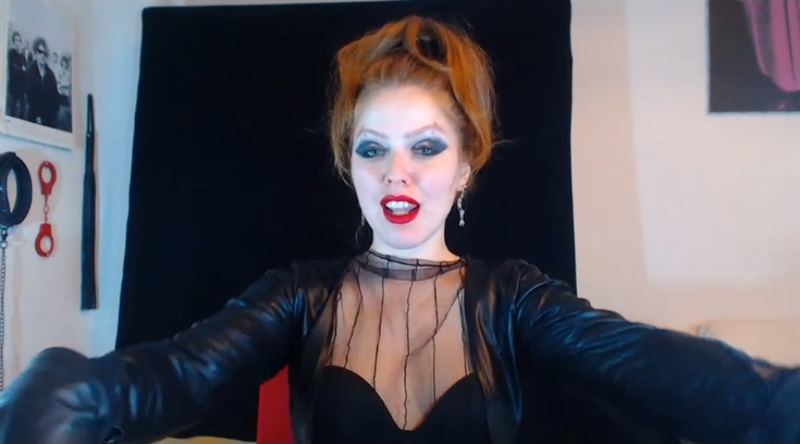 C2CPorn doesn't have any registration process, membership or even prices. It's a vast collection of thousands of cams that you can check out and, if interested, click on to go visit the site that they're actually hosted on. There, you'll be able to chat with the model, tip her and take her private. C2CPorn holds pertinent information you'll need to make the decision of whether or not to take things to the next step. It'll give you details about the model, the acts she's willing to perform, her prices, video quality and so on.
C2CPorn does a great job as a search engine, especially for CBT cams. All you need to do is search for CBT and you'll find all the cock and torture cam girls from across several of the web's leading webcam sites. You can also select to specifically view live cams by switching on the Online Only button to filter things further. On average, C2CPorn has around 20 live CBT cam girls online, and the majority of them will usually be waiting for you in free chat.
C2CPorn has a live preview for most of its cams, but those that have no preview aren't marked with Live Stream like the others. Hovering over them won't give you a preview, and clicking them will only give you a picture of the room with a link to the stream on the host site, as usually you'll need to click the stream to go to the model's actual cam room. It's a bit inconvenient, but it's only a minor issue.
Since C2CPorn works with only the best in the business, the video quality of most of its cams is superb. HD streaming is commonplace here, while technical issues are not. C2C and 2way audio aren't offered by the site since you're intended to interact with the model on the host site. Most of the models featured there do offer c2c on the host site, though, but it's not always free.
If, before visiting the cam girl's room and making that next step, you want to know more about the cam site hosting her, read C2CPorn's review of it. The site offers short-and-to-the-point reviews of every cam site who's models it features, which can be found by scrolling down on its main page and clicking the yellow Reviews link at the bottom-left side of the site.
---
ImLive.com
The developers of ImLive take serious steps toward making your enjoyment of the site as low-cost as possible. It's actually the cheapest adult cam site on this list, and by a fairly large margin. From the $1.98 per minute average price point, to its generous loyalty program and cost reducing measures, ImLive makes it possible for you to enjoy your sweet agony without the worry of running out of funds.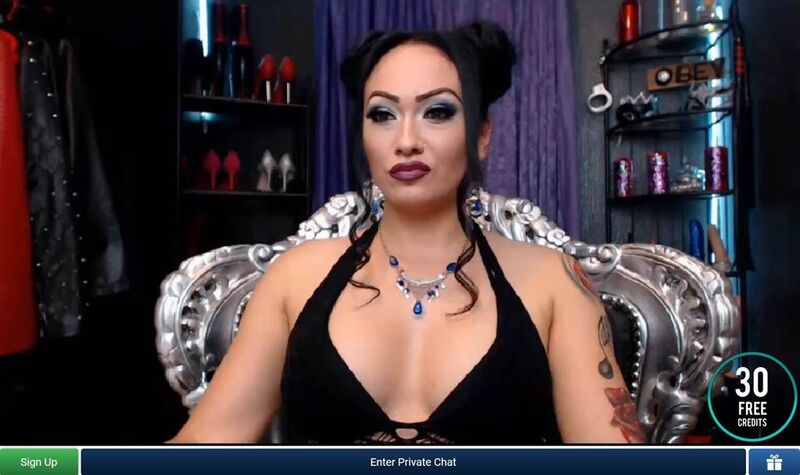 ImLive makes things affordable with it's various offerings -- Have a mistress that you frequent, because you're her loyal servant? Then join her fan club and gain a discount on any private show you have with her, along with access to all her exclusive pictures and videos. Want to take your time with her? Pay in advance for a lengthy session and get another discount (for example: 20% off for a 30 minute show). These things are not offered by every model, but dommes like to keep their slaves on a short list and tend to offer these as incentive. On top of the above, you get cam2cam and two-way audio for free in every private chat, with no exception.
ImLive also makes it very easy for you to find a model who does CBT, and does it well. First of all, it actually has a dedicated CBT category. To find it, go to Live Cams, press the Filters drop down menu, hover over Fetishes and you'll see the Cock & Ball Torture (CBT) category, as well as how many models in that category are currently live. On average, you'll find about 10 models here, and most of them will be available for chat. These girls are dedicated CBT specialists and are among the best in the business for CBT fetishists.
But it doesn't stop there. ImLive has another thing that can make your life easier: Its exclusive Fulfill you Fantasy feature. This is how it works: You write down your innermost desires. ImLive's models can then read what you wrote. A model interested in fulfilling those desires can then send you a message and offer her services. It's simple, easy and convenient, letting the models come to you. For example, let's say you're looking for CBT and SPH cams. Why not combine the two fetishes? Write it down and you'll get a message from a dominatrix who can't wait to see you abuse your manhood while she insults its inadequacy. With this feature, finding anything, no matter how particular it is, suddenly becomes a breeze.
While the site is perfectly suited for this fetish, it does have its shortfall: Most cams hosted by the site are in HQ, and very few CBT experts here stream in HD. The streaming itself also isn't perfect, and while coming across a cam room with latency issues severe enough to be a problem is rare, it's also possible. Thankfully, ImLive has a great customer support team that you can contact via phone, email and live chat along with a handy FAQ page that you can use to resolve any small issue that you may have.
---
xLoveCam.com
xLoveCam is a great well-rounded chat site that offers high quality cams for affordable prices. It doesn't have any outstanding features that make it stand out, but neither does it have any glaring weaknesses that may have made you decide to give it a pass.
xLoveCam doesn't shy away from nudity as much as other premium cam sites do. Hell, it even features a Topless Monday, when the site's models are encouraged to let their own girls breathe a litle. This is great if you want to see the model nude before taking the plunge, and will save you decision time. xLoveCam will also save you search time with its helpful search and categorization feature. You can easily find the site's fetish models by clicking the Categories menu at the left and selecting Fetish Female. It will show you how many models are live in this category, which on average will be around 20. It's not a lot, but most of them are hot and know how to force you to hurt yourself on command.
Most models on the site also stream in HD, with technical issues being rare. The rooms have a swift preview feature and load fast as a sort of pop-up window, so you're never clicking through different parts of the site and slowing down for the pages to load. It's all quite streamlined and quick, and overall feels very responsive. Even if you somehow come across some issue, xLoveCam has your back: It employs excellent customer support teams for both billing and technical problems which you can contact via either email or live chat.
You can expect a private show on xLoveCam to cost you about €1.80 a minute (which is around $2.00 at the time of writing). Also, cam2cam is free, although not offered by every cam girl. Do note that up to three other members of the site can join your private chat, although only you can initiate cam2cam. If you want the models undivided attention, then you'll have to pay extra for an Xclusive chat, which costs around $1.00 more per minute. There are ways to get around this, like getting a VIP subscription to a model that you frequent, which makes all your private chats with her Xclusive, but, while it costs much less than the alternative, it's not free.
---
In Conclusion
FetishGalaxy is a haven for fetishists, and heaven for CBT lovers. It's accessible for newcomers and old hounds alike, great for educating those who have only embarked on this journey, and amazing for those who've learned to take a beating.
While you really can't go wrong with any site on this list when it comes to some good-ole ball spanking fun, if you want to try one of them first, try FetishGalaxy.