CamSoda.com - A Freemium Softcore Fetish Wonderland
Last updated
January 01, 2021
While CamSoda isn't the most hardcore fetish cam site around, there are many chat rooms that will appeal to kinksters and light BDSM aficionados. The site isn't anywhere near as fetish based as sites like FetishGalaxy, but you will find that the cam girls are adventurous, willing, and relatively cheap.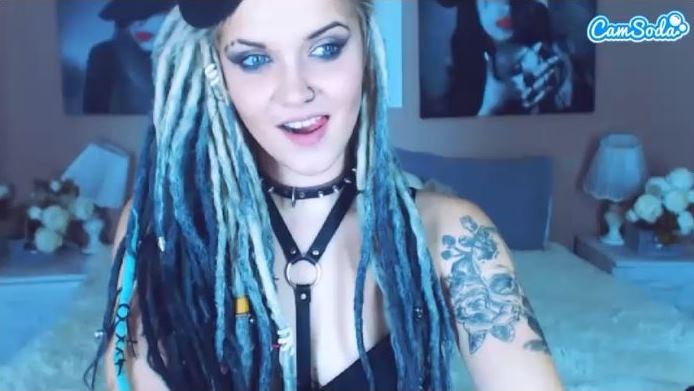 CamSoda's more softcore and kink-oriented approach works well with it freemium format and makes the site a great option for people who are new to fetish cam porn. You won't find as much BDSM gear in terms of full leather outfits and gimp suites, but you will find that most of the babes are willing to partake in your fantasies.
This full CamSoda fetish review will make sure you know if this chat site is for you, and if it is, how best to enjoy it.
Pros Vs Cons
Pros
Overall fairly cheap
No intrusive ads
Nudity and sex in the free chat
Free two-way video and audio offered
Free mobile cam2cam
Free private show recording in some rooms
Mass preview lets you view many rooms at once
Interactivity via tip-controlled sex toys is commonplace
Cons
Lacks hardcore fetish cams
Inaccurate search and categorization systems
Cam2cam and show recording are not always enabled
The Models
Finding cam models on CamSoda that will happily give you jerk off instructions or play with their spit for you is easy, but finding models that specialize in fetish play is rather difficult. CamSoda has an impressive selection of around 700 models online at a time, though I can't really tell you how many of them are dedicated BDSM performers. CamSoda's tagging system is unregulated and therefore fairly inaccurate, so searching specifically for fetish cam models on CamSoda can only be done manually.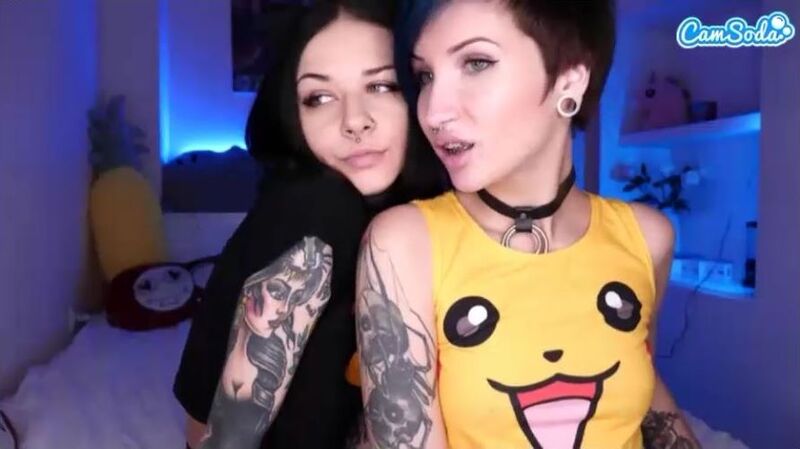 This shouldn't deter you from trying to find a cam babe to your liking that will perform your fetish for you. CamSoda's models are varied and eager to please, so finding the right man, woman or tgirl for the job will only require you to flirt a bit with the talent. From my experience, finding a model on CamSoda that can be a good domme or sub is pretty easy, I just wish that CamSoda had a working categorization system so it would take me seconds instead of minutes. Quite nit-picky, I know, but although this is a very small issue, it's still an issue.
CamSoda does offer a mass preview feature that does alleviate this issue somewhat. This feature allows you to view all live cam rooms on the site at the same time, which is exactly as awesome as it sounds. Few cam sites have this feature, and none of them make it work as well as CamSoda does.
On the plus side, interacting with the performer once you're in her show is easy thanks to how popular remote-controlled sex toys are on CamSoda. You're going to see those pink OhMiBod and Lovense devices poking out from between many of the models working on CamSoda. This is simply fantastic for those of you who like to control the model and her pleasure. Getting your adorable sub to beg for release has never been easier.
You can find models using these sex toys by clicking the ohmibod tab above the cams in the front page. You can also find performers who tagged themselves as fetish cam models by clicking the view all tags tab and searching for the fetish tag. It's a good way to find models that are serious kinksters, but don't expect all rooms under this tag to feature only fetish chat shows, as most models tag with every noun under the rainbow to get more views.
Video Quality
CamSoda has equal amounts of HQ and HD cam rooms. While it's not as impressive as the video quality on say, LiveJasmin, it's still very easy on the eyes. Finding cam rooms with video resolution lower than 576p on CamSoda is quite the endeavor, as is finding streams that suffer from technical issues.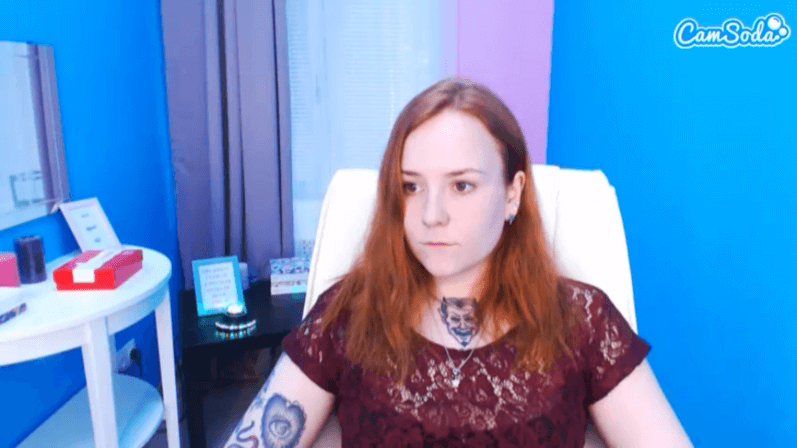 That's not to say that there are no rooms on CamSoda with stuttering or buffering issues. Every now and again, you'll come across a cam show that doesn't run quite as smoothly as you might hope. You can ignore those, as CamSoda's collection of models is large enough for you to have plenty of options without the cam girls that still use dial-up internet.
CamSoda's categorization system does not allow its members to filter the streams according to their video quality. If this is important to you, you'll unfortunately have to sift through the rooms one by one, as there isn't even an HD tag to help you sort them out. When doing so, you can see if the room has HD resolution at the bottom left of the stream. Make sure HD is turned on, as CamSoda sometimes lowers the quality if your internet speed is low, even if for a few moments.
Overall, I would rate CamSoda's video quality as satisfactory. Some rooms have a bit of stream delay, but with models streaming from across the globe, that's to be expected.
Prices
With CamSoda being freemium, it will probably surprise some of you to learn that it's also the cheapest webcam site in the industry. Let me start by saying this: Whatever your budget here, CamSoda has a token package that'll fit in it. The bigger the package, the more tokens you get per dollar spent. Not all packages are visible to non-paying members, but once you purchase one, all of them become visible to you, discounts and all.
Below is the breakdown of the different token packages: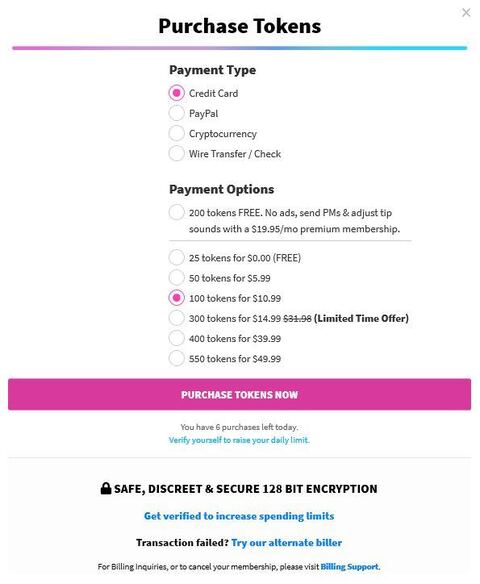 Visit CamSoda now to take advantage of the site's limited time offer of 300 tokens for only $14.99. That's half the regular price.
Additionally, CamSoda lets you claim 25 tokens for free. And no, there are no strings attached. All you have to do is register a credit card.
Chat Types
CamSoda offers only the basic show types, but the vast majority of people will neither need or want any more than that, so it's a non-issue.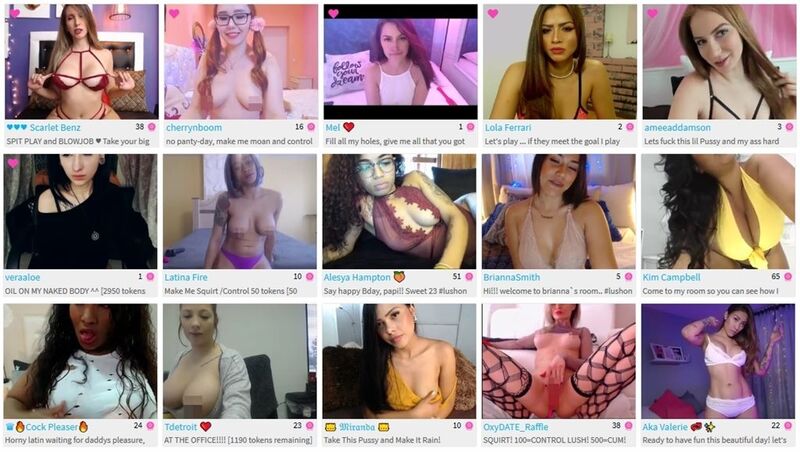 Before I continue to explain what each chat type means and how much it costs, I would like to point your attention to a few things: First, you can see a description of the room below its preview. You can use this to learn what a model's preferred show types are, if whether or not they match with yours. Second, if prefer not to have to contend with a dozen other people for the model's attention, look for the rooms with few viewers. You can clearly see how many members are inside a chat room next to the pink camera icon at the bottom of its preview window.
Open Chat
This is the open chat in a freemium cam site, so more than likely where you will spend most of your time. You will see nudity, and lots of it, including explicit sexual activity. Use this to gauge how much you'll enjoy watching a model and her performance. It won't cost you a thing, and you can take the time to flirt with the performers and ask them questions.
Private Chat
Let's face it: While the open chat is fine and all, finding a model that will perform your fetish with a crowd of other people asking and tipping her for other kinks is difficult, to say the least. It's best to just find a cam babe who's down with your dirty fantasy and take her private, where she'll perform only for you.
The developers of CamSoda accommodate that by offering cam2cam and two-way audio, as well as private show recording, completely for free. It depends on the model whether to enable cam2cam or show recording. Many do, and you can easily ask the performers that catch your eye whether they do or not. The notification window prior to starting the show also mentions these, as you can see in the picture below: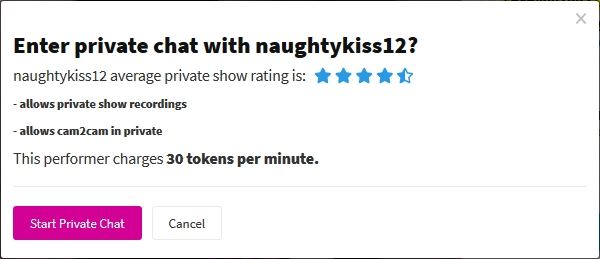 Models on CamSoda charge around $2.40 a minute and a minimum of $0.60 a minute for a private show, which is rather cheap compared to most adult chat sites in the business. This means that you'll be able to take your time and enjoy the show without having to worry too much about running out of funds.
Group Chat
This chat type is more geared toward those who enjoy popular fetishes, like feet or anal, as chances are that if a fetish model starts a group chat she'll try to cater to as many kinksters as she can. They way it works is simple: You search for a cam show labeled as a Ticket Show. You then pay for a ticket (around $6.00 for a full 15 minute show, but prices may vary).
If enough tickets are sold, the show will start and you'll be able to watch it whenever you want and for as long as you want, as long as it's ongoing. You can also tip at any point to further incentivize the model to perform what you want. If she has a remote-controlled sex toy, tipping her will also activate it.
If not enough tickets are sold, you'll be refunded the tokens that you spent for the ticket. Models usually start the show even if it wasn't sold out, so it's more likely that your show will just have less viewers.
You can see these shows by clicking the ticket shows tag at the top of the page. Unfortunately, group chats are not very popular among CamSoda's talents, so don't expect to see more than a few of them live at any given time.
Spy Chat
Some models on CamSoda allow members to spy on their ongoing private shows. This is usually very cheap to do, costing around $0.60 a minute. If you're a voyeur or an exhibitionist, then you're going to love this. If not, and you don't like the thought of someone watching your private show (even though the spy can only see and hear the model), you can ask the model to turn it off for your show. She may ask for a tip for that, but it's a very small price to pay for some peace of mind. Either that or search for a cam girl that doesn't enable spying.
You can find these shows by clicking the spy shows tag above the grid of cam shows on the front page of the site.
Voyeur Chat
CamSoda has quite a number of voyeur chat rooms that are active at all hours of the day, which let you spy on a house full of hot cam models. You can honestly ignore these rooms. Not much happens in them throughout the day, and they're not fetish oriented. If voyeurism is your fetish, you should give them a try since they're free, but if not, you can give them a pass.
Unique Features and Extra Content
CamSoda doesn't need, nor has, any unique features aside from its mass preview feature and high prevalence of tip-controlled sex toys. As for or extra content, some of CamSoda's cam girls offer the usual collection of lewd-to-pornographic videos and pictures to those who might be interested in purchasing them. If you've found a model that likes to perform your fetish, and does it well, this is a great way to get some recordings of her performing it, maybe even in her off-time. All pictures and videos that you purchase are automatically added to your my media page (found at the very top of the page), along with your recorded shows.
I should note that CamSoda also makes its own professional porn, but this will probably not suit your tastes. These videos have great production value and are 100% free to watch, but they're mostly comedic in nature and not very fetish oriented. If you're still curious, you can find them at the exclusive videos section at the top-most part of the CamSoda's main page.
Mobile Site
CamSoda is a blast to use on the mobile. It was not a tough call for me to rank it as the best mobile cam site, partly because of how well it performs on tablets and phones and how simple and convenient it is to use on the smaller screen. The main reason I've done so, though, was the fact that it features free mobile cam2cam. That's right: While most cam sites don't even include cam2cam on mobile devices, CamSoda does, and offers it free of charge.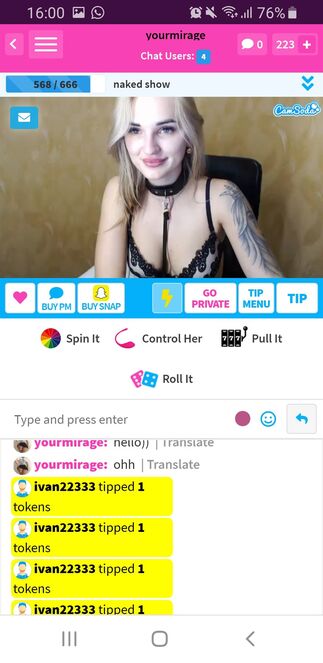 CamSoda also doesn't suffer from the same problems on mobile devices that many other chat sites do. Typing in chat doesn't obscure the screen, and the address bar can be ridden of intuitively while you're in a sex chat. You don't even need an app for the site to work well, just a browser. Using an iPhone? Your Safari browser will do the trick. Using an Android device? Chrome, as always, will load and run it well. As long as you have a halfway decent internet connection, your fetish cam show should run smoothly.
Premium Membership and Rewards Program
CamSoda doesn't have a loyalty program, but since the site is already cheap enough as it is, you're not going to be needing one. CamSoda does, however, have premium membership which should be purchased by anyone who intends to spend any amount of money on the site. Here are the reasons why: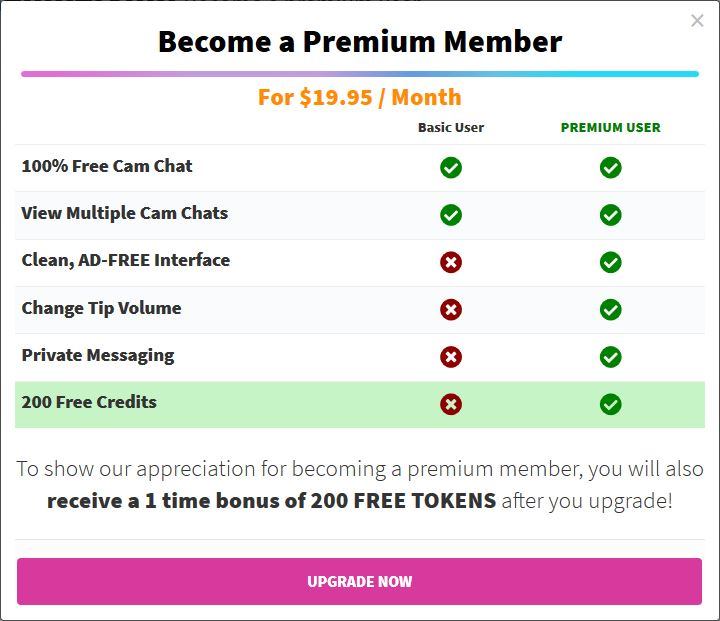 First, let me divert your attention to the bottom of that list. You see those 200 free tokens? Those are worth about $20.00. A premium membership costs $19.95 a month. That means that, if you're going to purchase credits anyway, just get a premium membership instead. The bonus credits may be a one time offer, but you shouldn't say no to a one month free trial membership.
With that said, here are the benefits you'll be getting from that:
Clean, ad-free interface - Enticing, but considering the fact that CamSoda doesn't use any intrusive ads, so chances are that you won't even notice any changes. When you pay for the membership, the ads turn into banners displaying available videos on CamSoda, so it's still like an ad, but an internal one.
Change tip volume - The sound of tips can get annoying if there are many members tipping and you want to hear the cute performer moaning. While not as important for people who only have private sessions, it can be a godsend in free chat and group shows.
Private messaging - Basic users can't send private messages to models. Upgrading to premium gives you the ability to do so, regardless of whether the performer is online or not.
Registration
Registering for a basic CamSoda membership will grant you access to all the features that the site has that are not mentioned in the Premium Membership section above. It's easy and free, which means you'll have unlimited access to all the goodness that the site has to offer in seconds, and without spending a dime.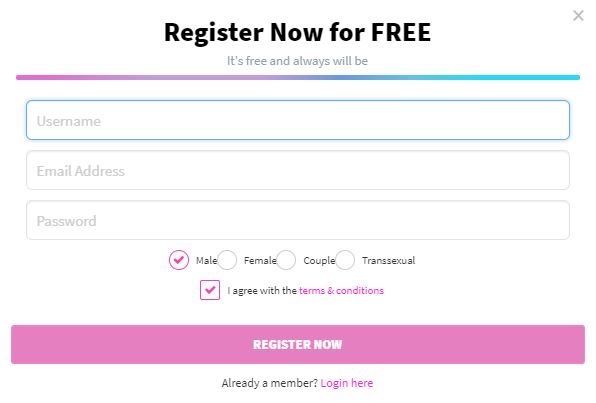 Choose a valid username, email address and password and click the pink REGISTER NOW button. You're officially done, without so much as having to confirm your email or validate a payment method.
Accepted Payment Methods
The accepted credit card types are as follows:
Visa
Visa Electron
Visa Bleue
MasterCard
MasterCard Maestro
Diner's Club
Discover
JCB
Switch
And these are the available alternate payment methods:
Security and Quality Assurance
CamSoda treats the privacy and security of their members with the utmost severity. First, it uses HTTPS protocol and SSL encryption to protect your privacy and ensure that your connection is secure, and cannot be easily hacked by anyone who wants to take a peek into your private chat. Second, it uses Epoch and SegPay to process your payments in a safe and efficient manner, making it so billing issues are an extremely rare occurrence.
Third, CamSoda works with three non-profit organizations (RTA, SafeLabeling and the ASACP) to make sure that no cam model working on the site is underage. This will prevent you from being mistakenly added to any government "list", among other things.
On top of these, CamSoda makes sure that its members are satisfied with their services. For example, let's say that you experienced a technical problem while in a paid show. In such a case, you can contact CamSoda's customer support, explain your problem and ask to receive a refund in tokens. Your claim will be checked by their staff, and as long as you contact them immediately after the problem occurs, CamSoda's customer support do their best to assist you.
Customer Support
CamSoda's customer support page, which can be reached by clicking the SUPPORT link at the bottom of the page, has an extensive FAQ section, with specific instructions in case you have a technical or billing issue.
As for contacting a representative, CamSoda unfortunately doesn't offer much beyond email support for technical issues. If you have a billing issue, though, CamSoda has a live chat feature specifically for that, so you're in luck.
In Conclusion
CamSoda may not be a truly hardcore fetish webcam site, but it's found its niche in popular fetishes and kinks and delivers on quality and prices in ways that few do. It greets new members in open arms and is fun and simple to use. above all, though, it's free to try out and is a highly secure fetish sex chat.
You can try it out on your computer. You can enjoy it on your smartphone. Whatever your preferable device is for watching some fetish sex chat, you're going to have a cheap and amazingly enjoyable experience.