Chaturbate.com Review - Freemium Fetish Cams Done Right
Last updated
January 07, 2021
Chaturbate is one of the most popular and well-known adult chat sites in the world. It is known, though, for its freemium vanilla cam shows much more than anything else. That, in my opinion, is a damn shame, since this site has so many different cam rooms that you'd have to be unfathomably unlucky to peruse it and fail to find a model that suits your needs, whatever they may be.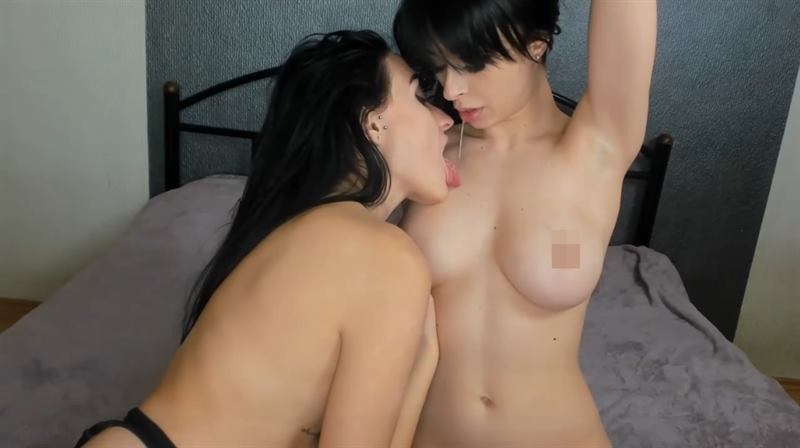 I will do my best to detail to you Chaturbate's good sides, bad sides and everything in between. By the end of this Chaturbate fetish review, I hope you'll have enough information to ascertain whether you should go visit it or skip it and go enjoy one of the other fetish cam sites I've recommended.
Pros Vs Cons
Pros
Great video quality
Many gorgeous models
Huge selection of fetish cam rooms
Proudly freemium, with no intrusive ads
Cons
Lack of cam2cam implementation
Unhelpful navigation features
Lackluster customer support
No preview system
The Models
This is the main reason this site is so renowned. Chaturbate has a ton of cam models using its platform, with upwards of 3000 online at any given time. Most of them will gladly perform most kinks, such as jerk off instructions (JOI) or small penis humiliation (SPH), or just treat you in your preferred way. From my experience, even those that don't tag themselves as fetish models are fairly good at performing fetish cam shows.
There is also a good variety of models. Women, men, trannies and combinations of all of them, from couples to groups. Whatever your preference may be, you'll find cam rooms for it on the site, and a decent amount of them will feature fetish-experienced cam models.
The problem, though, is that finding any experts can be tough. A model needs some experience to perform a convincing cuckold cam show, and the right equipment for things such as balloon fetish cam shows. While I'm sure that there's always a model willing to do what you'd like her to on Chaturbate, finding them is rough due to the inaccurate tag system and lack of real categorization feature. Finding anything specific on Chaturbate always boils down to sifting through dozens, if not hundreds of cam shows, and as fun as it has proven to be, it's also time consuming and inefficient.
At the very least, you can filter by gender, as well as by and region and video quality via tabs and the Advanced Options filter at the top of the page. Just make sure to include a # with all your search queries, so the site understand that you are looking for a tag.
Video Quality
Due to the sheer amount of cam rooms hosted by Chaturbate, the site actually has more HD fetish chat rooms than most premium cam sites out there. And since you can sort by video resolution, this site looks so good and has so much sexy action going on at all times that it feels downright generous.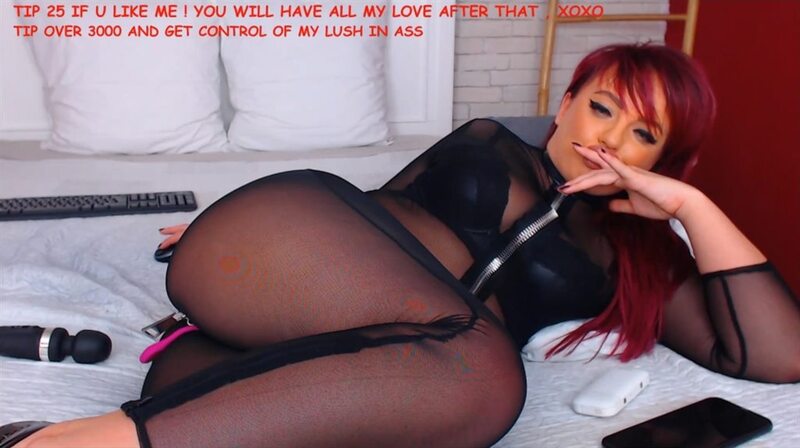 The main drawback is the Chaturbate's lack of preview videos for the shows. Every cam room has a picture that was taken within the last 30 seconds that shows what's going on in the room, so you are still able to shop around, but the lack of a preview does hinder your ability to really get a sense of what's inside without going in and checking it out the old fashioned way.
Not that it's that much of a bother. The shows load really fast and lack any stutter or buffering issues, even when they are stream in full HD and even 4k. And yes, Chaturbate has shows that are streamed in 4k.
You can control the size of the screen by dragging the bar at the right of it. Also, sometimes the shows load in resolution that's lower than the show's max, as the site tries to adjust the resolution to your connection speed but doesn't adjust it afterwards. You can make that the shows is at its best video quality by pressing the cog at the bottom right of the screen. If you don't see it while hovering over the stream, resize the video and you will.
Prices
Chaturbate's prices are fairly middle-of-the-road. A private show will cost you around $3.00 per minute, and while that price can be lowered by purchasing bigger credit packages that give more bonus credits (as shown below), it won't change by much.

You will unlock bigger packages after your first purchase, so you'll be able to save even more money by purchasing more tokens at a time. Chaturbate uses more or less a simple 10:1 exchange rate between its in-site tokens and the US dollar, so it's easy to keep track of how much you're spending.
Chaturbate is freemium, though, so most of it can be enjoyed at no cost at all, but if you want more intimacy with the model, you'll have to shell out.
Chat Types
Chaturbate has the usual show types, along with one other that some of you may find interesting.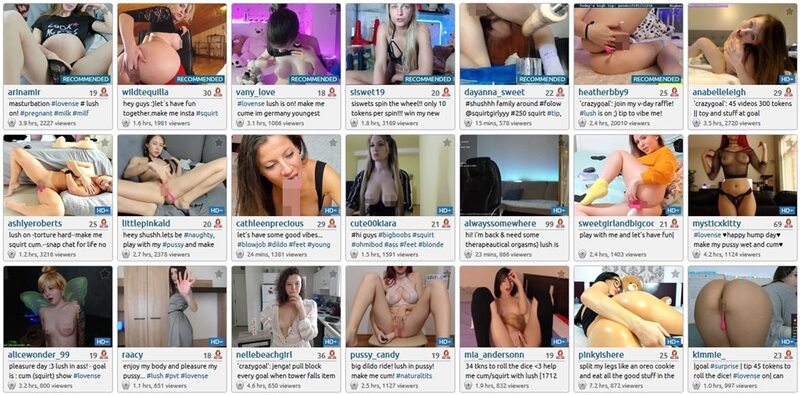 You can look for specific chat types by using the link under Free Cams by Status, at the bottom of the page.
Open Chat
Chaturbate is known specifically for its eye-popping open chat. You'll see pretty much everything here, and while you'll have to contend with other members for the model's attention, even small tips can go a long way.
You can use the open chat as a way to discern what fetishes the model will agree to perform, and I suggest that you do, since many models don't take their bio page very seriously on Chatubate and so won't specify their preferences.
Private Chat
Prices for a private chat on Chaturbate range wildly from one cam show to another, so make sure you shop around a bit before deciding on a model to get intimate with.
To take a model private and look at how much it will cost you, click the Start Private Show link below the stream. You can also scroll all the way to the bottom of the page, to sort the rooms by price.
Group Shows
While there's no dedicated category for these, Chaturbate does have it own brand of group shows. They are tagged as "#crazyticket" shows, and have a simple concept: You purchase a "ticket" for 50 or more tokens (around $5.00) for a specific show, such as a pregnant cam show, giantess cam show or an anal cam show. If enough tickets are sold, any member who purchased a said ticket gains access to the show and can watch it. If not enough tickets are sold, the show is canceled and your tokens are refunded.
Do note that this show type is used mainly by couples and groups and doesn't have a set time. The show usually goes on as long as the models continue to get tips.
Spy Shows
Some cam models on Chaturbate allow members to spy on a private show they are having with another for a very low cost (usually around 12-18 tokens, which is around $1.20-$1.80).
This is a great option for voyeurs and anyone who wants to see some heavier action for cheap without any interest in communicating with the cam girl.
Exhibitionist Shows
Chaturbate also serves as a platform for exhibitionists to pleasure themselves in front of an online crowd, you'll see quite a few cam shows that don't accept any tips. These shows are for you to just watch and enjoy, as the model who's hosting them is doing so because it gets him or her off.
Most of these are, of course, hosted by men, but not all of them are. They're free, so there's really no good reason to not enjoy them.
As an aside, voyeurism is big on Chaturbate. You'll see a lot of cam shows where the model role-plays masturbating at work or while friends or family members are around.
Unique Features and Extra Content
Chaturbate focuses on what counts; affordable hot HD cam shows, and lots of them. It lacks the bells and whistles many other cam sites boast. In fact, as I've mentioned, it doesn't even have proper cam2cam implementation. This makes the site feel pretty bare-boned at times.
Unlike other sites where you click to activate cam2cam, on Chaturbate you will need to actually set yourself up as a broadcaster. You can then set a password, so other users can't spy in on you. You need to find a model that offers cam2cam and tip her for it. You then send her your password and she joins your room. You will need to keep your chat room open in another tab, as you watch her and talk to her in her room.
Chaturbate may include free show recordings, which you can rewatch whenever you want. Do note that not all models on the site enable this. The site lets you know if a model does so or not in her private show confirmation screen, where you also see the price per minute of her show.
Many models also sell lewd pictures and videos of themselves. There are usually taken during the model's after hours and are in good quality. If you find yourself frequenting a model's show, check out her videos. Many have videos of themselves bound, gagged and strapped to a sex toy, or in other kinky situations that will likely interest you.

There are also blog posts available at the bottom of Chaturbate's front page. These are usually spotlights of the site's most successful models. It's a good way to get yourself familiar with Chaturbate's more experienced and popular cam babes, so check it out to know which models are likely to be experienced in performing fetish shows.
Mobile Site
If you enjoy watching fetish cam porn on your phone, then Chaturbate is a great option for you. It is fantastically optimized to work on mobile devices, has a slick interface and fast loading cam shows that rarely stutter.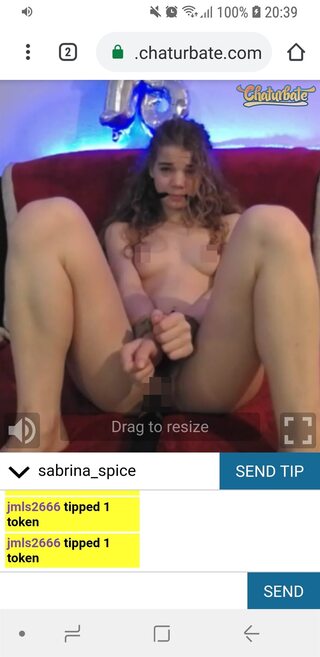 Chaturbate's mobile site even lets you resize the screen while viewing the site in portrait mode, and typing in chat doesn't obscure the screen like it does in so many other mobile cam sites. It's all very convenient and intuitive.
Premium Membership and Rewards Program
Let's start with Chaturbate's premium membership; it costs $19.95 per month, can be canceled at any time by visiting Chaturbate's membership cancellation page, and gives you the following benefits: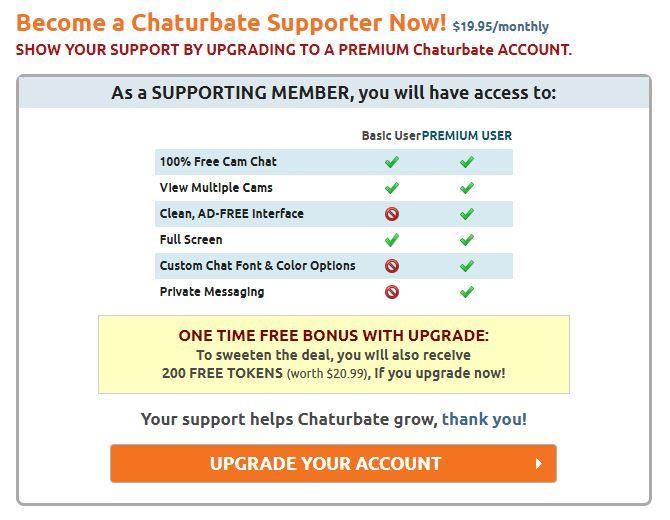 As you can see, the first month basically pays for itself due to the free 200 tokens you get upon sign-up. Because of this, if you enjoy the site's paid services, there's really no reason not to sign up as a premium member for at least a month to see how you like it.
As for a rewards program, Chaturbate doesn't really have one like ImLive does, but frankly, no one does. However, Chaturbate does reward those who contribute to the site; You can refer a friend to earn up to 10 tokens for every registered user and 500 tokens for users who end up broadcasting on Chaturbate (broadcasters must earn $20.00 before they qualify).
You can also earn another 200 token bonus for free by completing Chaturbate's Spending Limit Increase Form. This form helps Chaturbate prevent fraud, so they gift users who take the time to fill it out, a one-time 200 token package. This will, of course, also raise the amount you can spend on the site.
Registration
Signing up on Chaturbate is 100% free, and a simple process to boot. I recommend you do this as soon as possible, since otherwise you won't be able to type in chat. Choose a username, password, email address, birthday and gender. Then, verify your email address via the email Chaturbate sent you and you're done.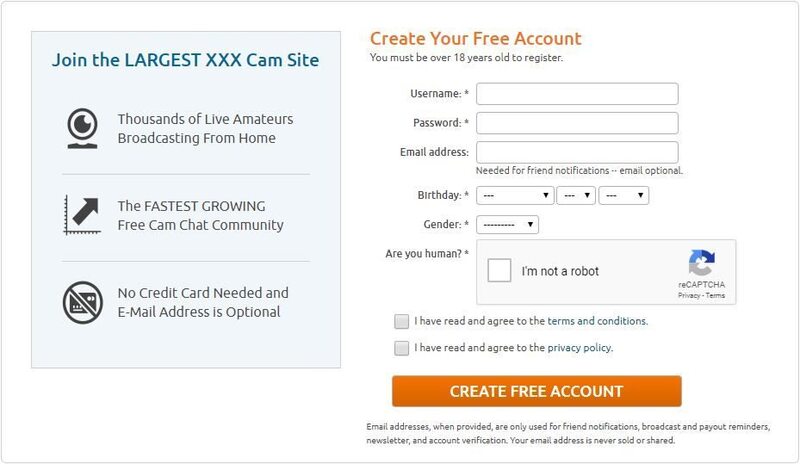 According to Chaturbate's terms and conditions, your email address will only be used for "friend notifications, broadcast and payout reminders, newsletter, and account verification," and will "never be sold or shared," so you can rest easy knowing your information is safe.
Accepted Payment Methods
The accepted credit card types are as follows:
Visa
Mastercard
Mastercard Maestro
Discover
Diners Club
And these are the available alternate payment methods:
Wire Transfer (instructions included in the payment page)
Cryptocurrency (the popular ones, along with many, many others)
Security and Quality Assurance
Chaturbate is a giant, and as such, takes security seriously. It even has a dedicated security center where you can change your password and privacy settings, check how secure they are and get information on your recent activity on the site to make sure your account isn't being used by someone else.
Aside from this, Chaturbate uses all the newest and most advanced security and encryption protocols, TLS and HTTPS. This way, you can be sure that whatever happens on Chaturbate stays on Chaturbate. To protect your privacy, any charges discreetly appear as a nondescript name on your credit card statement.
Chaturbate has you covered on all sides, so you can enjoy the site without worry.
Customer Support
It is good that Chaturbate works so well on so many systems, because its customer support is really not the best. Chaturbate's customer service representatives are as attentive and professional as one can hope, but the only way to contact them is through email. There is a form you can use to enter your message and even upload attachments, such as screen shots of your problem, should they be required.
The FAQ section, on the other hand is quite extensive. It has information about numerous topics and sub-topics. Each entry is also titled and has a voting field which allows customers to give feedback on how helpful it is and allows the moderators behind scenes to make changes as required. You can find the "Support" link at the bottom-most of the homepage.
In Conclusion
Since Chaturbate never badgers you to spend even a dime, there's really no reason not to try it out. Sure, the fetish cam rooms may be cumbersome to find, and it might not have easy access to cam2cam, but the quality of Chaturbate's cams, their video resolution and their sheer number make Chaturbate a sight for sore eyes.
If you have a bit of time to spare, sift through Chaturbate's collection of hotties. The search for the perfect room might prove to be long, but it will surly be enjoyable.