Flirt4Free.com - Quality Shemale Cam Babes at Low Cost
Last updated
January 04, 2021
Flirt4Free prides itself on its overwhelming amount of options, from a sizable selection of models to a myriad of different cam show types. Fortunately for those who like the dick-and-tits combo, Flirt4Free does not limit itself to only women or men. An entire section of the site is dedicated to hot shemale cam shows, and they tend to be of fairly high quality.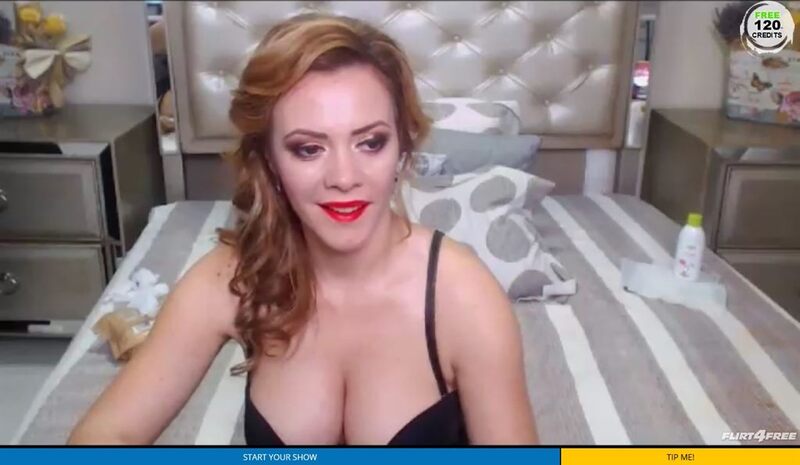 Since Flirt4Free can be a bit much for a newcomer, I suggest you use the pointers I give in this review to navigate the site and save yourself some money along the way. It is really a fantastic adult chat site when you know your way around it, so read on.
Pros Vs Cons
Pros
Lots of show types
Quality of cam shows is very high
Can be cheap if you familiarize yourself with it
Models are wonderfully professional and engaging
Two-way video and audio freely included in every private chat
VIP program is amazing
C2C works on mobile
Cons
Small selection of trans cam shows
Some shows can get fairly expensive
Unhelpful search engine
The Models
Unfortunately, while Flirt4Free excels in many different fields, their selection of tranny cam models is dwarfed by the likes of dedicated shemale cam sites such as Shemale.com and MyTrannyCams. You'll find no more than a dozen cam models online at a time on Flirt4Free.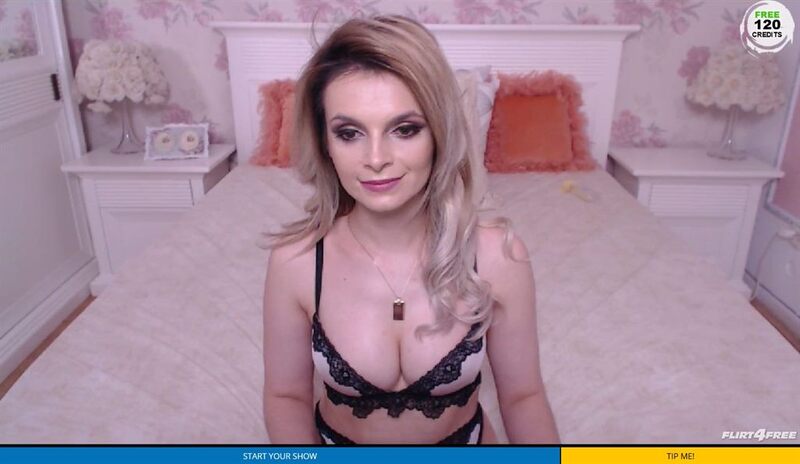 If you're looking for big, burly, manly trannies, they're in short supply on Flirt4Fee. On the other hand, if it's sexy, feminine little ladyboys and tgirls you're seeking, Flirt4Free has got you covered. It's pretty obvious that Flirt4Free holds some type of vetting process for their prospective models. Visit the site and you'll quickly notice the distinct lack of unattractive performers across all categories. Every site has it's lookers, but Flirt4Free seems to have made it a rule.
The first thing you'll need to do is switch over to the tranny section of the site at the top right. After that, feel free to enter any open chat you'd like and flirt with the models to get a better feel for them, or look at their bio for some more details about them.
Model profiles on Flirt4Free are a standard fare. There's a mini-profile you can view during a chat, which contains general information about the model, such as physical features, a list of likes and turn-ons, etc. Within the mini-profile, which you can view by clicking the head icon at the right of the stream, is a link to the model's full bio at the bottom. All the previous items are featured again, along with some expanded choices and details, like a Wishlist section, an interactive Tip Goal counter, photo and video galleries, awards the model has won and comments made by members of the site about her show.
And while we're on the subject, you should know that Flirt4Free, as a cam site, encourages competition between its models. It may not seem like a big deal, but it makes a huge difference. The bonuses and awards Flirt4Free rewards its top cam girls with, as well as the prizes they can get from viewer votes, are substantial. Like with any sort of competition between workers, this increases the quality of their performances. Models on Flirt4Free are some of the most engaging and congenial you'll meet. You'll not only flirt for free, but be encouraged to do so by the models.
In general, navigation on Flirt4Free is slick, handled via a floating drop-down menu that scrolls along with you as you explore. There's also a robust categorization system that allows you to filter by many different categories, including price range. The site's search engine, though, is not all that helpful. If you're only interested in trannies, though, you're probably not going to use either, but if you're also interested in women, men or both, then Flirt4Free's categorization system is going to come in handy.
Video Quality
Flirt4Free's video quality is not only one of its best qualities, but one of its most consistent qualities as well. The shows rarely stop to buffer or stutter due to poor connectivity on part of the site or the model. The shows, along with the preview you get when you hover over them, load quickly and run well.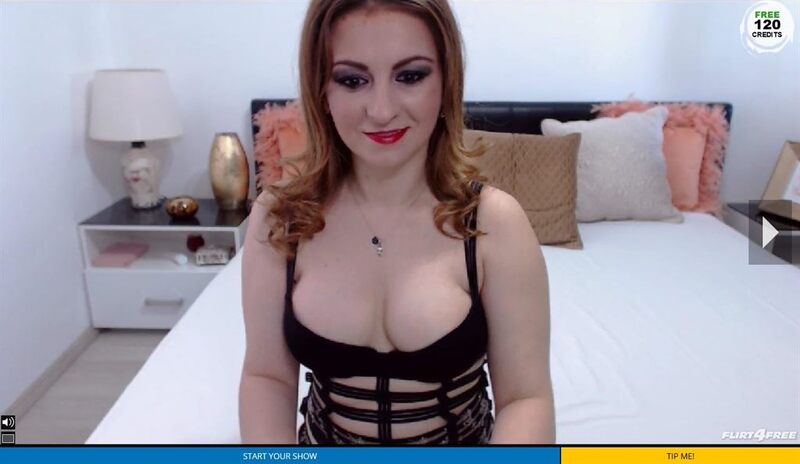 It clearly shows that Flirt4Free takes pride in its video quality. A cam room opens into a grand view of the show, with the stream taking up most of the window, tits and balls galore.
All in all, Flirt4Free's video quality will satisfy even the pickiest viewer.
Prices
Flirt4Free's prices are a bit all over the place. You can find shows that are too pricey for most to even consider, right alongside cam rooms that are so dirt cheap that you can spend hours in them before feeling like you've spent anything at all. Seriously, if you know your way around this site and take a bit of time to shop around, Flirt4Free can be the cheapest shemale cam site you can find.
Below are the credit packages, along with the bonus credits you get for free when you purchase them. You can redeem the minimum bonus (120 credits) for free by entering a valid payment method. Be aware that this free bonus is only available on your first purchase (or free redeeming), so, if you find Flirt4Free to your liking, I suggest that you start with the biggest package you can afford.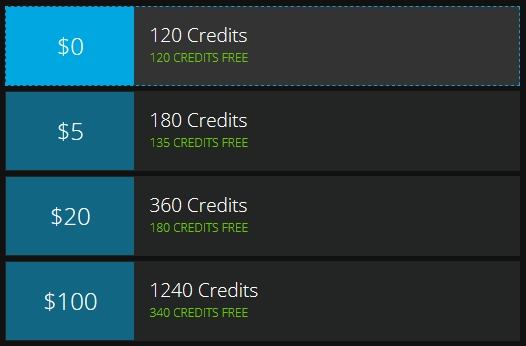 As you can see, the exchange rate on Flirt4Free isn't the most straightforward. 9 credits are worth $1.00, so prices of a show can be a bit unclear. For the sake of convenience, I suggest you divide the amount of credits by 10 to get an approximation of how much you're spending.
While there probably won't be enough shemale cam shows for you to feel like you need to sort them by price, it's good to know how to do so anyway; Hover over the View By button on the top right of the site, just above the grid of cam rooms you are viewing. You can also select to view the rooms according to interactivity or a couple of different show types.
Chat Types
Oh my, what a glorious clusterfuck Flirt4Free's plethora of show types can seem to be on first glance. Not only do you have a lot of options, but all of them are actually pretty great and should not be ignored.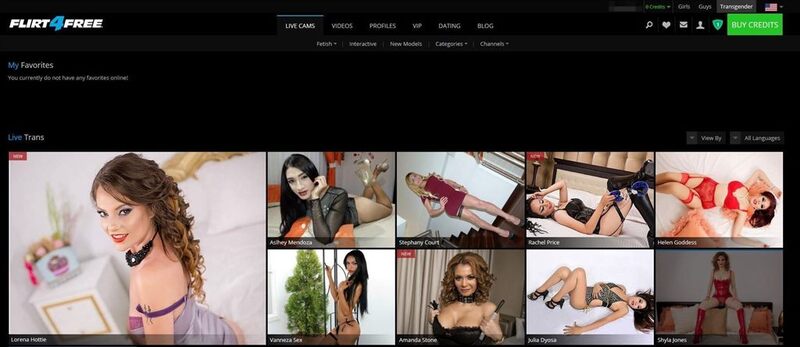 I've listed all of Flirt4Free's show types, gave a short summary of them, detailed their price ranges, whether cam2cam is included and whether you can record them for later watch:
| Show Type | Description | Price/Min | Cam2Cam | VOD |
| --- | --- | --- | --- | --- |
| Multi-User | Multiple members chatting with a model in private. The first member to initiate the session can turn on his webcam, everyone else has to type. | $0.55-$6.00 | ✓ | ✓ |
| Private | One on one chats. Prices wildly range here, with the average show going for around $3.00-$7.00. You can filter by price, to stay within your range. | $3.00-$14.00 | ✓ | ✓ |
| Combo | These rooms offer both Private and Multi-User shows. Users may join or start a Multi-User show as long as the model is not already in a private show. Multi-user is always 2/3 of the cost of Private. There is no voyeur mode availability for Combo rooms. | $0.55-$14.00 | ✓ | ✓ |
| Voyeur Mode | When a model is already engaged in a private show, you can watch her performance by entering voyeur mode. No audio or text chat is permitted. | $0.55-14.50 | ✗ | ✗ |
| Feature | Shows featuring some of the hottest adult stars. | $3.00/Free for VIPs | ✗ | ✓ |
| Group Chat | A community experience. The performer sets the required number of credits for the length of show they will perform. One or more users can pledge any amount of credits to meet the goal. If the goal is met and you pledged the minimum, the show will start in 30 seconds. | Varies | ✗ | ✓ |
| Offered Shows | These let you negotiate with the performer to find a price for a paid show that works for both of you. You can haggle for a deal. | Negotiable | ✓ | ✓ |
| Party Chat | A free adult show where anyone can join. The party last for as long as users are tipping the model. If the model gets tips, she will often strip. You can't initiate a private show while a party is going on. Some set up goals, performing specific acts upon receiving certain amounts of tips. | Tipping | ✗ | ✗ |
This table should give you a better understanding of what to go for when visiting the site. Now, as for watching your recorded shows, you can do so in your profile page, but not for free.
Unique Features and Extra Content
You can check out Flirt4Free's section selection of recorded cam shows via the Videos button at the top. There, you can also see your recorded videos by clicking the My Collection button at the left. This section will have all the videos that you've purchased, been gifted, or redeemed through free VOD offers.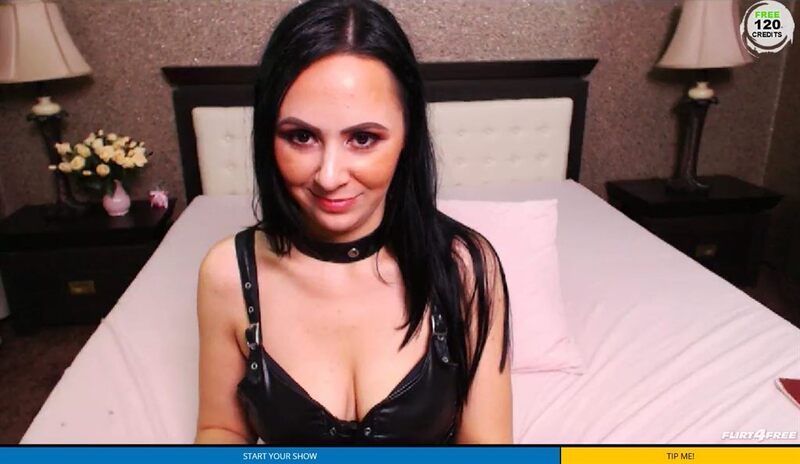 Do note that videos that were gifted or redeemed for free will expire after a certain amount of time and eventually disappear. You'll be warned beforehand in case you want to be nostalgic and watch them some more. Videos you've purchased will remain in your collection as long as your account is active.
As for how much these can cost, it's the same deal as all other prices on Flirt4Free: ranging from nearly free to prohibitively expensive. Know that you can also use reward points and VIP Free Passes to purchase VODs without spending a dime, so consider that before doing so.
Another great thing about Flirt4Free are the interactivity options it offers. Lots of models on Flirt4Free, shemales included, use remote controlled sex toys you can activate. There are 3 different types of them:

For the sake of brevity, a pink Interactive banner means that the model's sex toy can be activated by tipping her, the blue one means it can also be activated in other ways, and the purple one means that the model can also control your sex toy, if you have a remote controlled one. These banners show on the preview pictures of the cam rooms themselves. You can also look for them specifically by using the aforementioned View By button.
Mobile Site
Flirt4Free is, in my opinion, one of the best mobile cam sites in the adult industry. It has a solid, convenient interface and good quality video and streaming.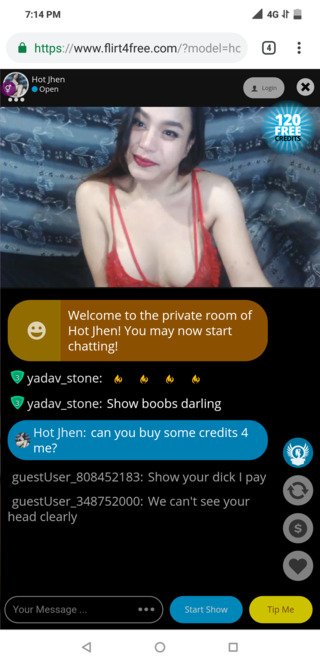 But, like many other adult webcam sites, Flirt4Free suffers from a common problem: The address bar blocks the top part of the screen unless you swipe up before going into a show so it disappears. On the other hand, typing in chat doesn't obscure the screen like it does in so many other premium chat sites.
Here's a helpful tip: You can click the left part of the screen (where the eye icon is) to hide or reveal the chat.
Flirt4Free more than makes up for that with its mobile cam2cam feature, which is a rare thing for any cam site to have. It works amazingly well, and lets you video chat with your favorite models as you would with a friend who lives abroad.
Premium Membership and Rewards Program
Getting upgraded to Premium Membership simply requires putting a valid credit card on file.
A small charge is made to your card, then refunded for validation purposes. Afterwards you receive an immediate 120 credit gift from Flirt4Free. You can stretch that into a decent amount of show time, which is fantastic for checking out the cam site before deciding whether to spend any money on it.
Premium Members can be informed when their favorite webcam models are online. They also receive notifications when a performer on their favorites list uploads a new video. Premium Users can even exchange private emails with their favorite webcam performers, through Flirt4Free's proprietary email system.
Overall, being a Premium Member on Flirt4Free greatly enhances your ability to direct the show and get what you want out of it. Unless you are a paying member, you are unlikely to get what you want on any premium cam site, Flirt4Free included.
There's an even higher level available, VIP membership. It is a service based on a monthly subscription fee, that can be canceled at any time. This membership status retains all the benefits of previous membership status, while adding some very worthwhile new ones.
First, here's how much it costs: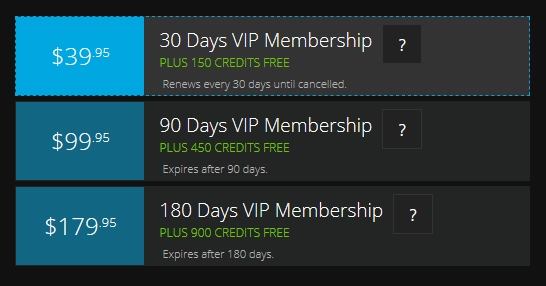 Naturally, it costs less the longer the subscription you've purchased is.
VIP users show up in chat with their names in gold. This lets the live shemale chat models know you're a high roller, who is worthy of extra attention. They have free access to 150 of Flirt4Free Daily VOD videos monthly. Along with that, they gain unlimited access to any recorded webcam chat they've participated in, and a handful of other fantastic benefits:
Full access to the photo galleries, free hour long featured videos, and 3 free videos added to their private stash at the end of each month. Any video purchases are discounted further, by 5 percent. In addition, Flirt4Free's private email server will let you send attachments, along with messages to your favorite models upon upgrading to VIP.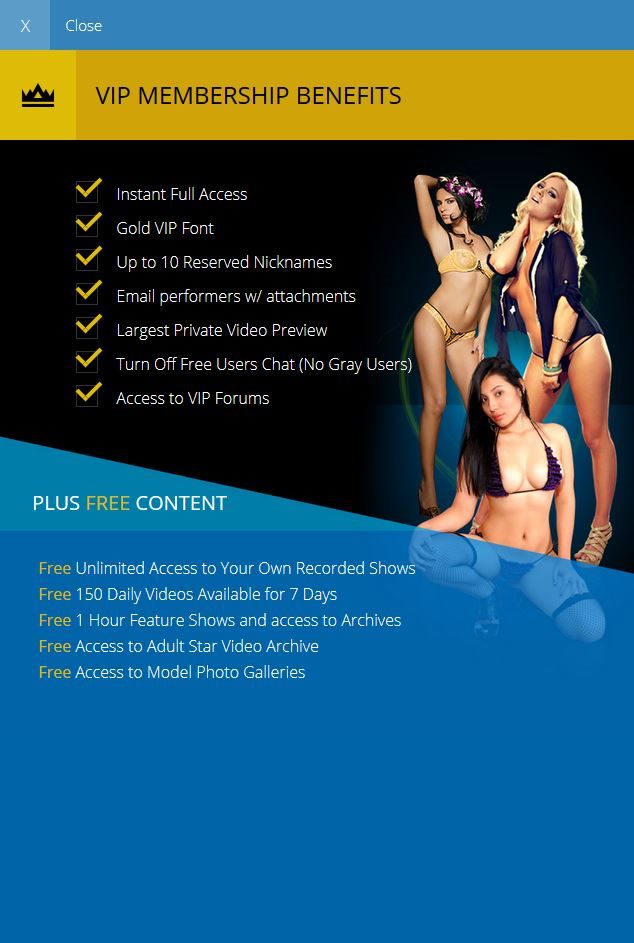 You also get the option to share your webcam with a model even if you're not in a private chat with her, whether you're on the desktop or mobile version of the site. The only restriction is that you can't do so in voyeur mode, since the model is already in a one-on-one show with someone else and that would just distract her, but that's about it.
From my experience, if you frequent Flirt4Free, it is more than worth the its cost.
Aside from this, there's Flirt4Free's rewards program, which every registered member of the site is entered in.
By spending credits on Flirt4Free's paid services, you generate points that you can then redeem on Flirt4Free's Rewards Marketplace to purchase anything from VODs, promo codes that give you a discount on your next purchase, digital gifts you can send your favorite models and more. Generating points also increases your membership rank, which other members and models can see, and which can therefore cause you to attract much more positive attention to yourself.
The downside is that it takes a long time to generate points through this program. This won't be much of a problem for dedicated members, but I know that many of you will be much more casual viewers than a guy who spends his time writing reviews about the top shemale cam sites.
Registration
Registration is as simple as it could be. All you need to do is provide your desired chat nickname, password, email address, and that's it. The email confirmation is nearly immediate.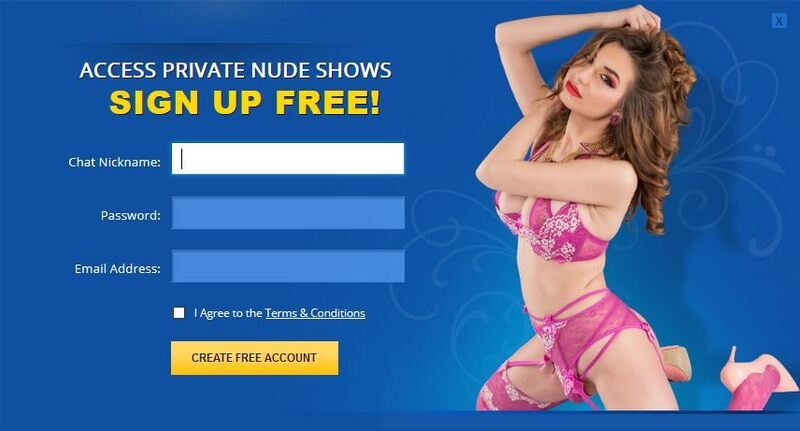 Since its absolutely free and takes less than a minute to do, it is highly recommended to register on Flirt4Free. It unlocks a ton of awesome features.
Non-registered users are able to browse all the free rooms they want, transgender rooms obviously included. However, after an hour's time they're booted and banned from free rooms for a 24 hours. Guest users don't even get to set up username. That assures that they will get no attention from Flirt4Free's sexy shemale webcam hosts. They can't buy credits, and they can't participate in private shows.
Even just the free registration unlocks the restrictions on the free rooms. It gives you the ability make your own username, and changes the color of the font so you get more attention from the models.
Accepted Payment Methods
The accepted credit card types are as follows:
Visa
MasterCard
MasterCard Maestro
Diner's Club
Discover
JCB
And these are the available alternate payment methods:
Security and Quality Assurance
Flirt4Free is a powerhouse in the adult live chat world, and is as secure as it is reputable. It also holds many awards from Xbiz, as well as the Free Speech Coalition, and CyberSocket's adult website rankings. It also claims to be a 100% private and secure cam site, which I concur with.
Flirt4Free uses the latest encryption methods, including HTTPS and SSL to secure your connection and personal information, as well as best and most trusted payment processors to handle your transactions and ensure their discretion. Flirt4Free even allows you to change your privacy preferences as you please.
Customer Support
Flirt4Free's customer service is noteworthy. It has a team of dedicated support representatives available at most hours of the day that you can contact in several different ways:
Email
Phone (both US and international numbers)
Live chat
Postal (snail mail)
Live chat
Billing support (available for each billing method)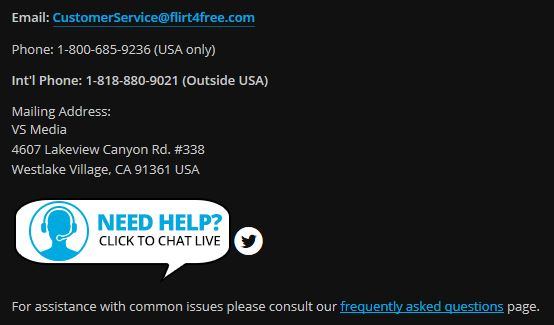 Flirt4Free also has a wonderfully comprehensive FAQ section to aid you in case you don't fully understand something, have a common technical issue or are just curious about the site and its many features.
In Conclusion
It's hard not to recommend Flirt4Free to anyone who enjoys a good adult webcam show. This well-rounded cam site has enough options to satisfy all, great ways to save money and excellent quality of both models and shows.
As for transgender cam shows, this site is a bit lacking in variety, but is still a good platform to check out.