Flirt4Free's Trannies Reviewed - Showing You All They've Got
Last updated
November 04, 2018
Flirt4Free is a powerhouse in the adult live chat world, holding my number four ranking in the category of Girls. They also hold many awards from Xbiz, as well as the Free Speech Coalition, and CyberSocket's adult website rankings.
But that isn't the section you came for. No, today we're celebrating a different kind of girl, packing a bit of a surprise.
Returning for my review of Flirt4Free's trannies, I still find myself enjoying Flirt4Free's layout immensely. Its gentle on the eyes, just like the models you'll find occupying all their webcam feeds. It should go without saying, this applies equally to their live shemale chat rooms as well.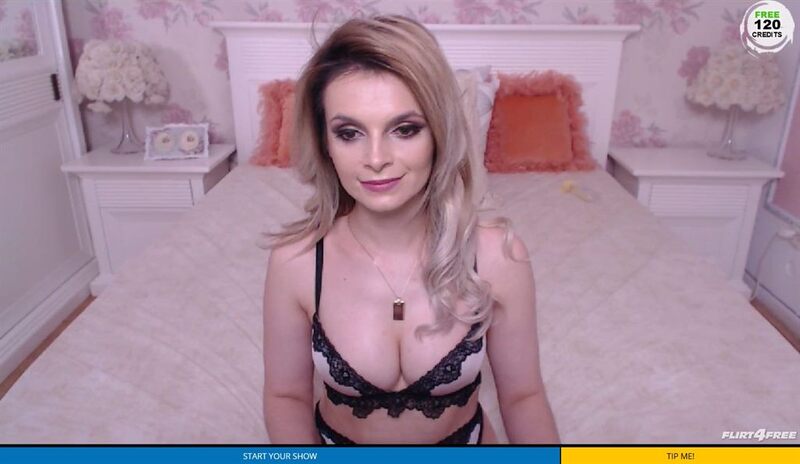 Navigation is a pure pleasure, handled via a floating drop-down menu that scrolls along with you as you explore.
Come with me and let me take you on a tour of all Flirt4Free's features. That, and the live shemale chat rooms on offer. I'll lay out all the finer details to guide your journey, and help you decide if you've found your haven for dolls with balls.
Becoming a Member
Registration is as simple, as simple could be. All you need to do is provide your desired chat nickname, password, email address, and that's it. The email confirmation is nearly immediate. It won't be long before you're back with the transgenders on cam.
It is highly recommended to register on Flirt4Free. It unlocks a ton of awesome features. If you don't get the email right away, it's important to check your spam filter too.
Members get all the benefits,
Non-registered users are able to browse all the free rooms they want, transgender rooms obviously included. However, after an hour's time they're booted and banned from free rooms for a 24 hours. Guest users don't even get to set up username.
That assures that they will get ZERO attention from Flirt4Free's sexy shemale webcam hosts. They can't buy credits, and they can't participate in private shows. Its not an ideal state of being.
Even just the free registration unlocks the restrictions on the free rooms. It gives you the ability make your own username, and changes the color of the font so you get more attention from the models. It's a wholly superior experience to be registered, rather than a guest.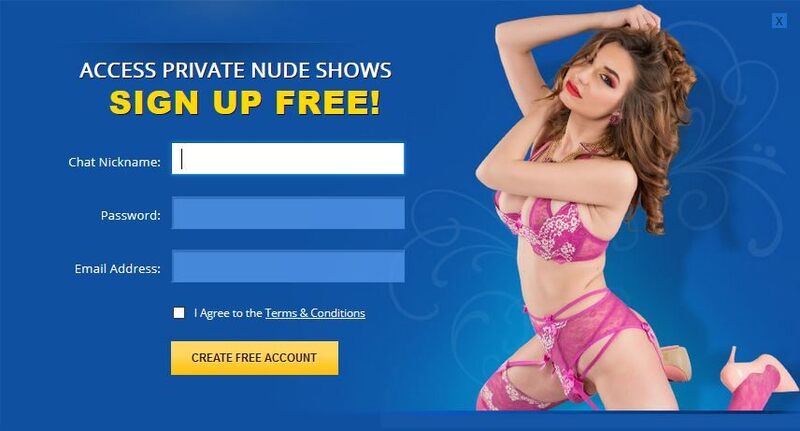 Free membership has become something of a standard across the live cam world, and this site is no different.
What is a little different, is that getting upgraded to Premium Membership just requires putting a credit card on file.
A small charge is made to your card, then refunded for validation purposes. Afterwards you receive an immediate credit gift from Flirt4Free. And it's not just a handful of credits they try to entice you with either, its 120 of the little beauts.
If you're careful and shop around like I did, you can stretch that into a decent amount of show time. I managed to get a 6 minute private show, in a 20 credit per minute transexual live cam room. I just selected the live shemale chat room that appealed to me, and I was free to enjoy it for the duration.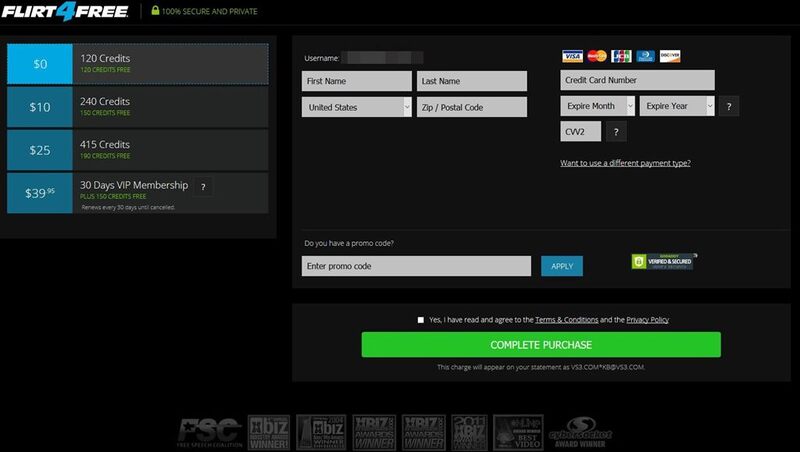 The real value comes in taking advantage of their first time credit buyer prices.
Flirt4Free not only pledges never to take advantage of you, but they also promise not to let anyone use their site to do the same. They have a top quality SSL Security Certificate through GoDaddy.com so you can feel confident that your billing process is secure, and properly encrypted.
Premium Membership and Rewards Program
So why should you buy credits on Flirt4Free? Because it turns you into a Premium Member.
Premium Members can be informed when their favorite webcam models are online. They also receive notifications when a performer on their favorites list uploads a new video.
Premium Users can even exchange private emails with their favorite webcam performers, through Flirt4Free's proprietary email system.
Overall, being a Premium Member on Flirt4Free greatly enhances your ability to control the show and get what you want. Unless you are a paying member, you are unlikely to get what you want on Flirt4Free.
There's an even higher level available, VIP membership. It is a service based on a monthly subscription fee, that can be canceled at the user's behest. This membership status retains all the benefits of previous membership types, while adding some very worthwhile new ones.
VIP users show up in chat with their names in gold. This lets the live shemale chat models know you're a high roller, who is worthy of extra attention. They have free access to 150 of Flirt4Free Daily VOD videos monthly. Along with that, they have unlimited access to webcam chat they've participated in.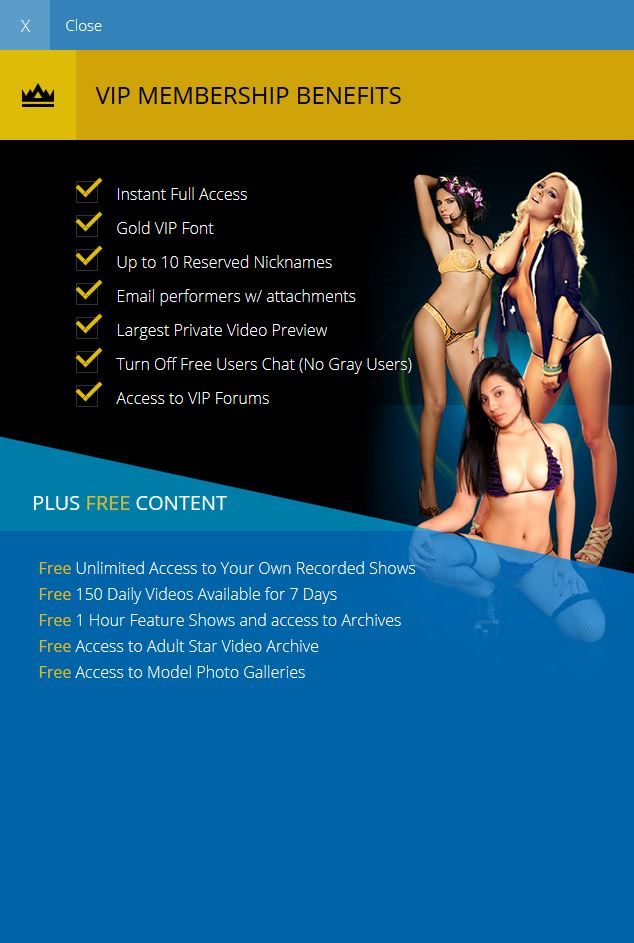 They have full access to the photo galleries, free hour long featured videos, and 3 free videos added to their private stash at the end of each month. Any video purchases are discounted further, by 5 percent. In addition, Flirt4Free's private email server will let you send attachments, along with messages to your favorite models upon upgrading to VIP.
All registered users are entered into the Flirt Rewards program, which builds up credits every time you make a transaction. These can be redeemed for promo codes, towards cheaper live shows and videos, coupons for free videos, and other prizes. It also provides your nickname with a badge, and a ranking number in the chat window. You have the option to hide this information if you so choose. Your Flirt Rewards status is good for the life of your account.
The Models
Flirt4Free.com has a sizable webcam performer base, chocked-full of sexy girls, and guys alike. Their overall numbers seem to be a bit lower than competing sites, and the choices of transgenders on cam available are especially limited.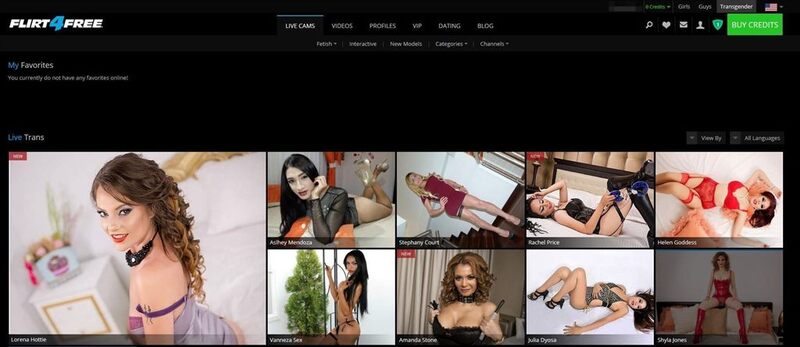 This has less to do with the choices Flirt4Free's ownership has made, and more to do with demographics. There just aren't that many trans-folk, hence not many transgenders on cam either.
That being said the numbers on offer are sufficient, with over 200 registered live shemale chat rooms, and a decent sized handful performing at any given time. There are roughly 5 to 10 available usually. You also have to keep quality in mind, because it seems that Flirt4Free holds some type of vetting process for their prospective models.
I say this because looking at the model pages, I noticed a distinct lack of ugly across all categories. Every site has it's lookers, but Flirt4Free seems to have made it a rule.
If you're looking for big, burly, manly trannies, they're in short supply on Flirt4Fee. There are other sites that cater to people those seeking a stronger lady.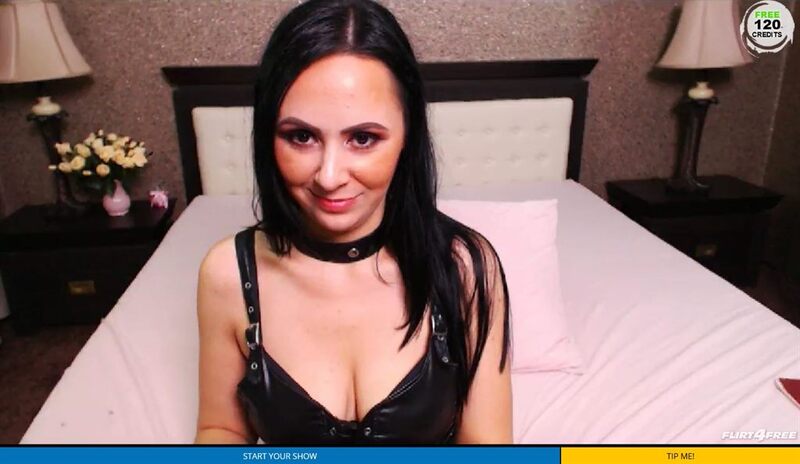 On the other hand, if its sexy, feminine little ladyboys you're seeking, Flirt4Free has got you covered.
Model profiles on Flirt4Free are a standard fare. There's a mini-profile you can view during a chat, which contains general information about the model. Category of performer is one field, Transgender for example. There are also body features, a list of likes and turn ons, things of that nature.
Any awards a webcam performer has earned will be displayed in the mini-profile as well, along with member comments.
Within the mini-profile is a link to the model's full bio. All the previous items are featured again, along with some expanded choices. Performers can host a sexy photo galleries in their profiles. In addition to the member comments, the most recent blog posts relating to that model are displayed.
There's a Wishlist section in each model bio, and an interactive Tip Goal counter. Those round out the differences between the full bio section, and mini-profiles.
Unique Features
The sheer number of interesting features hosted by Flirt4Free is insane, clinically so.
The various membership levels and the Rewards Program are just the tip of the iceberg,
You also have the option to join the individual model Fan Clubs. These are optional subscription services webcam performers can choose to host. The prices from model to model vary greatly. I've seen everything from 150 credits for 30 days, to some models charging thousands of credits monthly.
There also offer a feature called Show Passes, which are priced at $14.99 for 24 hours, or $49.99 for a full month. Despite offering separate packages for different prices and durations, it's important to know that this is a recurring monthly subscription. It will be drawn from your credit card until you cancel it.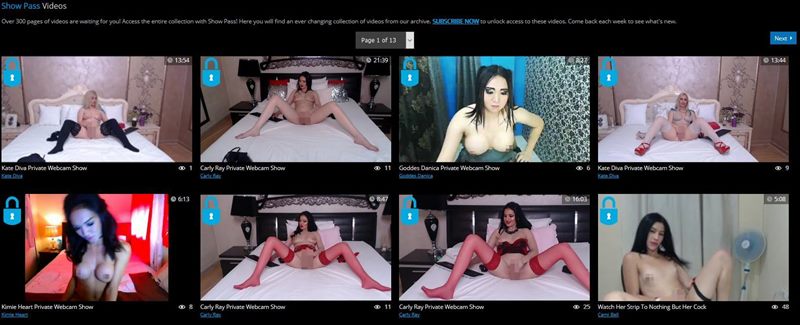 This grants you access to a separate video gallery, barred to all but Show Pass holders.
Flirt4Free also offers some different options than the usual interactive, tip activated sex toys.
The supported toys for the models, are offered by Kiiroo, We-Vibe, OhMiBod, and Lovense.
These toys vibrate in response to the thrusts into your Fleshlight Launch. It can be a fun, intimate way of connecting with webcam models. Only certain models will support this option, and it requires a smartphone application to enable connectivity.
Flirt4Free also hosts a Blog section. It's main purpose seems to be as an area used to celebrate models who have achieved high rankings and awards.
Chat Types
There are a wide variety of chat types to choose from, starting out with the free chat. Flirt4Free refers to their free chat rooms as Open Rooms. All users can access these chats, but as mentioned previously, guest users will be booted after an hour.
Flirt4Free just might have one of the widest range of choices when it comes to chat types.
This is all of them:
Open Room
This is Flirt4Free's free chat level. These rooms will typically feature lots of tipping. That means lots of chances to see a bit of nudity, but not much. This is the place to introduce yourself, work a little of that sweet talk, and to choose a paid chat variant.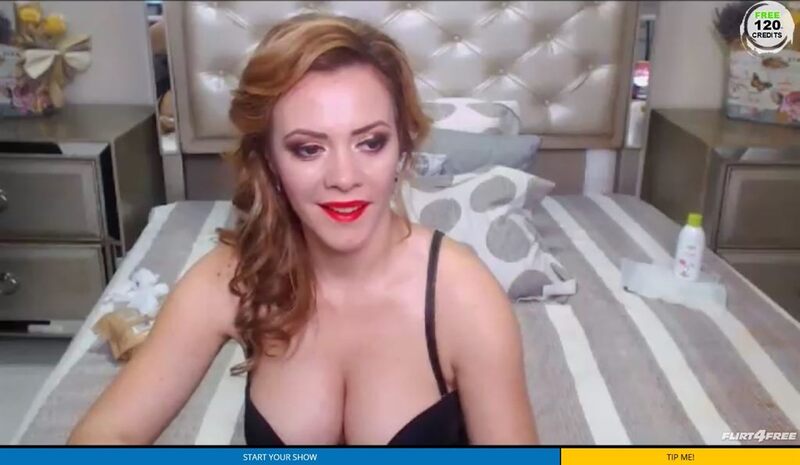 Private Chat
There are two levels of private chat on Flirt4Free, Standard and Premiere rooms. The standards range in cost from 5 credits to 60, while the premiere range in cost from 70 to 120 credits. The difference between the two types of rooms, is that the girls listed under Premiere have been working on the site longer, and have proven themselves as worthwhile performers which users love. Cam2cam is always available in this mode.
Voyeur Mode
For a cost of between 10, and 40 credits per minute, registered users are allowed to take a peek into an active Standard, or Premier Chat room. This video feed is full sized, but bereft of any audio. This is a measure to protect the anonymity of the other users.
Feature Shows
Feature Shows typically star either the top Flirt4Free webcam performers, or well known pornographic talent engaging in pre-scheduled shows at a rate of 30 credits per minute. These shows are completely free, if you have a VIP subscription.
Multi-User Chat
Rather than get a private show, you can set up a Multi-User show where other users can join in. If you are the first person to start the show, you can activate cam2cam, otherwise you'll just have to type and watch. As many users can join this room as they want. It's less private, but it's also less expensive by about a third.
Offer Show
Offered shows have become VERY unpopular with Flirt4Free models over the past 6 months, and is not frequently seen offered anymore. If you are lucky and you find one, you basically get to suggest a credit cost per minute and duration for a private show. If the model agrees, you get the show for the price you agreed on. If you leave early, you still pay full price, if she leaves early, you get a refund on the unspent time.
Party Chat
Party Chat is a free chat room which is available to all users. Basically, the models put on a show for everyone to watch, but only for as long as people continue tipping. The party will continue for as long as the tips are rolling. Once people stop, the show will stop.
Costs
Buying credits is extremely simple. There are 3 packages on offer, all sold at the same rate of 10 credits to every 1 USD, outside of any discounts. They're arranged as such:
500 credits for $50.00
1000 credits for $100.00
2500 credits for $250.00
Apart from that, there's a completely separate bonus pricing scale for first time buyers, and it goes like this:
Credit card validation = 120 Credits absolutely free.
$10.00 USD = 90 Credits + 150 free for a total of 240 Credits.
$25.00 USD = 255 credits + 190 free, a 415 Credit total.
The accepted credit card types are as follows:
Visa
MasterCard
JBC
Diner's Club International
Discover
And these are the available alternate payment methods:
Epoch
PayGarden
BitCoin
Money Order, Cashier's Check, and Personal Checks sent by mail.
Finally, there's an option for sending money through direct wire transfer. Direct wire transfers require a minimum required transfer amount of $10,000.00 USD. This option requires contacting Flirt4Free directly, to receive the relevant forms.
Support Options
The support options featured by Flirt4Free are also numerous, featuring support by both Email, and snail mail, with the company holding a physical address in the United States.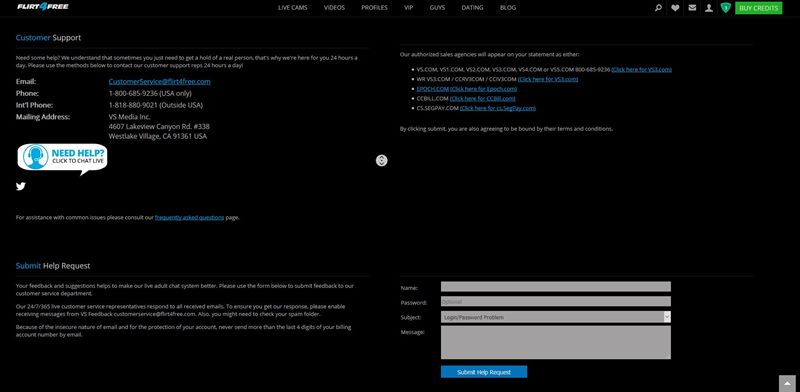 They also have a US customer service line, an international number, a Live Support Chat section, along with separate billing support numbers. Also there's a very detailed FAQ, thought it seems to need some maintenance.
Quality
Cam quality on Flirt4Free is a mixed bag, but mostly decent across the platform. The minimum quality I noticed in my review of Flirt4free's trannies was 480p. The top rated webcam performers usually have a minimum of a 720p setup, up to 1080p full HD. Flirt4Free has no support for greater resolutions.
Pros Vs Cons
Pros
Flirt4Free is a professional, well managed live adult chat site
They have large numbers of HD live webcam chat rooms
Flirt4Free goes out of their way to save you money, with lots of discounts and special offers
Registration is a breeze, and Premium Membership only requires a valid credit card on file
A huge number of girls, and guys are registered as Flirt4Free webcam models
Massive amounts of choices are present when it comes to chat varieties
Offer Chat Mode lets you negotiate your own credit per minute rate for shows
Flirt4Free has some of the cheapest live, adult chat rooms on offer
Cons
Flirt4Free also has some of the most expensive live, adult chat rooms on offer
The selection of transgenders on cam is somewhat limited, but no more than most other sites
Their FAQ section needs some maintenance
Wrapping it Up
Coming back for my review of Flirt4Free's trannies was a pleasure, and I was blown away with the sheer quality of model's on offer. Sometimes I find myself having to ignore bad looking fake tits, or lousy makeup jobs in the transgender live chat rooms featured by other sites.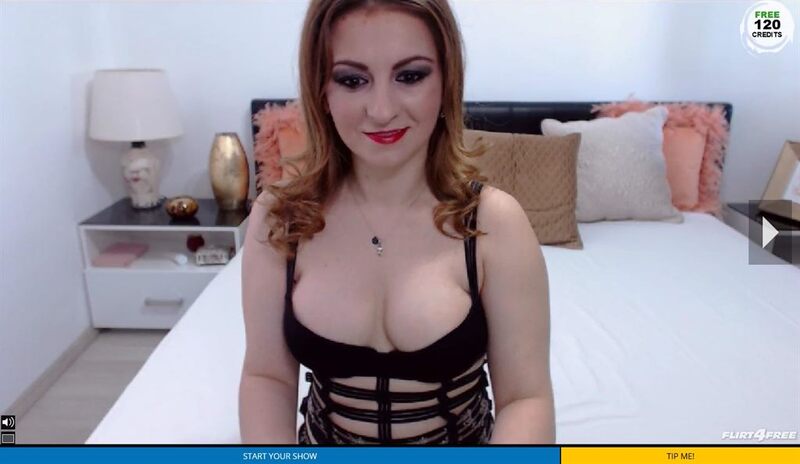 But my experience with the transgenders on cam featured by Flirt4Free was like visiting a completely different world. I found them to be feminine everywhere, except where it counts, the cock. I saw a many a fine, fine lady, packing a dick that could double as a police baton.
Aside from the quality of webcam performers, Flirt4Free goes above and beyond in doling out the discounts. They have such a range of ways to save money, it almost feels like you're stealing.
I've reviewed other tranny sex cam sites in my days, and they all had something to offer, but its possible I've found a new favorite in Flirt4Free.This is a site I can recommend without hesitation, and I would hope you'll pay them a visit soon. Thanks for reading, and I'll see y'all next time.