Chaturbate.com Review - Watch Shemale Cams for Free
Last updated
January 10, 2021
Chaturbate is the perfect shemale webcam site for the casual viewer. It's freemium, meaning you'll see lots of hot trans action right in the open chat without having to spend a dime, but that's not even its biggest draw. No, that would be its absolutely massive collection of gorgeous shemale cam models.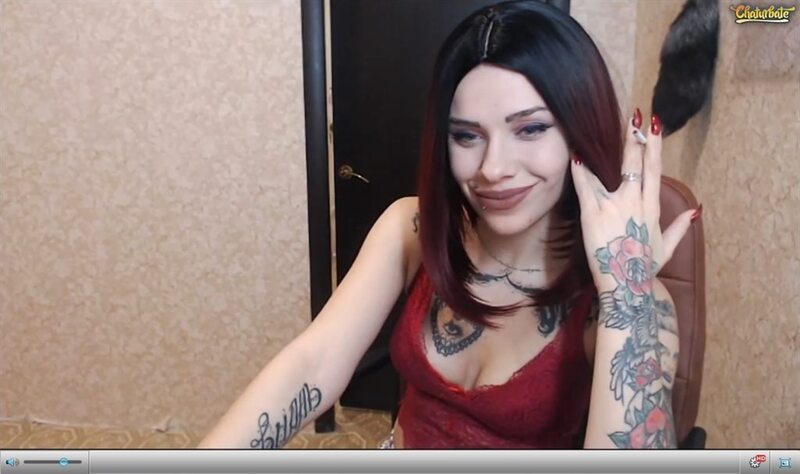 Frankly, Chaturbate's selection of tranny babes is so astonishing that most people who see it don't bother with reading a review. Which is a shame, since knowing more, especially about something you intend to spend money on, is never a bad idea.
If you want the short version, then yes, Chaturbate is definitely worth your time and money. If you want to learn how to save money on Chaturbate, better navigate it and set up cam2cam, then read on.
Pros Vs Cons
Pros
Tons of hot shemale cam models
Good amount and variety of shemale couple cams
Lots of pre-op tgirls
Most cam shows are in HD
Sex and nudity in the open chat
No pop-ups, and ads are unobtrusive
Cons
No video preview of chat rooms
Cam2cam isn't implemented and is hard to set up
Unhelpful search engine and limited categorization
Lackluster customer support
The Models
Most tranny webcam sites don't have more than 100 shemale performers online at a time, even on a good day. It's just hard to come by talented trans performers who are also good-looking. Chaturbate, though, somehow manages to have an average of 250 ts cam girls online at a time, most of whom are drop-dead gorgeous and adorably flirtatious.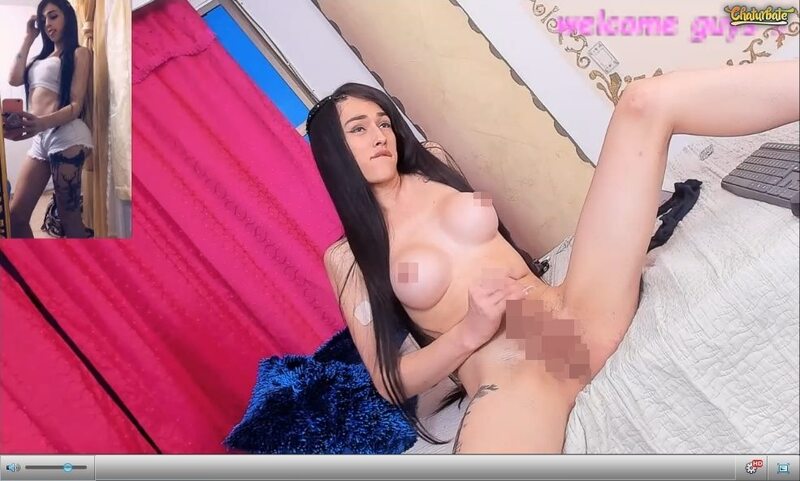 Click on the Trans tab on the top-left of the site and you'll see for yourself: rows upon rows of hot tranny action. You'll also spot more than a few couple cams, and of different varieties. This is a rarity on most sites, but Chaturbate has them in quantities that'll make you believe that it's the norm. Would you like to see two trannies going at it? A tranny who sucks off a ripped dude, fucks him and then lets him mount her? A girl going down on a well-endowed shemale? Chaturbate has it all. I've seen and enjoyed it enough to know that Chaturbate is one of the best shemale chat site for tranny couple cams.
But Chaturbate's fantastic variety doesn't stop there. It also has more post-op girls on cam than any other website in the industry. Some of them even look so much like natural born women that only a very discerning eye could tell the difference. They, of course, perform better on average than a typical female cam model since they know exactly what their audience — most of whom are male — wants.
And, there's even more. Chaturbate has actual intersex models using its platform. In case you're not sure what that is, it's simple: it's either a guy or a girl with both male and female genitalia. As in hermaphrodites. Yes, there's more of them than you thought, especially if the number you had in your mind was zero. And yes, Chaturbate usually has several actual intersex cams live at any time. I honestly can't think of any other shemale chat site that can boast that.
Whatever kind of shemale cam babe you're looking for, you can probably find her on Chaturbate. That is, if you spend some time doing so, as Chaturbate's tag system is not very helpful. Chaturbate doesn't have any oversight on it, which means that you're going to see a lot of irrelevant result in any search you make or category you explore. Thankfully, this isn't that big of a deal with only 3 or so pages of shemale cam shows to sift through. This is made even less of a problem with the categories you can find at the bottom of the site. Using them, you can filter by gender, age, region, show type and price.
Just know that most of the tgirls on Chaturbate are Eastern European. Most of them speak English and can communicate with their Western viewers without any problem, though. But, if you're looking specifically for, let's say, black trannies with huge dicks, Chaturbate will have them, but not a whole lot of them.
Video Quality
I can safely say that the vast majority of people will be very pleased with Chaturbate's video quality. It's a splendor to behold, as most models on Chaturbate, trannies included, stream not only in HD, but in full 1080p HD. At times, you can even find chat rooms in glorious 4k. Hell, even the ones that don't use an HD camera usually stream at a minimum of 576p, which is great, since the models on Chaturbate or the ones you'd really want to see every detail of.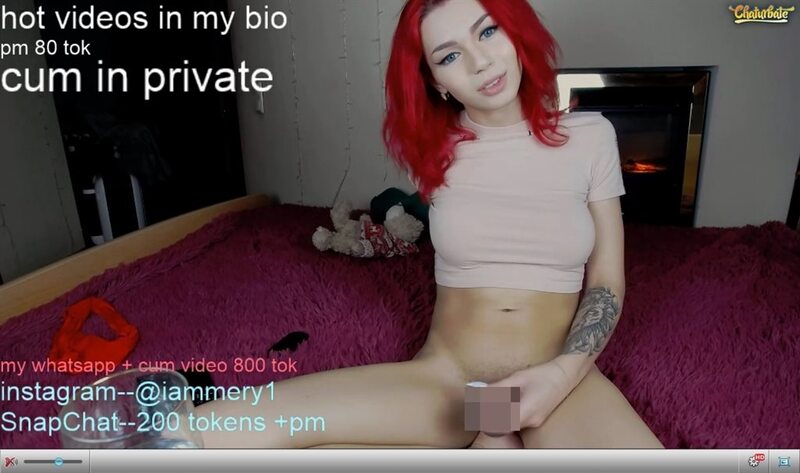 The quality of the Chaturbate's streaming is also fantastic. The shows load fast, rarely stutter and have no buffering issues whatsoever. Do note that, sometimes, the shows don't load at their highest possible quality, so make sure to check that they do by using the cog icon in the stream.
You can search specifically for HD cam by using the aforementioned categories section.
Prices
Chaturbate is fairly low-cost. You can find cheap cams here, but you can also find expensive ones. Overall, though, and mainly due to the site's massive selection of cam babes, Chaturbate can fit your budget no matter how small or large it is.
Chaturbate uses a simple-to-use 10-1 ratio for its tokens, meaning 10 tokens are worth about $1.00. This can change, though, as the site offers you free tokens for purchasing bigger token packages.
Here are the basic packages offered by the site:

As you can see, buying more decreases gets you more bonus tokens for free, with the biggest package effectively reducing the cost of a token from $1.00 to $0.09. This may not seem like much, but remember that you're buying them in the hundreds. It makes a huge difference, and pretty much slashes prices down by %10. Spend enough time on this cam site and you'll appreciate this more and more.
As for the option to upgrade your account, I'll get to that later. First, let me break down for you the different chat types offered by Chaturbate and their various features and prices.
Chat Types
Chaturbate doesn't have a vast range of different show types, but it does cover all the bases.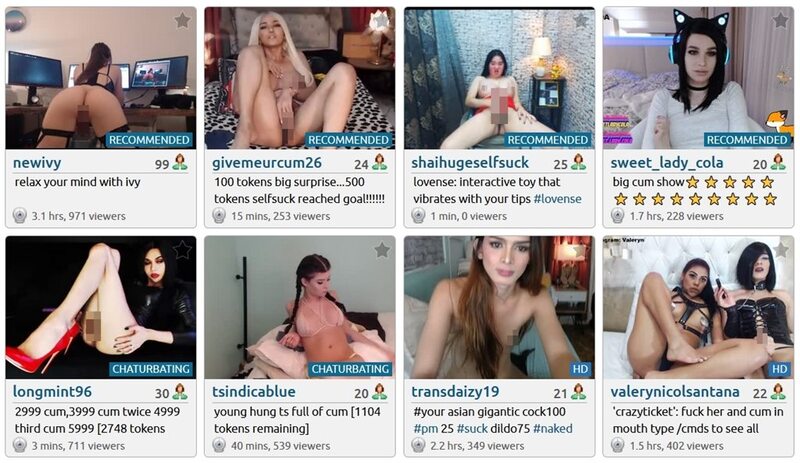 You can use the categories at the bottom to find specific show types, but you can't do so specifically for tranny cams, which means you'll have to sift through them to find what you're looking for.
Open Chat
This is the main reason why Chaturbate is on of the most popular ts webcam sites in the world. Chaturbate's open chat is a no-holds-barred amusement park of throbbing cocks and heaving bosoms. Most people take one look at it before realizing that this is a site they will surely enjoy a great deal.
You can feel free to chat with any cam model you'd like here, to ask her about her preferences, bio or just how her day is going. The vast majority will reciprocate kindly if you're nice, though some models outright ban you from writing in the chat if you have no tokens in your account.
You'll, of course, get much further and experience much more if you have some coin, as you will in any part of life. You'll get even more, though, if you spend it.
Speaking of which...
Private Chat
While Chaturbate is primarily a tip-based freemium site, its private shows are extremely enjoyable. To start one, click Start Private Show under the stream. Because there are so many tranny cam babes on Chaturbate, competition is high, which raises the quality of the shows even further. If you want to direct a gorgeous shemale cam girl to fulfill your kinky desires, there are very few options better than this one.
Furthermore, at an average of $2.70-$3.00 per minute and a minimum of $0.54-$0.60 per minute — depending on which credit package you purchase — private shows on Chaturbate are fairly affordable. You can even search for specific prices at the bottom of the site, although you can't also filter specifically for shemale cams so this doesn't help much.
There is a much bigger drawback to the site's private shows, though. Chaturbate doesn't have cam2cam implemented. You can open your own stream and give permission to the model you want to cam2cam with, but it's a pain in the ass to do so. If you're interested, here are the basics on how to do so: Click the Broadcast Yourself button at the top and click Allow when prompted, giving permission for the site to use your camera. Now, got to Settings & Privacy and set up a password. This way, only your chosen model — which you'll share the password with — can see and hear you. Finish by clicking the Update Settings button at the bottom.
Viola, you have your own cam room. Since not every model on Chaturbate is willing to cam2cam, you'll have to find one that does. Ask around. It may take you a while, but it's worth it. It's even got two-way audio included, and it's completely free.
Just know that some shows require you to pay upfront for a certain amount of minutes, usually around 5, but since most will spend much more time in a show than that, you can easily overlook that.
Group Show
Tagged as #crazyticket shows, Chaturbate's group shows don't even have a dedicated category since they are so disfavored. It's not really surprising since open chat is practically a group show. And yes, I know there's a link that says Group Shows, but it just redirects you to the site's spy show rooms (expanded upon below), so the link is obviously broken.
In any case, you'll rarely see any tranny on Chaturbate using this tag. If you do, know that it's a fairly simple concept: you can purchase a "ticket" for around 50 tokens (about $4.80) for a show, such as a selfsuck show or an anal show. If enough tickets are sold, any member who holds one gains access to the show and can view it until its set goal is reached. If not enough tickets are sold, the show is canceled and you are refunded the tokens that you spent on the ticket.
Spy Show
Some models on Chaturbate allow members to spy on their private shows for a cost low cost (usually around $1.00). This is a great option for anyone who doesn't have any interest in communicating with the performer and just wants to see some intimate action for cheap.
Voyeurs should expect to spend most of their time in this section, probably while sporting a boner they can punch holes with.
Exhibitionist Show
Playing with yourself while others watch you, as you may know, is quite a rush. Unsurprisingly, you're not alone in this, and some people don't even care about the money. In fact, they're here not to perform for you, but to have you drool over them as they get off on teasing you.
In these rooms, there is no way to tip the performer or take him or her private, but you can still chat and flirt. Most exhibitionists are men, although a fair amount of them are shemales and girls. All in all, this is a very laid back and experience, and knowing that the performer is doing this strictly for the enjoyment of it is thrilling to say the least.
Unique Features and Extra Content
There's not really a lot of extra content offered by Chaturbate. There are still the usual Lovense cam shows, where a model will let you activate her sex toy by tipping her so you can decide when she cums.
Some models allow you to record your sessions with them. These shows are then stored in your profile and a are free for you to watch and enjoy them at your leisure. To know if a show will be recorded, press the Start Private Show button and read the prompt. If recording is enabled, it will be mentioned below the price.
Chaturbate does lack a certain feature that, by this point, has become commonplace in most cam sites: video preview of the chat rooms. This is quite a shame, although Chaturbate does offer a picture preview of its rooms which updates every so often, so you can at least know what to expect when entering a cam room.
Mobile Site
Chaturbate's mobile site is fantastic. Its fast, slick and intuitive, while lacking any issues worth mentioning.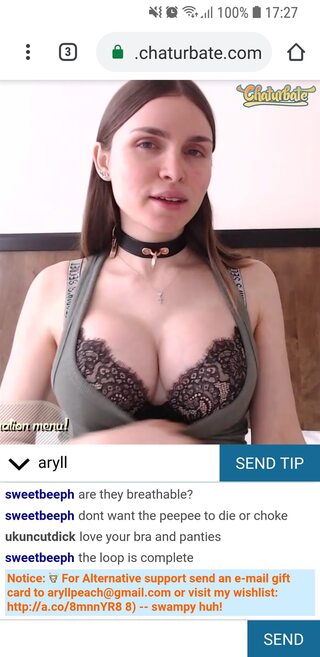 The site lets you easily resize the screen, and typing in chat doesn't obscure it. Basically, everything works as it should, giving you a great option for watching some hot tranny action on you phone.
Premium Membership and Rewards Program
Chaturbate doesn't have a rewards program. You can refer a friend to earn up to 10 tokens for every friend that ends up registering and 500 tokens for every friend that ends up broadcasting (broadcasters must earn $20.00 before you are rewarded).
Chaturbate does, though, have a premium membership; You can upgrade your account to become a Supporting Member of the site.
You get a few benefits for becoming one: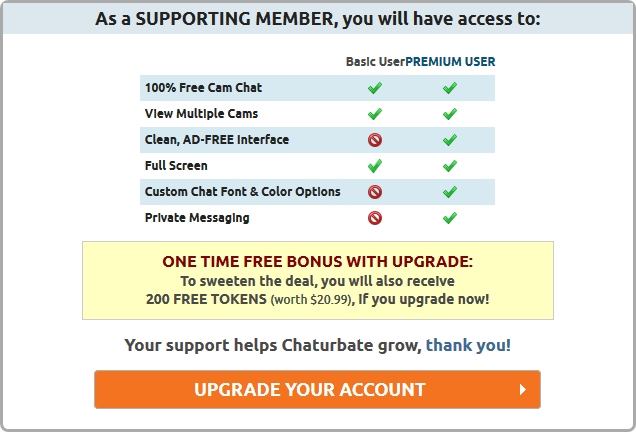 As you can see, the benefits are pretty minor considering it costs $19.95 a month. There is a very good reason for becoming a supporting member for at least one month, though, and that is the free 200 credits you get as a one time bonus. This means that, for the first month, this membership basically pays for itself. If you find yourself enjoying Chaturbate's paid features, there's really no reason for you not to take this offer. It can be canceled at any time.
Registration
No different from registering to most other cam site. You choose a username, password, email address, birthday and gender. Then, verify your email address by using the link inside the email Chaturbate sent you and you're done.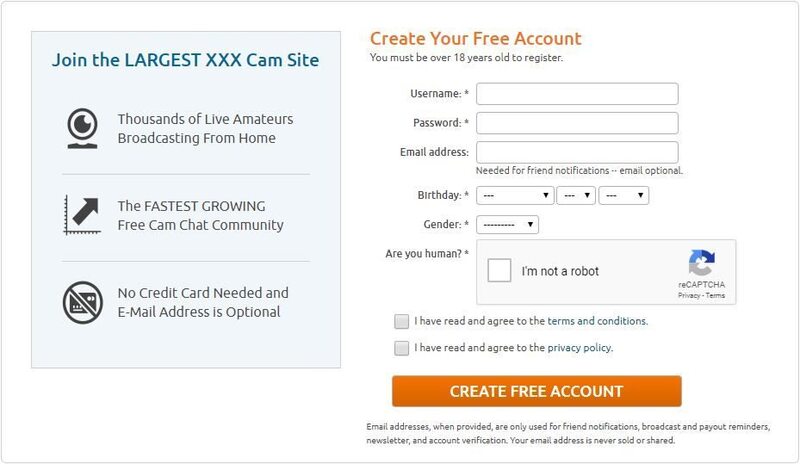 If you're worried about spam, don't be. You can always set up a new email, but Chaturbate will only send you friend notifications, broadcast and payout reminders and, if you wish so, its newsletter. It will never use, sell or share it with a third party.
Accepted Payment Methods
The accepted credit card types are as follows:
Visa
MasterCard
MasterCard Maestro
Diner's Club
Discover
JCB
American Express
And these are the available alternate payment methods:
BitCoin, Litecoin and many more Altcoins
Bank wire transfer
Security and Quality Assurance
Chaturbate uses pretty much every measure available to make sure you and your information is safe and secure. It even has a security center where you can check how strong your password is, your recent activity and current login session, to make sure your account has not been used by anyone other that you.
Apart from this, like most other adult cam sites, Chaturbate uses HTTPS and SSL encryption, to make sure your transactions are both secure and discreet.
Chaturbate's massive popularity pretty much forced its developers to turn it into one of the most secure shemale cam sites in the industry just to make sure they're asses are covered. Can't say fault them for that, nor can I complain.
Customer Support
This is one of Chaturbate's biggest shortfalls. The site has a very extensive and helpful FAQ section, but lacks any way to contact a representative other than through email, and they usually take days to reply.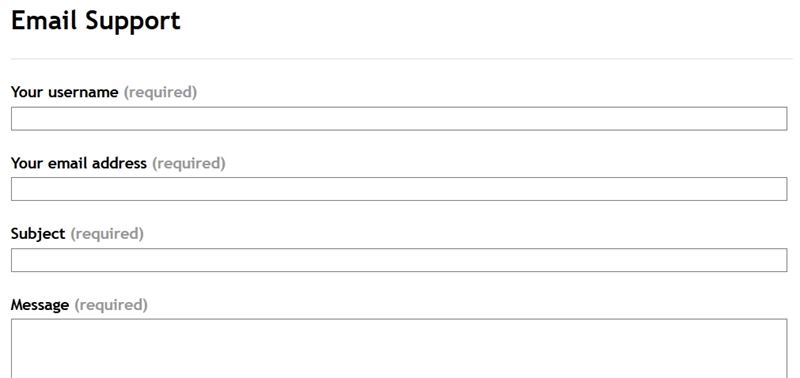 If you have a billing issue, I suggest making sure you can't resolve it yourself first by using the FAQ page.
In Conclusion
Chaturbate has very few shortfalls, and none of them are major enough for me to advise against this site. The lack of cam2cam may annoy some of you, but it should not impede your enjoyment for more than a minute or so.
On the other hand, Chaturbate has one of the best selections of live shemale cams you can find, and maintains video quality that will make your jaw drop.
Seriously, why haven't you visited Chaturbate already?