The Best Tranny Cam Sites for Phones
Last updated
April 18, 2019
Phones have recently became as popular a device for watching cam porn as computers are, but finding the best shemale cam sites to use on your phone phone is still a chore. Whether due to a lacking selection of tgirls, poor video quality or the site just not being optimized for mobile usage, good tranny mobile cam sites are hard to come by. So I wrote this list. Now, all you have to do is find which adult chat site fits your criteria and give it a visit.
---
MyTrannyCams.com
Other than being the best shemale cam site in the business, MyTrannyCams has been wonderfully optimized to work on mobile devices. It is a fantastic tranny cam site for phones largely due to how streamlined it is for ts lovers. MyTrannyCams' shemale-only collection of models is not only varied but impressively attractive and easy to sort through.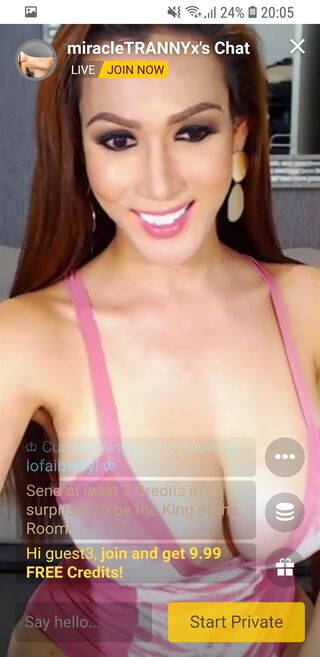 On most days and at most hours, you'll see close to 150 tgirls live on MyTrannyCams. Not all of them will have an available free chat, as some will be giving private shows. But generally speaking, the selection you'll have will be more than satisfying. The actual quality of the shows matches the quality of the performers. The vast majority of models on MyTrannyCams stream in HD, and their rooms are always perfectly framed by the camera. If you were ever annoyed because a performer didn't set up her camera correctly and so is only showing part of her face and body, than MyTrannyCams is likely a fantastic choice for you.
MyTrannyCams works fantastically well on both computers and mobile devices. It loads fast and the streams lack any technical issues worth mentioning. These are two slight issues on the mobile MyTrannyCams site, though: First, if you enter a chat room with the address bar still showing, without scrolling down to get rid of it, it will stay throughout the show and you wont be able to make it go away. Second, typing in chat can obscure the screen, which can be slightly annoying when you like to specifically instruct the performer. These issues are common on mobile cam sites, though, and MyTrannyCams has literally zero other issues on the phone. On top of this, it's one of the very few sex chat sites with cam2cam and two-way audio available on mobile devices. It costs a bit extra to enable, but it's worth it if you prefer your show to feel like FaceTime with a distant lover.
Sadly, MyTrannyCams can get pretty expensive. A model on the site costs can charge you as much as $4.00-5.00 a minute, and although you can find shows for as low as $1.05 a minute, MyTrannyCams still averages out to be more expensive than most of its competition.
MyTrannyCams knocks it out of the park when it comes to customer service, though. Once you scroll down and click the Online Support link you'll be redirected to a robust FAQ section along with information and links you can use to contact the site's customer support team. Not that you'll likely need it. MyTrannyCams has yet to give me any issues, and I've spent a considerable amount of my time doing hands on reviews of the site's many features and cams. If you do need some help, though, you can quickly contact support via email, phone and live chat with ease.
---
CamSoda.com
This is another top entry on my list of safe and discreet cam2cam sites. CamSoda is a simple-to-use freemium cam site that doesn't shy away from putting it all on display. The moment you enter it you're bombarded with so many tits, cocks and asses that you'll feel like a kid in a candy shop. Though, if you're only interested in shemales, your selection will be somewhat limited.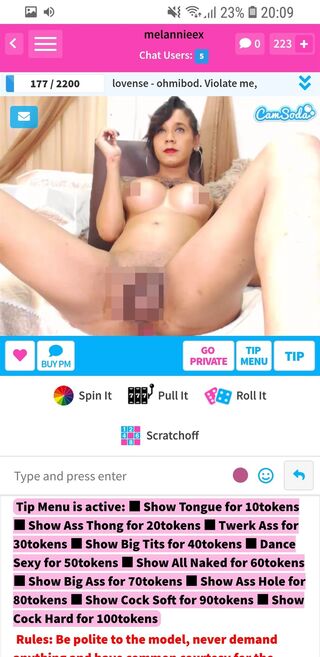 To start, the video quality on the site is genuinely impressive. So many of the cam shows on CamSoda are streamed in HD and that you can pretty much ignore those that are not and still be left with a plethora of shows to choose from. Also, while it's up to the models to enable cam2cam, it's actually 100% free on both pc and mobile and includes two-way audio (again, for free). This is mainly the reason why CamSoda is my top pick for cam sites with mobile cam2cam.
My main gripe with CamSoda is that you'll only see around a dozen or so trannies live on the site, which isn't much. You can press the cog at the top right of the site to change your preferences. The number of shows may be small, but their quality thankfully makes up for it, and makes it so almost none of them feel like they just take up space. On top of this, a lot of models on CamSoda use remote-controlled sex toys that you can activate via tips, including the shemales, so your experience on the site can be very interactive if you wish it to be.
Finding any particular model, fetish or type of show, though, is not going to be so easy for you. CamSoda's search and categorization features use a tagging system that is very inaccurate and lacks real oversight. You're actually better off not using it at all, and just sifting through the site's chat rooms manually.
Once you do find a cam babe that suits your taste and you decide to take things to the next level, you'll probably going to be surprised by how cheap CamSoda is. Most shows go for around $2.40 a minute, but you can find some that go for as low as $0.60 a minute. Some performers also offer free show recordings, so you can reminisce about them later.
On the technical side of things, CamSoda is fairly lightweight and loads faster than you would even expect. It's also free of any technical issues that might hamper your experience, and runs impressively well on both the computer and the phone. Which is good, since its customer support is not the best. There's an extensive FAQ section and live chat dedicated to resolving billing issues, but for anything else, email is unfortunately your only option.
---
LiveJasmin.com
A world-renowned cam site that puts quality first and refuses to compromise on it, LiveJasmin was mainly launched as a cam girl chat site. That doesn't mean that it has nothing to offer to anyone who prefers some adult shemale entertainment instead. On the contrary, LiveJasmin has a ton of tranny webcam rooms, upwards of a hundred online on average in fact.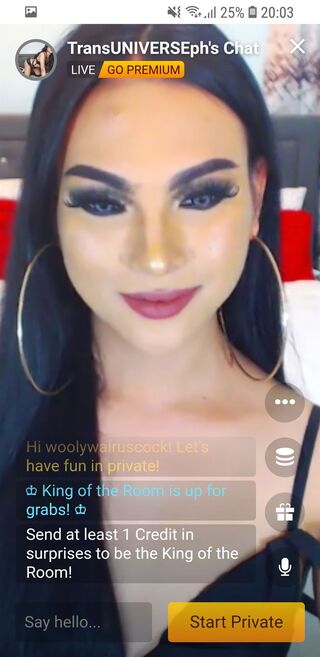 Feminine trans models are LiveJasmin's specialty. Many of the performers on the site are so ladylike that they could easily be mistaken for natural-born women. Until they flash their huge cocks, that is.
The site's video quality is also exemplary: Most performers on LiveJasmin stream in 720p HD at bare minimum, and so few stream in non-HD quality that it's actually easier to find rooms in 1080p. But, even those shows don't go below 576p HQ. The shows are also strikingly well-directed, with the model being well framed by the camera and kept in focus at all times.
The streams tend to load fast and run well, with no stutter issues whatsoever. The site also works beautifully on mobile devices, and LiveJasmin even has an app that makes things even simpler, faster and slicker. It's also one of the few cam sites with cam2cam available on mobile chats, but unlike on CamSoda, LiveJasmin's mobile cam2cam costs money. It may only be about a dollar a minute on average, but it can be a lot if you frequent the site.
My main gripe with LiveJasmin is its prices. A private show on the site, for example, costs around $2.70 a minute, which is about 10% more than on other premium sex chat sites. This may not seem like much, but it adds up. LiveJasmin does give you some free credits, but not that many of them.
LiveJasmin does, however, know how to treat its members. It has a fantastic FAQ section and a responsive customer support team that you can contact 24/7 via email, phone and live chat. Whatever issue you may have, it will most likely be resolved quickly.
---
xLoveCam.com
xLoveCam is fairly well-rounded. It is a premium cam site that doesn't force it's models to stay clothed in the open chat, and even features a topless theme on Mondays. It has all you'll need to have a fun cam show with a good-looking shemale, and is cheap enough to be considered even despite its relatively small selection of tranny models.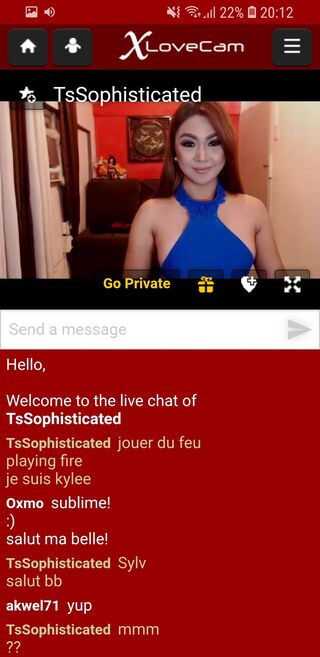 xLoveCam has around 25 ts cam rooms live on average, but they all are usually very enticing to watch. They are pretty varied in both ethnicity and body type, so you'll probably have something that will suit your taste regardless of the smaller collection of cam shows.
xLoveCams shows are also fairly cheap. Private shows cost at most €2.50 a minute and a minimum of €0.65 a minute. You will honestly have no issue finding a great trans cam show that's within your budget here.
The downside to the site is obvious to anyone who visits it: Once you enter a show, you have to wait about 10 seconds before it buffers to its maximum video quality. Once you do, you'll notice that the overall video quality on xLoveCam doesn't quite measure up to that of the other shemale chat sites on this list, with many of the tranny models on the site streaming in 576p HQ. Some are even tagged as HD when they are actually HQ, which can end up just disappointing you if high video resolution is a top priority for you.
Generally speaking, xLoveCam works well on most browsers and mobile devices. The buffering issue may be annoying, and is prevalent on all platforms, but you get used to it fairly quickly since xLoveCam doesn't really have any other technical problem. They also have mobile cam2cam that works perfectly.
In case things don't quite work perfectly for you, though, xLoveCam has amazing customer support which you can contact via email and live chat. From experience the representatives are a pleasure to talk to. This, alongside a detailed FAQ section, will make sure you leave the site satisfied.
---
Chaturbate.com
Chaturbate is among the most popular cam sites in the world, and there's a very simple reason why: No other adult chat site offers the massive collection of cam rooms that Chaturbate has, let alone for free. Not only does Chaturbate has a massive selection of tranny cam rooms, around 250 of which are live at all times, but it's a freemium chat site that doesn't use any intrusive ads or pop-ups.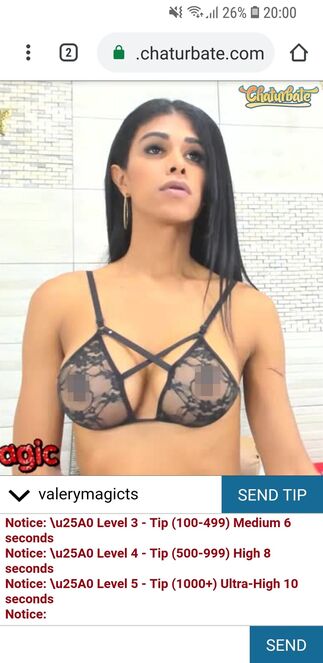 Chaturbate may have a huge selection of tgirls, but it's not because the developers behind this veteran sex chat site chose quantity over quality. The trans girls on the site are a sight to behold, and they live to get you hard.
The video quality of their shows is also noteworthy: Many of the streams on the site are in HD and have eye-popping clarity. They also lack any technical issues, which, given the amount of shows the site hosts, is pretty impressive.
Sadly, you won't have many options if you want to quickly search for any particular thing. Chaturbate's categorization system is messy and inaccurate, and its search engine is just unhelpful. Also, the site lacks any video preview feature, which means that you'll have to enter a room to truly find out if the model is to your liking, as pictures say very little in comparison.
Thankfully, Chaturbate works beautifully on mobile devices, especially on smartphones. It lacks any real issues, technical or otherwise, and the shows load very quickly. The lack of video preview is not such an issue on mobile, and it makes the site very lightweight and slick to use. You can even drag the bottom of the screen to resize it, which is handy. You can't make the address bar go away, but it's not much of a bother. Chaturbate has no cam2cam implementation though, so this site is mainly for users who just want a tip based ts chat site that's also great on mobile.
If being intimate with the model is what you want, it's not going to cost you much. Chaturbate may be freemium, but it's also cheap for those who want to take things to the next step and open up a private chat. At an average of $2.50 for a minute and with generous deals when purchasing tokens, Chaturbate is cheap even compared to most premium cam sites.
Chaturbate works flawlessly on most devices, so you probably won't experience any issues, but if you do, the site has a decent FAQ page, but no much beyond that. There's email support, but it can take days for you to get an answer, and it's your only way to contact the site's customer service team.
---
In Conclusion
All the sites above are optimized to work on mobile devices, are highly secure, discreet and have great qualities that justify them having a place on this list. Only one of them, though, is the best tranny cam site, and that is MyTrannyCams. It is not only the most secure tranny cam site out there, but is just a joy to use and explore. It's slick, has impressive video quality and a wide variety of cam babes, along with fantastic cam2cam implementation.
If, after reading this article, another cam site on this list caught your eye, feel free to give it a try. All the above chat sites are amazing in their own right, and I picked them solely due to their merits. But, if I have to recommend you just one of these sites, I'll go with the overall best of the best. If you're on your phone, go to MyTrannyCams now, try it out, and become a believer.