5 Best Asian Sex Chat Sites for Mobile Phones
Last updated
June 22, 2019
When you're looking for Asian cam sites to enjoy on your phone, you're probably looking for ones that work well on mobile devices along with being excellent overall. I've searched for the best mobile Asian cam sites and listed the top 5 among them so you can have some fun on the go with Asian beauties. There are, of course, more great Asian cam sites for phones, but these are the cream of the crop.
---
LiveSexAsian.com
LiveSexAsian is, by a fair margin, the best Asian cam site in the adult webcam industry. It's dedicated to bringing its members the best Asian sex cams possible, while also being convenient to use and highly affordable.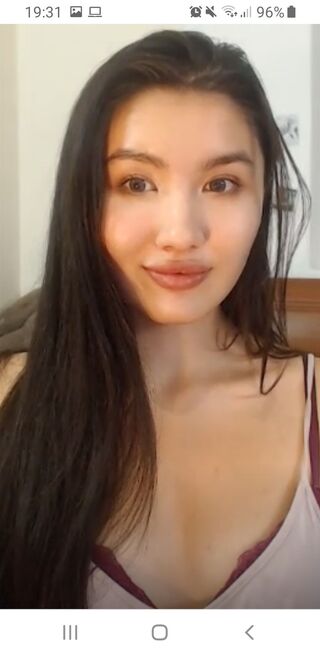 LiveSexAsian has close to 100 Asian cam girls online at any given time, and they're usually a sight to behold. It really does seem that LiveSexAsian goes out of its way to hand-pick its talents, as they are not only gorgeous but very professional and experienced as well. Also since LiveSexAsian only has Asian cam models, you won't be having any problems finding them. There are a few models on here that don't seem to be Asian, but there is such a small amount of them that you can just ignore them without having your selection diminished in any noticeable way. Even if your tastes are very particular, the site's accurate search and categorization systems will make sure that you won't waste much time looking for that special someone that can get you hard and throbbing.
The quality of LiveSexAsian's streaming matches the quality of its performers, with cam rooms loading quickly and running without any hiccups like network latency or screen tearing. In addition, most models on the site stream in HD. As you can probably see from the picture above, on mobile, cam shows open to a large window showing the model's room in full view. The chat is visible at the bottom of it, semitransparent, and can be easily hidden by tapping the screen. Tapping and holding while in portrait mode lets you pan the webcam by tilting your phone sideways, so you always have a good view of the performer.
There are, however, a few small issues with LiveSexAsian's mobile site. First, pulling up the keyboard to type in chat obscures the screen, which can get annoying when you're not using two-way audio. There's also another issue that most cam sites suffer from on phones, which is that the address bar stays at the top of the screen unless you scroll down, before heading into a cam room, until it disappears.
Aside from these small problems, LiveSexAsian's mobile site is fantastic, and even features cam2cam if you want the model to see and/or hear you. Enabling it costs extra, but it's guaranteed to be an option in every sex chat, and it works amazingly well. Aside from this and the usual pictures and videos that some models offer their fans, LiveSexAsian doesn't have much in the way of special features. It focuses on giving you the best private experience possible, and passes with flying colors.
With all that said, you might expect LiveSexAsian to be prohibitively expensive, but you'd be wrong. A cam show on the site costs around $2.70 a minute for a private session. You'll also come across special promotions, sales and discounts every now and again that'll make things even cheaper. With everything taken into account, LiveSexAsian actually becomes one of the cheapest Asian cam sites in the industry.
Overall, LiveSexAsian is a fantastic adult chat site that really makes sure that you have the best bang for your buck. It works amazingly well on phones and tablets and makes sure things stay smooth with a comprehensive FAQ page and a responsive customer support team. You can contact customer support 24/7 via email, phone and live chat, so whatever happens, LiveSexAsian's staff will be there to aid.
---
LiveJasmin.com
LiveJasmin is a luxurious premium webcam site that cuts no corners when it comes to the quality of its services. While this is mainly reflected in the quality of its models and streaming, it is also shown in its impressive mobile adaptability. Everything about LiveJasmin screams "high quality," and since their Asian models are gorgeous and plentiful, it has easily earned a high spot on this list.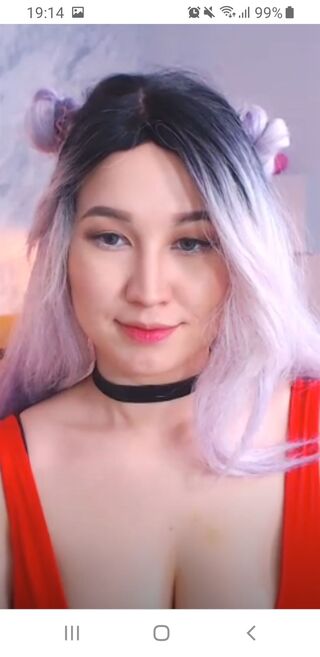 LiveJasmin has around a thousand models performing at any given moment, but, on average, only around 80 of them are Asians. To find them, LiveJasmin has a handy Asian subcategory that can be easily found under the Ethnicity category. It is not the most accurate categorization system out there, though. You'll find more than a couple of models there that are not, and do not look, Asian. Most are, though, so I do suggest that you use this category to filter for the models that you're looking for.
The selection on LiveJasmin is pretty spectacular. You'll find cute Japanese girls, slender Korean babes, nubile Chinese hotties and much more. The variety is excellent, and they are all professional cam models who do this as their full time job. They're experienced and well versed in seduction and role-play. Most of them stream in HD, and have an internet connection that's suited for live streaming, so you're not going to see a lot of lag or buffering issues here. LiveJasmin also does a great job of helping them improve, so seeing a model on the site that uses poor lighting or that isn't framed well by her webcam is quite rare.
Of course, if you wish to, you can always press and hold the screen (while inside a show) to pan the camera to where the model is at if she is not positioned in the center of the frame. LiveJasmin's mobile site is not only handy, it is intuitive, and gives you an overall great on-the-go-experience. You can tap the screen to make the chat appear and disappear, just be aware that writing in chat obscures the screen. Also, before entering a show, make sure to scroll down a bit before you click it to get rid of the address bar, otherwise it will accompany you into the show and throughout your time there. There is an official LiveJasmin app that doesn't have these issues and works even better than the mobile site, so if you frequent LiveJasmin it's recommended that you try it out.
If you want to get even more intimate with your new Asian friend, you can activate cam2cam, which includes two-way audio, for around a dollar per minute. Being able to talk to the model will keep your hands free for other activities, and letting her see you will not only spice things up, but let her react better. This is especially true if you're into JOI, SPH or anything else that requires the model to know whether or not you're cooperative.
LiveJasmin has very few bells and whistles. It tends to stick to the basics and does them well, giving you an unforgettable private experience with the Asian beauty of your choice. It also does it without getting to expensive, with most models charging around $2.80 a minute for a private show. You get free credits for registering (which is free), special promotions that you can take advantage of every now and then, and more.
The money you spend (that doesn't go to the model) goes towards keeping the site running smoothly and helps LiveJasmin retain an excellent customer support team. They work at all hours of the day and every day of the week, including on holidays. If you have an issue, you can contact them via email, live chat or phone and they'll take care of it in a hurry. If you think you can resolve it yourself, take a gander at LiveJasmin's handy FAQ section. It will probably have an answer to your problem.
---
CamSoda.com
CamSoda made a name for itself as a mobile-first freemium sex chat site. In fact, I even rated it as the best mobile cam site in the business, and I had many good reasons for doing so. And I still do, as it remains one of the slickest mobile sex chat experiences in the market, with great UI, high quality streams and a very lax attitude about open-chat nudity.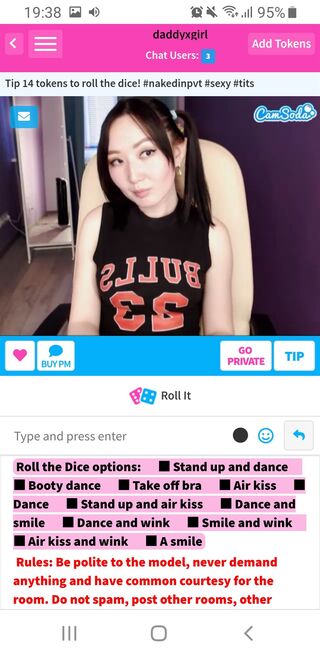 The one thing new visitors to CamSoda will notice is how prevalent tip-controlled sex toys are on this site. The front page is almost entirely pink due to the saturation of pink-colored Lovense vibrators, so you won't be lacking interaction here. Due to CamSoda being a freemium chat site, you'll also have a lot opportunities to check the models in action prior to taking them private, or even before tipping them to see them squirm in pleasure.
On top of this, CamSoda offers mobile two-way video and audio for free. Not all models will offer this option, and some would ask for a tip to enable it, but it's there, it's simple to use and it's cheaper than on most other webcam sites. And this is only one of the things that make CamSoda so low-cost. CamSoda has a wide range of token packages that give you more tokens for less money the bigger the package is. It also lets you claim 100 tokens (worth around $10.00) for free, with no strings attached. With everything taken into consideration, a private show on CamSoda will cost you around $1.92. I can't deny that this is downright enticing.
On mobile, unlike many other sites, CamSoda doesn't suffer from the same address bar and chat box problems. In fact, CamSoda's mobile site is one of the best around. It's intuitive to use, has a design that's pleasant to look at and runs well on most devices. The rooms also load quickly, run well and are usually in HD.
The reason why CamSoda isn't at the top of this list is due to its very limited selection of Asian cam models. You'll see only around a dozen of them online at any given time, and when searching for them (by typing Asian in the search bar), you'll find more models that are non-Asian than Asian ones. CamSoda's tag system is quite inaccurate, and if more models on the site would have tagged themselves as Asian it would have created a problem. Thankfully, the search function is till usable, but you'll have to be discerning.
Overall, CamSoda makes good efforts that your experience on the site will be a favorable one, but the customer support could be a bit better better. CamSoda offers a handy FAQ page, with specific details on what to do should you have a billing problem. There's also live chat dedicated to resolving billing issues, but for technical issues, email is unfortunately your only option.
---
xLoveCam.com
xLoveCam is a quality-driven middle-of-the-road chat site with fast-loading cams and fantastic cam2cam. It's cheap without compromising on its streaming or video resolution, along with a slick UI and design that lets you find anything you want with ease.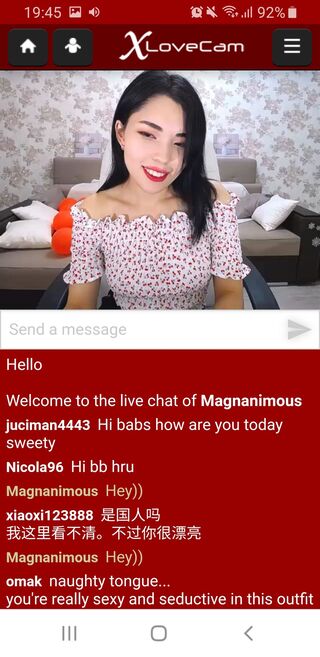 xLoveCam's mobile site is a joy to use. It's very simple and straightforward, with an accurate categorization system and search engine. To find the Asian models, go to the Ethnic Group category and click on Asian, just make sure to select Females (whatever age group you're into, though there are more young Asian here than older) under category, otherwise you're going to mostly find tranny models. The mobile site does have the usual address bar and chat window bugs, but they're frankly so easy to overcome that they're not really any issue.
Like on CamSoda, you'll find only about a dozen Asian cam girls online on xLoveCam at any given moment, though unlike on CamSoda, searching for them will find you just that. Also, while xLoveCam is essentially a premium chat site, it doesn't shy away from nudity, even having Topless Mondays to give its members a taste of what's to come.
xLoveCam boasts great prices and deals. A private show on the site costs an average of €1.80 a minute, and there's a convenient credit-to-Euro ratio of 1:1 so you can always easily keep track of how much you're spending. Be aware, though: xLoveCam's private show's are not really private. They can have up to four members in them, so if you want complete privacy with the model you'll have to pay a bit more for an Xclusive chat, which costs around €2.20 a minute. Thankfully, though, this is still cheaper than much of the competition.
All this also comes with free cam2cam and two-way audio that is offered in every private and Xclusive chat. Do note that, in a private chat, only the one who initiated it can enable cam2cam with the model.
Along with being hot, the models on xLoveCam tend to stream in high quality HD resolution and use an upload speed that allows for smooth, uninterrupted live streaming. The overall quality of the shows on the site ranges from decent to excellent, and the site itself works on most mobile devices and browsers.
If you do encounter any issues, xLoveCam has customer support for both billing and technical problems and a huge FAQ section that you may find very helpful. You can contact the site's customer support via email and live chat, though they do not work at all hours of the day and on every day of the year, so keep that in mind.
---
MyFreeCams.com
MyFreeCams is one of the most veteran and most trusted freemium cam sites in the world. It's a giant of the camming industry, being around since the 90s and still going in full throttle. It has thousands of models and sex cam rooms, one of the best categorizations systems, and a mobile site that surpasses the browser site.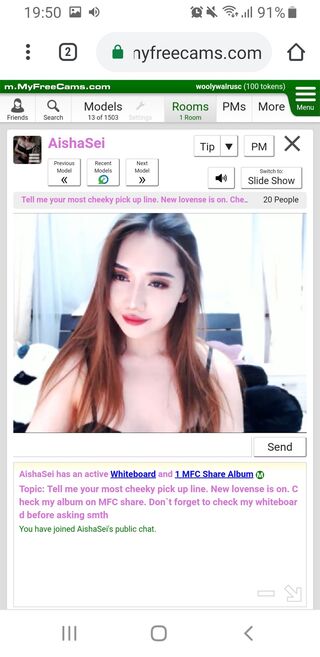 Let me start by saying this: On a normal browser, the site is a bit of a mess. It's UI looks outdated and in need of an overhaul, and the categorization system is cumbersome and unintuitive. With that said, the mobile site is none of that. It was developed much later with new members in mind, and so is very simple to use and navigate. It has more categorization and filtering options than any other site on this list. On top of being accurate, they are very helpful in helping you find whatever kink, body type, age group or anything else that you might be searching for.
MyFreeCams' mobile site also lets you customize it, like changing how big the cam rooms appear or which rooms will appear first. It also has a myriad of other features, from enabling you to see which rooms you recently visited, which ones are popular and so on. Just make sure that you're on the mobile site. If it opens to the regular site (which can happen, though rarely), click on the Switch to Mobile Site link at the top.
MyFreeCams has around 25 Asian cams live at any given minute. They are usually hosted by gorgeous professionals who are very good at their jobs and know how to keep the attention of several viewers at a time. Most cam shows on MyFreeCams are streamed in HD, and have almost no technical issues to speak of. Do note that there are only girls on MyFreeCams. If you want some tranny action, like a cute ladyboy to break the routine or a ripped Asian stud, then this is not the site for you.
MyFreeCams is a bit pricey, having a fixed price of 60 tokens (around $6.00) a minute for every private session. There are no discounts or special deals on offer, so it can get expensive, even too expensive for some.
The main downside of MyFreeCams, though, is its complete lack of mobile cam2cam. It puts much more focus on having models entertain their viewers in the open chat than on its private chat. On the plus side, it doesn't have any technical issues like the address bar bug and opening the chat doesn't obscure the screen, so while you can't have the model watch you, conversing with her is very convenient.
MyFreeCams' customer service is decent, but lacks live chat support. It has a huge FAQ page that also has a message box for contacting a customer support representative. They usually reply within a work day or two.
---
In Conclusion
There are plenty of good Asian cam sites out there, but few that are great, and even fewer still that are great and mobile-friendly. If you want the best of the best, I suggest you visit LiveSexAsian. It's all-around fantastic, and really doesn't have any major flaws while boasting a jaw-dropping collection of Asian cam babes. It's also wholly dedicated to Asian cam porn, making your search time on the site minimal.
If any other adult cam site on this list sparked your interest, by all means, try it out. It's on here for a reason. But, if you don't like to compromise, LiveSexAsian will be your new favorite Asian webcam experience.