Shemale Credit Card Cam Sites - For Safe Tranny Action
Last updated
October 24, 2019
The best shemale cam sites are the ones that accept credit cards. That way you know that they've been vetted, and are as safe and secure as any other major online operation. Here are the five best tranny cam sites that accept credit cards, rated based on the quality of their streaming and performers, as well as their prices, customer service and special features.
---
MyTrannyCams.com
The quality of MyTrannyCams is evident to anyone who visits the site. For starters, the presentation of its a models and the quality of their streaming is simply superb. The vast majority of shemale models on MyTrannyCams stream in HD, and the ones who don't are simply new tgirls that have yet to purchase HD streaming equipment, and will more than likely do so as soon as they can.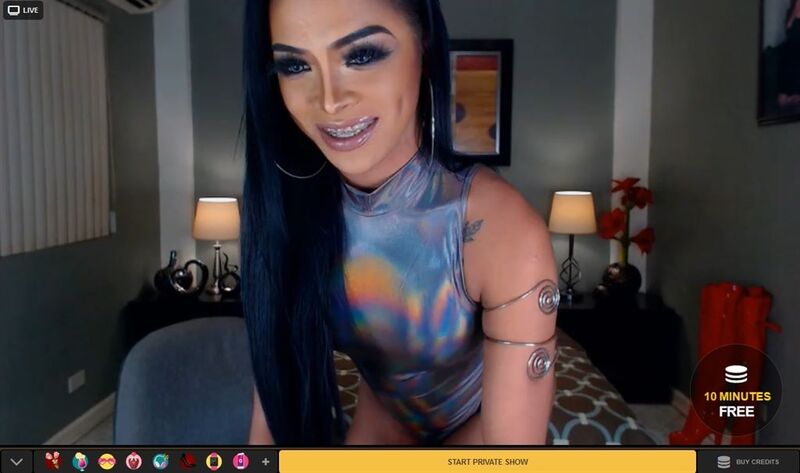 Since, as its name suggests, MyTrannyCams only hosts tranny models, you know what you'll be getting once you visit the site. It has convenient categorization and a great in-site search engine that can help you find any particular sexual act that you may feel like viewing, and since MyTrannyCams has a large selection of trans cams to choose from, you'll never lack options.
On an average day, you'll find close to 160 shemale cams live on MyTrannyCams. They also appear to be hand-picked, as most MyTrannyCams models are hot, wearing form-fitting lingerie and makeup that accentuates all their best assets.
However, they are not cheap. A model on MyTrannyCams charges an average of $2.80 per minute for a private chat, and, while cam2cam and two-way audio are always offered, even on mobile, they cost extra. A MyTrannyCams model can charge either one or two dollars (or nothing at all, if she wishes to incentivize her viewers to turn on their webcam) for c2c and 2way audio. Most charge $1.00 for each, potentially increasing the rate of their cam show by two dollars a minute, which can be too steep of a price for some to pay.
This does guarantee you a quality experience, though, and if you're looking for the best bang for your buck, there are few sites that can compare. MyTrannyCams is also extremely private and secure, appearing as an innocuous name on any receipt of payment you make to the site to ensure utmost discretion.
The site's customer support is another high point worth noting. MyTrannyCams has 24/7 live chat support that's offered to every member of the site. This is in addition to its email and phone customer support, and the extremely comprehensive FAQ section that can help you easily resolve any minor issue that you may have.
---
Shemale.com
If you're looking for cheap tranny sex chat, then Shemale.com has you covered. It has dozens of sexy shemale performers offering private shows at low rates, and without skimping on quality streaming. For about $1.98 a minute, you can have a private show with both cam2cam and 2way audio enabled with one of Shemale.com's sexy tranny performers. This is where you can truly enjoy your time without having to worry about how much you're spending.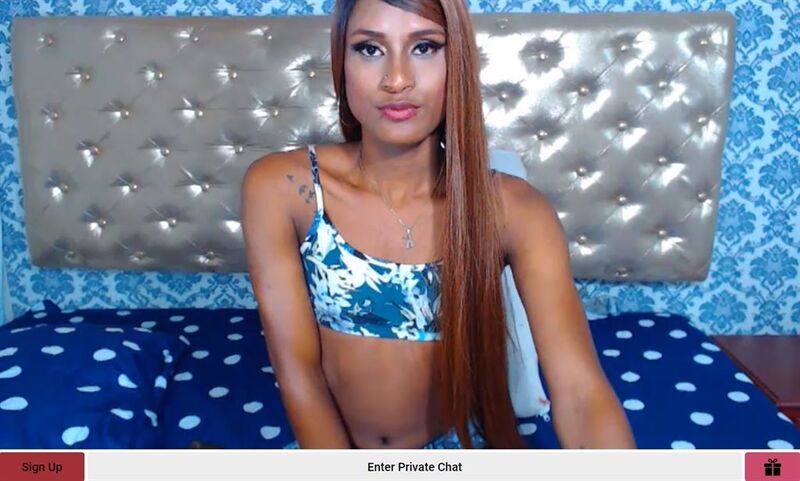 In terms of quality, Shemale.com can't quite compare to MyTrannyCams, but it holds its own. Many of Shemale.com's models stream in HD, and even those who don't do so still stream in 576p HQ. The streams do suffer from time to time from some latency issues and lag, but that's usually due to a specific model's bad connection and not due to the site. Visit another model's cam room and the problem is resolved.
And you won't have much of a hard time finding enticing models on Shemale.com. On average, you'll find around 80 tranny cam girls online at any given time, and most of them will be waiting for you in their free chat rooms. Many of them are Hispanic and mulatto, but the site does have quite a decent amount of European trannies and Asian ladyboys. When you invite one of them to a private chat, you'll also be offered to pay in advance for a long show (for instance, a 30 minute show) with around a 30% discount, making things even cheaper in the long run.
The downside to Shemale.com is its customer support. While its FAQ section is very handy, you only have the option of contacting the site's customer support via email, and they take a while to reply. Meanwhile, the site's live chat support, is reserved for VIP members only, and it takes a long time to become one.
Fortunately, the chances of you needing to contact Shemale.com's customer support representatives is fairly small. The site works smoothly and is also very safe and discreet. Like all sites on this list, it uses the latest encryption methods and protocols to safeguard your information. Additionally, if you choose to use your credit card on the site, charges will show with a nondescript name on your statement, obfuscating the nature of the transaction.
---
Flirt4Free.com
Flirt4Free is a highly rated premium sex chat site that encourages its members to take their time, flirt with the model and get to know her before taking her private. It allows you to easily customize your experience with a ton of different features, chat types and interactivity options. Whatever you envision your experience to be, Flirt4Free will make it possible for you to achieve it.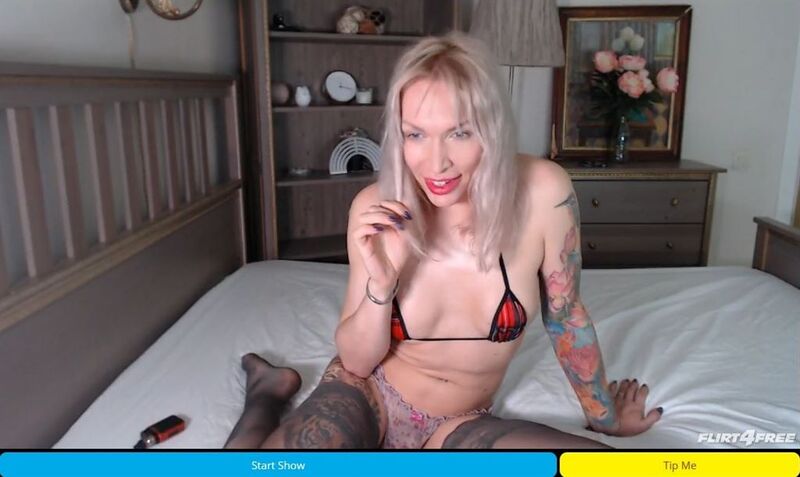 The site's customizability is also expressed in how transparent it is with its models' rates. You can always find ts cam girls that are within your budget simply by sorting them by price, which you can easily do by hovering over the View By drop-down menu and selecting Prices. Flirt4Free extends the freedom of choice it offers you to its models, so you're as likely to see a tgirl charging $0.55 per minute as you are seeing one charging $9.00 per minute, so just choose the show that's within your budget. Together with Flirt4Free's cheap chat types and special deals and promotions, and the fact that cam2cam and two-way audio is freely offered in every private chat, the site truly becomes one of the cheapest shemale chat sites around.
You can also use the site's video and audio preview to quickly check out the rooms without entering them, which is sure to save you some time searching for something that's to your liking. Once you enter a cam room you'll be treated to a video screen that fits itself to your browser, proudly displaying the site's fantastic streaming quality. Most models on Flirt4Free stream in 720p HD, and encountering any technical issue like slow buffering or latency problems is a rarity.
It is a shame, though, that the site's selection of shemale webcam models is so limited. In a best case scenario, you can only expect around 20 cam rooms to be live on the best days, and there are usually even less. The models themselves are beautiful and experienced, so the ones you'll find will usually be worth your time and attention, but I do wish there were more of them. As a side note, Flirt4Free is very popular in the US, and hosts a large number of US shemale cams, so if that's something you're looking for, then I suggest you visit the site and try it on for size.
Finally, Flirt4Free does its best to ensure that your experience is safe, discreet and enjoyable. It employs a large customer support team that's available 24/7 via every communication method under the sun. It also has a great FAQ section that can help you resolve most minor issues. And as for discretion, charges to your credit card from the site will appear on your billing statement as an unclassifiable name, so you're covered on that front.
---
LiveJasmin.com
LiveJasmin has made a name for itself as one of the highest quality tranny cam sites in the industry. The site has managed to rise to the top on that renown and remains there due to the diligence and attention to details of the people behind it. Everything about the site screams luxury, from its high definition streams to its gorgeous and professional tgirls.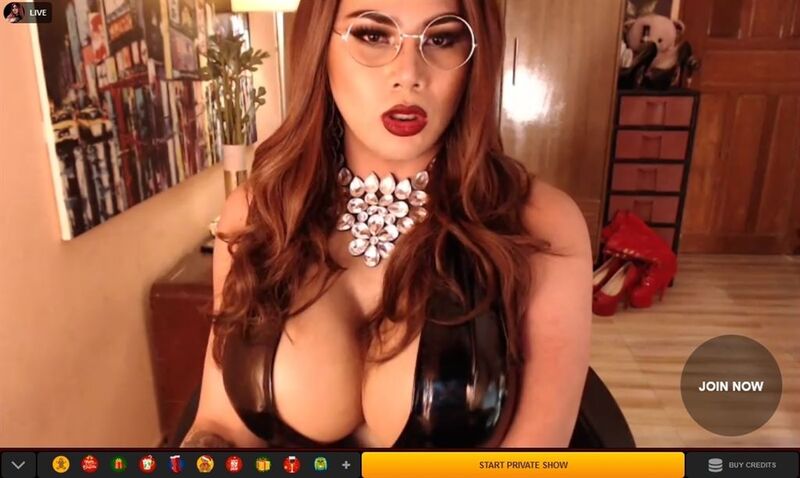 The site has very high standards for the cam shows that it hosts. For this reason, nearly every tranny webcam model on LiveJasmin streams in HD and has a stable internet connection that makes any form of stream stutter near nonexistent. And it's not like the site hosts only a select few high-end trans cam shows; On average, you'll see around 150 tranny webcams live on the site, and most of them will be in free chat, ready and waiting for you to come pay a visit. The site also has great search and categorization systems that will help you find whatever you want in this sea of tits and cocks.
The production value on LiveJasmin is also off the charts. It's apparent that the site does its best to help its tranny cam girls be better streamers. The lightning and framing is always spot on, the ts models are always in full make up and sensual garments and their rooms are always tidy and presentable. Couple that with the fact that LiveJasmin has some of the best and most professional shemale performers in the business, and you've got yourself a recipe for an amazing sexual experience.
All this does come at a cost, though. A private show n LiveJasmin will run you about $2.90 a minute, and aside from some admittedly good deals every now and again, the site doesn't offer you a lot of way to mitigate its steep costs. Additionally, while LiveJasmin has some of the best c2c and 2way audio implementation in the business, which even extends to mobile platforms, neither feature is free, costing around a dollar per minute (each) to enable.
Fortunately, The site's security and customer service is at the same level as its cam shows. It only uses the most renowned credit processors and security protocols, so you can rest assured that you information is safely kept. Also, any charges by the site appear as a nondescript name on your billing statements, as discretion is one of LiveJasmin's highest priorities. If you encounter any billing or technical issue, you can use the site's extensive FAQ section to resolve it yourself, or just contact a customer support representative via email, phone or live chat, which work 24/7, even on holidays.
---
Chaturbate.com
Let me start by saying this: Chaturbate is not only a wonderful shemale chat site, but also the only site on this list that accepts American Express. It also accepts a myriad of other payment types, but if you prefer to use Amex, this is probably your best option. Thankfully, Chaturbate is also one of the best freemium sex chat sites on the market, so it's not like you'll be compromising much.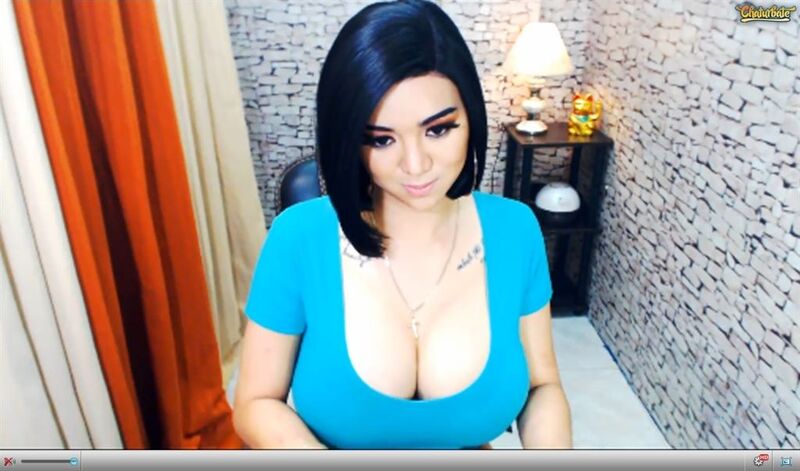 Chaturbate is extremely popular, and mostly known for its insane amount of live cams. You'll find around 180 tgirls performing live on the site at any given moment, and a surprising number of them will be among the hottest tgirls you'll ever see. Since the site is tip-based, they'll also most likely be naked and inserting one thing or another into one of their holes. Chaturbate is really jaw-dropping for newcomers, the amount of perky tits and long dicks you'll see in the free chat will probably floor you on your first go.
What is even more surprising is the actual quality of the shows. The majority of trans cams on Chaturbate stream in either 720p HD or full 1080p HD, despite the site's freemium nature. In fact, the rooms go up to 4K, and a very few even include VR. They also generally lack any technical hiccups, such as stream lag, and tend to load fairly quickly. There is a downside here, though, and it's with finding a specific trans cam show that you may be in the mood for. Chaturbate's categorization is fine, but nothing special, and while it does have a separate category for transsexuals, the site's search engine isn't helpful at all, and the rooms even lack a basic video preview feature.
Sadly, this is not the only thing that Chaturbate lacks. If you want to turn on your cam and let your cute tranny see how hard she gets you, then you're going to have to go through the headache of setting up cam2cam on Chaturbate. Since it's not implemented naturally, it will take you time and effort to do it yourself, and even then it's just not as reliable as cam2cam is on any other site on this list.
But, if you're looking for some cheap tranny cams and prefer to avoid the intimacy of private chat and c2c, Chaturbate is perhaps the best option out there. The models tend to do quite a bit for even a small tip, and the average price for one minute in private is around $2.40.
Chaturbate's customer support is not its strong suit, but the site does have fantastic security and discretion. Support representatives can only be reached via email, and they usually take a day or two to reply. The site does have a helpful FAQ section, but that's about it. As for security, Chaturbate is one of the biggest cam sites on the web, and has the security protocols to match. Also, to protect your privacy, any charges will discreetly appear as an unclassifiable name on your credit card statement.
---
In Conclusion
The above shemale webcam sites are the best in the business, and they all accept all major credit cards, including: Visa, MasterCard, Diner's Club, Discover and JCB. Chaturbate also accepts Amex, and MyTrannyCams and LiveJasmin pretty much accept any payment method under the sun, including gift cards. Altogether, you have a nice selection of adult chat sites to choose from, especially if you're worried about security or your anonymity.
If I had to recommend you to visit only one of them, though, I would have to choose MyTrannyCams, as it caters to the most tastes, and it's really hard to find a better tranny webcam site than it. If you want to use your credit card for some safe and discreet shemale entertainment, you can't really get any better than MyTrannyCams.