The Cheapest Cam Sites for Femdom Chat
Last updated
November 05, 2020
A strong independent woman who assertively takes the rains is always a turn on, but finding femdom cams that fit your budget can be hard, since such women know exactly what they're worth. Nevertheless, I've managed to find the 5 cheapest femdom cam sites available, so you can enjoy some female domination without breaking the bank.
---
FetishGalaxy.com
FetishGalaxy is a fetish-centric cam site that's known for its incredibly low prices. It's also, in my opinion, the best femdom cam site in the business, and not just for its affordability, but for its large selection of high-quality fetish cams and general ease of use.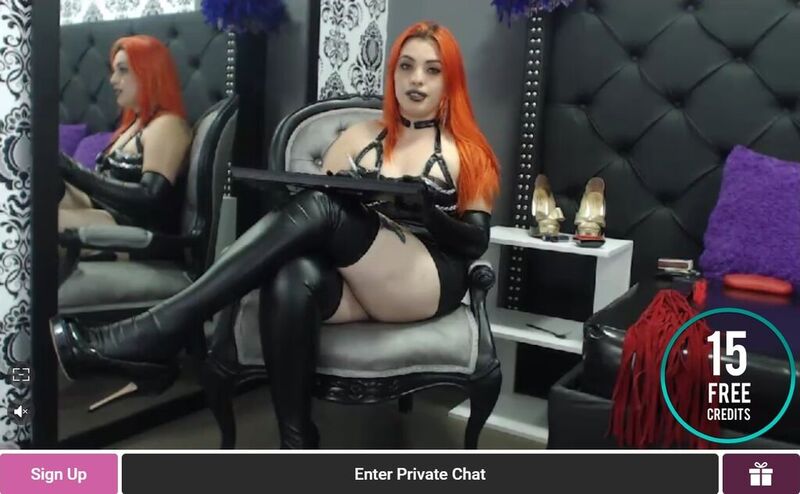 Since FetishGalaxy specifically caters to kinksters, it will be incredibly easy for you to navigate the site and find exactly what you're after. The Domination category where you can find your dream femdom cam girl can be found right at the top of the site, and the girls you'll find there will always fit the bill, since FetishGalaxy's categorization system, unlike that of many other cam sites, is highly accurate.
For your convenience, the site further splits the models into four main categories: Dominatrix, Submissive, Educator, and Expert. The first two are self explanatory, so here's a quick explanation of the latter - Educators specialize in bringing new kinksters into the fold and letting them dip their toes in whatever fetish excites them. Experts, on the other hand, specialize in fetishes that are difficult to find on cam, such as small penis humiliation and cuckolding, and mostly deal with very experienced fetishists.
On average, you can expect to find around 130 fetish cam models here, with close to 30 of them being dedicated dominatrixes. Their quality, while great, doesn't always stack up to that of the industry's giants, such as LiveJasmin. Many cams here are in HD, but there are plenty in HQ, and there's no way to filter by streaming quality.
But, that's not really FetishGalaxy's strong point. Its prices are. An average femdom cam shows on the site will cost you less than $2.00 a minute, and will always include free cam2cam and 2way audio - even on mobile. It's why I chose this site as the best fetish c2c site in the industry.
Just don't expect much beyond private femdom shows, as the site is pretty bare bones. There are tip-controlled cams here to spice things up, in case you'd like pleasuring your domme as a form of gratitude, but there's little beyond that.
Still, FetishGalaxy will, on average, provide you with the cheapest femdom webcams you could find, and high-quality ones at that.
---
xLoveCam.com
XloveCam is the only cam site that truly competes with FetishGalaxy's prices, and does a commendable job at competing against it in every other regard as well. It's a cheap fetish cam site that has good video quality and is as fast-loading and responsive as it gets.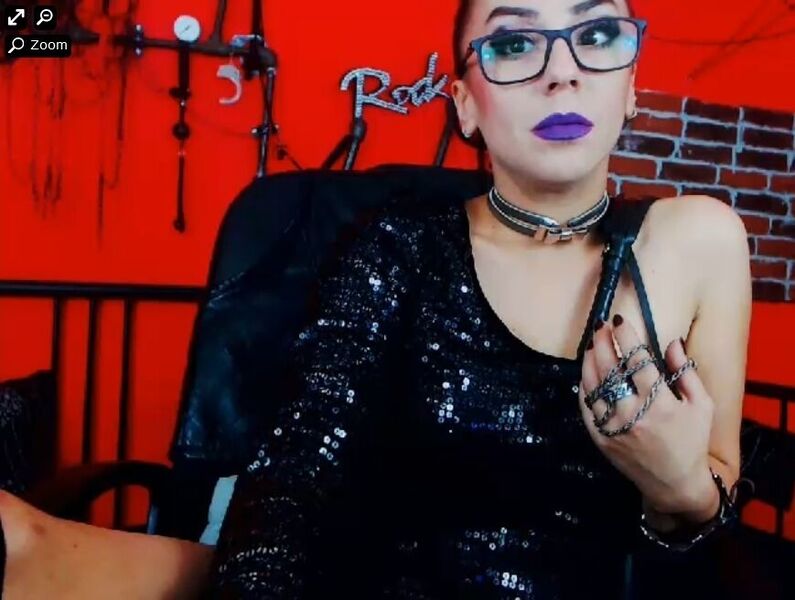 Let's start with the pricing, as that is xLoveCam's strongest attribute and, well, the main point of this article. A femdom live show on xLoveCam should only cost you around $2.00 a minute. On top of that, xLoveCam offers you free c2c and 2way audio in every private chat.
The quality of the shows you'll get is also very good, with most femdom cam models on the site opting to stream in HD. Thanks to xLoveCam's design, their shows open and load very quickly, so you won't be spending time waiting when perusing.
As for the site's models, xLoveCam is quite international, bringing models from all over the globe. You can even sort by ethnic group if you have an acquired taste, There are more white and Latina models here than any other, but there's still a good diversity of femdom girls. Also, on every Monday, the site's models are allowed to be nude in the free chat, making perusing the site's cams a very titillating experience.
The problem is their quantity. I'm a quality over quantity guy myself, but it still saddens me when there are only around 30 Fetish Female cams at most hours of the day. That's not a lot by any stretch, especially when compared to the other sites on this list.
The only saving grace in this regard are the models themselves, who are truly professional fetish cam girls. There's not a ton of them, but the ones who you'll find will definitely do the job, and do it well.
---
LiveJasmin.com
LiveJasmin is where you go if you want highest-quality webcams and won't settle for anything less than HD femdom cams hosted by the most experienced and professional dommes out there. This site has remarkable streaming quality, to a point where few can even compete.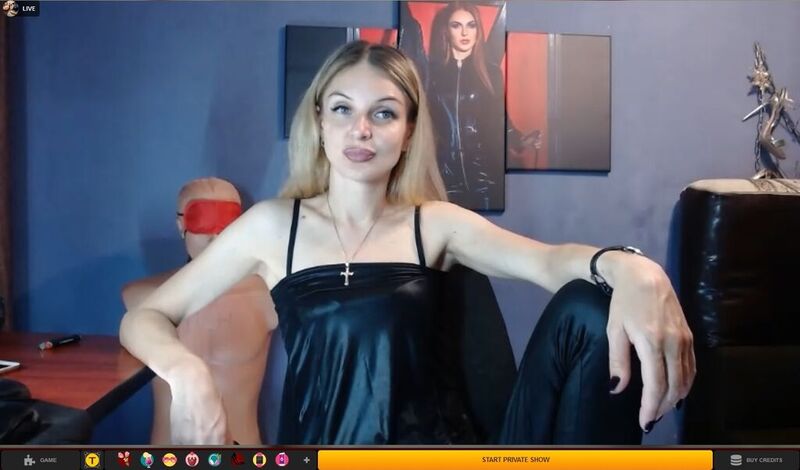 LiveJasmin's quality is showcased in every aspect of the site. The vast majority of streams here are in HD, and only the new models are allowed to stream in lesser quality (and that's only until they get HD streaming equipment). The models themselves always look ready for the job at hand, with their lighting and camera positioning and framing always being on point.
The site itself is slickly designed, and very responsive to use. Eben LiveJasmin's cam-to-cam feature is top notch, working quickly and beautifully without impeding the streaming quality of the show, and even letting you stream back to the model in HD. LiveJasmin is also one of the only cam sites with mobile c2c, and the site is heavily optimized for phones and tablets in general.
The downside is that both features, while always available in every private chat, cost around a dollar extra per minute to enable, even on mobile. Fortunately, and surprisingly enough, the site itself is rather cheap, with private femdom shows costing around $2.40 a minute. On top of that, LiveJasmin accepts most forms of payment methods, and is among the only fetish cam sites that accept gift cards, so you're not going to have any issue paying with whatever you prefer here.
LiveJasmin hosts around 200 fetish cam models, and while there's no separation of fetishes among them, the site's fetish girls are all professional enough to give you an amazing female domination show if you ask them for it, and will in fact do so happily.
What I do consider to be the real downside of LiveJasmin is its lack of features. You won't find anything here beyond the usual free and private chat rooms, and there aren't even couple cams here to be found. Of course, that won't mean much to someone who's specifically looking for a femdom cam model, but the lack of tip-controlled cams might.
Still, few cam sites manage to even come close to LiveJasmin's top-notch quality and user satisfaction. The site even provides all its members with 24/7 customer support that they can contact via live chat. It's by far the best customer support that I've come across on any fetish webcam site, with representatives usually taking less than a minute to reply.
---
Streamate.com
When compared with LiveJasmin, Streamate is a premium cam site with a more lenient attitude towards nudity in the free chat, significantly more extra features and a better payment structure. It may not boast LiveJasmin's quality, but its cam-to-cam shows beat LiveJasmin's in terms of price.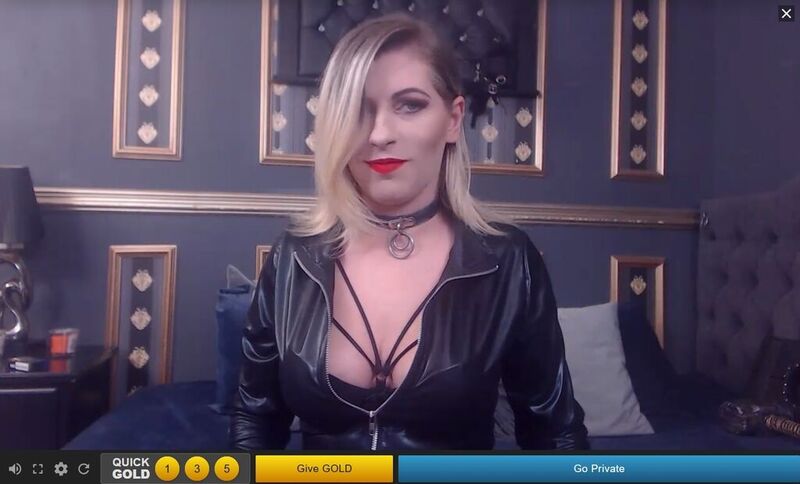 While Streamate does not have a femdom or domination category, you can easily search for "femdom" in the site's search bar and find the tag for it. Once you click it, you'll be greeted to around 100 femdom cams, many of which will be in HD. You can also preview each of the easily since Streamate's video previews load quickly.
Each room is marked with a flag representing the model's country of origin. If you visit the site, you'll notice that its femdom models come from all over and in all shapes and sizes, giving you a great and varied selection of female domination webcams to enjoy.
In terms of pricing and payment, Streamate simply nails it. On average, a private femdom cam show on the site will cost you a neat $2.50 a minute, and will include free cam-to-cam and two-way audio. The site also forgoes the use of credits or tokens, opting to instead let you pay directly with your chosen currency via your desired payment method. From my experience, it makes keeping track of your expenditures a much simpler and easier task.
Finally, Streamate has a good selection of chat types and interactivity options. You can select a group show where you and a couple of other members all bow down to the same mistress, or a tip-controlled show where you can thank your domme by activating her sex toy with a tip.
Streamate may not match LiveJasmin in quality, but it beats it in variety.
---
Flirt4Free.com
Flirt4Free is a high-end premium chat site that caters to all kinds of fetishists. It has a strong emphasis on streaming and model quality, with the latter being very noticeable, as the site hosts some of the hottest femdom models in the world.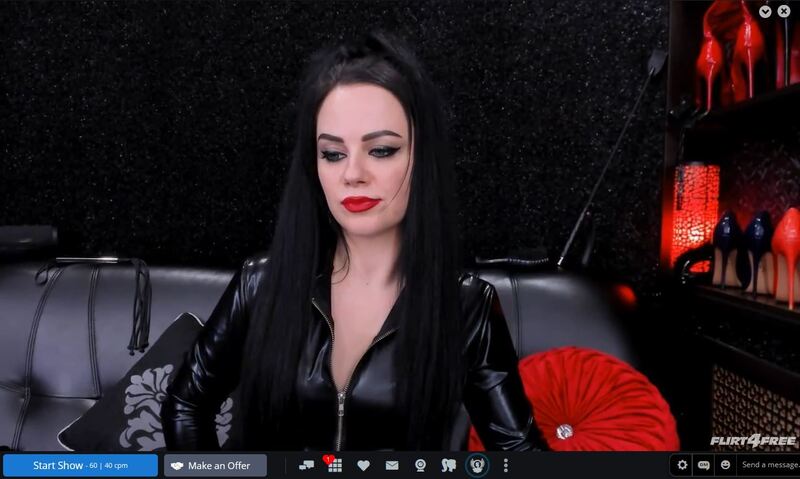 As far as prices go, Flirt4Free is the most expensive of the bunch, with femdom cams costing around $3.60 a minute, on average. There is a caveat here, though: Flirt4Free has an excellent categorization and sorting system that lets you sort by price, and Flirt4Free's prices go as low as $0.45 a minute, so you can easily find a femdom model that fits your budget. In fact, if you take advantage of that, as well as its deals and promotions, Flirt4Free can become one of the cheapest chat sites you can find.
In addition, Flirt4Free has a large array of chat types and interactivity options, such as cams where the model can even control your toy, if you have one, along with the usual tip-controlled cams. Even the cam-to-cam and two-way audio features are always available, both on desktop and mobile, and are always free.
If you want to feel like you're part of a community, Flirt4Free has a section of the site dedicated to fetishes, which you can access through the Live Girls Cams button at the top of the site. This section of the site has articles and blogs on kinks and fetishes, along with an active forum where you can converse with like-minded people, as well as with the site's models.
Flirt4Free has a small selection of around 20 Domination cams at all times, but, as I've mentioned, what it lacks in quantity it more than makes up for in quality. The models on Flirt4Free are some of the most ravishing women you'll ever lay your eyes on, and Flirt4Free's femdom models are no exception.
Additionally, the site's models tend to stream in HD more often than not, and the streams rarely stutter or pause to buffer. The selection here, though, suffers due to the low number of models and the fact that Flirt4Free mainly features American cam models. If you prefer your mistress to be from the US, this should only entice you further to try the site out, but if you don't, this will leave you with very few options.
Still, Flirt4Free is one of the best premium cam sites on the web, and that is further shown by its amazing customer support. If you ever have an issue or question while on the site, you can contact support via live chat at any time. They take a few minutes to respond, but are as congenial and helpful as they come.
---
In Conclusion
This time, it wasn't really close. Not only is FetishGalaxy the cheapest cam site on this list, but it's an incredible femdom cam site, in general. I would choose, and have choosen to visit it for femdom chat over any other site on this list.
All of the above sites are fantastic, and they're all perfect for cheap femdom video chat. But FetishGalaxy is the clearly the best, and you should visit it first when looking for the cheapest female domination cams on the market.