The 5 Best Mobile Femdom Sex Cams
Last updated
October 15, 2020
Who among us doesn't want to be ridden like a pony, whipped, spanked, and become the perfect slave to an almighty dominatrix? Exquisite humiliation is the name of the game, with a stunning model who knows how to give us the business, and make us worship her like the goddess that she is. To that end, I've compiled for you the 5 best sites to help you find that ethereal powerhouse to make your femdom dreams/nightmares come true.
---
LiveJasmin.com
LiveJasmin practically lives on the top spots of most of my lists. It is a true premium site, offering professional, gorgeous models that are well versed in the art of performing on cam. There are beautiful rooms in impeccable 720 HD, and lots of ways to find budget friendly options despite the relatively high prices for private chats. But on this site, which oozes class, sophistication and sensuality, you get what you pay for.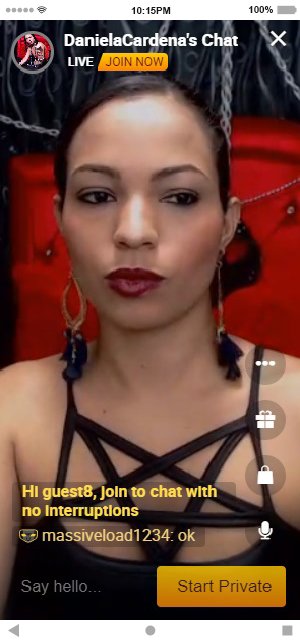 Most sites don't have a dedicated femdom category, but instead categories such as domination, dominatrix, and the like. On LiveJasmin, under the Willingness category, you'll find Dominant, which is the swiftest route to your femdom queen, offering over 100 models. You can also make your search a little wider, and select the Fetish category, which will likely include other models into domination. On the upper right corner of the main page there's an advanced search with multiple selections, such as HD, Dominant, Fetish, and more.
An average private chat costs $2.40 a minute, while the cheapest starts at just under $1.00 a minute. However, prices go up if you choose to indulge in a cam to cam session, as you'll be asked to pay another $1-$2 a minute separately for your cam and mic. The models offering the lowest priced privates will have Newbie and Promo stickers on their profile pictures, and you can also scour the Sale category for performers holding special sales. Feel free to filter the rooms by Price, as well, to choose which rate is right for you.
The rooms stream in fantastic HD quality of 720p, but be aware that there is no nudity or sex in the open rooms. The mobile version is one of the best in the biz, and provides 2 way audio and video. The site also offers 24/7 customer service, online.
---
CamSoda.com
CamSoda is the best freemium site bar none, and includes a main gallery page that can make your head spin. When you first enter the site, hundreds of rooms, all showing live feeds of the models engaging in all manner of nakedness and sex, stare right at you and dare you to join in the fun. It's quite a site, and adding to that, fantastic HD quality, amateur models that love to dominate, and extra perks like full-length videos for free, and you've got yourself the whole package.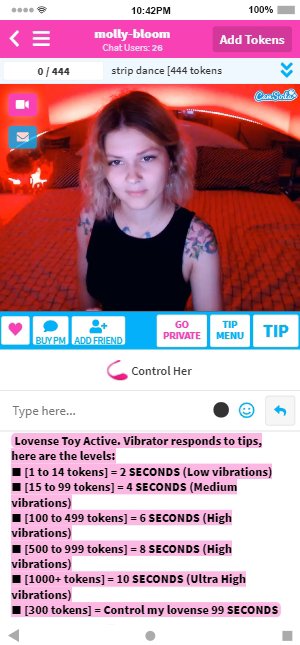 Like many freemium sites, there's no filter, but instead thousands of tags that the models use to differentiate themselves with. When looking for femdom models, you can enter into the search bar all kinds of keywords, such as Femdom, Dominatrix, Mistress, and the like. But honestly, one of my favorite things to do is look over the room streams and just find what I want by looking through the action, it makes the hunt that much more fun.
Prices start super low on CamSoda, starting at just $0.55 a minute, but do reach pretty high at an average of $2.40 a minute, including cam2cam. A great perk is that you can record all your private shows for free, and keep them in your media library, and rewatch at any time. There's also an excellent mobile version of the site, that offers one of the best mobile cam2cam experiences to be found on live cam sites.
CamSoda also offers great HD quality in most rooms, and a slew of fun games that can actually be worth your while, as they cost money to play. You can win discounts, tokens, and gifts for your model. When you register your credit card, you will also receive free tokens as a gift, which is a nice perk.
---
Flirt4Free.com
Flirt4Free is the perfect fetish paradise, with a dedicated mini-site within the main site that champions kink of all kinds. The mini-site includes not only fetish categories and the models online at that moment who cater to them, but also articles, interviews, and a special Education section that is like a "how-to" guide for those among us itching to try something new. This is a premium site, but you're likely to find quite a few rooms with performers who like to show off some skin.
As mentioned above, you can not only find a femdom model, but spot them at every turn on the mini-site, as well as under the Fetish category on the main site. The main categories include Domination, Fetish, and BDSM, but you'll also find plenty of kinky queens in the Forums section under the Fetish category in the Live Girls Cam on the main page. The forums are great for in depth conversations with other members as well as fetish models, and perhaps finding just the right Dom for you.
Flirt4Free chat rates start surprisingly low, at $0.45 a minute, but can reach prices of around $3.60 a minute, including c2c. The mobile version is quite excellent, and also has 2 way audio and video capabilities. I recommend you consider joining the site's VIP membership, which offers quite a lot, for $39.95 a month: 200 free videos a day, unlimited access to your recorded private chats, special promos reserved for VIPs, and more.
To find the cheapest possible chats and models, there are a number of ways. Firstly, you can use the Room Type category and select Lowest price, which will sort the rooms to show you the cheapest ones first. You can also join multi-user show rooms, where only tipping is required, such as Group Chats, or Party Chats. You can also select the New Models category, which will most likely contain ladies offering special prices to introduce themselves.
---
ImLive.com
ImLive is a great option for doing premium for cheap, yet still enjoying super professional models. Using the filter on the main page you can view the different fetishes, regions and show types, or simply browse the large and impressive profile pics and hover over them to see what's happening in the model's room at that moment. ImLive has just launched a brand new mobile interface, which is impressive and easy to use, and allows the same features and chats, including cam2cam, as the desktop.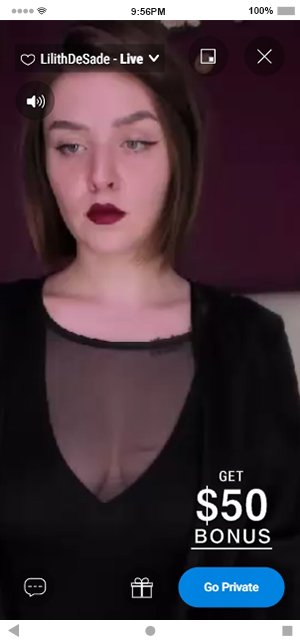 In the Fetish & BDSM area on the site you'll find the popular Domination category, as well as the Bondage, Cuckolding, FinDomme, Humiliation, JOI, Orgasm Denial, and Submission categories. In the main member area, you'll find a request form to enter in any particular fantasy you have, femdom or otherwise. This request reaches a special board only the models can see, and if one would like to help in fulfilling that fantasy, she'll reply directly to you.
A private cam show on ImLive will cost you, on average, less than $2.00 a minute, and will include free c2c and 2way audio, while the cheapest price starts at just under $1.00 a minute. But ImLive loves to shower its members with free and discounted chats, as well as a gift $50 worth of credits to new ImLive members. One way to save is by buying Block Sessions, from 15-60 minutes, which offer up to 30% reductions to the original chat price. You can also join a particular model's Discount Club, and receive codes for major discounts to her private chats.
ImLive also has an excellent rewards program for members, and you rise in the member tiers the more you spend to receive fun extras: Discounts to chats, free pornstar shows, access to all models' galleries, up to 30% reduction to previous recorded shows, and more.
---
XLoveCam.com
XLoveCam is made for European models, especially those with an open mind, and a willingness to go that extra mile for members. This is the place to find Russian, German, and French models, who love to chat in their native tongue. In accordance with a continental POV, almost anything goes, as you'll see in the main gallery page when you hover over the preview rooms. These ladies are perfect for fetish lovers, as they themselves dress up, roleplay, use whips and chains, leather, and have a general inclination to tell you what to do.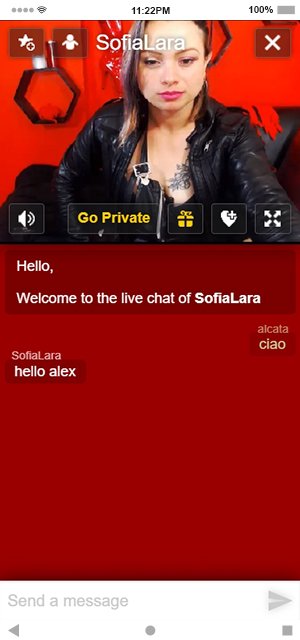 XLoveCam has an impressive array of fetish-inclined performers, and though there is a Fetish Female category, there's not much need for it on this kinky site. You can use the search bar and enter words like Dom, BDSM and Mistress, but frankly, you can also just hover over the rooms under the HD Videos category and you'll quickly find a model in latex, crazy high heels, and a whip.
An average private fetish show on xLoveCam will cost around $2.20 a minute. You can also easily search by price via the Rates category at the left side of the site, so you can always, and easily, find a fetish sex cam that's within your budget. The cheapest rooms cost just under $1.00 a minute, so you're in for an exciting, and low-cost ride.
The mobile version of the site is pretty great, and has recently added the cam to cam feature to ensure you can chat away using your phone, at your leisure. When you're in a specific room on the mobile site, you get to play a kind of sexy roulette, and use your finger to swipe in any direction to an unknown room. I find this a super neat feature, and have discovered quite a few gems using it.
---
In Conclusion
The five sites above are the perfect place to find that femdom model you've been looking for, and provide great low-cost options as well as the best mobile platforms around. However, my pick for the best site of them all is, without a doubt, LiveJasmin. It could have been lower on the list if not for the multiple ways to find cheap chats. But with models holding specials sales and the ability to filter rooms to find the most budget-friendly options, that becomes a non-issue.
Instead, you focus on the truly staggering level of performance and style of the ladies, which are the best femdom models around with their level of professional know-how. These are no amateur ladies trying out new tricks, these are models with training, practice, and deviant minds to put you in your place, and make you beg for more - On a great mobile platform with c2c, at that.