xLoveCam.com Review - a Well-Rounded Kinskter Haven
Last updated
January 01, 2021
xLoveCam is a convenient and cheap cam site that's geared more towards vanilla viewers, but nevertheless has much to offer to lovers of European fetish cams. It also doesn't shy away from nudity, and is one of the only premium cam sites that allows it in the free chat.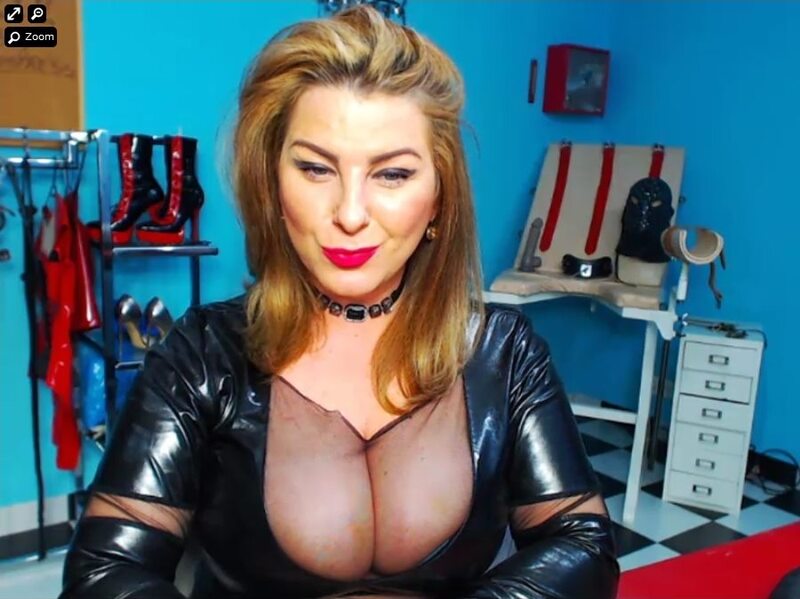 If you are at all familiar with my site, you might have noticed that I have a separate review for xLoveFetish up. While xLoveFetish used to be better for fetish cams than xLoveCams, it seems that the quality on xLoveFetish has dropped, while xLoveCams has risen.
Join me in examining this hidden gem, checking everything in it from video quality, model selection and prices to is unique feature, payment structure and customer support. Read on if you're looking for a well-rounded fetish cam site that offers something for everyone.
Pros Vs Cons
Pros
Rooms open up very quickly
Fast preview feature
Models speak a wide range of languages
Helpful FAQ section and customer support
Fantastic search and categorization features
Helpful bio and schedule features
Overall nice video quality
Cons
Doesn't have the biggest selection of fetish cam babes
Video quality takes a while to pick up
Not a great option for mobile viewers
No satisfaction guarantee
The Models
xLoveCam has lots of models using its platform, but unfortunately not many of them are dedicated fetish cam models. On average, you'll find around 30 fetish cam babes online at any given moment, and while most of them will be hot and attentive, this won't offer you the same variety of fetish cams that sites like FetishGalaxy will.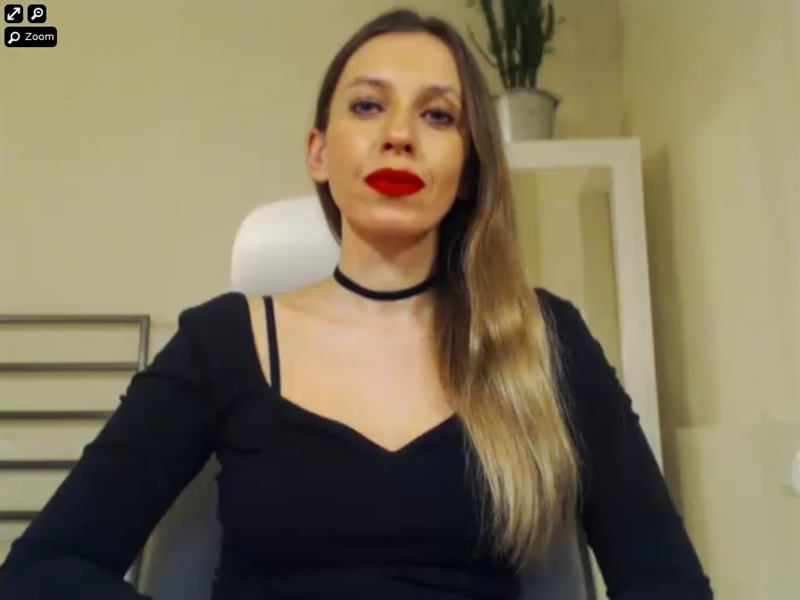 xLoveCam specializes in European cam porn, meaning most of the models you'll see there are going to be white, nubile babes. The range of spoken languages, different looks, and kinks you can find throughout the site's many cam rooms, however, more than makes up for that. While most won't categorize themselves as strictly fetish models, I've found that most are willing to perform just about anything if you're cordial enough. As always, flattery can get you anywhere.
As I've mentioned, most of the webcam models on xLoveCam sit around clothed, but nudity is not forbidden in the open chat, so expect to see some skin, especially when the tips are flowing. xLoveCam also features Topless Mondays, when many of the site's models sit around with their tits out. It's a great time to visit the site if you like checking out the goods before paying for them.
While most of the models on xLoveCam are independent performers, a good deal of them are professional webcam performers. Whether you're interested in amateur or professional models, the site will have a decent selection of both for you to enjoy.
If you're looking for something specific, though, such as a particular ethnicity, age, weight or even eye color, xLoveCam has you covered. It's search and categorization features are quite outstanding, and will you a lot of search time. In addition, each model on xLovaCam has an extensive bio, which you can find under the Model Information tab. You can also read short comments made by other members about the model and her performance under the Comments tab, as well as see each model's usual performance times under the Schedule tab.
Video Quality
In terms of video quality, xLoveCam doesn't raise any bars, nor does it fail to deliver. The shows take a while to buffer to their top quality, so make sure you wait for the resolution to pick up (takes about 10 seconds or so). Once it does, you'll notice that many of xLoveCam's chat rooms are in HD, with only a few of them in HQ. You'll also notice that some of them are tagged as HD when they shouldn't be, but it's only a minor issue.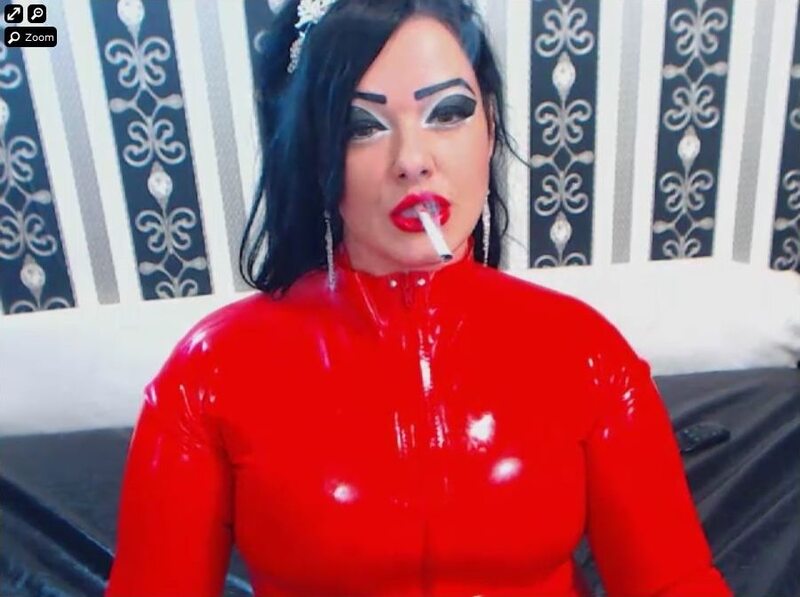 The rooms themselves tend to be presentable and well framed, but it doesn't really compare to the production quality of sites like LiveJasmin. What is special about them, though, is how they load. The video feeds are opened as pop-ups and load extremely fast, making it possible to navigate through xLoveCam's rooms with ease.
Prices
xLoveCam uses a convenient credit-to-Euro ratio of 1:1. If you are paying with a different currency, the prices will change according to the exchange rate. As long as you are aware of the value of the Euro, it is very easy to keep tabs of your payments.
At an average of €1.80 a minute and a minimum of €0.65 a minute for a private show, xLoveCam is very affordable. It is a shame though that you'll have to add money for your private show to truly be private (more on that later), but, even with that, the site is very cheap.

The credits packages and payment options you see will depend on your location. xLoveCams has different deals for each country. There's usually a preferred payment method, which awards you with a bonus.
Chat Types
xLoveCam prefers to stick to the basics, giving its members a very limited selection of show types.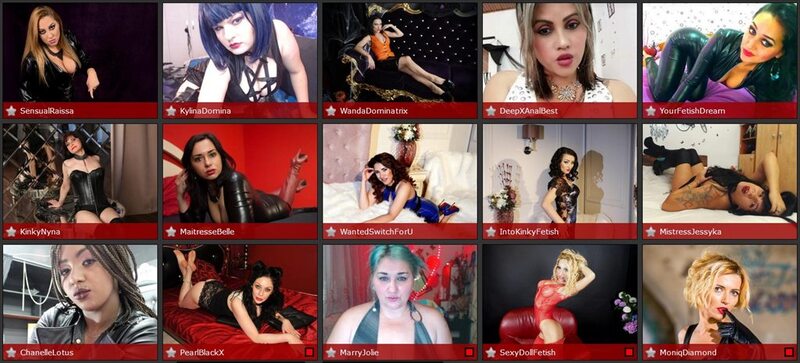 xLoveCam is mainly divided into Free Chatting and Private Shows, as you can see in the Type of Chat categorization menu.
Open Chat
This is where you can chat with the performer prior to taking her private. Since xLoveCam's selection of fetish cam girls is quite limited, I suggest you use the open chat to flirt with models that are not categorized as such and ask if they are willing to perform your fetish. When it comes to common BDSM fetishes, like jerk off instructions (JOI) and small penis humiliation (SPH), you'll find that most models are actually eager to give you the satisfaction of being their bitch. If you're in the market for a more niche fetish, such as a giantess cam show, I suggest you start with the dedicated fetish performers first, since not all models on the site will have the experience necessary for those. You can find these performers in the Fetish Female category.
Since nudity is allowed in the open chat, tipping for a requested performance is actually allowed on xLoveCam. What you can hope to achieve with this, though, is greatly dependent on how many other tipping viewers are in the chat, what your request is and what the model's preferences are. xLoveCam refers to these as Bonuses, and you can gift them by clicking the Bonus tab above a model's show.
Private Chat
This is where you take the model once expectations are set and you want a more intimate setting. Two-way video and audio is available in the private (and exclusive) chat, though it's disabled by default, so talk to the model beforehand to make sure she uses this feature if you're interested in it.
Private shows on xLoveCam do have a downside, though: They're not actually private. Up to three members, not including yourself, can join your private chat (although only you can initiate cam2cam), and you'll have to pay extra for an Xclusive chat to actually be alone in the room with the model.
Do note: xLoveCam has a SneakPeek feature, which allows you to view the action in a private show with a model that enabled this feature. This option will probably only be appreciated by the true voyeurs among you, as it costs €1.00 per 20 seconds.
Exclusive Chat
If you value having complete intimacy with the model, xLoveCam's Xclusive chat allows you to have exclusivity in a private show with any model that enabled this feature. This way you can be sure that no one else joins your show or spies on it via the SneakPeek feature, and that you'll get the model's full attention.
You also gain the ability to control the model's sex toy directly, setting its vibration speed, rotation speed, and direction. This, of course, will only be enabled if the model has the necessary vibratoy. If she does, you will see a dildo and gear icon at the bottom of her chat window.
Exclusive chat tends to cost anywhere from 30 percent more to double the cost of a private chat, or even higher. If you intend on mostly enjoying Xclusive chats with a specific model that you fancy, consider paying for a VIP subscription to her shows. It will make all your private shows with her Xclusive.
Unique Features and Extra Content
Some performers on xLoveCam offer their fans the option to subscribe to their show. Those that do will have a visible V.I.P. tab on their page. A VIP subscription fee varies depending on the performers, who set up their own prices. The amount will be deducted monthly from your account's credits, which xLoveCam refers to as your E-Wallet.
You can easily cancel your VIP subscriptions by logging in to your account, going to Your VIP subscriptions page by hovering over you account name and clicking the link, and then use the Stop re-bill option, which will be available for each of your subscriptions.
While active, the subscription gives you access to the model's exclusive hot videos, which normal users will have to pay for. As a side note, many models have pictures and videos on themselves on their page, some of which they charge credits for, so if you're into prerecorded fetish cam porn, consider this option.
xLoveCam also has a special ranking system called the Loves feature. Each visitor can virtually send a model their Love by at the open chat (you will notice a "Lovers" button above the chat box). The more lovers a performer has during last hour interval, the better her position will be on xLoveCams' various cam show pages.
You can give your virtual Love to as many different online performers as you wish, but only once per 24 hours to the same performer. It's a great way to incentivize models to perform better, and gives you an easy and free way to reward your favorite models.
Mobile Site
xLoveCam is not well-optimized to work on tablet devices and phones. It actually looks a and feels more polished than the browser site and loads even faster than the browser site, but has a few technical hiccups that I have yet to encounter on any other cam sites mobile platform. The main one is the lack of a true landscape option, meaning that even if you wish to view the show in landscape mode, the screen just splits to two sides, with the stream at the left and the chat at the right. This becomes altogether unresponsive if you enlarge the screen, as it looks fine on portrait mode but bugs out on landscape mode.
There are a few other minor issues that many other mobile cam sites suffer from, like the address bar permanently staying on the screen unless you scroll down until it disappears before entering a chat room, and the chat window obscuring the screen on portrait mode. xLoveCam's mobile site also lacks the great categorization system that the browser site has.
xLoveCam's mobile does offer you the ability to switch between performers by swiping left or right on your screen, eliminating any clumsy or slow switching between mobile tabs while exploring. This does a lot to better your experience if you like to shop around a lot before settling on a performer, but it if you're looking for the best mobile cam site to enjoy your fetish on the go, I would suggest you check out LiveJasmin instead.
Premium Membership and Rewards Program
xLoveCam doesn't have any rewards program or a premium membership that requires a monthly payment. It offers you to subscribe to the models you like, and doesn't put anything behind a paywall.
Registration
Registering to xLoveCam is as simple as it gets. You choose a username, password and valid email address, proceed to validate your email address via the link that the site sends it, and you're done. It's free, simple and fast.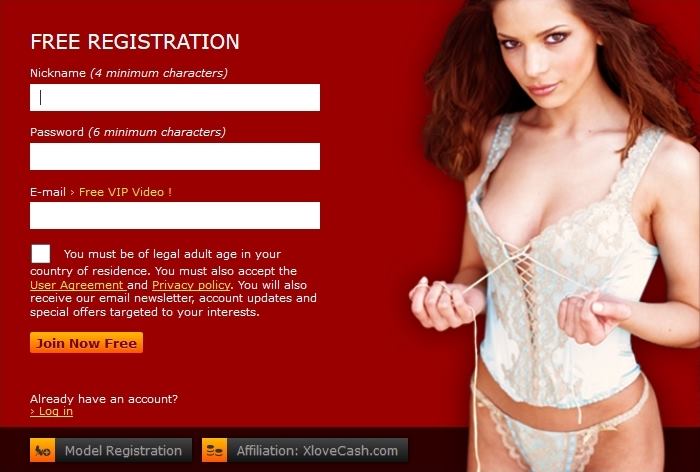 If you open an account and purchase credits using a credit card, you will get one free subscription to a model of your choice for a month, so use that option if there's a sub or mistress you've had your eyes on and offers this service.
Also, if you verify your email after signing up, you'll receive a VIP video, which is a recorded video of a fetish model's private session of their choice, for free. It usually costs $15, so that's quite the incentive.
Accepted Payment Methods
The accepted credit card types are as follows:
Visa
Mastercard
Diners Club
Discover
JCB
And these are the available alternate payment methods:
Paysafecard
Wire transfer
iDeal
Security and Quality Assurance
xLoveCam guarantees the security of their database and your credit information. They're open about their security protocols and have slowly become renowned for their transparency and heavy focus on user safety and discretion.
For instance, credit card payments on xLoveCam are made through a secure SSL server, and the transaction reference written on your bank or credit card statement will be "AcWebConnecting BV," so its nature will be hidden from anyone but you.
xLoveCam does not, however, have a satisfaction guarantee. The live chat support actually warns registered users that any negotiation regarding special services in private is between them and the models. This should not stop you from contacting xLoveCam's customer service department if a show is poor to an unreasonable degree, though.
Which brings me to this...
Customer Support
xLoveCam's customer support is top of the line. The site has a detailed and comprehensive FAQ section in case you have any questions or issues you feel you can resolve by yourself.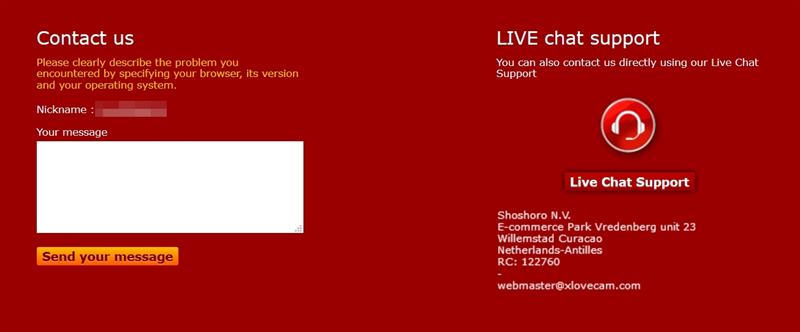 On top of this, xLoveCam has customer support for both billing and technical problems which you can contact via email and live chat. The staff has proven to me to be dedicated and extremely pleasant to talk to on several occasions.
You can find links to xLoveCam's FAQ (Help) and customer support (Contact Us) at the bottom of the site.
In Conclusion
xLoveCam isn't the best at any particular field, but it's at the very least above average in pretty much everything. It's slick, straightforward and well-rounded while having no real issues that would deter any fetish lover from visiting it.
If you're searching for a solid cam site that walks the walk and also talks the talk, you've find it. Give xLoveCam a try and see how you like it. After all, it may be premium, but you can sure as hell check it out thoroughly without spending a penny.