Top 5 Lesbian Cam Sites That Accept Debit Cards
Last updated
May 21, 2020
Most people I've met would rather use debit for online shopping, especially since it lets you keep better track of your expenditures than a credit card would. For this reason, I've listed the 5 best lesbian cam sites that take debit cards, so you won't have to waste your time looking for them yourself.
---
Stripchat.com
Stripchat is among the best sites for watching a couple on cam, especially if you want to cam2cam with them, so it stands to reason that it will also be a fantastic site for watching lesbian couples on cam. And, unsurprisingly, it very much is.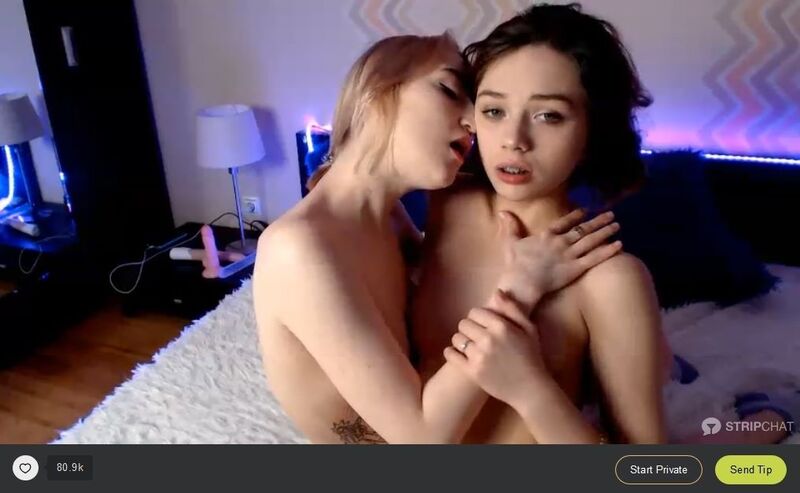 Stripchat has a huge collection of lesbian cam shows, with over 30 lesbian cams live at most times of the day. This number may get as low as 20 at times, but in peak hours it can easily get to 40 and above. These couples come from all over the globe and many of them are truly stunning. Some of them even use remote-controlled sex toys that you can activate by tipping, which serve to heighten your experience and your level of involvement in the show, should you choose to participate in this way.
Additionally, the actual quality of the shows is excellent. While most of the lesbian couples here only stream in 576p HQ and not in HD, you will definitely find some who do, and the ones who don't nevertheless use professional streaming equipment and a stable internet connection, so your show will look great regardless.
The site's lesbian couples are easy to find, so you won't have to spend any time looking for them. The site has a dedicated Lesbian category that you'll usually be able to see under the main POPULAR category on the left side of the site. Stripchat doesn't have a video preview feature, so you'll have to enter a room to really see what's going on inside. Luckily, Stripchat is freemium, so you're bound to see some sweet girl-on-girl action while sifting through the rooms.
What's surprising about all this is that, while Stripchat is a tip-based cam site that mainly focuses on the open chat, its private shows are accessible and cheap. A private show with a lesbian couple on Stripchat will usually cost you between $2.10 and $4.20 per minute, which is a steal considering that you're getting two models for the price of one.
Not all is perfect, though. While Stripchat offers a great deal of interaction options, it lets the models charge you for cam2cam, and some do. You can expect to pay an additional dollar a minute on average for the addition of c2c and two-way audio, but, if them seeing you is what gets you off, it's a very small price to pay.
---
LiveJasmin.com
LiveJasmin, as always, is a fantastic choice if you're looking for high-quality live cams. Not only does the quality of its lesbian couple cams surpass that of Stripchat, but it actually surpasses most webcam sites in this regard.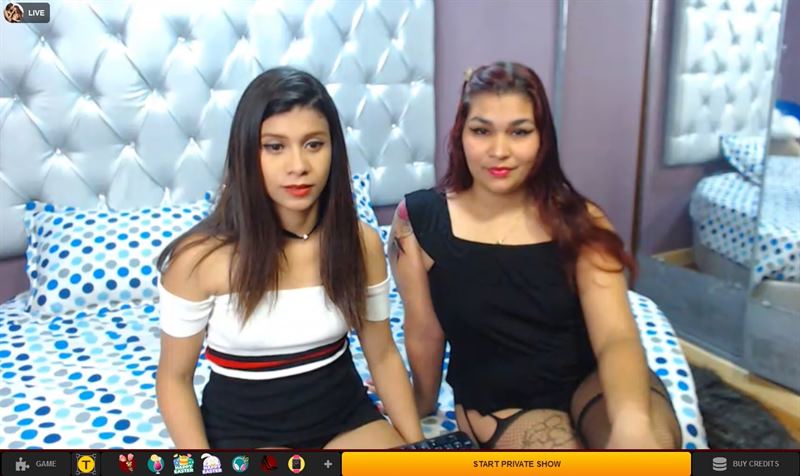 Most lesbian couples on LiveJasmin stream in HD, either 720p or full 1080p, and their actual streams look as professional as you can get. From the camera angle, to the lighting and even the scenery, wardrobe and makeup, everything about this premium cam site's lesbian cam shows screams "luxury".
The selection here, though, is not as robust as that on Stripchat. On most days, you can expect to find around a dozen lesbian couples performing live. There will usually be more than that, but only 12 of them will not already be in a private show. Most of them will be Latina, and even though you'll find a few European girls there as well, variety of lesbian couple cams isn't LiveJasmin's forte.
You can find LiveJasmin's lesbian couples by simply searching for lesbian in the site's search bar and clicking Show all results at the bottom of the drop-down menu. There isn't a dedicated category for them, but you won't really need it anyway.
In terms of prices, LiveJasmin is actually a bit cheaper than Stripchat, with the site's lesbian couples charging only around $2.60 a minute. Adding cam2cam, though, will increase the price of you show by a dollar a minute, and the same goes for 2way audio. However, both features very well-implemented and work like magic, even if you yourself stream back to the model in HD. It's also among the only chat sites around that features mobile cam2cam.
Ultimately, on LiveJasmin, you will get you money's worth. The site has a generous customer satisfaction policy and a wonderful customer support team that operates 24/7. You can even contact them via LiveJasmin's in-site live chat, and they tend to respond within minutes.
---
Streamate.com
Streamate is a premium sex chat site with freemium flavor. There's lots of nudity to be seen here, even in the free chat, but the models will rarely perform sexual acts outside of a private chat. Luckily, Streamate's private chats are enjoyable, great to look at and highly affordable.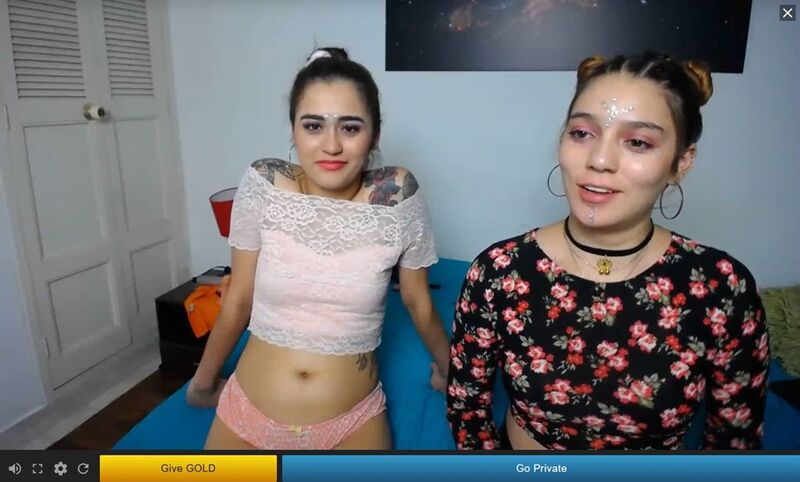 Streamate is one of the only cam sites in the industry to use direct pay, meaning that you never have to purchase any in-site credits or tokens, and instead simply pay for the show directly via your debit card. I really wish more cam sites would offer this in the future, since it's much easier to keep track of your expenditures this way.
And, as I've said, Streamate is pretty cheap when compared to most other cam sites out there. A private show here will usually cost you around $2.50 a minute, and includes free cam2cam and two-way audio. To get a True Private cam show, though, and prevent people from spying on your show, you'll have to pay around $1.00 per minute extra.
As for Streamate's lesbian couples, they're plentiful and beautiful. If you look at the Lesbian category, it will usually show you that there are more than 50 live lesbian couples on the site, but if you enter the category you'll find that only around 30 of the cams there are lesbian cams. That's still an impressive number, so this inaccuracy isn't much of an issue.
Overall, Streamate doesn't do anything drastically different from other adult chat sites, but it excels at what it does, and I, for one, don't ask for much more than that. Hell, they even have a support team that's available 24 hours a day, 7 days a week, including on holidays.
---
ImLive.com
If you want a lesbian cam site that will take your debit card but won't empty it out, then you should try out ImLive. It is not only the cheapest site on this list - it is also among the cheapest cam sites in the world. It even has several money-saving features, like fan clubs, discounted block sessions (lengthy, pre-paid shows), cheap group shows, and a generous loyalty program that will help you pay even less in the long run.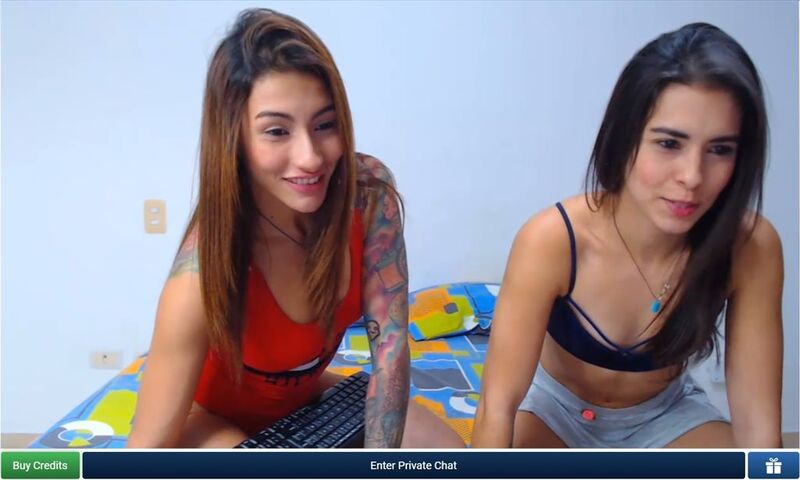 At around $2.00 per minute in private, and with free c2c and 2way audio included and the above cost-saving features, you'll be spending much less time worrying about how much you're spending and much more time actually enjoying your experience on the site.
And, chances are that you'll very much enjoy your time on ImLive. The site is slick and user-friendly, with accurate categorization that can help you find the lesbian couple of your dreams with ease.
ImLive has a dedicated Girl on Girl category with around 15 lesbian cams at any given visit to the site. If you want to find a lesbian couple for a specific fantasy that you want to fulfill, I suggest that you use ImLive's exclusive Fulfill Your Fantasy feature, which can be accessed at the bottom-left corner in the Member Area. There, you can write down and submit your fantasy. The site's cam models (and only them) can then read it and make a bid to make it a reality. You can just lay back and relax while beautiful lesbian couples vie for your attention.
The downside of ImLive is that most of its lesbian couples stream in HQ, with very few of them streaming in HD. The shows still look great, and you'll get a selection of a few HD lesbian cams if that's hat you're going for, but don't expect it to have the same selection of HD girl-on-girl rooms like LiveJasmin has.
---
CamSoda.com
CamSoda, the second freemium cam site on this list, is one of the most popular cam sites in the world, and for many good reasons. It's cheap, has plenty of HD cams and hot couples, and it's the only cam site on this list that lets you record and later re-watch your past private shows, for free.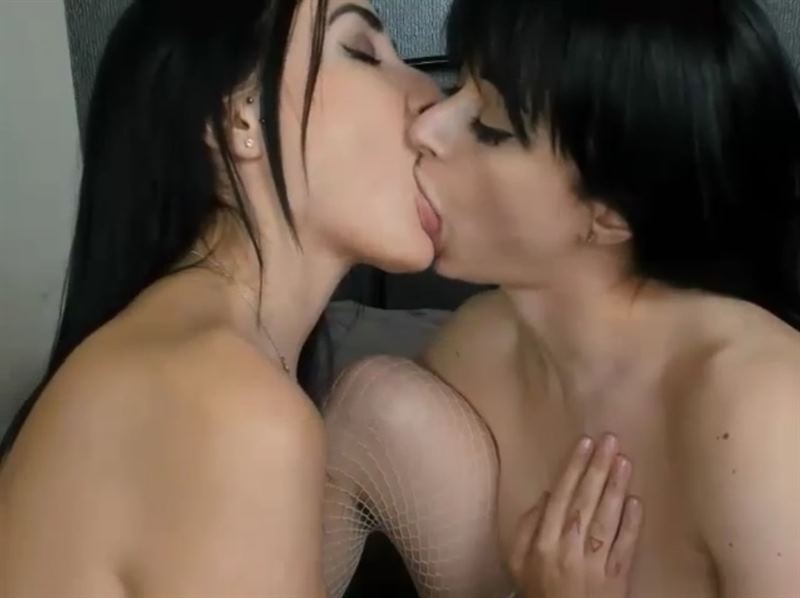 Many of CamSoda's lesbian rooms are in HD, and while they can seem quite amateurish, they still have a certain charm to them. In a word, CamSoda's shows feel very "casual", since most girls here seem content to just have amazing and passionate sex in the free chat and only receive tips for special favors.
And, as I've previously mentioned, CamSoda's private shows are also quite cheap. You can usually get a private show with a hot lesbian couple for around $2.70 a minute. The models also usually allow cam2cam, as well as show recording, and when they do it's always free of charge.
The biggest downside about CamSoda is that, while it has plenty of guy-on-girl couples, it actually has a small selection of lesbian cams. By searching for lesbian, you'll usually find only around 5 cams that are actually hosted by a lesbian couple, mostly comprised of cute Latina girls, while the rest will just be tagged as such by the model in an effort to attract more viewers. You can find a few more by visiting the couple category, but it's rare to find more than 10 girl-on-girl couples here.
CamSoda accepts most major debit cards, and is the only site on this list that accepts Amex debit, so if that's the card that you intend to use, then CamSoda is your only option. Luckily, it's a pretty good option.
---
In Conclusion
If you like to watch lesbian couples on cam, and you want to do so on an adult chat site that accepts debit, then all of the sites on this list should be on your list of 'sites to visit next'. They all have top-off-the-line security and discretion protocols, and even make sure that the transactions on your billing statement is listed under an inconspicuous name so none will be the wiser.
But, out of all the sites on this list, Stripchat has the largest selection of lesbian couple cams, and that's on top of it having fantastic streaming quality, fun interactivity options, and affordable prices. So, there's really no surprise when it's picked as the number one lesbian cam site on this list. You should definitely try it out, and since it's freemium and has a free, no-strings-attached registration that you can complete in under a minute, there's really no reason for you not to.