Shemale.com Review - The Cheapest Tranny Cams You Can Find
Last updated
January 07, 2021
Most people looking for the cheapest shemale cam sites do so not because they are cheap or poor. They do so because, like me, they understand that the only way to really enjoy long sessions of live tranny webcam shows is with no worry on your mind regarding its length. On most adult chat sites, spending too much time doing the thing you like can leave a hole in your pocket. Not so on Shemale.com.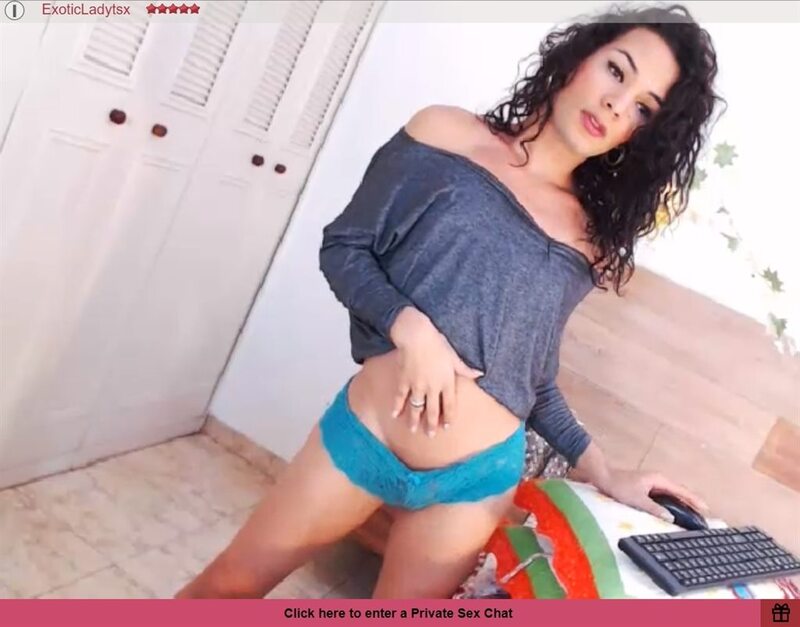 Shemale.com is not only cheap, it gets cheaper the more you use it. On top of this, Shemale.com has several features that can make your experience even cheaper. Much cheaper, actually. This, coupled with the large number of online cam babes, makes a solid foundation for a good shemale webcam site.
But Shemale.com is more than that. I've done quite a bit of research — and not only the fun kind — and came to the realization that Shemale.com is actually one of the best shemale cam sites currently on the market, and for a few good reasons.
I've explained everything below, so read on and find out what makes this site so great, and what holds it back from being the absolute best.
Pros Vs Cons
Pros
Amazingly affordable
Rewards program drops prices even further
Group chat, pre-paid shows and model discounts can make things absurdly cheap
Loads of hot shemale cam babes online
Cons
No HD cams
Some stuttering issues
It takes a while to climb up the membership tiers
The Models
Shemale.com has an impressive amount of shemale cam babes streaming on its platform. You'll see between 50-100 online in any given time, most of whom are attentive and very enticing to watch. Many of them are gorgeous feminine babes with perfect tits, while some are still a bit manly and strong-looking.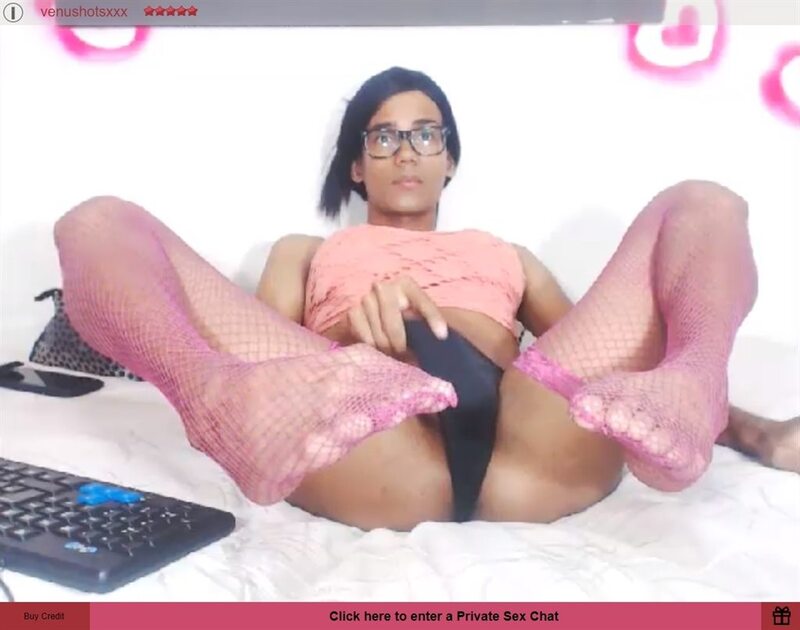 Shemale.com also has a wide selection of different categories and a good search engine you can use to find anything in particular, in case you're hankering for something specific. Looking for a teen tranny babe? A mature one who'll know exactly how to get you off? Or one with a dick big enough to use as a weapon? Shemale.com has it and a category dedicated to it.
Shemale.com even lets you filter for shows that have models that speak a certain language, or even by the model's rating or price. This way, you won't have to sift through them if you're looking for bargains, even if it is pretty fun and helpful in finding some quality tgirls. To do this, simply click the categories button on the top right, above the shows, and select the Advanced Search option.
Video Quality
While Shemale.com is a great tranny webcam site, it isn't without it's flaws, and its video quality is the biggest among them. You're not going to see any HD whatsoever on Shemale.com. Even models who can and do stream in HD are not shows in the quality that they stream in as the video resolution of every show is limited to HQ (576p) to keep the site low-cost. The difference between that and HD is noticeable, and may turn away some of you.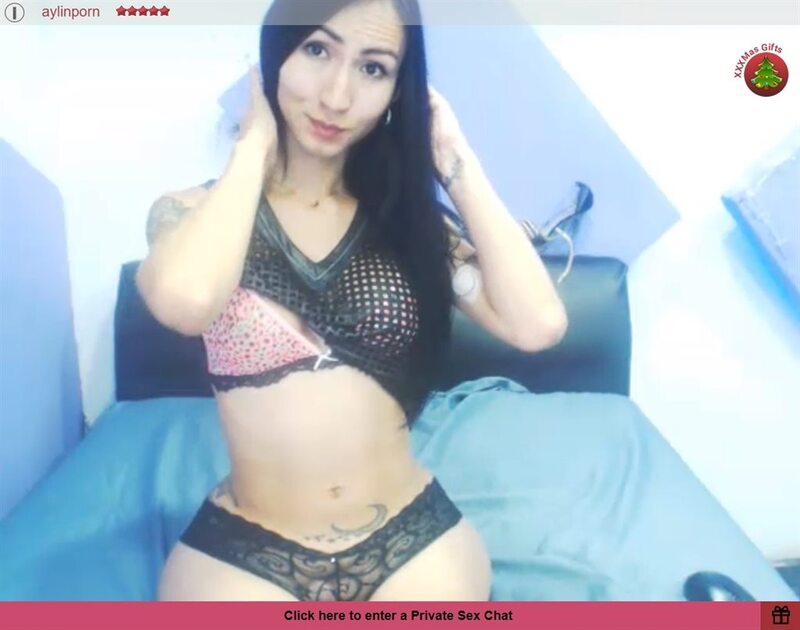 This can become even more of issue due to the fact that Shemale.com may put an upper cap on video resolution, but it doesn't impose a bottom cap on the models. For this reason, some even stream in 240p, which frankly hurts the eyes. On the plus side, these cams are few and far between and can just be ignored. Additionally, the site loads and runs noticeably faster than most cam sites, especially on older computers or ones with poor internet connectivity.
There is a slight issue with some of the rooms, though. I've noticed that some models have an upload speed that doesn't suit streaming, which can cause their show to stutter. Like with the rooms in 240p, I recommend just skipping these rooms. You should wait around in the free chat room a bit prior to starting a show, to see if the model has lag.
Prices
This is Shemale.com's strongest selling point. Shemale is one of the cheapest shemale webcam sites in the world. What's more, the credits used on Shemale.com even have a 1 to 1 exchange rate with the US dollar, so they help you even further in being in control of your spending by perfectly reflecting how much you spend.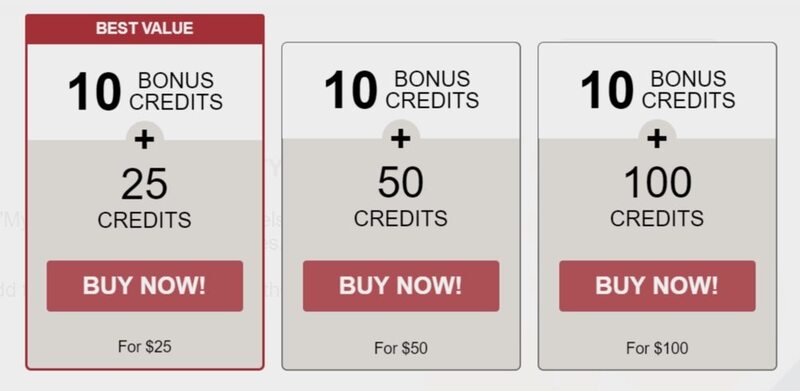 Shemale.com doesn't have a lot of credit packages on offer, giving you an option to purchase either 25, 50, 100 credits. Further purchases open up an option for 250 credits. Shemale.com incentivize its new members by offering 10 bonus credits (worth $10) for free upon their first purchase. If you want to try out the site, I highly recommend going for a smaller package, getting that bonus and leisurely enjoying your time, as every credit goes a long way here.
There are also two different ways you can save money on Shemale.com's private shows right from the get go. The first is pre-paid session. Aside from being a great way to avoid running out of credits mid-show, pre-paid shows can save you a lot of money if you tend to take your time. You have two options: Either pay for 30 minutes upfront for a 20% discount, or for 60 minutes upfront for a 30% discount.
The second way to save money on Shemale.com's private shows is receiving a personal discount code from a model. This is given at the discretion of the model, so it gives further incentive to be a gentleman and play nice, as these can lower the price of a show by $0.20-$0.40 per minute. Unsurprisingly, most of the members on Shemale.com are strikingly cordial.
On top of it all, Shemale.com includes free two-way video and audio in every private chat, so you can get as intimate as you want with the model, at no extra cost. Do note that only the model can see and/or hear you, so should she record the show to sell on her page, you're not going to be featured in it.
Once in a while, such as on holidays, the site will offer you special deals like "get 25 bonus credits on every purchase" — a deal it promoted for Christmas. This, as you can probably tell, is huge, so keep an eye.
All these, on top of Shemale.com's rewards program ensure that you'll be able to spend pretty much all of your spare time watching hot tgirls jerking off if you so choose.
Chat Types
Shemale.com's selection of show types is pretty bare-bones. You have the standard free and private chats, a group chat and... that's pretty much it.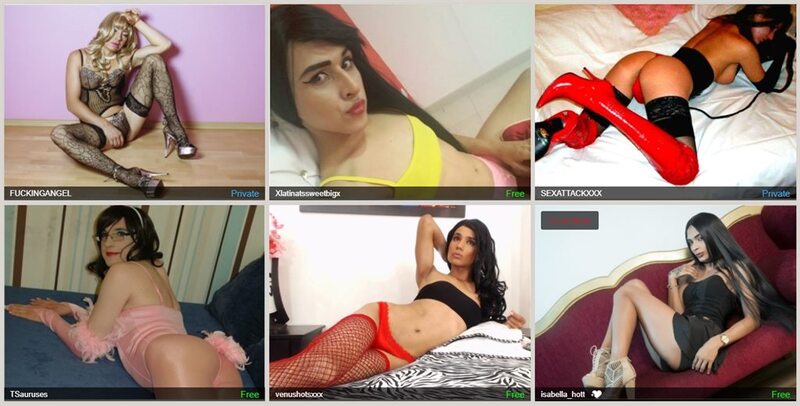 I've listed the type of chat shows you'll encounter on Shemale.com below, and gave details on each one.
In the Live Cams page, you can choose from a list view, a tile view, or a gallery view, so use that to further hasten your search for that one cam room you know will get you off.
Free Chat
Exactly what it says. This is Shemale.com's open chat, where you can chitchat and flirt with the model for free before deciding whether or not to take her private. Be civil and ask any pertinent question you might have.
As a side note, you should expect quite a bit of nudity in the free chat. While Shemale.com is a premium cam site, it doesn't force its models to save it for private, letting them show off their goods to entice prospecting clients.
Private Chat
This is Shemale.com's main draw. For a minimum price of $0.98 per minute, anyone can find a cam show that will his budget, and with an average of $0.98 per minute, you can even find ones you can spend hours on. You're never going to see prices higher than $4.50, and even that's a stretch.
Shemale.com's private chat is is also fairly straightforward. The chat is simple and easy to use, and the models like it when you don't waste time and get to the point.
By the way, if you're planning on pre-paying for a show, you'll have to choose to do so before entering it (the option is presented when you choose to go private). In addition, should the model find you to her liking and give you a discount code, you are able to enter it mid-show and receive its benefit retroactively for the time you already spent in the show.
Candy Show
This is basically Shemale.com's group chat. Here, you pay for a live show where the model's performance can be influenced mainly through tips. If not enough "tickets" are sold before the time limit, the show is canceled and you get your credits back, but if it does, anyone who purchased a ticket is free to watch it.
This is why I recommend you make sure that not too many tickets need to be sold for the show to start, because if that is the case then you might find yourself fighting for the model's attention.
In general, these group shows are extremely cheap, though they differ greatly in price from model to model. Some charge under $3.00 for a 20 minute show, while others charge more than $15.00 for a 10 minute show. I therefore recommend you to shop around before settling on a show; you'll never know what bargains you can come across. Also, talk to the model beforehand to know what she's willing to perform. It may prevent some disappointment later on.
Voyeur Show
While there is no dedicated category for it, Shemale.com lets you spy on other people's private shows. This costs the same price as a private show with the model would. To protect the privacy of the member in the private chat, you can't hear the show or able to see anything he might stream back to the performer via cam2cam.
All in all, this is mainly for the most hardcore voyeurs among you.
Pornstar Show
There are some famous tranny models working for Shemale.com, although it's rare for more than a couple of them to be online at a time. A lot of the time, you actually wont find any porn stars online on Shemale.com, which is a shame, since they tend to be gorgeous and highly experienced performers.
There are also Celebrity Events, which are like a reddit AMA with a transgender porn star, only it's a live video chat and she not only tells, but shows. These shows are free for VIP members. Sadly, though, these are few and far between. Don't expect one to take place more than once a month.
Unique Features and Extra Content
Shemale.com's doesn't really have any extra content other than video clips the models can offer to sell from choice private sessions they had.
As for unique features, Shemale.com sticks to the basics. There is a well-implemented VibeToy feature on Shemale.com, which let's you control the performer's sex toy and even pay an extra credit per minute to send her pleasurable vibrations at an pace you choose, so you can keep your hands free. I don't think I need to explain why this is awesome.
Aside from this, though, Shemale.com doesn't have much else.
Mobile Site
Shemale.com may not look the best on a giant computer screen, but this stops being an issue on the smaller screen of your tablet or phone. Aside from this, Shemale.com is perfectly optimized to run on mobile devices. Even typing in chat doesn't obscure the screen, which is sadly a problem that even some of the best mobile cam sites in the industry suffer from.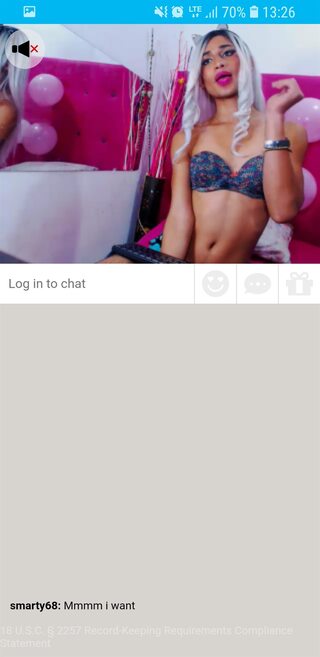 While Shemale.com is a fantastic cam site to use on the go, it doesn't have any cam2cam option on the mobile. As of now, the only mobile tranny cam sites with cam2cam are LiveJasmin and CamSoda.
Premium Membership and Rewards Program
Shemale.com doesn't have a premium membership, but it does have a Rewards Program, which is one of its most appealing features. It gives you points the more you use the site, especially its paid services, such as watching private shows or purchasing exclusive videos. For example, you gain 20 points for every 5 minutes you spend in a paid live chat. This increases by 5 for every membership tier above bronze. Same goes for tipping, watching recorded videos and so on.
As you earn points, your membership rank slowly increases, giving you more and more benefits and bonus credits on credit purchases.
Here is a breakdown of the bonus credits that each membership tier gives you, along with how many points you need in order to reach each rank:
| Membership Tier | 25 Credit Package | 50 Credit Package | 100 Credit Package | 250 Credit Package |
| --- | --- | --- | --- | --- |
| Bronze (1st purchase) | 0 free credits | 3 free credits | 5 free credits | 0 free credits |
| Silver (500 points) | 0 free credits | 0 free credits | 8 free credits | 0 free credits |
| Gold (2,500 points) | 0 free credits | 0 free credits | 8 free credits | 25 free credits |
| VIP (15,000 points) | 0 free credits | 0 free credits | 10 free credits | 30 free credits |
And here are the other benefits you get per tier:
Membership Tier
Benefits
Bronze (first purchase)

Access to paid features

Silver (500 points)
—
Gold (2,500 points)

Free access to Celeb Events

VIP (15,000 points)

50 Bonus Credits on every 10,000 Points collected

VIP customer support
You retain any befits you get when you reach higher membership tiers. The amount of points you collect resets to 0 with each higher tier you reach, and increases between each rank so getting to the higher ranks can take a long, long time if you don't frequently visit the site.
If you're far from a casual member, though, Shemale.com can get so inexpensive that you won't want to visit any other trans chat site.
Registration
This process could not be any easier. You enter a valid email, choose a username and password and you're done. You don't even have to validate your email address.
Accepted Payment Methods
The accepted credit card types are as follows:
Visa
MasterCard
MasterCard Maestro
Diner's Club
Discover
JCB
And these are the available alternate payment methods:
GiroPay
Sofort
SafetyPay
Paysafecard
PumaPay
Bank wire transfer
Security and Quality Assurance
Shemale.com deserves its place among the ranks of the most secure shemale cam sites in the business. It uses secure connection and HTTPS protocols, along with privacy standards that ensure no member will ever have to worry about his personal affairs on the site becoming known to anyone he does not wish would know about them.
Shemale.com is in full compliance with laws and regulations, and abides by a very strict anti-spam and child protection policies. It is verified and approved by the RTA and ASACP, and is in full compliance with regulations that prevent any model on its platform from being exploited or registering while below the legal age of consent.
Furthermore, all transactions on Shemale.com are discreetly and securely handled by authorized and highly renowned payment processors. Payments to the cam site won't even show on your bank statement as such, only as a nondescript name.
Customer Support
Shemale.com's customer support is pretty lackluster. While its FAQ section is fairly helpful, you can only contact its customer support team via email, and they take a while to answer, sometimes even several days.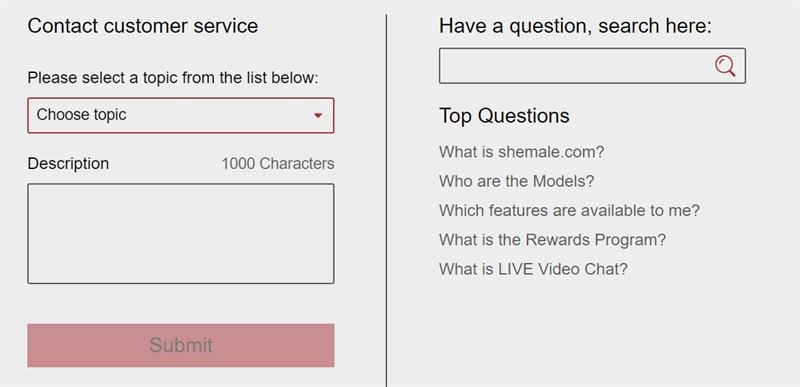 You get access to faster and more accessible customer support only when you reach the VIP membership tier, which for many of you will take months, if not years.
Still, you probably won't need to contact them. I've never had any problem on Shemale.com, even with all the time I've spent on it. Which is a lot. I actually had to fake having a technical issue to actually have anything to talk about with the representative.
In Conclusion
Do you want to spend some time watching a sexy trans model pleasuring herself without having to worry about how much you're spending? Then you'll be hard-pressed to find any tranny chat site more suited for your needs than Shemale.com. It not only has cheap prices, but features that actually lower costs even further.
While it doesn't offer the video quality that sites like MyTrannyCams do, it has a selection of ts cam babes that rivals the best of them, and is much simpler to navigate.
Shemale.com caters to the not-so-specific demographic of trans lovers who are not filthy rich. If you are among them, you'll find that this shemale webcam site has a lot to offer.