JOYourSelf Review - Have Fun Watching Premium Sex Cams
Last updated
November 01, 2018
Hi, It's Andy here and I'm back with yet another review of an adult chat site with premium sex cams. A newish player to the game of online xxx entertainment, JOYourSelf.com is an elegant looking professional site for amateur webcam models, and despite this site's youth, it is already looking to position itself among the hottest sites for high quality chat.
Those who are already familiar with sex chat sites might recognize the format and layout, as this website is modeled on other trendy and popular sex chat sites that have proven to be popular with avid online porn fans. Off the bat, this makes JOYourSelf familiar and attractive to most, as users enter a site with crisp clean graphics and straightforward site navigation.
Let's not forget the pages of stunningly beautiful webcam models and their attractive chat rooms. The models are on display for everyone to see and, in these open chat rooms, they spend time flirting with members and sometimes even guest users, enticing them into In Private or paid private shows.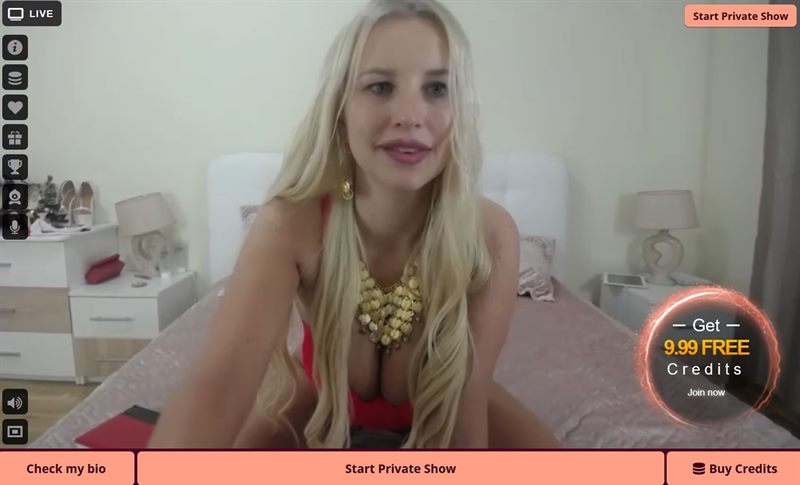 Anyone can enter and join in a conversation or start one up with the sexy cam babe. Keep in mind that these rooms are usually tame and above board, with not too much nudity.
As with most premium sex cam sites, there are essentially two types of chat available. Open Rooms or public chat rooms, which are open to all users and members and as the name indicates, are completely free to use.
Look,
The private shows are stellar as it's in these paid performances that the real stripping magic takes place, and your sexual fantasies are explored and played out. It's in these performances that you assume the control and give model direction during the performance, expressing what the model should be doing and how she should be doing it.
You become the director (and co-star) of your own amateur porn production, setting the pace and calling the shots. Or, if you prefer, just sit back and relax and let these gorgeous amateur babes take their time and lead the way
It gets much better!
With cam2cam, elevate your experience to a whole new level of erotic viewing pleasure. Simply activate your camera; now the webcam model sees you, as you see her, giving the performance an added dimension of realism. Round off the experience with 2-way audio (not all models are set up for this service).
From my own experience, finding model rooms who have cam2cam and 2-way audio, make for particularly extra special shows, as you watch and converse intimately with the model, from the comfort of your own privacy.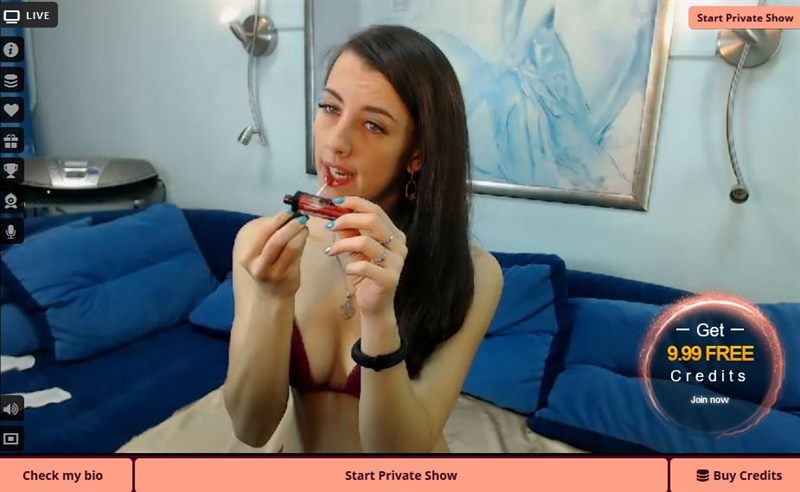 Joy Our Self is an adult sex cam site offering the very best in live chat. In such, all of it's chat rooms feature high quality HD cams. Most models stream HD 720, the fortunate savvy cam babes broadcast HD 1080, making this attractive website an obvious destination to watch premium sex cams.
This is further reinforced as you enter the model's chat rooms, and are greeted by an extra wide video screen with a gorgeous cam babe. The video screen size can be adjusted to either large extra wide, or full screen. As there is existing superior video quality, changing the picture size shouldn't result in image distortion or loss of picture quality.
This is what I mean:-
I peeked into an ongoing show featuring a hot blonde cam star with charm and finesse, and caught the last of her act in full screen mode. This cam babe was clearly skilled and experienced, and it didn't take me long to become completely immersed in her performance. Every detail of the show was crystal clear, and I enjoyed and savored every moment.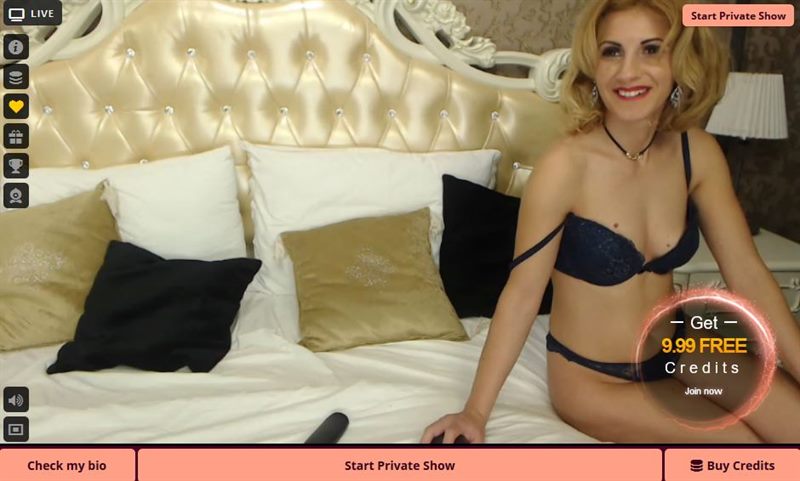 After the show, I made sure to show appreciation and surprise her by sending a virtual gift. JoyOurself conveniently provide members with a variety of virtual gifts to choose from, suitable for all budgets. To help promote the model's rank, I took the time and cast my member's vote. Lastly, I made damn sure to save this gorgeous blonde bombshell to my favorites list, as I knew that I'd be coming back for a second, more intimate and lengthy visit.
So here's a deal sealer!
Becoming a member of JOYourSelf is 100% free, and easy. The usual data is required namely: username, password and email address. Once registered, your status is changed from guest to Basic member. This is a lifetime free membership, no strings attached. New members are also rewarded with 10 sneak peeks, which can be used to spy on any In Private performances of your choice.
Add credits or validate your credit card to become a Premium member. Credit Card validation scores members 9.99 free bonus credits (once off). Credits are sold in bundles and there are a number of different size credit bundles to suite every wallet, most include free bonus credits. There are also various ways in which you can purchase your credits other than using a credit card.
And the best part?
Members of this quality live chat site enjoy bonus free credits with their initial and then every fifth credit purchase!
This winning site feature not only attracts new membership, but also helps retain and promote member loyalty. I like the fact that JOYourSelf have kept things simple, rewarding it's loyal members with consistent bonus credits. No elaborate membership programs needed.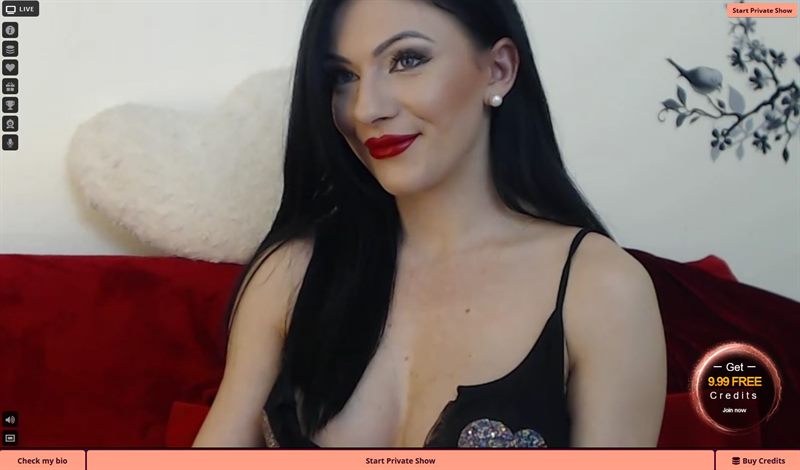 Pricing on JOYourSelf seems to be fair, and in line with other comparable live chat sites. In Private shows average 2.99 per minute, with Sale chat rooms discounted to 0.98 per minute. Not too bad considering that this quality live chat site, features premium sex cams in HD. Note:cam2cam is a hot site feature, which is an additional extra 1-2 credits per minute. As is 2-way audio an additional charge, though some models may include 2-way audio as part of their show, at no extra cost (model's discretion).
There are a number of different model categories for users and members to explore. These rooms range and include Big Tits, Couples, Footjob and MILF to mention but a few. There are also high quality chat rooms for the more deviant such as Dominatrix, Fetish, Masturbation and Submissive. JOYourSelf.com has also included in their main menu filters for: Girls, Boys & Tranny.
No matter your sexual orientation, this premium sex cam site has an amateur cam babe waiting to perform for you.
Another fantastic site feature is the advanced search tools allowing you to filter your search by specific model attributes such as Language, Ethnicity, Age etc. There is also a search option to filter rooms according to sub-categories such as New Model, Two-way audio or VIP Show for examples. An equally important advanced search tool filter is the Willingness sub-category.
Search for the rooms with specific model acts you would like to see in the paid shows. These include (but are not limited to) Anal Sex, Close Up, Roleplay, Love Balls and/or Vibrator.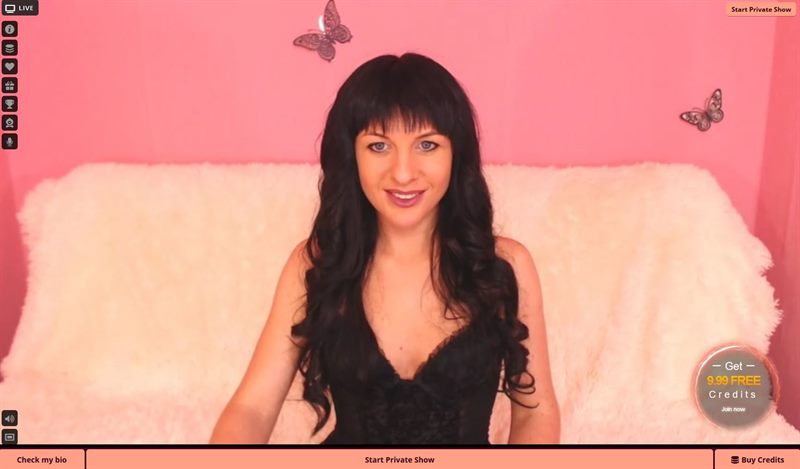 By the way:-
If you have a specific act in mind or want something that's not listed on the model's profile, simply ask. The worst that she can say is no.
The gallery of the home page can be adjusted to suite your browsing tastes. Change from having many, but smaller thumbnail pics to having fewer but larger thumbnail model photos to choose from. Mousing over any of the profile pics will get you a sneak peek as to what the cam babe is doing which I must say is yet another phenomenal site feature and popular with users. Some of these video sneak-peeks even include sound!
The last of the site features that I'd like to bring to your attention is the fantastic Online Live Chat Support 24/7. Every webcam site offers customer support usually in the form of email or telephonic support. JOYourSelf.com offers around the clock online live support 7 days a week. This free service deals with both technical and general queries. I can personally testify that the level of support here is excellent. There is also separate billing support offered for account queries.
What's my bottom line?
JOYourSelf.com, as soon as you can get both your mouth and mind around the name, is an exciting quality live chat site. Lifetime membership is free and bonus credits (9.99) are gifted on sign-up. Whether you prefer to watch strippers perform on your desktop or on your mobile device, in my opinion this cam site is a choice destination for premium sex cams, and quality live chat. JOYourSelf totally deserves to feature on our list of best sex cam sites. Gorgeous babes with HD quality cam rooms 24/7, what are you waiting for? Head on over to JOYourSelf and get in on a little cam action.