Best 5 Trans Cam Sites For Feet Fetish Shows
Last updated
July 30, 2020
The love of feet isn't as uncommon as you may think. In fact, there's even a professional term for it - podophilia. Whether it's a glimpse of a slender ankle that draws your eye, perfectly pedicured toes that gets the juices following, or perhaps a stocking or stiletto clad foot tantalizingly out of reach, whatever your preferred style of podophilia, the following 5 cam sites have the best of the best. From a transgender only cam site, to freemium and exclusive premium platforms - they all feature top tgirls who have perfected the art of foot play.
LiveJasmin.com
LiveJasmin may not be a trans-only webcam platform, but it has some of the most gorgeous t-girls from around the world streaming in HD. Prices for a private cam session aren't the cheapest, but then again you're getting top quality features in every aspect of a private cam experience. And, if you read on, I'll show you a few ways that'll help cut your cam costs down, without compromising on the model, the feet and the streaming quality.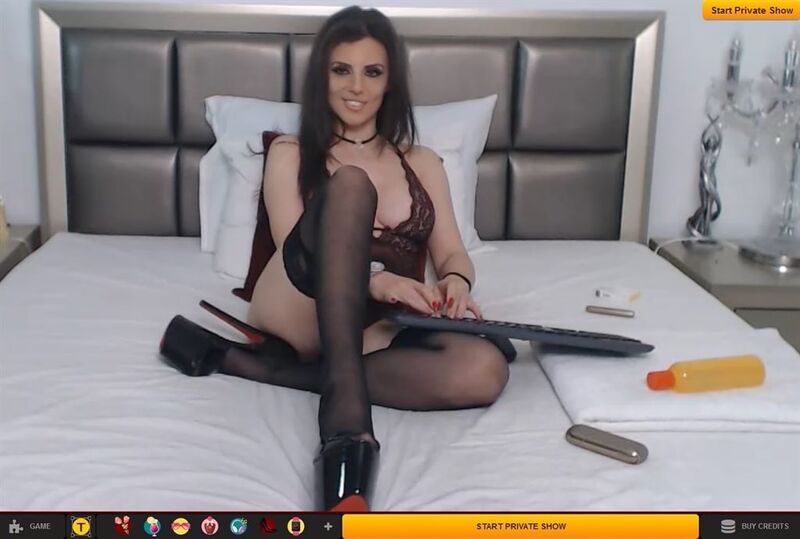 LiveJasmin is a premium site which means no monkey business in the babes open chat rooms. Most of the semi-pro and pro trans cam models broadcast from professionally styled and lit studios, but don't expect to see much foot action in them if you're haven't started a paid-for one on one date.
Like many of the sites, there's no separate category for feet-fetish, but most of the performers are well-versed in what it takes to tempt with the toes. If you see a selection of shoes in the room or see she has dancing/stockings indicated in her bio, it's generally an indication that she's a foot femme. The best way though to find out if she's a foot player is to simply ask her in her open hang-out. It doesn't cost a penny and then you know for sure.
Prices per minute for a private cam date with one of LiveJasmin's t-models average around $2.70 a minute. However, if you want to open your webcam and play two-way footsie, you'll incur a surcharge of an extra $1.00 or so a minute and if you wanna keep you hands free and use your microphone - then that's another $1.00 a minute extra.
But... not all is as it seems with the prices. For example, before every purchase of site credits you get to Spin A Wheel which offers prices including a 99% discount off your first purchase. And, if you see a New sticker on the tgirls snapshot, it's worth clicking through to see what she's up to. These are generally the newer models on the site with the lowest cam prices and often they're willing to do everything and anything for very little in order to grow their fan base.
---
Flirt4Free.com
Flirt4Free is similar to LiveJasmin in as much as it's a premium cam platform with transgender models. However, unlike LiveJasmin, in the open rooms the models will bare all their assets with just the slightest bit of encouragement. Flirt4Free doesn't have a huge selection of trans models, normally around 20 or so are streaming, but the reason it's deserving of inclusion in this list is that everyone of them specializes in several forms of niche proclivities and most of them are goddesses of foot worship.
Flirt4Free hosts some of the kinkiest gender bender girls from mainly Asia and Latin America. While the choice of performers isn't as large as at other sites recommended here, what's great about these girls is that everyone of them is stiletto, stocking, boot or pedicured perfect.
Although there's no dedicated foot fetish category, you can select the small magnifying glass icon and write in feet in the search bar. This brings up all those that have it listed in their preferences. However, I'd recommend you just go through the handful of performers and if one catches your eye. Send her a free message to find out if she's into it.
Streaming quality at Flirt4Free can be hit and miss. In most categories, it tends to be in HD, but in the trans groups, there's still a significant number of rooms broadcasting in subpar SD. On the upside, prices can be extremely low for a 1on1 private cam date. On average, expect to pay around $3.00 a minute for an exclusive show with a hot trans model. This includes cam to cam and 2-way audio.
But... the average gets cheaper if you take advantage of the promotions offered on the site. For example on the bottom menu bar there's a link to Show Offers. This is a features that lets you negotiate with the performer on the price. Quite often if you commit to a minimum time spend, they'll cut you a nice break on their per minute rate. And don't forget, if you validate your credit card details (without even making a purchase) - the site will comp you 120 FREE credits.
---
Shemale.com
Shemale is sole representative of the transgender only cams to make it onto this list and it does so due to one major factor - it's incredibly cheap cam prices which are inclusive of both c2c and dual audio. The selection of models online at any one time isn't huge - generally around 50 or so, but there's a reason for this. Every one of them has been vetted by the site ensuring you're guaranteed a private cam date that'll leave you wanting more.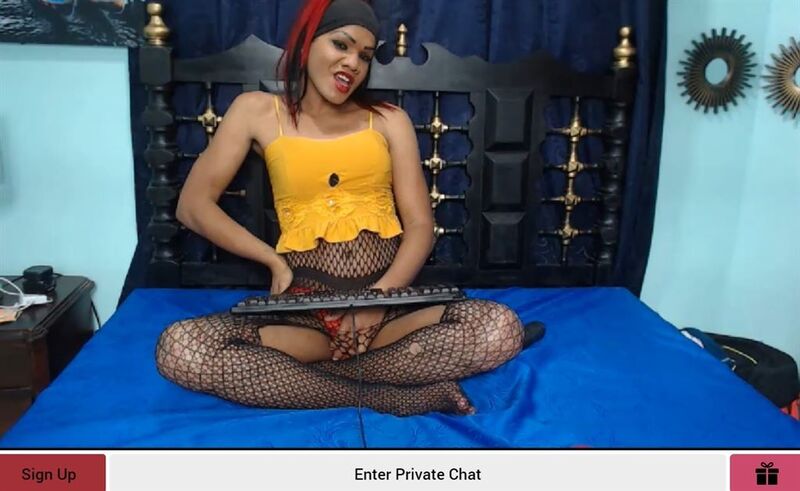 The majority of the trans girls here are based in Latin America or America, with a much smaller representation from Asia. It is a premium site so the official stance is the action remains demure in the open chat rooms. Certainly most performers adhere to this, but there's always a handful 24/7 that bare their bounties and take great pleasure in exhibiting the goods that you're there for. When it comes to the feet fans, Shemale is a one-click trip. You just go to the advanced search icon on the far right on the top of the snapshots. Select this and the major filters appear including one for feet fetish.
When it comes to streaming quality, this has been improving recently. While a number still use SD, more and more are upgrading and broadcasting in not only HD, but also HD plus. Unfortunately, some of the rooms still suffer from feed issues and once you click through into a chat room, the live feed can get interrupted and freeze.
At the end of the day, it's the private cam session prices that make Shemale a great option for some foot fun. On average, it costs just under $2.00 a minute for a private cam to cam date with cam cutie.
The site not only offers low cost all inclusive rates, but it gives away credits. For example, on your first purchase you'll get an extra 10 credits as a welcome gift.
---
CamSoda.com
CamSoda is a freemium site, which means in the open chat rooms, everything and anything goes. While CamSoda doesn't have the largest selection of trans-girls online at any one time, it does have some low cam rates for private encounters and it's one of just a handful of platforms that offers c2c on mobile devices, smartphones and tablets. But, what I love about this site, is that if you're looking for just a quick gander at a trans and her feet - at CamSoda it won't cost you a penny.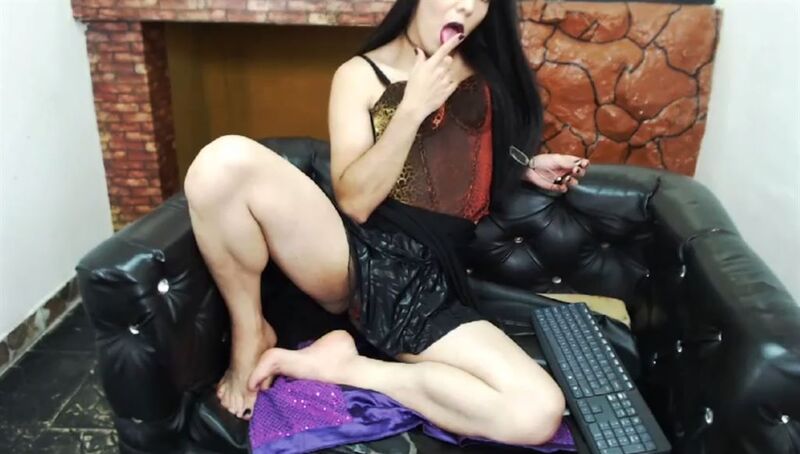 To get to the t-girls at CamSoda, all you have to do is select the Shemale tab on the upper menu bar above the gallery of extreme snapshots. There's generally only a handful streaming, with that number picking up during peak hours. Instead of filtering the results using the site's search engine, at CamSoda the best way to find the pedicured princesses is simply to go through the photos and if someone catches your eye, click through and see if their feet are up to par.
Most of the performers at CamSoda are either amateurs or semi-pros. This means broadcasting feeds are all over the place. Some use SD and others HD plus. Generally the higher the streaming quality, the more expensive the cam rate is.
When it comes to going private, be aware that not all of the girls with the added assets allow it, preferring instead to perform for tips in their open chat rooms. If you're looking for a foot show, this isn't always the best option. So before you get too involved with her, make sure she's private cam friendly. If she is, rates tend to hover around the $2.40 a minute mark.
Some of the models at CamSoda let you record the one-on-one session with them and store it in your CamSoda account where you can re-watch it as often as you want at no extra fee. If you become a Premium Member at the site which costs $19.95 a month, you'll also get a 1 time bonus of 200 FREE tokens along with a basket of additional perks and benefits.
---
Stripchat.com
Stripchat, like CamSoda is a freemium platform, with a significant number of transgender hosts streaming 24/7. Prices per minute for a private date with a t-girl vary wildly depending on not only their looks, but also streaming quality and whether they're in the amateur category or are more professional performers. As a freemium site, they can go as wild and wanton as they want in their free lounges, but often you'll find that amateurs are happy to go all the way, but the more skilled stars keep it covered and will only show why they're at the top of their game in paid for sessions.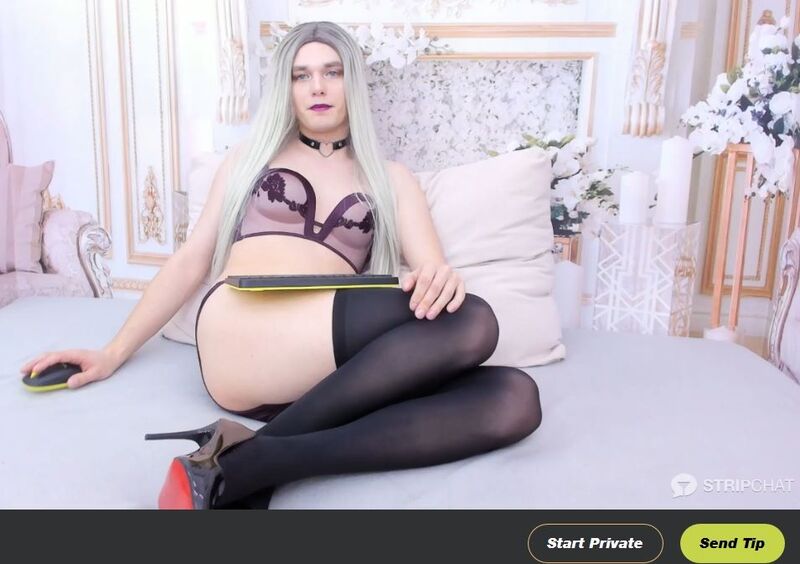 There's usually over 100 transgenders hosting at Stripchat covering every ethnicity, look, and stage of their gender journey. While, there's no category for the feet goddesses, you can quickly see at a glance whether the babe is into the feet or not from their photos. These are static images grabbed from their live feeds just moments before. Those wearing stockings, boot and stilettos are generally the femmes that are digit dancers.
One of Stripchat's major strengths is its variety of streaming options. Many of the trans here use HD. These rooms have a small HD sticker on their photos and tend to cost the same as many of the SD sirens. While Stripchat is famed for its virtual reality (VR) shows, this isn't an option that I've seen in any of the trans rooms. However, if you do have a VR headset and come across a tgirl with a VR sticker on her photo, it's an experience you can't afford to pass up - feet or not.
Prices for an exclusive show at Stripchat come in at around $2.40 a minute. There are many that offer the site's minimum rate of just $0.80 a minute, but the broadcasting quality tends to be rather low in this price group.
Stripchat, like CamSoda, also offers what they call 'recordable privates'. These are shows that can be recorded in your Stripchat account and re-watched as often as you like at no surcharge. Only a percentage of rooms allow this. To find them you simply go to the left hand menu bar and in the Private Shows group, select Recordable Privates. The site also hosts an hourly giveaway where they hand out 50 FREE tokens to ten online registered users.
---
In Conclusion
Hooves, tootsies, feet, whatever you call them - everyone has their own particular preference of how they should look. Some like the neatly clipped natural look, others get a tingling sensation when they see a perfect pedicure with bright red polish. Then there's how they should be wrapped up. Leather, latex boots, high stilettos, fishnet stockings, silk socks or nothing at all. It's definitely not a one size fits all passion.
You may be a boot licker, like to massage them, into tickle play, or an expert into footing a trans, whatever you are - or aren't, chances are the perfect partner is online right now at one of these five recommended sites.
When it comes to the transgender models, most of them have some knowledge of the art but not necessarily of your particular proclivity so it's always recommended to ask them what's their footing before starting any paid-for show.
All of the above sites have their own strengths and weaknesses. The freemium selections offer a wide range of fun and games in their open rooms that won't cost you a penny, but then again, you won't necessarily get their full attention and just as things are starting to heat up - someone else can come in - tip more and the foot games come to an end.
Shemale - a trans only site saves you hunting for the tgirls, but doesn't really have a larger selection of trangenders than many of the major webcam platforms. However, those that you will find there tend to be professionals in niche acts and really know what a foot game is all about.
The premium sites have the best of the best - but this can often come at a higher private cam rate than the others. In the end, it's all down to your particular preferences. For me LiveJasmin has the best of the best without a shadow of a doubt. While the private cam prices can seem a tad expensive, if you take into account the tips I listed, then this can cut your costs way down. Thus, making it one of the most affordable, yet top-quality options for great trans feet fetish shows.