These 2 Top VR Cam Sites are Pretty Cheap
Last updated
January 26, 2021
Virtual reality cams is, without a doubt, the future of porn. Even as we speak, this technology is starting to gain a foothold in the industry. Finding the cheapest VR cams is a smart way to hop on the VR bandwagon, but there are only two top cam sites that I believe are worth your time and money. Fortunately, these sites are not only great, but among the cheapest chat sites out there.
---
Stripchat.com
Stripchat, the only cam site that features virtual reality cams, is a pioneer in its field, and a fantastic chat site on top of that. It features more than 2,500 live cams on average, and around 25 VR cams at most hours of the day. On top of that, every single one of these VR cams streams in fabulous 4k video quality, and rarely, if ever, suffers from connectivity problems.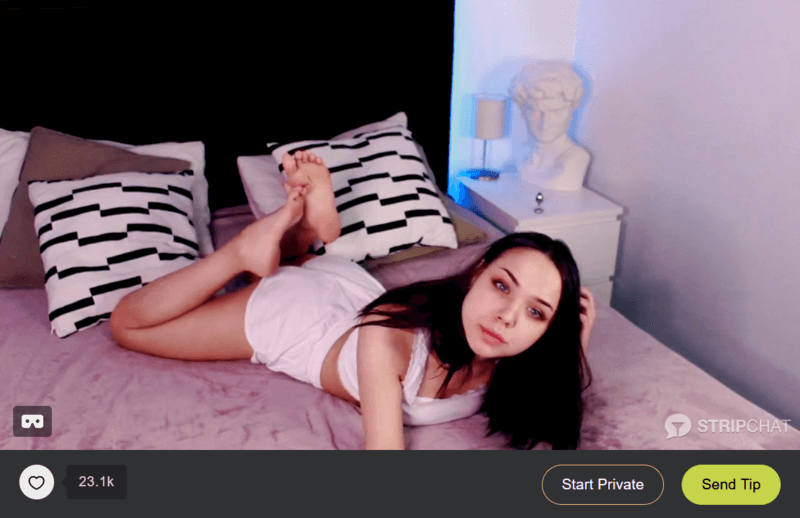 The site's VR cams won't cost that much more than what you're used to paying for regular cams. A private show on Stripchat only costs around $2.10 a minute, and a private VR cam show, with VR enabled, costs about $2.90 a minute. This is far from being expensive, especially considering that that's what you'd pay for a regular private show on a premium cam site nowadays.
The downside to this, normally, is that Stripchat doesn't provide you with free cam-to-cam or two-way audio, and most models tend to charge a bit extra for those. However, if you're in a VR show, you really won't want to enable cam2cam anyway, so that becomes a non-issue.
I've found that there's a good representation of ethnicities among the site's VR cam models, along with different body types and performance styles. There are also no couples or threesomes to be found in Stripchat's VR section, at least not commonly. To be frank, I don't see that as that much of a issue, since I usually enjoy the one-on-one intimacy that a VR cam can help you develop. It really blows everything else out of the water.
On the other hand, there's a widespread use of tip-activated pleasure toys here (as you'd expect of a freemium cam site), including among the site's VR cam girls. The feeling of controlling your model's toy while she feels right there with you is simply ecstatic, and well worth the tip.
As a side note, there are only female VR cams on Stripchat, so if you're more into males or transgenders, there's nothing for you here. Stripchat does have a huge selection of males and trans girls, so feel free to explore the site nonetheless.
---
SexLikeReal.com
SexLikeReal, unlike Stripchat, is not a regular cam site. It is dedicated to VR porn, whether it be live VR cam or recorded. It only has around half the number of virtual reality cams that Stripchat boasts, but their quality is just as fantastic, and they are accompanied by short VR porn movies that sport up to 8K resolution, 120 frames per second, and 200º field of view.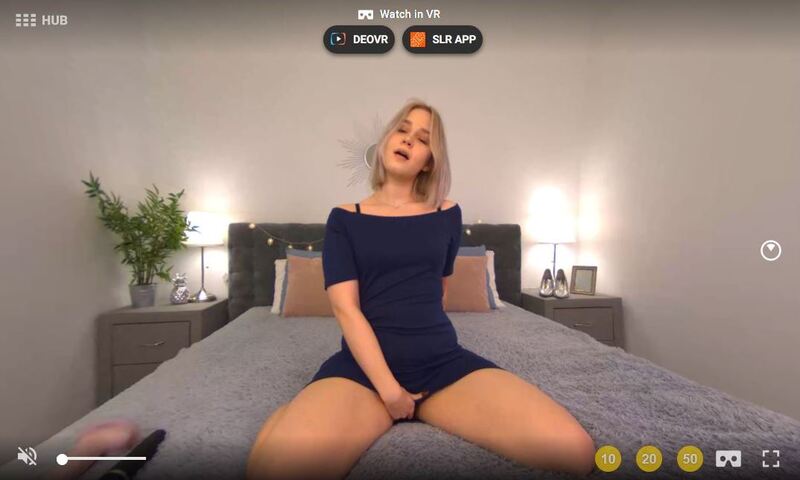 SexLikeReal is especially great for inexperienced users, as it guides you which programs and apps to download and use, and how to best set up your headset. More experienced users, though, will lament the site's lack of cam-to-cam and two-way audio, as well as smaller selection of live VR cams.
What SexLikeReal has that Stripchat doesn't, though, are virtual reality porn videos and VR couples on cam. You're still not going to find any gay VR cams or trans VR cams here, but the option to just sit back and enjoy an immersive pornographic fantasy is quite the draw. These videos are usually between 30 to 60 minutes long and cost $6.99-$9.99 to purchase. After you do so, they're yours forever. There's also an "On Sale" section where you can purchase videos for half the price. These rotate every now and again, so keep an eye out.
SexLikeReal has categorization, but not for its live VR cams. That means you won't have a way to sort or filter by price. Fortunately for you, almost all of SexLikeReal's models only charge around $1.80 a minute, so you won't really have to look for the cheaper shows - just pick one out and check, it will probably be cheaper than anything on offer at Stripchat.
As a side note, if you find SexLikeReal's VR porn section its true appeal, you can subscribe to the site's premium membership and get free access to any of its newly uploaded SLR videos. This will cost you $29.99 a month (or up to 33% less if you get a lengthier subscription).
---
In Conclusion
There's a reason why I chose Stripchat as one of the cam sites to look forward to in 2021. It's fantastic, and you should try it out regardless of whether you own a VR headset. If you do, though, it becomes an even more attractive option, and even manages to beat the virtual-reality-dedicated cam site SexLikeReal, both in terms of quantity and camming features.
Sure, you may not have many options when it comes to VR chat, but it's still a comfort, at least to me, that Stripchat is among them. This freemium cam site bombards you with thousands of hot, naked bodies you can watch for free and enjoy for months without going through them all, and still has what I consider to be the cutting-edge camming technology that the best premium cam sites out there should be making strides to achieve.