FireCams.com - An Affordable Contender to the Greats
Last updated
March 07, 2021
FireCams is slick cam site that has recently started giving the veterans of the business a run for their money with its low rates, high quality cams and models, and several neat features I really wish would be the industry's norm.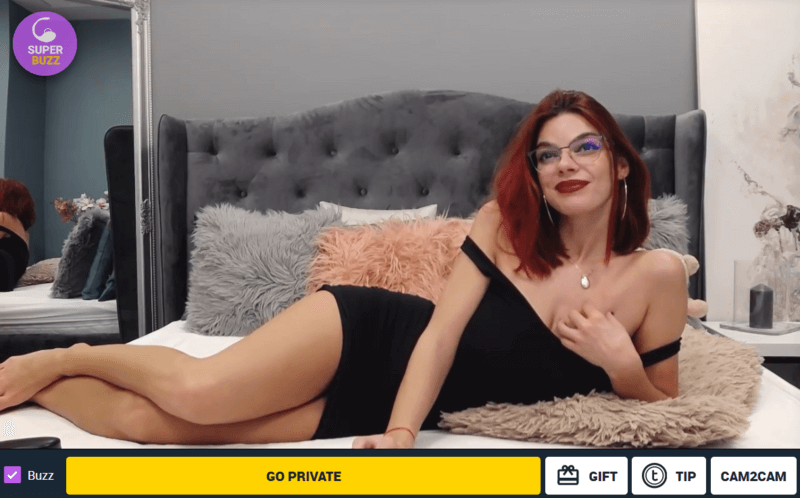 Premium chat sites like this may be a dime a dozen, but FireCams has enough going for it to be worth your time, especially if quality and long-term costs are a concern for you. Read on for an in-depth look at FireCams' features and some tips on how to save money using its services.
Pros Vs Cons
Pros
Low private show prices
Varied selection of cam models
Great overall streaming quality
Cam-to-cam available in the free chat
Model schedules and fan clubs
Very cost-effective fan clubs
Multiple chat options
Recordable shows
Cons
Nearly no couples cams
Minimal customer support
Few accepted payment methods
No video previews for the cam rooms
C2C costs extra and isn't always enabled
Premium chat site, meaning no free nudity
Limited categorization with no way to filter for HD cams
The Models
FireCams' selection of webcam performers is pretty impressive. At any given moment, there are around 600 live cams on the site, with models of all shapes and sizes. There's a myriad of ethnicities and ages to be found here, as well sexes, genders and sexual inclinations.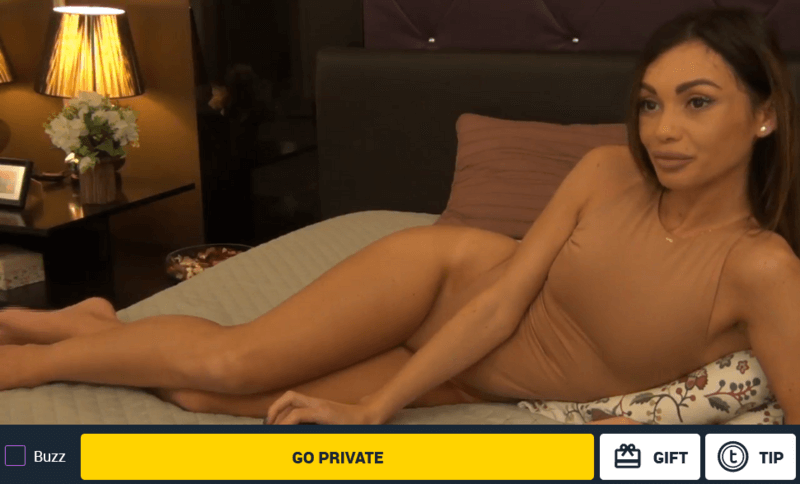 But, while the selection may be impressive, the categorization system you'll use to sift through it is not. You can reach the categories through the navigation bar, located by clicking the three horizontal lines icon at the top-left. There are only around 20 categories, and some of them are just the categories for male and trans cams.
Additionally, there are almost no couples on cam to be found here, or in fact anything beyond solo cams. There's at least a category for interactive cams, where you can activate your model's toy by tipping her, but there's no category for couples. You can search for them, but you'd be lucky to find more than a couple of them online.
The fact that there's no video preview for the cam rooms doesn't make searching through the site any easier. However, once you decide on a model and enter her room, the story becomes quite different. These rooms serve as the model's private profile page, where you can read her bio, watch her sensual pictures and recorded shows (if you're in her fan club) and even check her schedule to see when she's online.
Video Quality
The vast majority of models on FireCams stream in 720p HD. While there's no full 1080p HD cams to be found here, the streaming quality here will still satisfy all but the most hardcore resolution snobs.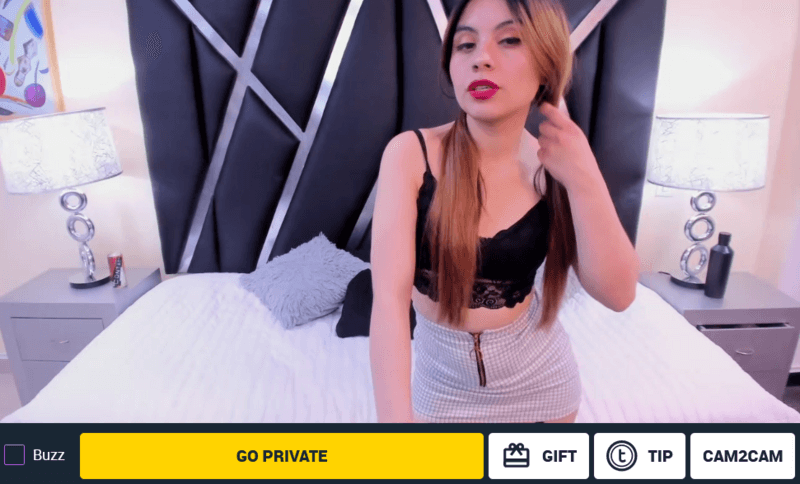 The actual quality of the streams is also fantastic, with most models using an internet connection that easily facilitates their occupational needs. The site has no stream stutter or buffering issues to speak of, so you can rest assured that, should you start a private show, you won't be bothered by sudden frame skips.
HD cam rooms have the option of switching them between SD (480p) and HD (720p) by clicking the corresponding icon at the top-right of the stream. Confusingly, the icon shows as SD when the stream is in HD and vice versa.
Prices
Let's start with the tokens packages available to you:
Depending on where you're located, you'll see different deals offered to new members on a first purchase of tokens. If you're visiting FireCams from the US, the site is offering 50% off of its regular priced tokens packages.
Before any discounts, a FireCams token is worth around $0.10 (depending on the package). You can also see that, as usual, the bigger the package you purchase the better the value you're getting.
To see the 50% offer to new members, you may need to visit the tokens purchase page more than once, as the offer may not be visible when you first see the site's regular priced tokens packages. If you simply leave the purchase page after seeing it for the first time, and then come back to it, the discount offer will then appear.
Chat Types
FireCams offers its members several chat types to keep things fresh and exciting. You can currently find Nude and Interactive chats via the aforementioned navigation bar, but you unfortunately can't filter for the others.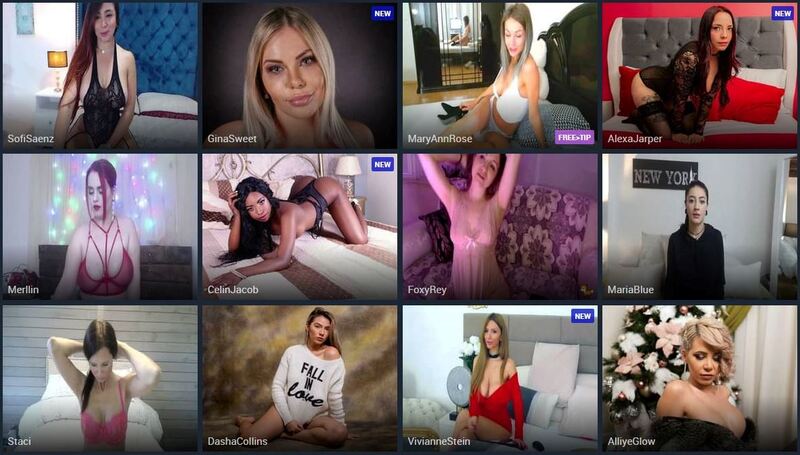 Free Chat
This is the usual open chat, where you can chat with the model before taking her private. As this is a premium cam site, you won't see any nudity or sex here.
Do note that most of the site's models block any user without token in his account from typing in chat. These models are professional, know their worth, and dislike wasting their time on scrubs.
Interactive Chat
This is basically a normal cam room, but with the added feature of a remote-controlled pleasure toy which you can activate by tipping.
Private Chat
The usual private show. You get the model's full attention and can direct her as you please. If she has the SUPER BUZZ icon at the top-left of her stream (meaning that it's an interactive chat), you can click the screen to tip her, thereby activating her pleasure toy. This will cost you around a dollar. You can also click the icon itself to tip her $3.00 for a much lengthier activation of her toy. You can deactivate this feature by unchecking the "Buzz" box at the bottom left.
As for the private rates, FireCams is surprisingly cheap. An average private show here will cost you around $2.25 a minute, while you can find shows that cost as low as $1.80 a minute if you search for them. Sadly, FireCams' limited categorization applies here as well, as you have no way to filter by price. That means that you'll have to enter a cam room and select to GO PRIVATE to see that particular model's chat rate.
Adding cam2cam to a show, including two-way audio, isn't always available and is up to the model whether to enable it or not. When it is, it will cost you roughly $1.75 a minute, which is a rather steep price when compared to other premium cam sites.
Nude Chat
This is exactly like private chat, except other members of the site may send the model messages and interact with her. On other chat sites this will be called "private chat", while FireCams' version of private chat will be called "full private" or "exclusive" chat. I prefer FireCams' approach here, since I always believed that having both a chat type called "private" not actually be private to be a bit misleading.
Party Chat
This chat type is where you go for the communal experience. Here, several members can watch and interact with the model at the same time, just as you would in a private show. You can initiate a party chat in the free chat, after which other members can join. To reiterate, party chats cost much less than private chats, so this is a good option if you're short on funds.
Voyeur View
You can spy on the private shows of other members for the reduced price of $1.80 a minute. You won't be able to listen in on the show or see the conversation in chat, and if C2C is activated, you won't be able to view the member's cam. This is the same for others when spying on your show.
Unique Features and Extra Content
FireCams has no extra content other than what I mentioned above. What it does have, however, are fan clubs. These gems let you support a model of your choice with a monthly subscription, netting you several neat benefits:
Up to 70% off of all private chats with the model
Free view of the model's recorded shows
Instant access to all of the model's nude show photos
Access to specially made fan club videos of the model, for free
A fan club subscription costs $19.99 a month. You can get a discounted subscription of $18.99 a month if you get a 3 month subscription.
Mobile Site
FireCams works very well on mobile devices. It's incredibly fast and responsive, even more so than some of the best mobile cam sites out there.
It's not without its problems, though. Typing in chat moves the screen so the stream becomes hidden, which is an annoyance. Additionally, there's no mobile cam2cam here, so you'll have to resort to the site's desktop version if you want a two-way video chat with your model.
Premium Membership and Rewards Program
FireCams has no premium membership or rewards program to speak of. You gain access to all the site's feature immediately when you register, and you don't have to "work your way up" for them in any way.
Registration
Registering to FireCams is a cakewalk. You choose a username, enter a valid email address and pick a password, and you're done.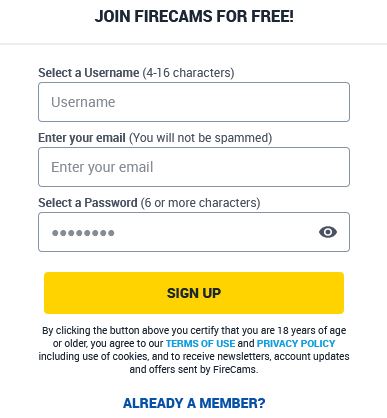 After you're registered, you're free to enjoy FireCams' free chat rooms and flirt with the site's gorgeous models, but anything else will cost you.
Accepted Payment Methods
The accepted payment methods on FireCams are:
Security and Quality Assurance
Like all top cam sites nowadays, FireCams uses the latest security protocols to ensure your privacy and safety. Every payment is securely processed and your information is safely encrypted so no one but you (and anyone with your account details) can get to it. They even mention it in the FAQ page, along with all the details about their company and business practices. You don't see such frank transparency everywhere, so it's very much welcome.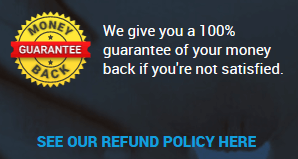 On top of this, FireCams has a fair refund policy, along with a 100% guarantee of your money back if you're not satisfied. You really can't ask for more.
Customer Support
Customer support is, sadly, not FireCams' strong suit. There's no live chat support like you'd hope to find in a premium cam site, so your only hope is to send them an email (or call in the case of a billing concern) and wait. They also don't work at all times of the day, so you might have to be patient.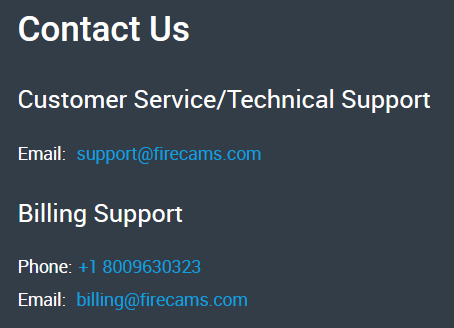 As you see in the picture above, there's at least separate email addresses for technical and billing support, so you can at least rest assured that you're getting someone who is knowledgeable and will know how to resolve your issue instead of a general jack of all trades.
The site does have an extensive FAQ page, though, so use it in case you come across any hurdles.
In Conclusion
FireCams is by no means perfect, but for it to so closely contend with the industry's giants is praiseworthy. It's safe, secure, and discreet, has loads of high quality cams hosted by stunningly beautiful and professional models, and boasts surprisingly competitive prices.
If you're looking for a solid middle-of-the-road choice while not wanting to compromise on quality, this is it. The site's developers wouldn't guarantee you your money back if you're not satisfied unless they were extremely confident in their product - as they should be.