BongaCams Tranny Review - An Anaconda Nests Behind the Dress
Last updated
January 02, 2021
BongaCams.com is a relatively young site, having made its debut in 2012. Despite this, they've gone on to earn themselves a tremendous following. They earned a bushel of awards, and raised themselves up to one of the most visited adult sites in the world. I'm here to take you through the hows and whys, in my BongaCams Shemale review.
The element of BongaCams that has given it such punching power is the site's implementation of a range of unique features. It's a factor that has allowed them to compete with much bigger and more veteran sites. Their inclusion of Cam 2 Cam in the free chat is an absolute game changer!
What sets BongaCams apart even further is the amount of content users are able to view for free. Most live cam sites bill themselves under the paid chat banner almost exclusively. But BongaCams, delivers a completely free cam experience. You always get what you pay for in the end though, and your Dollar spent just goes further with BongaCams.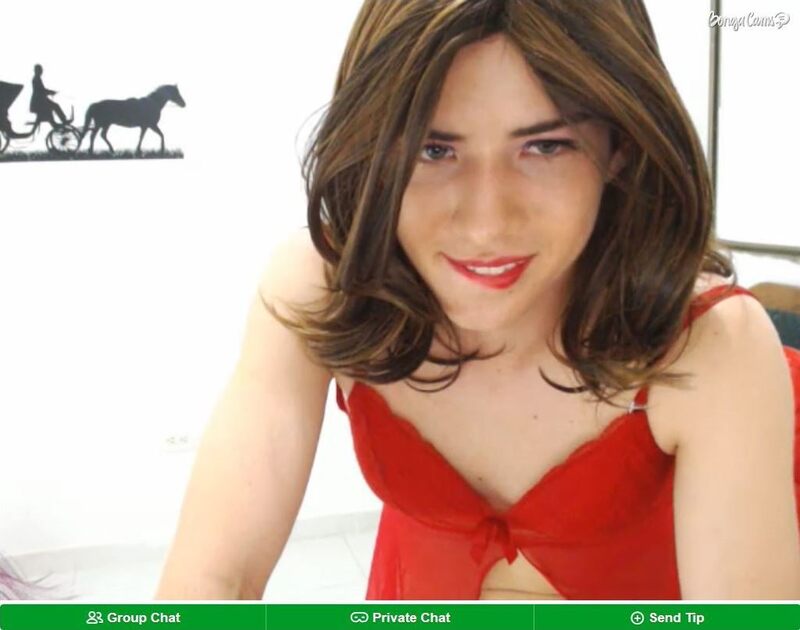 You all came here to hear about the big dick shemales on offer, and I aim to share that, in this detailed BongaCams Review. Their selection of webcam models across all categories is very impressive. The sexy hung trannies are obviously no exception.
Becoming a Member
BongaCams has one of the most simple registration processes I've come across in my travels. Just enter your desired user name and password. Then, the next step is nothing, because you're already an enrolled member!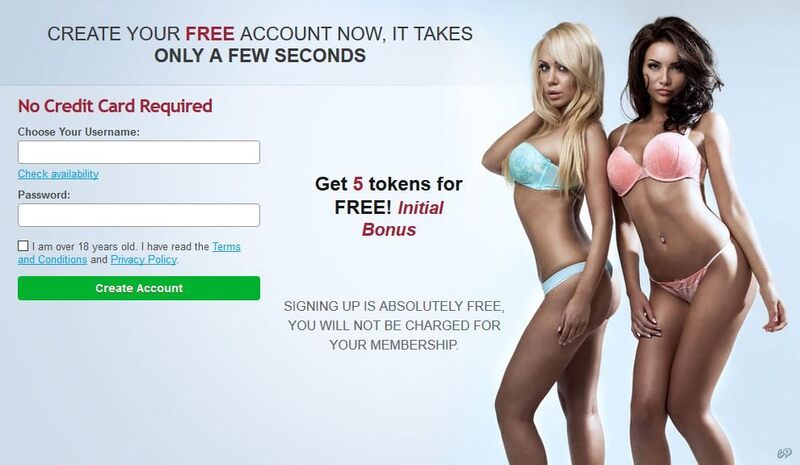 BongaCams employs fairly aggressive self-advertisement in the form of overlay popups.
They like to remind you of things, like registering an email for the security of your account and to take advantage of first time purchase discounts.
The emails will mostly stop after you have registered and provided an email address, but they will continue until you buy.
Premium Membership
Premium Membership is one of the best parts of BongaCams.com! That's because the base level of Premium Membership is earned upon your first purchase of Tokens. This removes almost all the popup ads you've seen up to now, which new users see quite frequently. Being a guest is great, but premium membership turns using BongaCams into sheer pleasure. Once you purchase a Token package, the popups slow to a trickle, only advertising site features.
The upper tier Premium Membership levels are earned through cumulative purchases, and they unlock more and more user benefits with each increasing level, including chances to win free Tokens.
The membership tiers are arranged as follows:
Standard/Free
Simple registration
Completely free
Can build a friend/favorite list
Gold
Earned upon first Token purchase
One time gift of 5 Tokens
Freely adjust the chat window size
Win Tokens
Enables tipping and entering paid shows
Real and virtual gift choices for the models
€1,500.00 purchase limit
Platinum
Earned with €500.00 in cumulitive purchases
Enables BongaCams Concierge Service
Unlocks private messaging to performers
Delivers exclusive offers
Access to VIP shows
Choices of font in chat
€5,000.00 purchase limit
Unlimited
Earned with €1,500.00 in purchases
Specialty VIP support, available 24/7
Special alert sound when you PM models
€30,000.00 purchase limit
The Models
Like I said in my opening, there's tons of trannies on offer! There are hundreds of big dick shemales registered with BongaCams, and around 10 to 50 online at any given time. This might not sound like a lot, but it's actually above average for a live cam site not specializing in transgenders.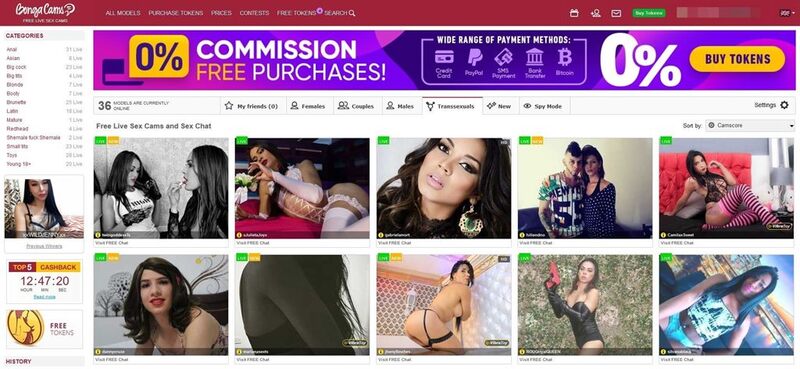 The models of BongaCams come from all over the world, with a huge percentage hailing from Europe. The choices of sexy, hung trannies on webcam are, by extension, massive. You have a great deal of Asian ladyboys, sexy Latina trannies, and well hung ebony shemales, along with lots, and lots of white Europeans. There's a whole host of languages spoken, and the vast majority of the performers are real amateurs. Bonga Cams employs a lot of social aspects to the Model-User interactions, so it's really a cool, relaxed scene.
Unique Features
As previously teased in the intro, BongaCams.com has invested heavily in their feature set.
One of BongaCams most unique selling points is their approach to Cam2Cam. This highly sought after chat feature is available in the Free Chat, at Gold level and above! This is a completely unheard aspect for an adult webcam chat platform, and a welcome sight.
A massively unique element of BongaCams is the ability tip in the form of tangible, real life gifts. Model's will host a wishlist of gifts they want, and you can grant them right from your BongaCams Token Wallet. Wishlists aren't a new feature, but integrating wishlists with proprietary tokens is definitely a new one to my eyes. These gifts can include things like electronics, jewellery, e-books, and more. The most popular gift items among the webcam models are HD quality webcams, HINT HINT.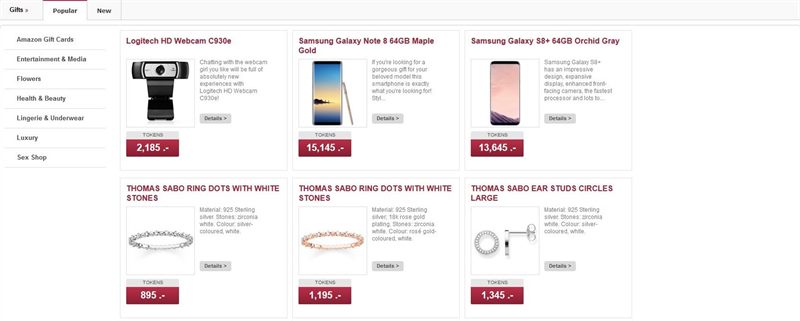 BongaCams also has an extremely wide range of choices for site interface languages, with 36 to choose from. This was more than likely a very costly inclusion for BongaCams. It improves the overall experience, and expands accessibility to more users though.
There's also 9 different choices of searchable, spoken languages the model's can speak. That's not to say they might not speak languages outside of those. Just that those languages are the ones you can search for, and will be listed in profiles.
Another welcome feature is the ability to continue viewing a live chat room as you search for others, upon hitting the "Live Models" button. The chat window does a kind of picture-in-picture thing, moving into the corner as you scroll through rooms. So far, this feature is far from common, and makes searching for a new model even more intuitive.
One more extremely unique feature of BongaCams is their employment of a fixed pricing scale, rather than letting models list their own prices. This can make for more expensive shows in some cases, but not always, and not even usually. The fixed prices on BongaCams are usually are close enough to, if not better than the average prices on the other sites I've reviewed.
Social interaction between models and users is a big part of the BongaCams.com experience. Got your eye on a particular sexy, hung tranny? With Platinum level premium, you can send private messages to models as you please. All models are in the running for regular contests that impact performer rankings.
Then there's the "Loves" any user can grant to models, that also affect their rankings and standings on the homepage. It's an interesting, and different way of showing a model your appreciation. You can give Loves to as many models as you like, but only at a rate of one every 24 hours.
Full Private Chat on BongaCams isn't much more expensive than the bog standard private chat on other sites. Keep in mind, we're comparing the full private experience, to chat types where other users can peek for a pittance. The bar is just a little higher with Bonga Cams.
There's also spending limits in place so you don't have to take out a loan against your home, due to a drunken night behind the keyboard. That, and BongaCams.com's lack of any regularly paid subscription services should make you feel that you're in secure hands.
Chat Types
There isn't a flood of different chat types on BongaCams, and there doesn't have to be. Sometimes less is more, this being one of those cases. The variety of chats is simple, as are the prices. They appear as follows:
Free Video Chat
Free Chat on BongaCams isn't the standard nonsense and teasing you're used to. Those fully dressed bullshit sessions you'll find on most live cam websites are worlds away. There's plenty of nudity to be had, across all categories, trannies of course included.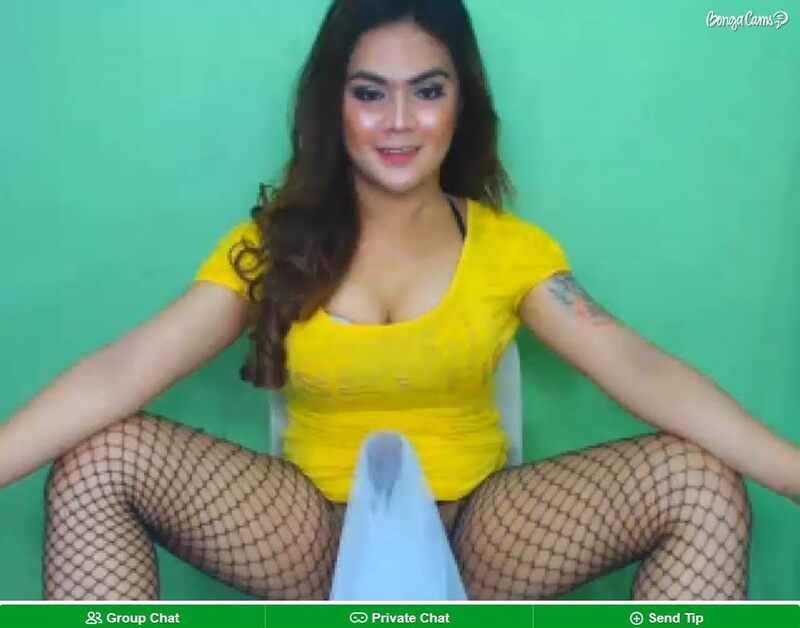 There's lots of tipping, with models enjoying their OhMiBods or Lovense toys. Not only that, Cam2Cam is available starting at this level!
Private Chat
Private Chat types offer you the chance to sit in the driver's seat, and direct the action of a show the way you want. This chat type costs 30 Tokens per minute. Getting the sexy, hung tranny of your choice into a Private Chat might mean outbidding the competition. It happens sometimes, like when a webcam performer is being buried in tips. Note that this choice will permit other users to spy in on your shows.
Spy Show
This show type costs 7 Tokens per minute, and offers you a peek into other users Private Chats. The drawback to the price is that you're not able to interact with the models in any way.
Full Private Chat
The exclusive chat variety of BongaCams is called Full Private Chat. This mode costs 45 Tokens per minute, and does not allow spying. Some model's won't want to go Full Private. It happens, and it's hard to argue. It represents a monetary loss for the model, because a lot of people pay for Spy Shows. This is where the Cam2Cam option is going to be utilized at it's best though. You have no competition in Full Private. So if you love Cam 2 Cam, make it happen, don't give up! Tips in conjunction with sweet talk are always a good route.
Group Chat
This special chat type allows 5 or more users to view a closed show with one model, for 15 Tokens per minute. Being a paid type, naturally the shows are going to be more involved than simple free chat. You can activate Cam2Cam here, but you'll probably be competing for attention.
Costs
Tokens are priced between $0.17 cents, and $0.11 cents. This places the prices of Private and Full Private shows at roughly $3.30, and $4.95 per minute respectively. If you're taking the less expensive, worse value deal, at $0.17, you end up paying closer to $7.65 per minute. Obviously, you are better off with investing a bit more, and getting a volume discount on Tokens.
This doesn't automatically give you the cheapest rates for adult live chat.
What it does deliver though, is a flat rate that's equal to approximately the average USD per minute of showtime on the sites I've reviewed until now. Some sites offer private shows starting at under a Dollar. They also have many more shows that are 6 or 7 Dollars per minute, all the way up to 12 dollars, or even more. This makes fixed pricing an attractive option.
Support Options
BongaCams.com features quality customer support, available by email, live chat, or by the aid of a very detailed FAQ. Billing support is handled via hotlines, selected according to your chosen billing service. In addition, there's a higher tier customer support program for VIPs, of Gold Membership and above.

It's called the BongaCams Concierge Service, and it's basically a fast pass for the support que granted to big spenders. There shouldn't be any fears that you're getting sub-par service as a standard user though. I've used their live chat support extensively, as both a free, and paid user. The base level customer service is more than adequate. It's responsive, and snappy.
Quality
The quality on BongaCams is stellar, because of their minimum standard def, 576p webcam requirements. This isn't a site where you're going to see transgender webcam actresses that look like they're being censored, live.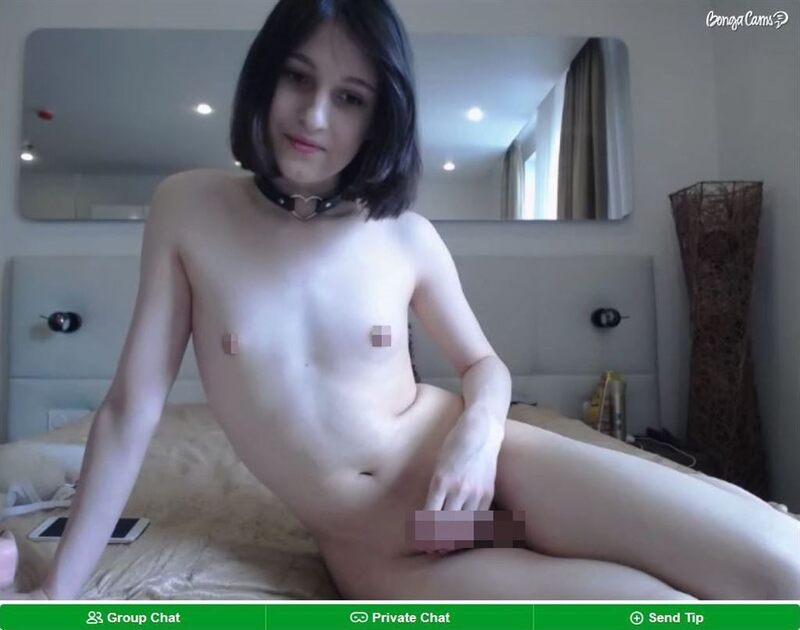 No low quality cams, period, which is welcome in a heavily freemium oriented site. Cam quality caps out at 1080p, full HD.
Pros Vs Cons
Pros
Many fully free, adult webcam chat rooms available, including shemale live cams
BongaCams is heavily driven by both free, and paid adult live chats, making for a nice balance
Models are held to exacting standards of webcam quality, making for crystal clear tranny cum shows
The numbers of models registered with BongaCams is great, transgender models being no exclusion
The choices of big dick shemales are not endless, but are acceptable and actually a bit bigger than those of many competitors
No subscription based programs or auto-drawn payments of any kind
The spending limits help prevent abuse of users, and site members from going broke over dolls with balls
The prices of shows are fixed at a very fair price, compared to the average prices of most live cam sites
Cam2Cam available in Free Video Chat mode!
Cons
The overlay advertisements are quite aggressive, until you've made your first token purchase
There are a large number of models featuring watermarks on their cam feeds
The selection of models in general isn't quite as extensive as some competing sites
Wrapping it Up
While BongaCams has its drawbacks and weaknesses like everything in life, the positives manage to make it shine brightly. It won't overtake the top five shemale cams on my list anytime soon. I enjoyed the user experience so much, that it hardly matters though.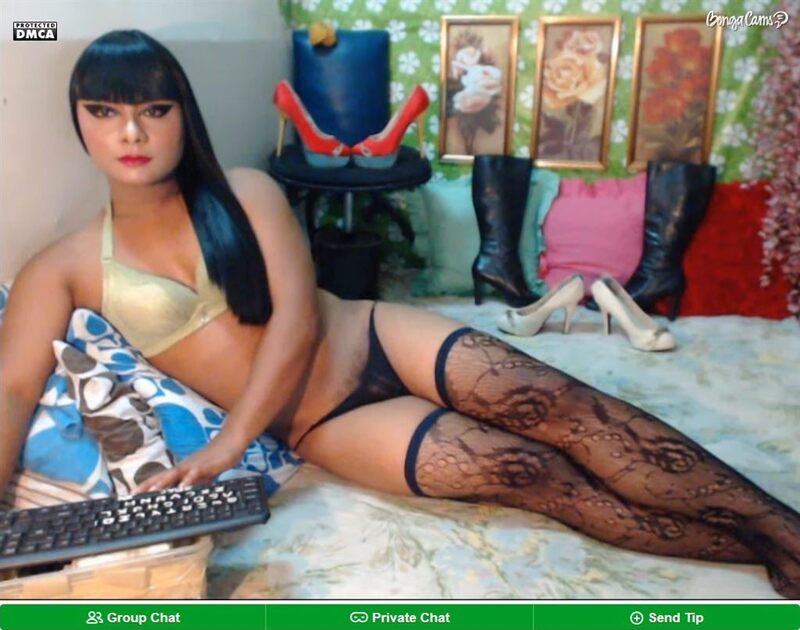 The feature set on display is beyond impressive. Cam2Cam in free chat is almost non-existent in the spheres I travel. That facet alone boosts the value of the BongaCams brand to the point it's an underdog I'm happy to root for.
BongaCams has established itself as a personal favorite source for sexy hung trannies, and otherwise. I'm sure it will take no time to grow on you as well. Thanks for reading my BongaCams review to the end, and I look forward to having y'all join me again.