Come and Join the Largest Singles Community on the Net
Last updated
August 14, 2019
When people talk about online dating sites, there is one name above many others that comes to their lips. Adult Friend Finder is one of the best known gateways into the world of online dating.
There is more to finding dates online than just saying hello to attractive looking profile photos and hoping for the best.
Adult Friend Finder is a prime example of how far the online dating world has come. When you join the site, you are immediately welcomed into an entire community of like-minded souls. Everybody on the site is looking to find that one special person, and well, what is the fun of using online dating sites without being open to a little bit of frivolity along the way.
A site like adult friend finder offers various membership levels to all its members, and unlike other adult dating portals, you can use adult friend finder for free, and still engage with other members.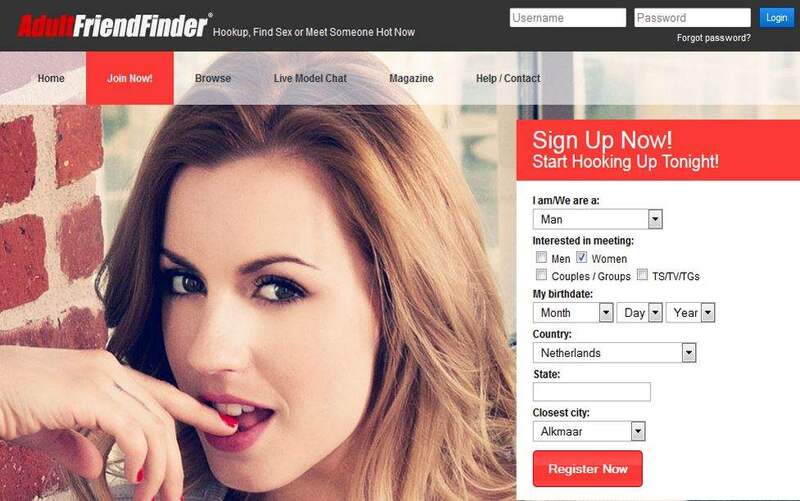 Speaking from experience, it is recommended to invest in at least one of the membership levels, so that you can have unlimited access to all of the fun features that the site offers.
The most important thing you should realize when venturing into the online dating world, is that you are trying to sell yourself. A good profile is a necessity, and adult friend finder provides you with all the tools necessary to make build a profile that will do just that.
When creating your profile, you are requested to enter all manner of information that helps describe yourself to your potential partners and make your entry into the online dating world as smooth as possible.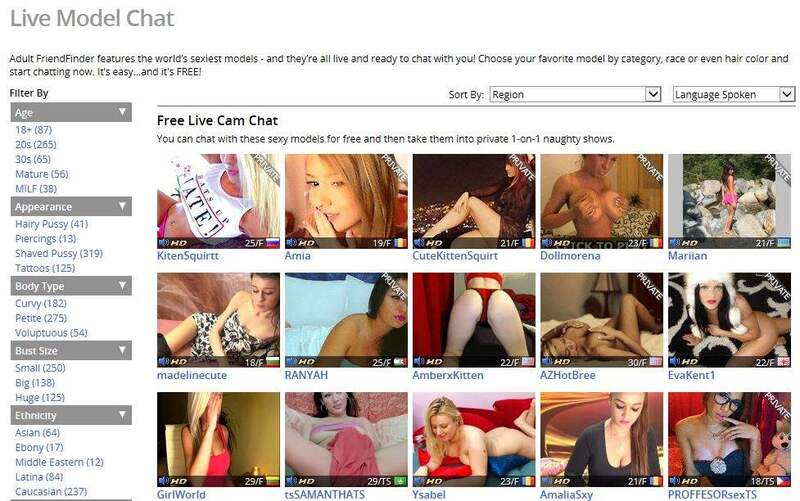 You need to enter your basic profile information:
Birthday
Height
Build
Gender
Endowment (male)
Hair Colour
Hair Length, etc.
Finding dates online is a real endeavour, and you need to work at it. Using online dating sites such as this is great because alongside the standard profile information you can additional items to help make you stand out:
Upload Photo galleries
Upload videos
Upload and manage a blog
Manage your own Question and Answer section to help inform people about who you are in a friendly and easy going way.
Allow yourself to expand onto the pages and make sure you use as many of the options under the 'Mr Stuff' header as you can. The more you use the site, the greater your chances are of finding a match.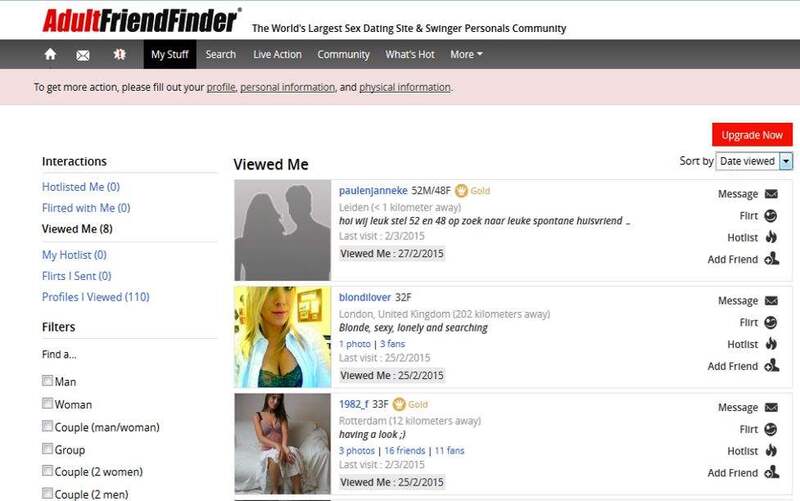 The site could be split into two different categories. You have the actual online dating portion of the site, and then you have the fun additional things like 'Rate me…' games that add an extra dimension to the site. There is also a live interaction portion of the site too.
The search functionality on adult dating sites are there to allow you to filter the active members based on a number of parameters, all of which are designed to help you find your ideal partner online.
The main search criteria are:
Find a – a chance for you to select the sort of partner you are looking for. Male, Female, Couples, etc.
Seeking – the same options as the 'Find a' filter, but this applies to the initial search results.
Age Range
Distance from your current location.
When you are finding dates online these are the key components that you must look at and ask yourself. Adult Friend Finder does a good job of ensuring that whichever search features you use on their site, these key questions remain the same.
On top of the static, search and approach angle to finding dates online, the site also as a live interaction aspect. This is a great set of features that allow you to really interact with fellow singles in the online dating world.
The live interaction aspect of Adult Friend Finder is composed of a number of features which include:
Live Video Chat with Live Webcam Models
Real time adult member video chat
Adult chat rooms
Flash Chat
Instant Messaging
Each one of these interaction opportunities are new ways for you to meet people, to get to know your potential online dating matches.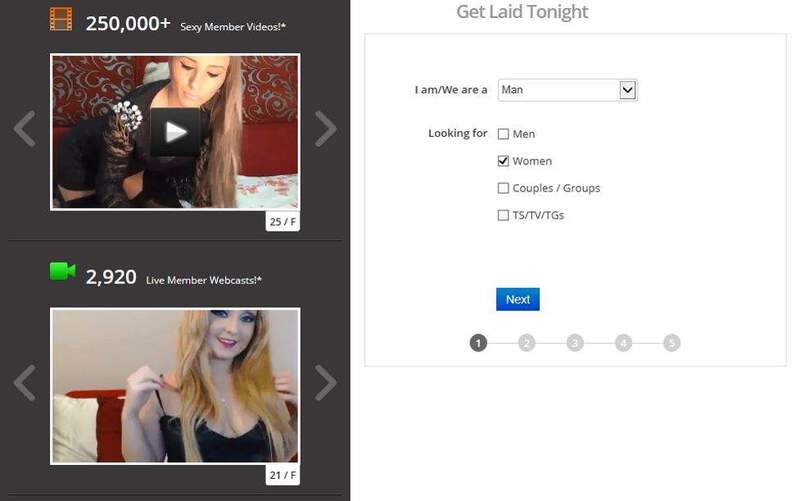 The online dating world is for everybody, and for some, the prospect of meeting someone new, face to face, can be daunting, terrifying even. Getting to know someone through an instant messaging service, and maybe through the member video chat sessions, removes the apprehension of the first date, and allows you to get to know your potential partners before you meet them.
All of the live interaction modules offered by Adult Friend Finder are available to free members, and are a highly recommended tool that will not only get you out there and meeting people, regardless of your own personal schedule, but will also increase your own visibility on the site. The benefit of this is that you are increasing the chance that someone will approach you.
Outside the online dating world, sites like Adult Friend Finder are fast becoming a self-sufficient community. Aside from the interactive portion of the site, there are numerous other avenues for you to explore. From blogs and an adult themed magazine, to special courses that teach you everything from how to successfully use adult dating sites, to various love-making techniques that will help set your bedroom ablaze with passion.
The final main section that the site offers its members is the 'What's Hot' pages. Rate and comment on other members, photos, albums and more. This is a fun section of the site, and, as with all other areas, it can still be used and enjoyed by free members.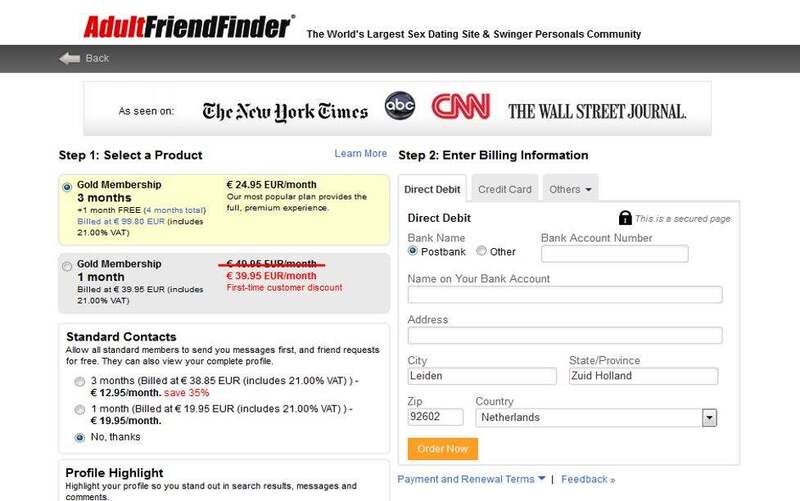 While almost all of the site is available for free, there are something things, of course, that require a paid membership. This includes:
Viewing images, galleries and videos, in the 'What's Hot' section larger than thumbnail size.
Viewing full member profiles. You can approach people, and starting finding dates online, but there will be an element of the unknown, because you cannot view their profile without a monthly subscription.
The cost of joining adult dating sites like Adult Friend Finder is pretty reasonable, and if you are serious about your foray into the online dating world then paying the monthly fee will be nothing compared to the reward you could get.
The prices for Adult Friend Finder are set around three different subscription rates. The site offers two different 'Gold' level rates.
$56.73 for a three month package. If you buy this, you actually get a fourth month for free.
$28:40 for a single month package.
There is also a standard membership package, which comes at a rate of:
$44.17 for a three month package.
$22.68 for a single month package.
With the standard membership, other members can view your full profile, and send you instant messages, for free.
There is also a package that will just highlight your profile, making you more visible on the site. This is a great option if you are interested in finding dates online, but not interested in all of the extra bits that come attached to adult dating sites.
$30.52 for a three month package.
$12.45 for a single month package.
The final membership package, is not related to the online dating world, but rather the online adult community that has grown within the adult dating sites. Access to watch all of the adult movies that the site has stored in its records.
$17.00 for a three month package.
$22.68 for a single month package.
All membership types can be paid for in a number of ways.
Direct Debit taken from your bank account
MasterCard
Visa
Discover Card
Diners Club
SMS
Cheque / Money Order
UKash
Of even through mail / fax payments via Direct Debit or Credit Card.
The wide range of payment options is helpful because it opens up the site to almost everybody, and the larger the community can grow, the more potential matches there are for you to find.